7 rustic Thanksgiving decor ideas – for a cozy look filled with natural charm
From beautiful blooms and pretty pumpkins to earthy color palettes and wooden decorations, create a more relaxed and organic look this Thanksgiving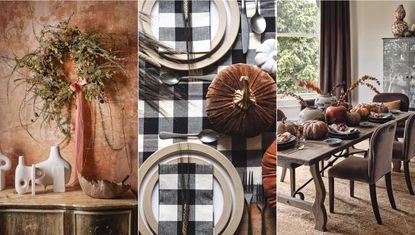 (Image credit: Future | West Elm | OKA)
Rustic decor and Thanksgiving decor ideas work together hand in hand; from pumpkins and flowers and foliage, to autumnal color palettes and a celebration of natural materials, Thanksgiving decorations are often centered around the beauty of the natural world.
As well as paying homage to nature, rustic Thanksgiving decor ideas are often more relaxed and simple, making them wonderfully versatile and easy to embrace – no matter the size or style of your home.
7 of our favorite rustic Thanksgiving decoration ideas
Rustic style lends itself so well to Thanksgiving decor - the warm colors, the cozy textures, it's such a fall-appropriate style. From adorning your Thanksgiving table with beautiful fall flowers and foliage, to shopping for decorations that celebrate the timeless beauty of natural materials such as wood and wicker, we've rounded up the best rustic Thanksgiving decor ideas for those wanting to create a more simple, homey and uncomplicated seasonal scheme.
1. Style your space with foliage and flowers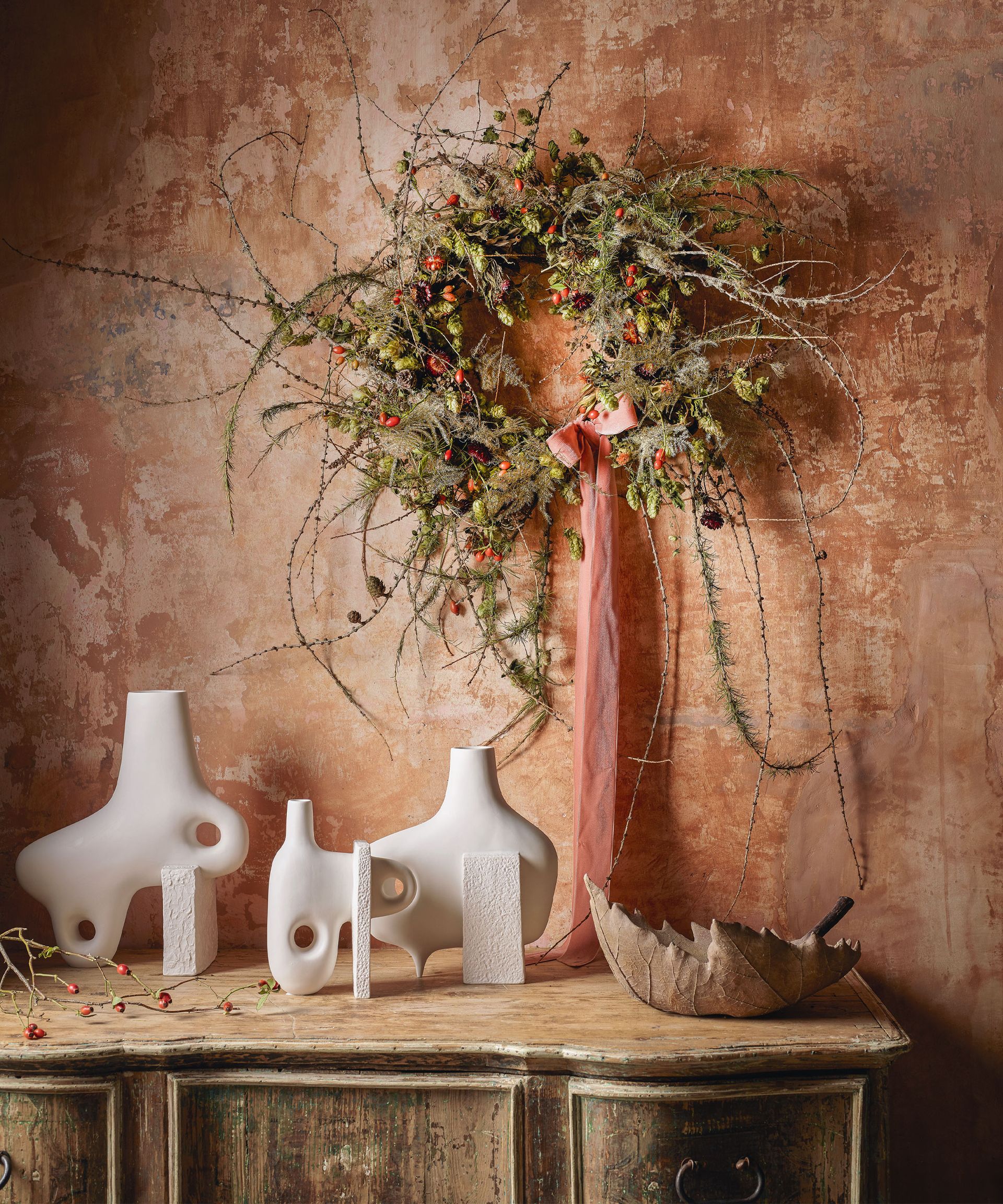 Every rustic Thanksgiving scheme needs plenty of inviting natural accents. So get foraging in your own backyard for what's on offer. It doesn't have to look instantly beautiful, you can always elevate branches with dried flowers or pick up some autumnal blooms from your local florist to make more of a display. The point being, bring nature indoors for a rustic feel to your decor, it doesn't need to be neat or perfect, in fact going a bit wild fits perfectly with this aesthetic.
New York-based Interior designer Artem Kropovinsky suggests, 'For a Thanksgiving centerpiece idea, try an arrangement of dried grasses, ferns, and seed pods. They provide a delicate elegance that pay homage to the harvest season without being overtly themed.'
Founder of NYC-based interior design firm, Arsight, Artem Kropovinsky has a decade of extensive global design experience, connecting a cohesive, collaborative team of passionate professionals, who work on interior projects in the U.S. and worldwide.
2. Use plenty of pumpkins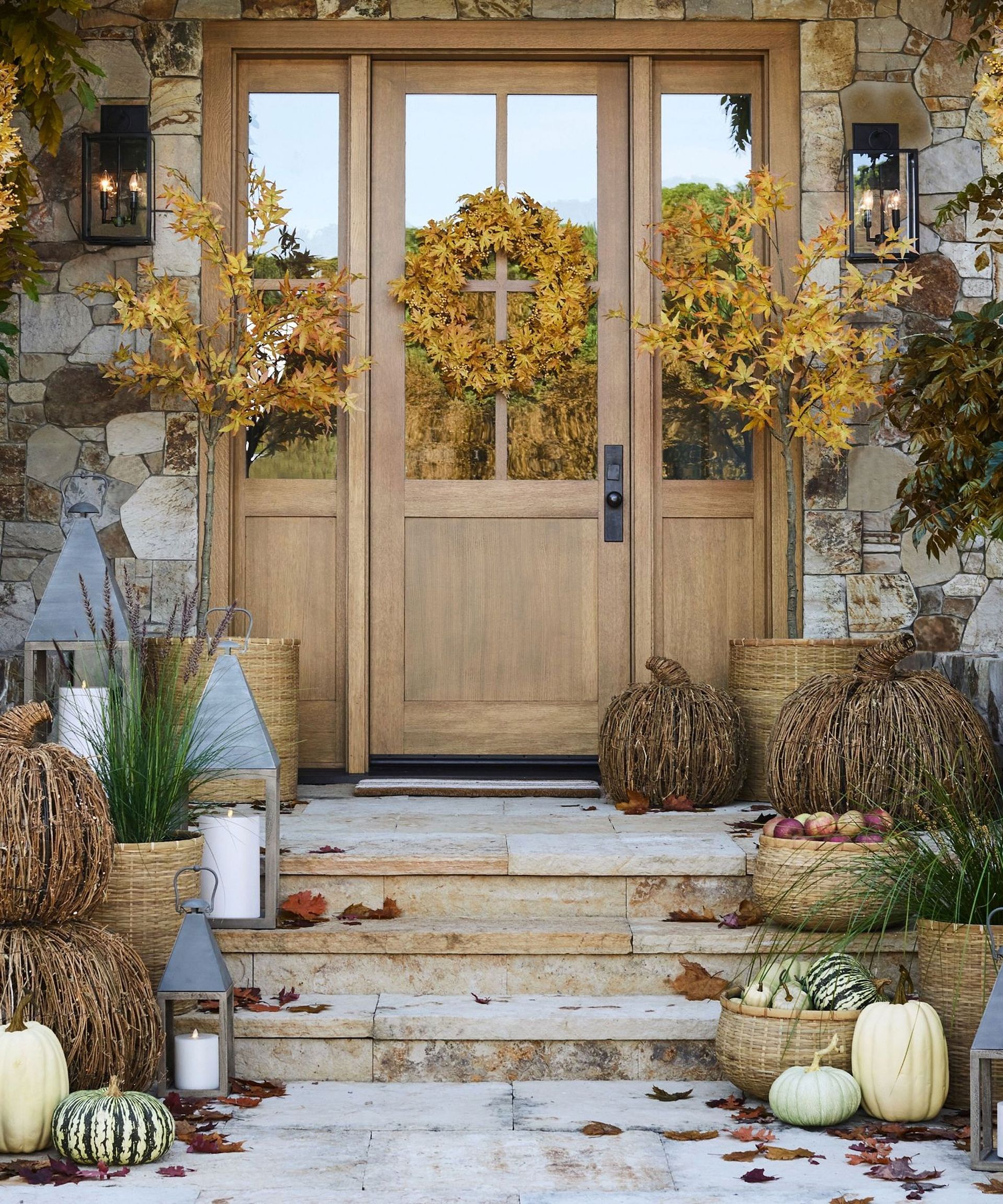 Synonymous with not only Thanksgiving, but with fall decor and Halloween decor too, decorating with pumpkins is one of the easiest ways you can elegantly elevate your home for the season.
The beauty of real pumpkins, is that they can be left just as they are to create a rustic look, perfect for placing outside a front door, across your Thanksgiving table or in windows and on shelves and mantels.
Studio Keeta interior designer, Kristina Khersonsky advises, 'When it comes to the classic pumpkin or gourd, go for the fairytale type – the longer the stem or the more avant-garde shape, the better. Create quirk and whimsy through all shapes and sizes, celebrating the imperfectly perfect.'
Or, for a more modern Thanksgiving decor idea that uses faux pumpkins, shop for designs made from materials such as rattan and wicker.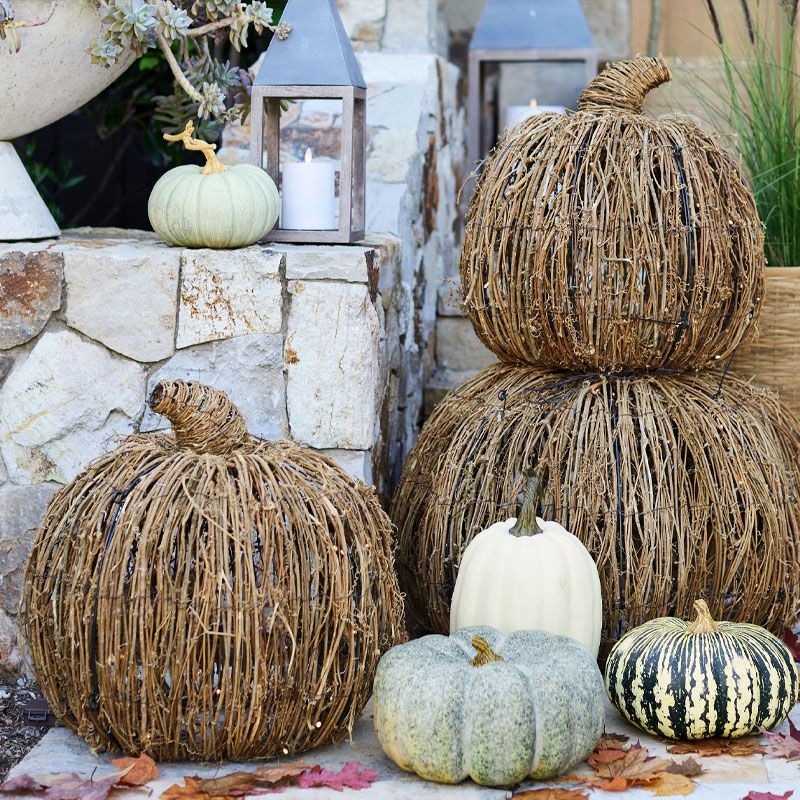 This stylish pumpkin has been crafted using rattan to give it texture and warmth. A lovely, rustic no-clean-up alternative to traditional candlelit jack-o'-lanterns.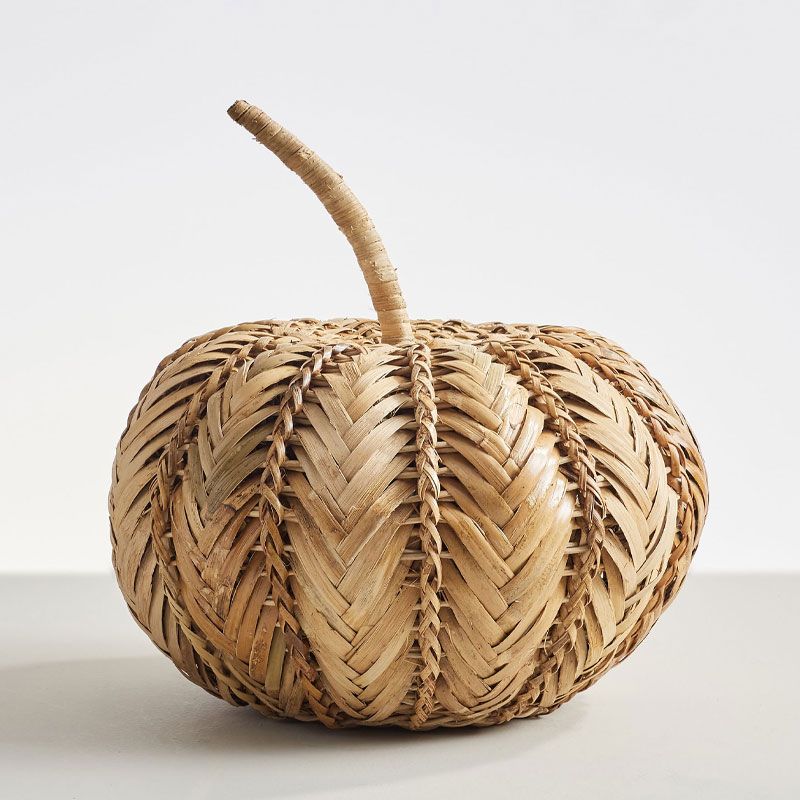 Decorative Rattan Pumpkin
For a more rustic, earthy look for your seasonal decorating ideas, this rattan pumpkin by Pottery Barn is perfect.
Los Angeles-based interior designer Kristina Khersonsky is the principal of interior design studio, STUDIO KEETA.
3. Embrace the warmth of wood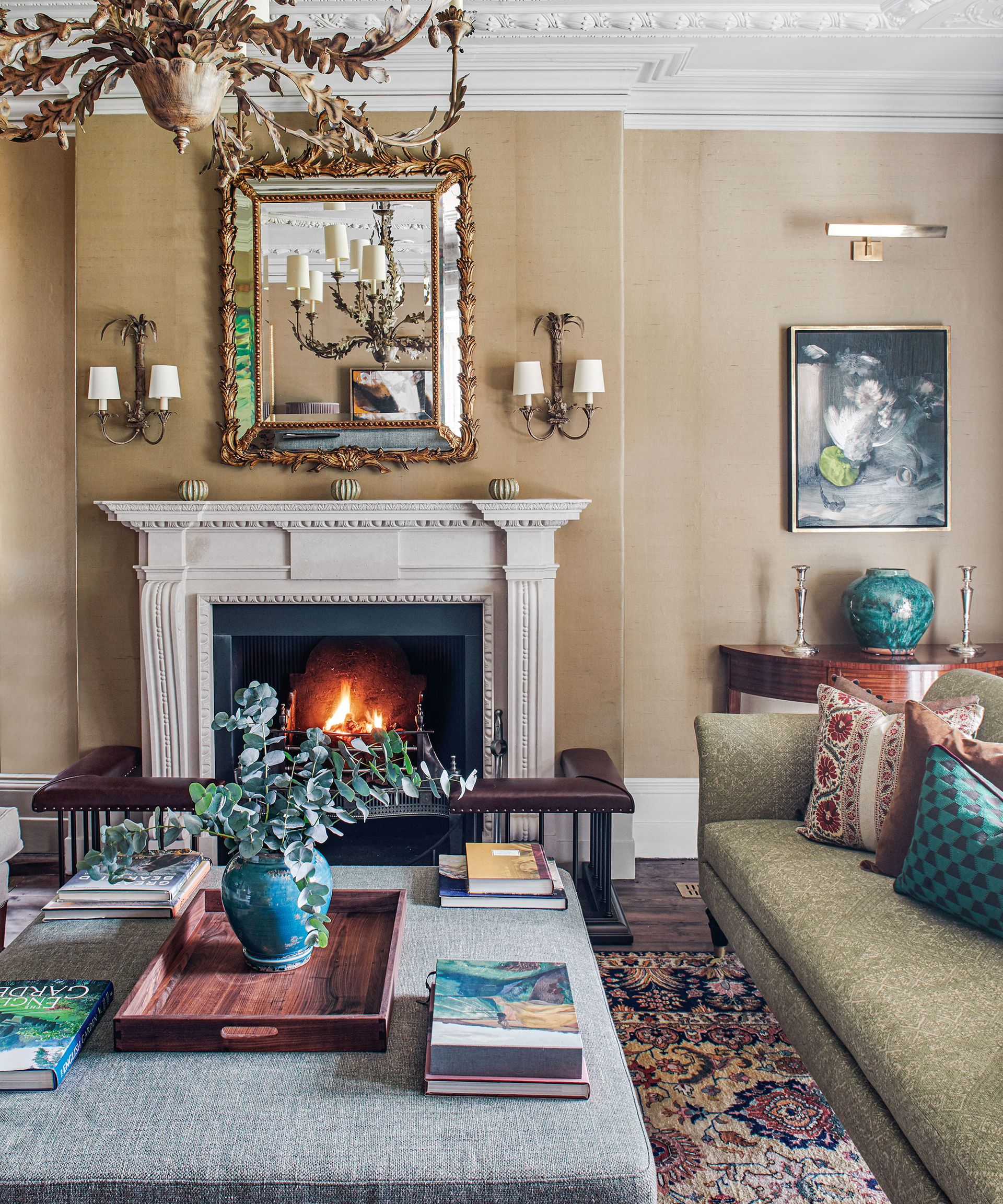 Rustic decor often embraces plenty of natural materials, and it doesn't get more cozy and autumnal than using plenty of warming wood accents.
From wooden candleholders and decorations, to adding natural texture to your coffee and dining tables with an elegant wooden tray, the warmth of wood will always work wonderfully for a rustic look.
'As well as wooden ornaments and decorations, wooden trays can also add a rustic element while still being functional. Practical and stylish, use them to serve warming drinks, and snacks or to display decor such as ornaments and candles. I love an item that is multi-functional while still having an elevated look,' says interior designer, Jung Lee.
Born in South Korea and raised in New York City, Jung Lee has been a well-established name in the world of interior design since 2002, and vast experience of designing corporate and private spaces for a range of clients.
4. Use earthy, natural color palettes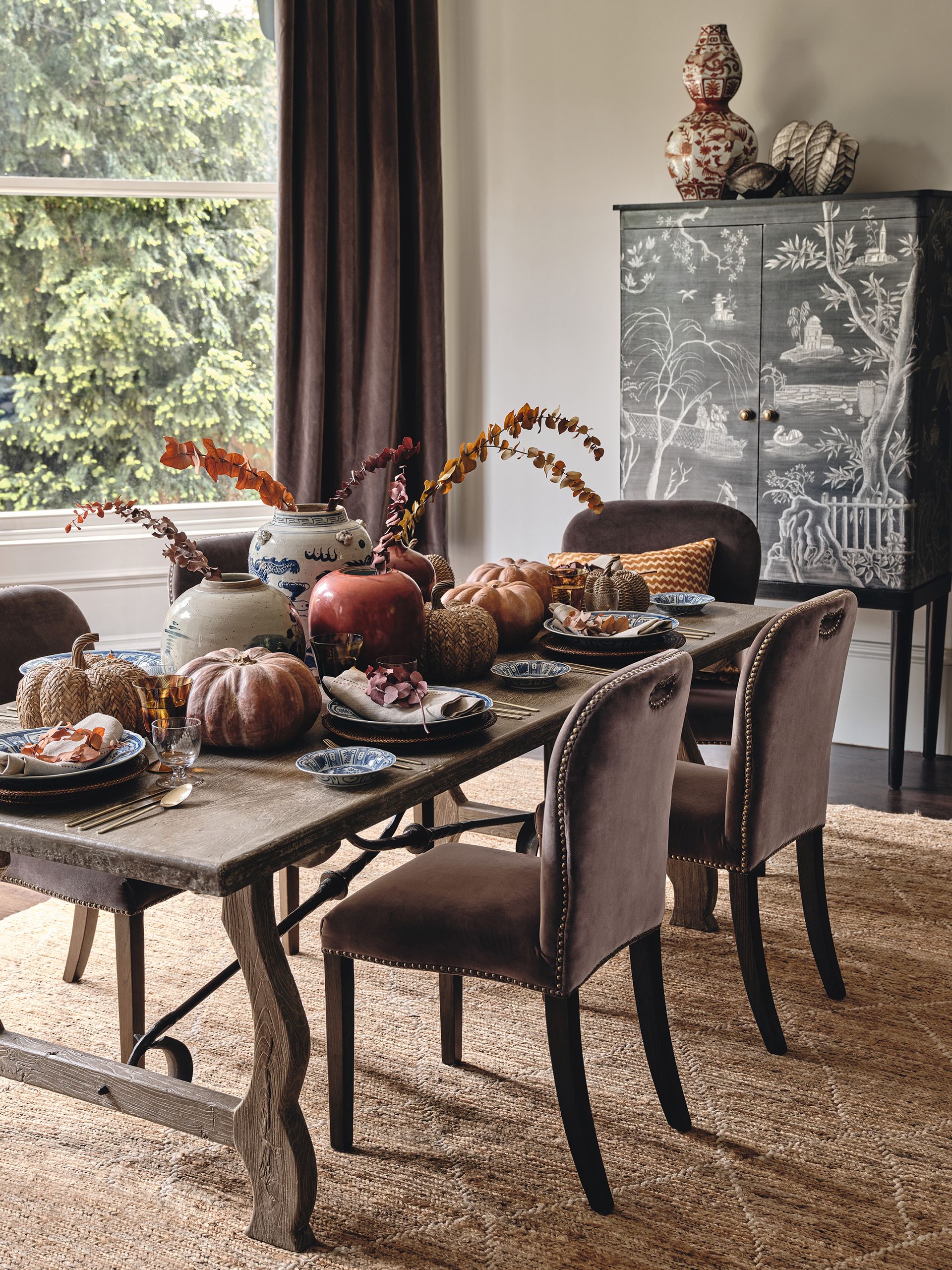 As well as traditional fall color schemes that celebrate rich colors of nature, for a more rustic look, opt for darker, moodier shades, as this will help your Thanksgiving design feel more cozy and grounded.
As designer Artem Kropovinsky says, 'Don't feel limited to the classic Thanksgiving palette. Rusty oranges and deep reds are beautiful, but imagine integrating unexpected tones such as sage green or dusty lavender, as these tones can bring a more contemporary twist to the rustic charm.'
5. Try a Thanksgiving craft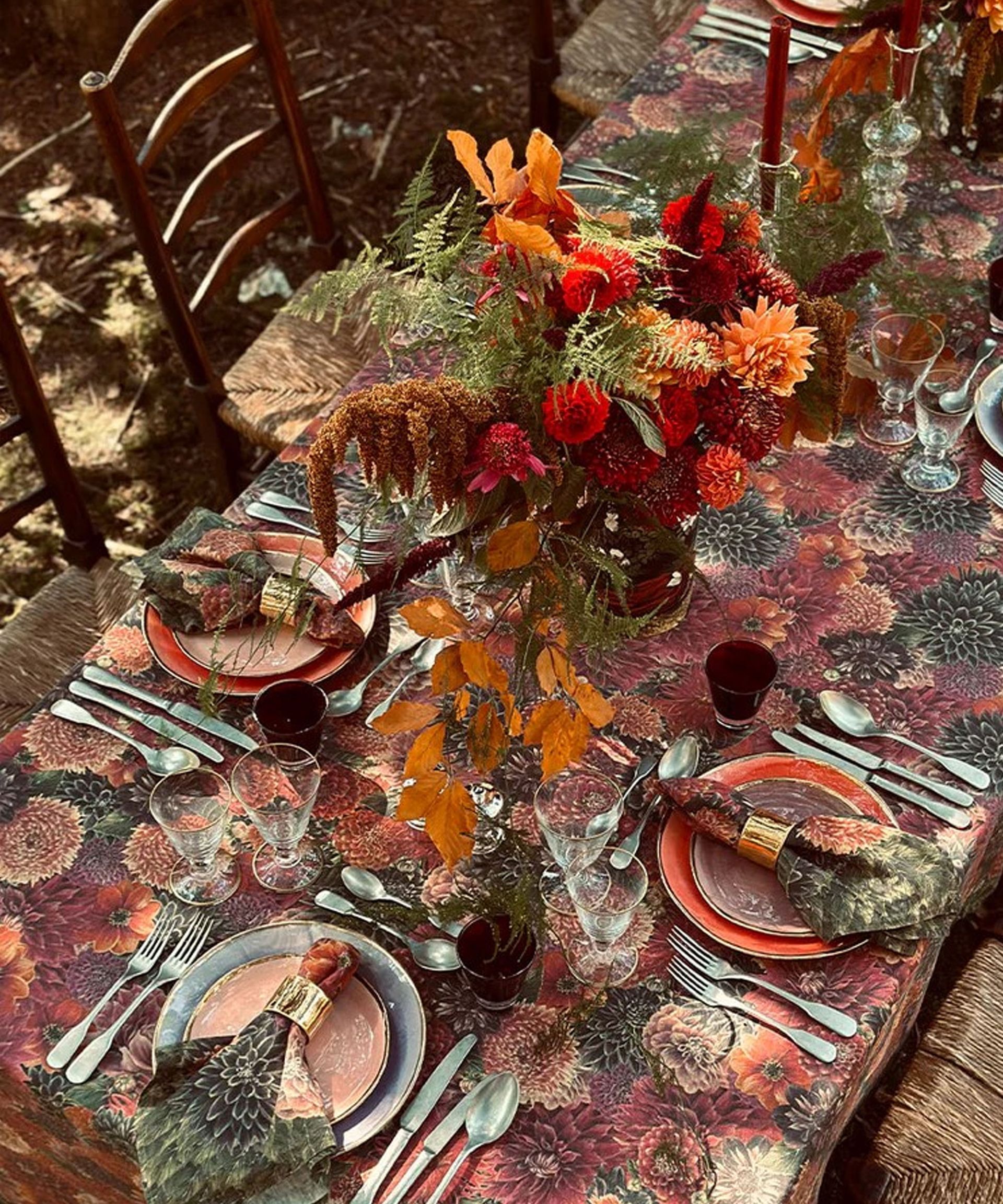 What's more rustic than a unique, homemade decoration? There are so many wonderful Thanksgiving craft ideas to embrace, from making a fall wreath to exploring pumpkin painting ideas.
Lucy O'Brien of Tartan & Toile takes us through her design for a rustic Thanksgiving centerpiece; perfect for adding height and color to the table.
'It's as easy as running to your local hobby store to purchase a Styrofoam tree shape. Hit the grocery store for bamboo skewers and fresh fruit, for fall and Thanksgiving, oranges are perfect, but you can also use lemons, apples, pomegranates (or any fruit that you desire!). Attach the fruit with the skewers and pretty leaves from your yard to fill the gaps, such as rhododendron leaves, then place your design on a beautiful cake stand or serving platter.'
Lucy O'Brien is the founder of boutique interior design firm, Tartan & Toile, based outside of Philadelphia. Lucy currently leads her team outside of Philadelphia but manages design projects across the nation.
6. Enhance your table with farmhouse-inspired tableware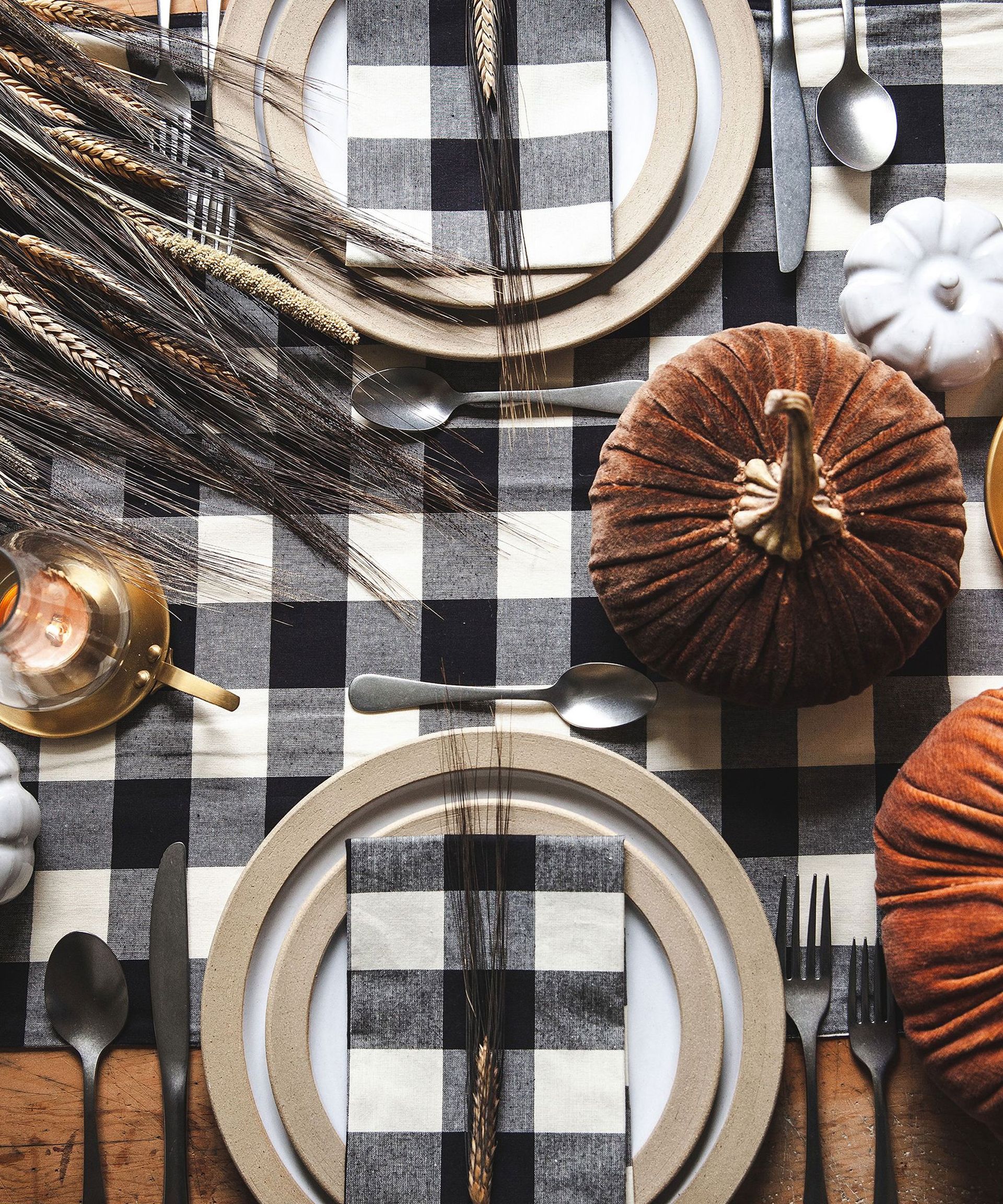 'Adding rustic charm to your home for Thanksgiving is not only seasonal and stylish, it's also oh-so-easy. Start with your tabletop decor. I love the look of a rustic linen tablecloth paired with farmhouse-inspired dishware, like ceramics and stoneware. Add a centerpiece of woven basket or rustic crock spilling with seasonal foliage and accent it with a variety of fall gourds,' says Kathy Kuo from Kathy Kuo Home.
Florist and CEO of BloomsyBox Juan Palacio, also suggests, 'if you're going for a farmhouse look, consider incorporating vintage items like old milk cans, wooden crates, or antique lanterns into your decor.'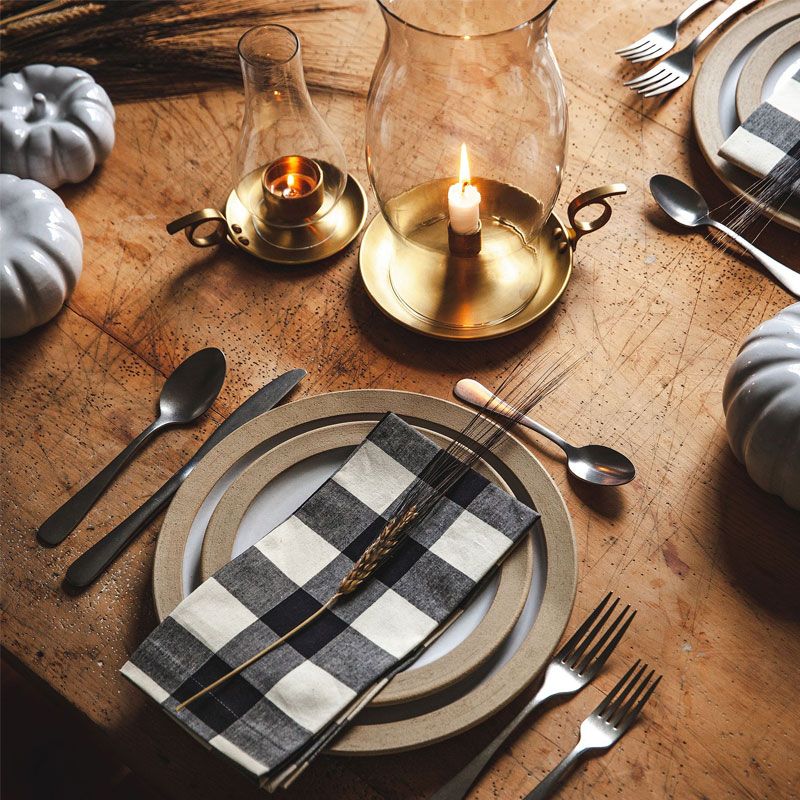 Farmhouse Pottery Farmer's Gingham Napkins (Set of 4)
Style your Thanksgiving table with a beautiful and timeless pattern with these pretty gingham napkins; ideal for use on the big day and for entertaining throughout the year. Shop the matching tablecloth or table runner to complete the look.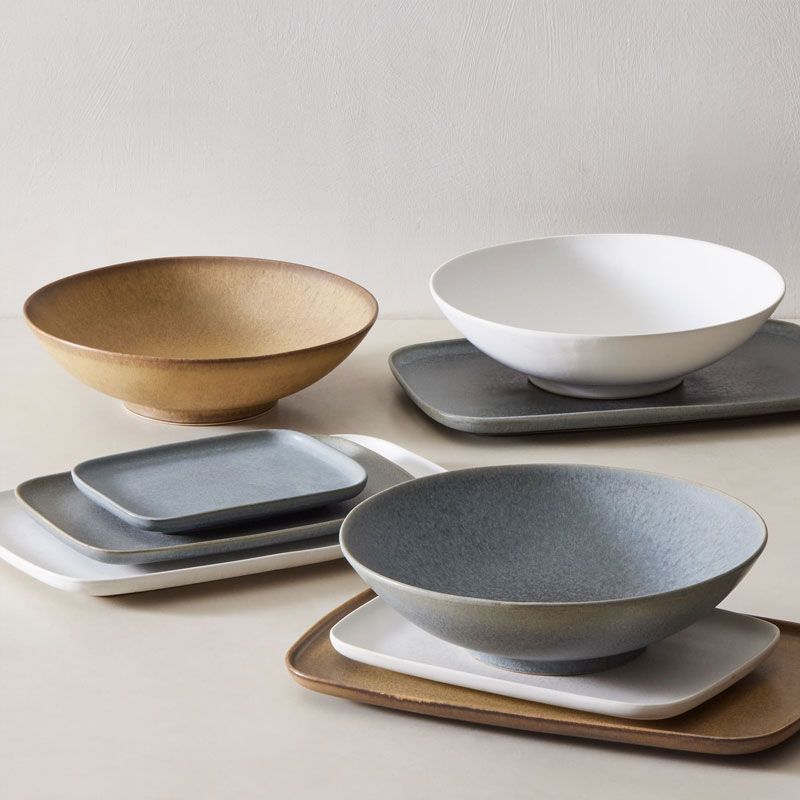 Kanto Stoneware Serveware
We love the simple and serene look of this stoneware serveware, perfect for a more modern and minimalist Thanksgiving scheme.
Kathy Kuo is a celebrated interior designer and international guru within the home and lifestyle space. She has 20+ years of experience in the design industry.
7. Bring in warmth and cozy comfort with candles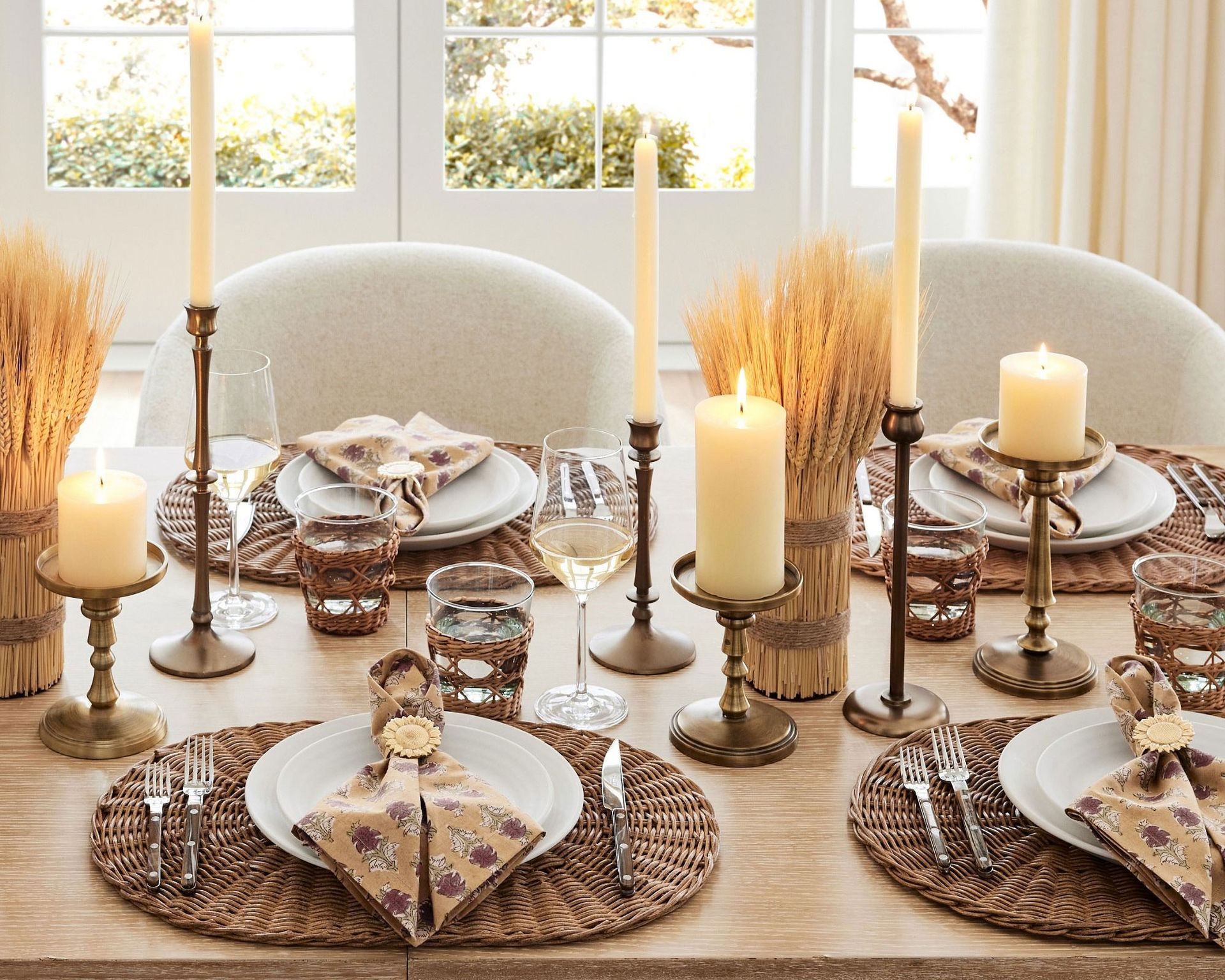 The more candles you have dotted around your home during fall, Thanksgiving, and Christmas – the better. Not only can candles make your home smell nice, but they can act as versatile decorations and provide cozy, ambient light, too.
From traditional taper candles on your Thanksgiving table, to classic lanterns on your porch or beside a fireplace, candles can be used all over your home to elegantly elevate your rustic Thanksgiving scheme.
Artem Kropovinsky says, 'Soft, dappled light can transform an entire space. Consider using smoked glass candle holders or lanterns with a patinated finish. They cast a gentle, warm glow and add an aged, worldly character to the setting.'
FAQs
How do I make my house cozy for Thanksgiving?
The beauty of Thanksgiving decor is that it can instantly make your home feel more cozy, inviting, and special for the season.
From plenty of cozy candles placed throughout your home, to layering your living room with warm-toned cushions and throws, style your home with decorations that can provide both physical and visual warmth and comfort.
Of course, plenty of other seasonal accents, such as pumpkins, flowers and Thanksgiving-themed ornaments and decorations will also help to make your space feel more inviting and characterful for the celebration.
---
For further inspiration for your rustic Thanksgiving scheme, both the Pottery Barn Thanksgiving collection and West Elm Thanksgiving collection have a whole host of beautiful decor to browse; from elegant faux wreaths to tableware, ornaments, and more.
Sign up to the Homes & Gardens newsletter
Decor Ideas. Project Inspiration. Expert Advice. Delivered to your inbox.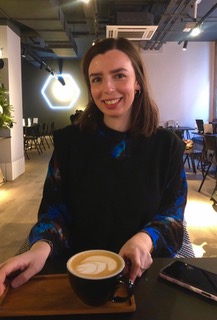 Zara joined Homes & Gardens in February 2022 as a Content Editor. After studying English Literature at University, she worked as an Ecommerce Website Editor, Content Writer and Buying Intern at multiple independent businesses within the luxury retail and lifestyle sectors. Her role at Homes & Gardens unites her love, experience and passion for the world of design and desire to create inspiring written content. She enjoys nothing more than discovering new trends, brands and products, whether that be in fashion, interior design or lifestyle.