Thanksgiving table decor ideas – 15 tips for show-stopping festive feasts
Dress up your dinner with Thanksgiving table decor ideas that are guaranteed to wow your guests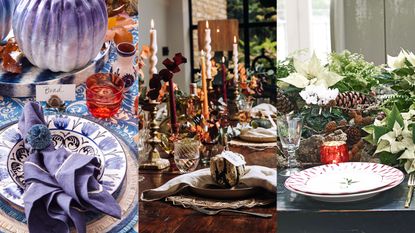 (Image credit: Joanna Buchanan/Piglet In Bed/Olive & Co/Polly Wreford)
Yes, the food is pretty important, but your Thanksgiving table decor ideas are also key in creating a truly memorable holiday meal for friends and family.
After likely spending last year's festivities separated from loved ones you would usually spend them with, Thanksgiving decor ideas have a licence to be extra special this year – and the dinner table is always at the heart of the occasion.
'Remember, be bold,' says interior designer Cindy Rinfret (opens in new tab). 'Fill your tables with feasts for the eye not just the stomach. I love to create a festive table, and the holidays are just the time to be playful, creative and use anything you find beautiful that reminds you of Thanksgiving.'
Thanksgiving table decor ideas
From spectacular Thanksgiving centerpiece ideas and autumnal arcadias, to quirky crockery and luxurious glassware, we asked the experts to share their favorite Thanksgiving table decor ideas to help you create a tablescape to wow your guests.
1. Plan for simple but style table settings
Choose linen napkins in rich fall shades of orange for your Thanksgiving place settings. Here the Adam Lippes Coquille dinner plate is teamed with Esio tortoiseshell cutlery from Oka (opens in new tab). Loosely tie rope or yarn around your napkin with a seasonal flower, or a faux one – it makes an effortlessly graceful napkin holder.
2. Set a special occasion atmosphere with candles
'Add candlelight and more candlelight,' says designer Lindsay Anyon Brier (opens in new tab). Thanksgiving is the time to get out your best candles and create a warm, inviting atmosphere for your guests.
'I use burnt orange candles for color,' says Rinfret. In this luxurious table display, candles are used as part of the Thanksgiving table decor ideas, but can also be used on a lower level at intervals throughout the table. 'Fairy lights are excellent for adding twinkling warmth,' adds interior designer Benji Lewis (opens in new tab).
3. Create rustic floral displays for a family gathering
Layer a wool runner over a linen tablecloth to create an inviting and informal setting, with relaxed arrangements of seasonal flowers gathered from the garden. Simple brass candlesticks ensure a refined finish. The Emily linen tablecloth in Peat, Heddon brass candlesticks and Coleridge Olive dinner candles are all Neptune (opens in new tab).
4. Make every setting feel special
On the big day, it's important that every one of your guests knows you're thankful for them being there – so make each table setting a little display in its own right.
'Bowls with sweets in, or small boxes beside each setting with an unexpected charm inside are an exciting and special addition,' says Lewis. This example shows how you can shake up your Thanksgiving wreath ideas to create a foliage display to welcome each of your guests, with a crown of olive leaves topping each of the place settings.
5. Forage for organic fall decor
Fall decor ideas should be all about celebrating the changes we see in nature over the course of the season – and at Thanksgiving in particular, it's good to add a personal touch.
'I forage for branches like maple or pheasant feathers and bundles of bittersweet branches,' says interior designer Beth Webb. 'I will drape all these throughout the tables, and freshen up with new additions each day.'
Heading out into your local streets, parks and woodlands is a great way to find organic items to include in your table decor – just remember to forage responsibly. In this example, white poinsettias and ferns are built on with foraged pine cones and branches.
6. Break from tradition with fresh patterns and colors
'Put a fresh spin on the traditional Thanksgiving colors when setting your table this year,' suggests home decor designer Joanna Buchanan (opens in new tab). You may be tempted to stick to tried and trusted fall color schemes, but letting go of the necessity to major in browns, reds and oranges can lead to reinvigorated schemes.
'An unexpected introduction of pattern adds an element of cool to your Thanksgiving table,' says Buchanan, who put together this lively blue and orange design. 'Pattern is a fun way to incorporate a modern organic vibe to the tablescape. There's no wrong type of pattern to mix in – really anything graphic will add some energy and fun to the space.'
7. Pepper your table decor with pumpkins
Pumpkins aren't just for Halloween – swap the spooky vibes for homely, harvest ones and incorporate them into autumnal-themed Thanksgiving table decor to give them a new lease of life. While a larger pumpkin might be better suited for a pumpkin planter centerpiece, miniature gourds make great partners to individual table settings, and can be piled up in small displays, or peppered down the length of a long table as an informal runner.
8. Have fun with quirky crockery
The holidays are a great time to bring out the wilder side of your crockery collection. 'These days, there are lots of amazing places where you can buy unique and quirky dining sets,' says Jessica Hanley, Founder of Piglet In Bed (opens in new tab). 'Darkly colored tableware is very 'in' this autumn, so you might want to opt for shades like navy and black. If dark isn't your thing, look at crockery available in seasonal warm shades such as burnt orange or forest green. Get creative and don't be afraid to mix and match contrasting shades.'
In these fall table decor ideas, designer Birdie Fortescue (opens in new tab) embraces the harvest season with a selection of plates that mimic cabbage leaves. 'I always use a variety of collected dishes, leaf plates in autumn colors, and hurricane candles that I fill with nuts,' says Rinfret. 'I take out my horn silverware for fall festivities, . 'I also collect fun gravy pots and turkey motifs in colored glass. A lot of fun items can be found at William Sonoma.'
9. Add a feathered flourish to your feast
The turkey may be the undisputed star of the Thanksgiving table, but there's another bird around in line to ruffle its feathers. 'I always use pheasant feather place mats with wooden charges,' says Rinfret. The stunning striped plumage of the pheasant makes for an elegant addition to table decor, and can be used in multiple ways.
In this example, a table setting features plates that have been printed with a pheasant feather, with a vibrant red feather tucked into the leather napkin ring. 'I tie autumn colored napkins with straw ribbon and a feather,' adds Rinfret. 'When making your flower arrangement, add feathers as well.'
10. Bring out your best glassware
'Take this opportunity to get out your very best glassware and actually use it!' says Hanley. 'Decorate your table with elegant wine glasses. If you're looking for some new wine glasses for the autumn season, consider a goblet with a thicker stem for a gothic, vintage feel.'
Including quality glassware is essential for all good dining table decor schemes, but it's especially important to get out your favorite pieces over the holidays. And just like with your crockery, don't be afraid to dig out the quirkier items – gold-rimmed champagne glasses, silver-stemmed goblets and ornate decanters are all welcome.
11. Pair it back for a modern take
If you're looking for table decor that will fit in with your modern dining room ideas, consider keeping it simple. 'Those looking for a more modern approach can try a simple white tablecloth and greenery from the garden to bring a touch of Scandinavian crispness to their dining room,' suggests Lewis. 'You should absolutely enjoy dressing your table but try and achieve 'controlled clutter', not chaos.'
This autumnal setting by Piglet In Bed uses heavy textured linen and woven placemats for a cozy but natural scheme, all in a more neutral color scheme. 'For a more contemporary holiday setting, I use browns, golds and cranberry accents with my pheasant mats,' says Rinfret. 'The mixture of texture is sophisticated and fabulous and a modern take on the holiday. I also fill a glass bowl with water as an arrangement with cranberry flowers and floating candles.'
12. Small occasion? Pare back Thanksgiving table decor ideas
If yours is a small but simple affair, dress up a simple farmhouse table for handsome Thanksgiving mealtimes. Plush velvet upholstery, graceful cane work and neatly woven wicker bring a refined look.
Here we teamed upholstered Henley dining chairs in Isla Fox and Elliot Granite from Neptune with natty rattan chairs from Raj Tent Club (opens in new tab).
13. Show your side tables some love
Your dining table isn't the only table in the house that deserves a little bit of a Thanksgiving spruce up – it's likely not even the only table in the dining room. If you have a serving table, drinks station or buffet in the dining area, ensure you show these spaces some decorative love with festive sideboard decor ideas too.
In this example, a side table has been dressed up with a subtle string of fairy lights, a pair of candles with bronze cheetah holders, and a selection of evergreen foliage suspended overhead by an emerald green ribbon. A bowl of pine cone decorations wouldn't go amiss, either.
14. Serve up comfort after Thanksgiving dinner
Pour and serve warming drinks in style and as part of your Thanksgiving table decor ideas. This polished metal jug from Oka provides gleam and its wicker cosy keeps brews heated for longer. Serve on an antique tray with handmade stoneware mugs and gingham napkins from Rowen & Wren (opens in new tab).
15. Don't forget Thanksgiving table decor ideas for outdoors
Need Thanksgiving table decor ideas for the backyard too? Ease into the evening and linger longer outside with cozy textures on supersized custom-built seating. This table is a recycled water tank. Antique marble side table and basket planter are both Burford Garden Company (opens in new tab). Pile on colors and textures and have a firepit ready to warm.
How do you set up a Thanksgiving Day table?
A Thanksgiving table needs to feel that bit more special than your average dinner party table. Adding a centerpiece or decorative runner is a great way to elevate your table decor and create something specifically seasonal. The holidays are also an excellent excuse to get out your best (or quirkiest) silverware, glassware and crockery.
'Linen napkins are a great way to tie your tablecloth and place settings together or to add color to an otherwise neutral table,' says Hanley. 'For an extra touch, you could use some twine or string with a small autumnal flower or leaf to tie the napkins together. You could even quickly make up some name cards to sit on top of your napkins so your guests know where to sit when they arrive for an extra special touch.'
What is traditional Thanksgiving table decor?
The great thing about truly autumnal decor is that the best pieces can often be found rather than bought. The changing seasons not only serve as excellent inspiration for interior decor, but also produce an organic bounty of treasures that look great in our homes. Head out to your surrounding green spaces and collect fallen leaves, berry-laden branches, pine cones and more to use for a centerpiece, either held in vases, piled up in bowls or strewn along the table as a natural runner.