6 easy Thanksgiving decor ideas – uplift your space with seasonal styling in no time
If you're looking for simple and stress-free decorating ideas for Thanksgiving, then look no further, designers share their top tips for creating a stylish and speedy seasonal display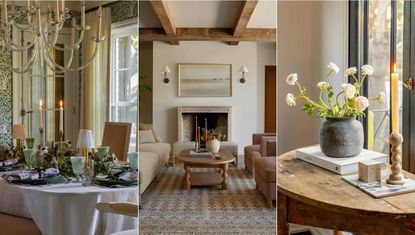 (Image credit: Alexandra Kaehler, Photography by Aimée Mazzenga and Styling by Cate Ragan | Lulu and Georgia | Afloral)
Our collection of easy Thanksgiving decor ideas can effortlessly transform your home with stylish decoration for the seasonal celebration.
As much as many of us love going all out with Thanksgiving decor, some of us prefer taking a more relaxed and straightforward approach to the big day, so we've asked a collection of design experts for their favorite ways to create a more simple seasonal scheme.
From decorating with pumpkins, to quick updates you can make to your existing decor with candles and flowers, this is how to embrace easy Thanksgiving decor.
6 Easy Thanksgiving decorating ideas
Whether you're looking to create a more minimalist Thanksgiving scheme and are in need of some simple styling tips, or will be having Thanksgiving dinner elsewhere this year but still want to add a few seasonal accents to your space to enjoy in the lead-up, these easy decorating ideas can make your home feel more cozy, special and in sync with the season – without a ton of effort.
1. Style with stacks of pumpkins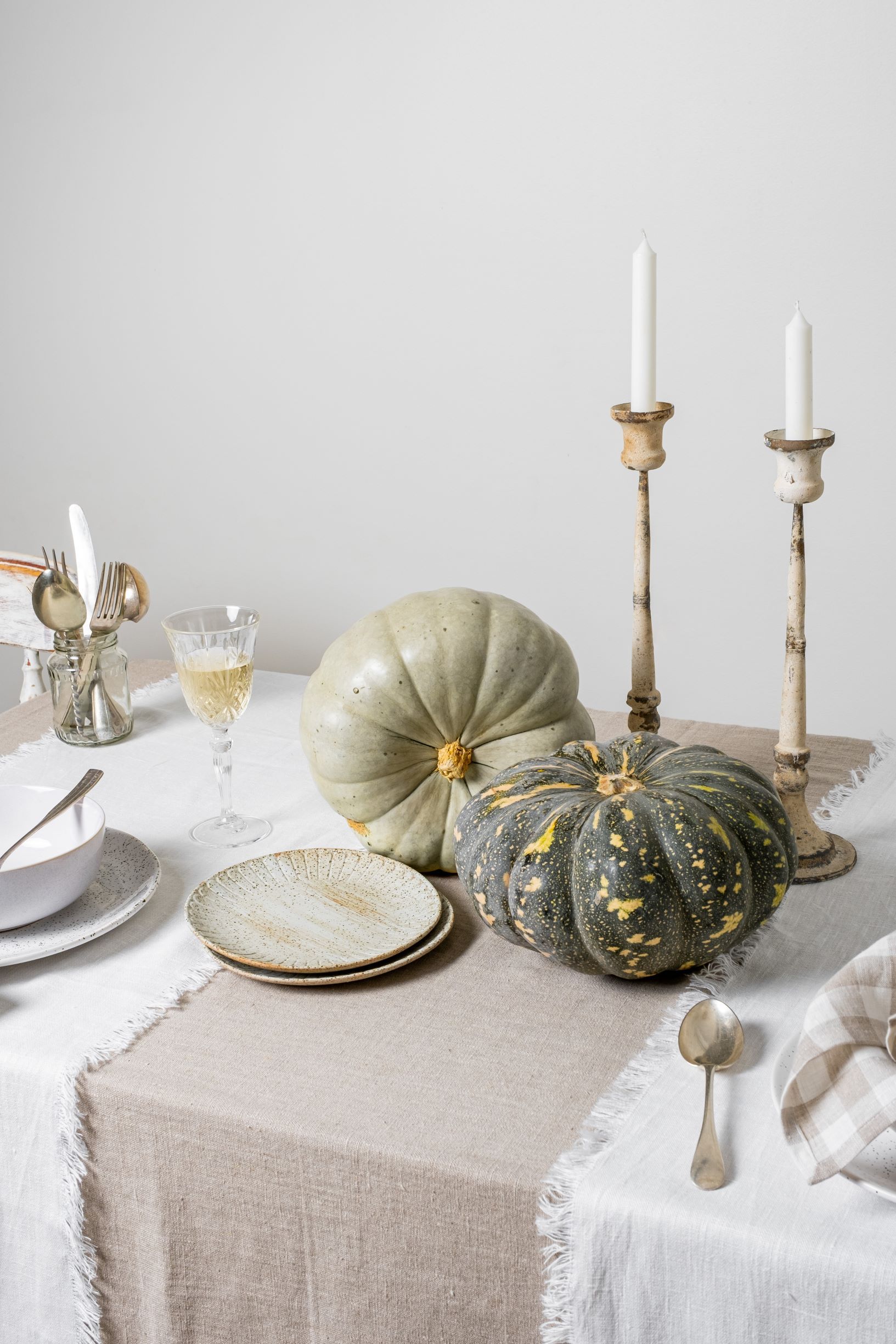 It doesn't get more seasonal and festive than styling your space with a simple stack of pumpkins for Thanksgiving.
From real pumpkins picked at a pumpkin farm, perfect for placing on doorsteps and front porches for outdoor Thanksgiving decor, to elegant faux pumpkins that can be used across your home, these seasonal squashes are wonderfully versatile.
'Instead of carving, try pumpkin painting ideas in gold, white, or with intricate, unique designs, and scatter them around your home, ideal for shelves, mantels, or as part of Thanksgiving table arrangements' says interior designer, Artem Kropovinsky.
'One large pumpkin or a collection of smaller gourds can also serve as a great Thanksgiving centerpiece. Surround with pine cones, berries, or autumn leaves to finish the look,' says Artem.
The beauty of pumpkins is that they can be used for fall decor and Halloween decor too, so if you've already got an assortment of pumpkin decorations on display, you can use these for your Thanksgiving decor too. You may need to refresh any real pumpkins with some new ones however.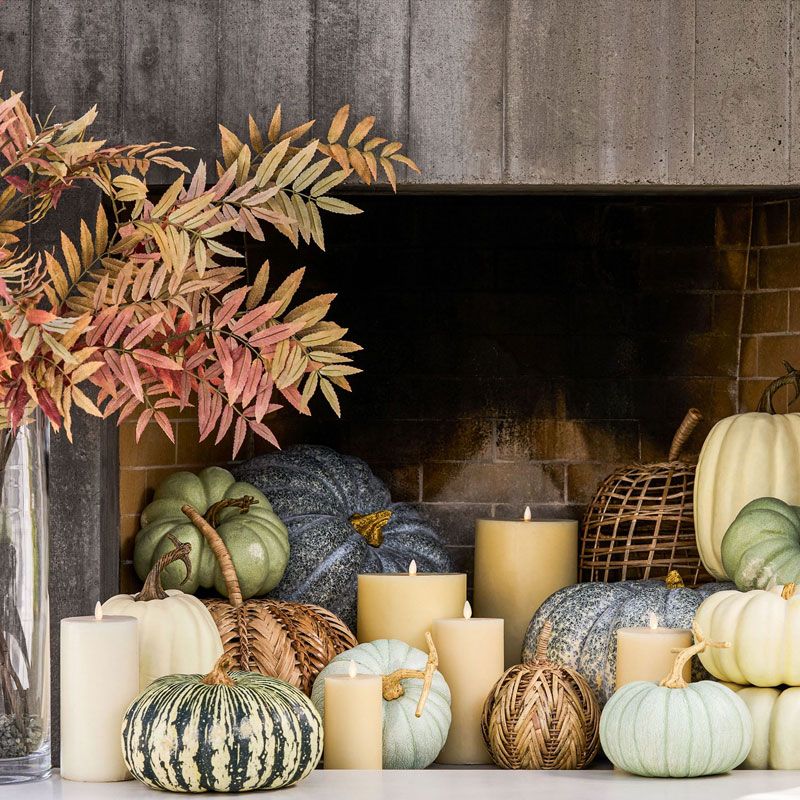 Showcase fall's bounty with these hand-painted pumpkins and gourds, available in a variety of organic shapes and seasonal colors, they can be placed all over the home (both inside and out) to celebrate the changing seasons.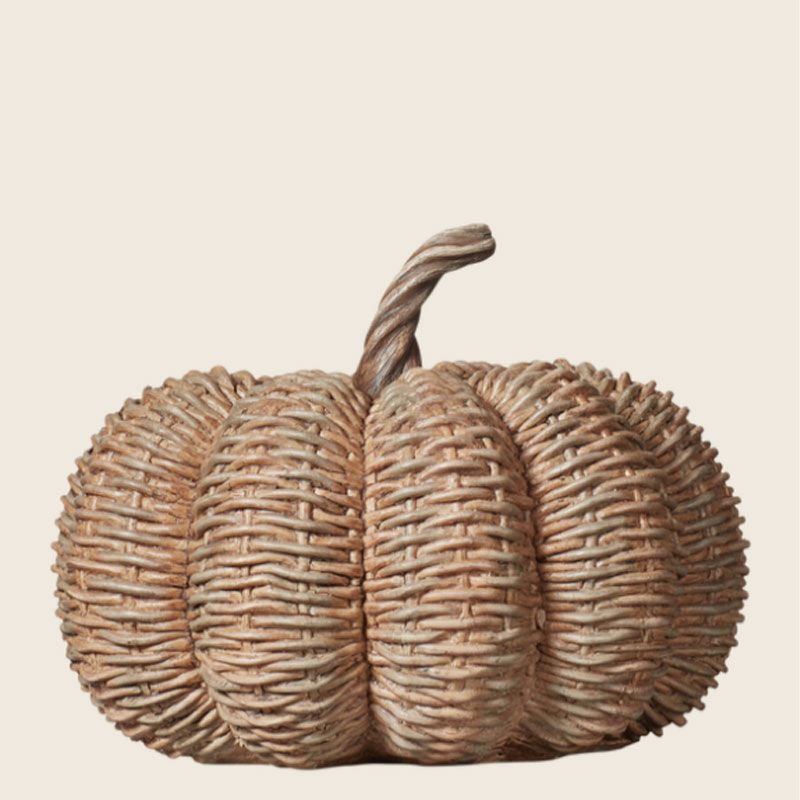 Pepo Basket Weave Decorative Pumpkin - Natural
We love the simple, natural look of this basket weave pumpkin decoration from OKA, and how it creates a wonderful, textured look.
Founder of NYC-based interior design firm, Arsight, Artem Kropovinsky has a decade of extensive global design experience, connecting a cohesive, collaborative team of passionate professionals, who work on interior projects in the U.S. and worldwide.
2. Use a simple and subtle color scheme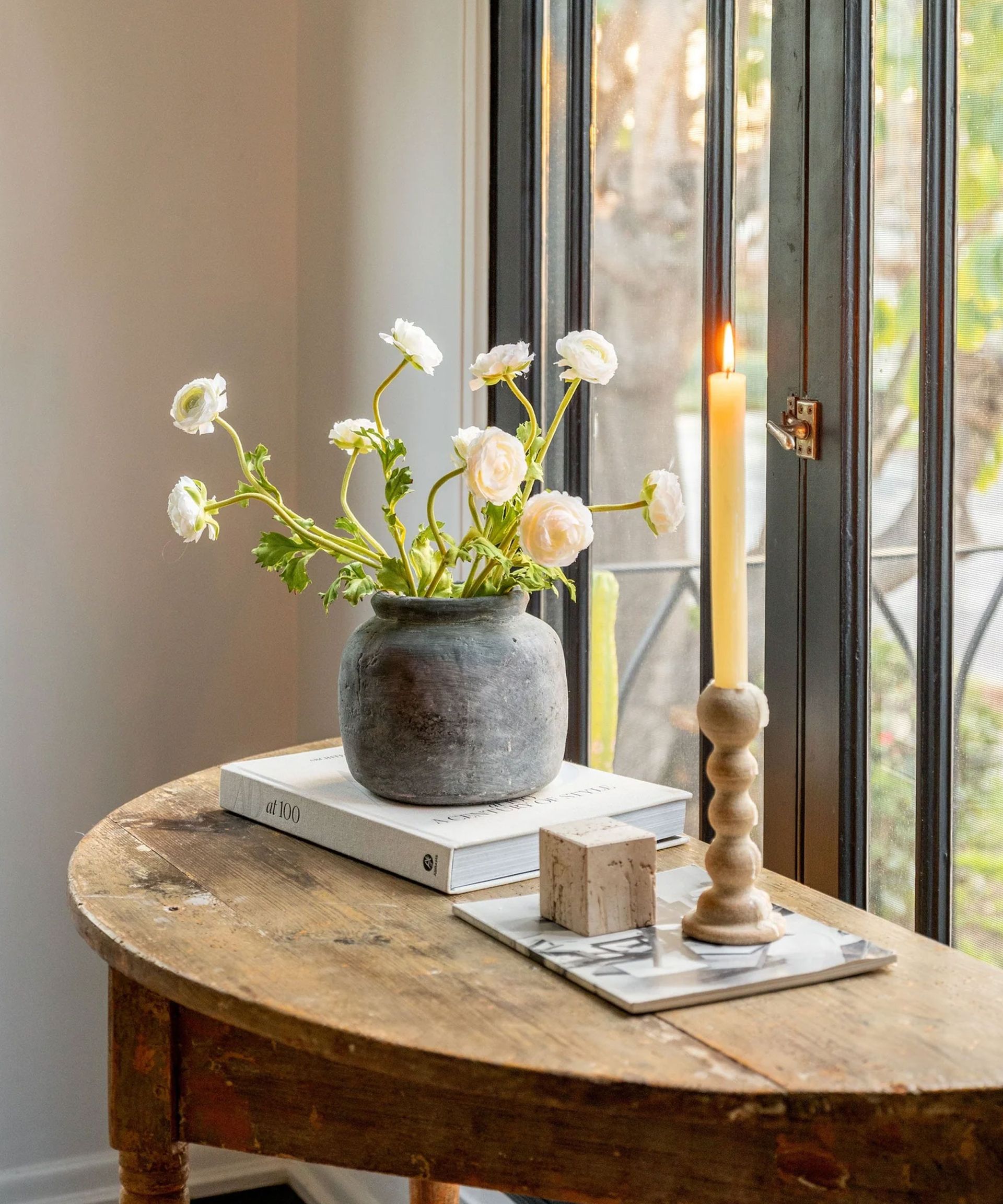 'For easy Thanksgiving decor ideas, the simplest, chicest, and most impactful way to decorate is by leaning into a monochromatic design,' says interior designer, Kristina Khersonsky.
'You don't have to worry if all the colors look too much or too over the top together. By uniting different elements – say two different white florals, white candles, and white pumpkins – it's low effort yet high impact. It looks thought-through but still effortless. You of course can also try this simple styling idea using fall colors, too.
We love this minimalist arrangement shown above by Afloral, featuring their Artificial Ranunculus Flowers; an elegant example of more modern Thanksgiving decor.
Los Angeles-based interior designer Kristina Khersonsky is the principal of interior design studio, STUDIO KEETA.
3. Decorate with flowers and foliage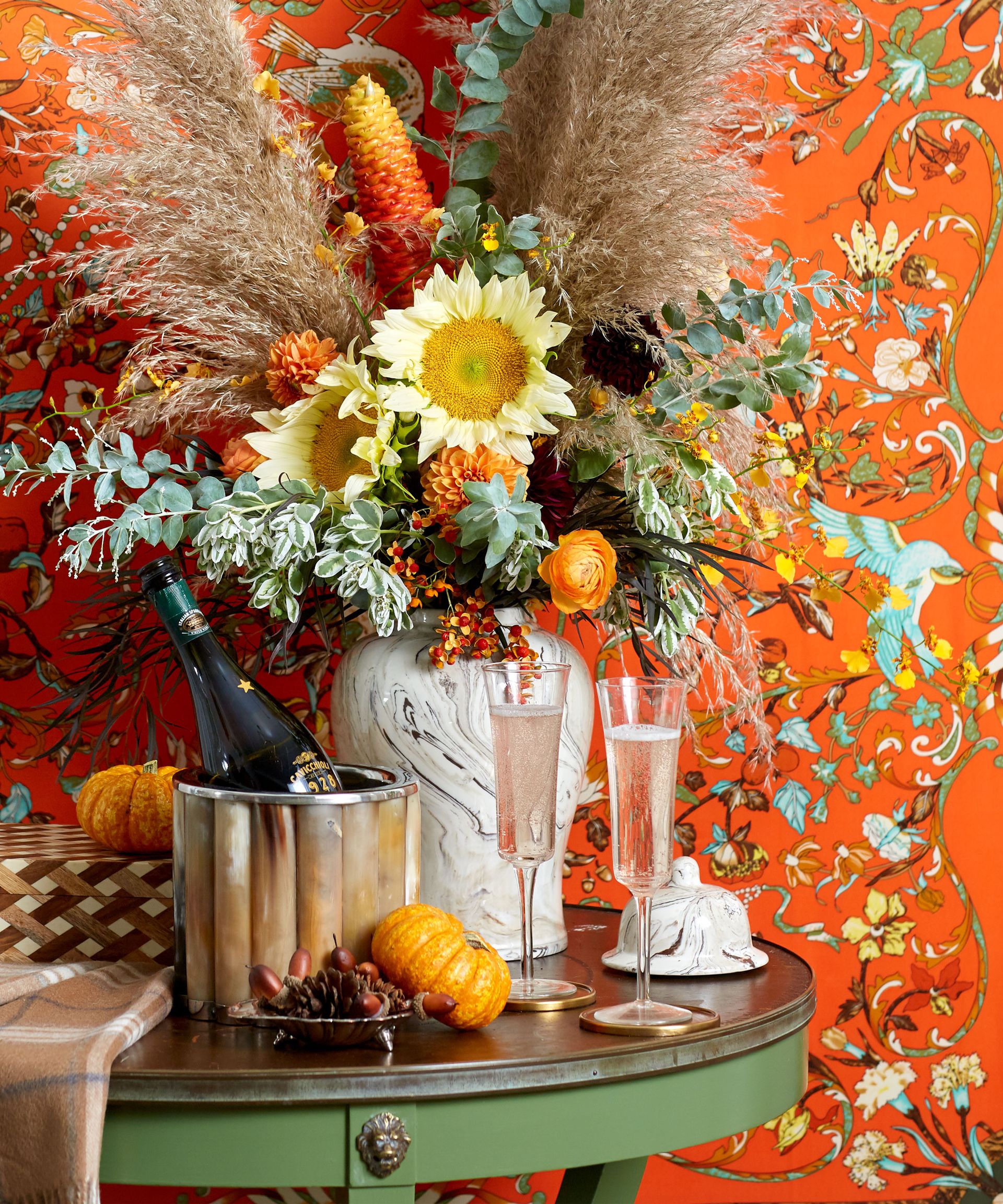 Whether you take cuttings of fall flowers and foliage from your own yard and garden, or buy a few new faux arrangements that you can use year after year, styling your space with a selection of natural accents is a wonderful way to celebrate the shift in the seasons.
As simple as placing a vase of flowers on a mantel or table, or hanging a Thanksgiving wreath on a wall, window or door, you can never go wrong with bringing the beauty of the outdoors, indoors. As Juan Palacio, CEO of BloomsyBox says, 'For an easy Thanksgiving decorating idea, a cranberry garland interspersed with maple leaves can be an eye-catching mantel or doorway decoration. Mini rosemary wreaths can also add a fresh and fragrant touch to your decor.'
4. Opt for easy updates to your existing decor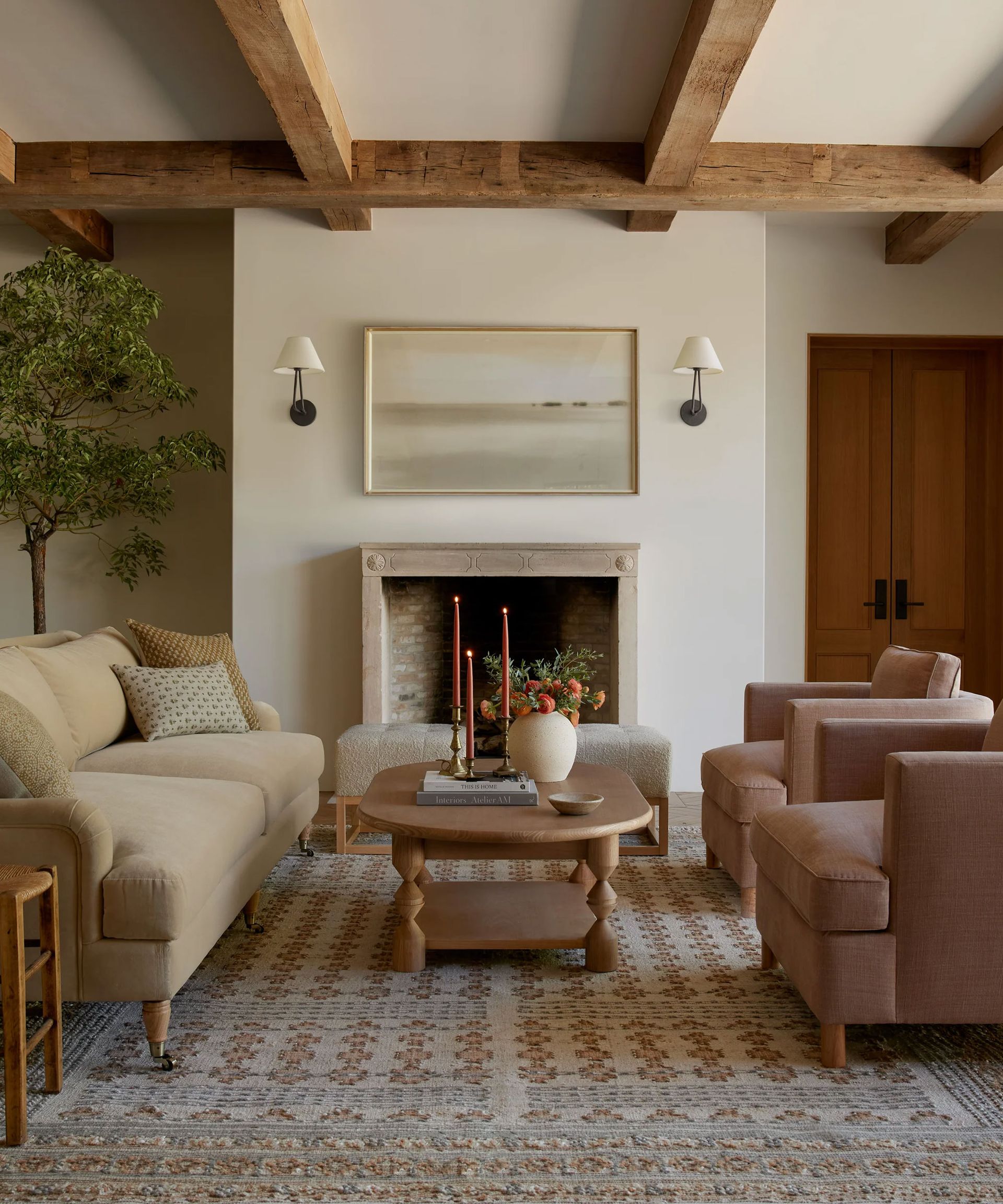 Many of our homes will already be filled with lots of wonderful decorations and accessories, such as candles, flowers, and plants, and making a few simple tweaks to your existing decor is an easy way to keep your seasonal styling simple – but with a subtle fresh feel.
Interior designer Heather Arnold says, 'Switch out the greenery in your vases for burgundy, leafy branches, change your taper candles from white or ivory to brown or even a deep shade of orange, and swap your throw for a chunky textured or faux fur Throw.'
Heather Arnold is the founder of interior design firm, H+Co. Design, which provides design services in the Dallas–Fort Worth area.
5. Create a more minimalist, rustic Thanksgiving tablescape
'Set the mood for a festive Thanksgiving celebration with ease with seasonal tabletop essentials that feel equal parts cozy and sophisticated. I love the idea of starting with rustic-chic table linens – think artfully weathered linen and plenty of seasonal patterns – and building a tablescape with classic dishware in earth tones and a fun centerpiece of candles and autumnal gourds. This approach doesn't overthink the decor – it's all about feeling cozy and festive, and setting the tone for gathering and connection,' says interior designer, Kathy Kuo.
Interior designer, Vivianne Chow also says, 'Try using a simple eucalyptus garland as a centerpiece paired with some gold tapered candles to set the mood. Introduce texture through round woven placemats that can easily be used for other occasions as well. Neutral napkins can tie the whole look together and create an inviting and homey feel.'
For many of us, the dining table is at the center of Thanksgiving celebrations, but as our designers explain, and as the old saying goes, sometimes less is more – you can still create a special place to gather and socialize with a few simple decorations and stylish tableware.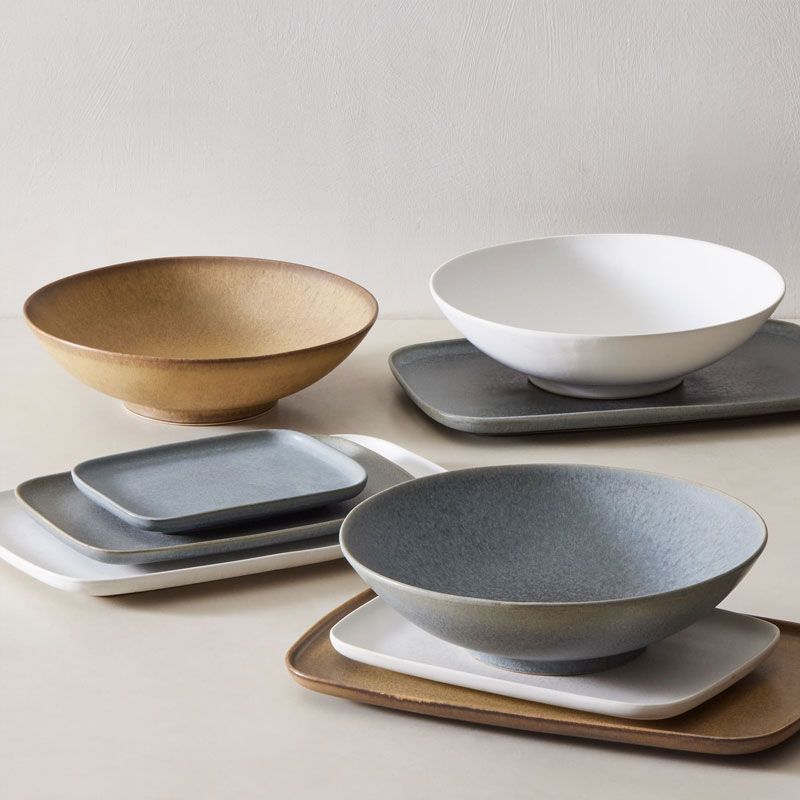 Kanto Stoneware Serveware
We love the simple and serene look of this stoneware serveware, perfect for a more modern and minimalist Thanksgiving scheme.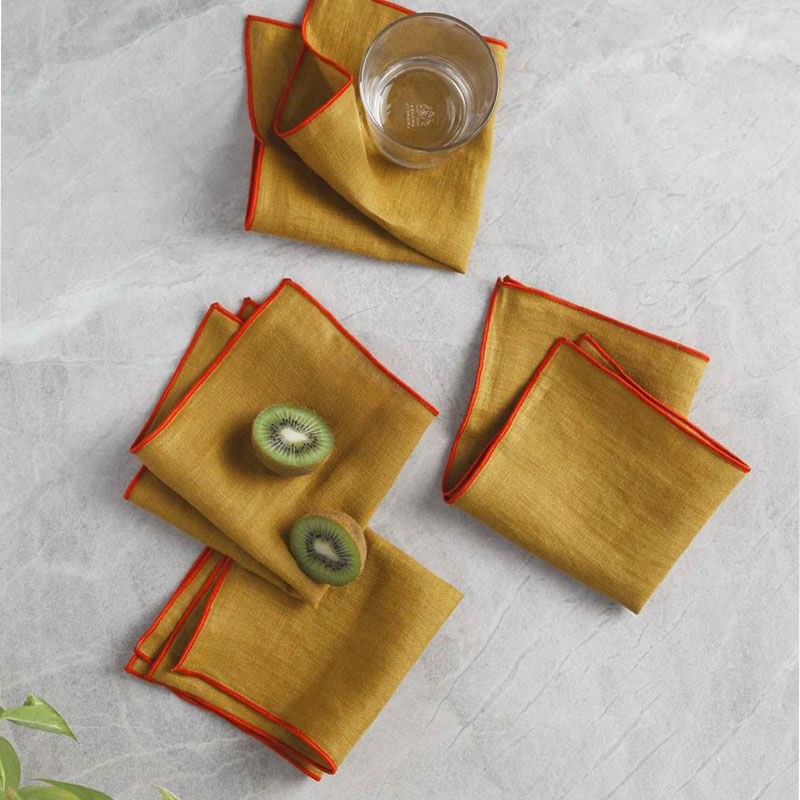 These linen napkins are an easy way to bring color and cozy texture to your Thanksgiving table, and, of course, they're practical too.
Kathy Kuo is a celebrated interior designer and international guru within the home and lifestyle space. She has 20+ years of experience in the design industry.
6. Focus on decorating just one area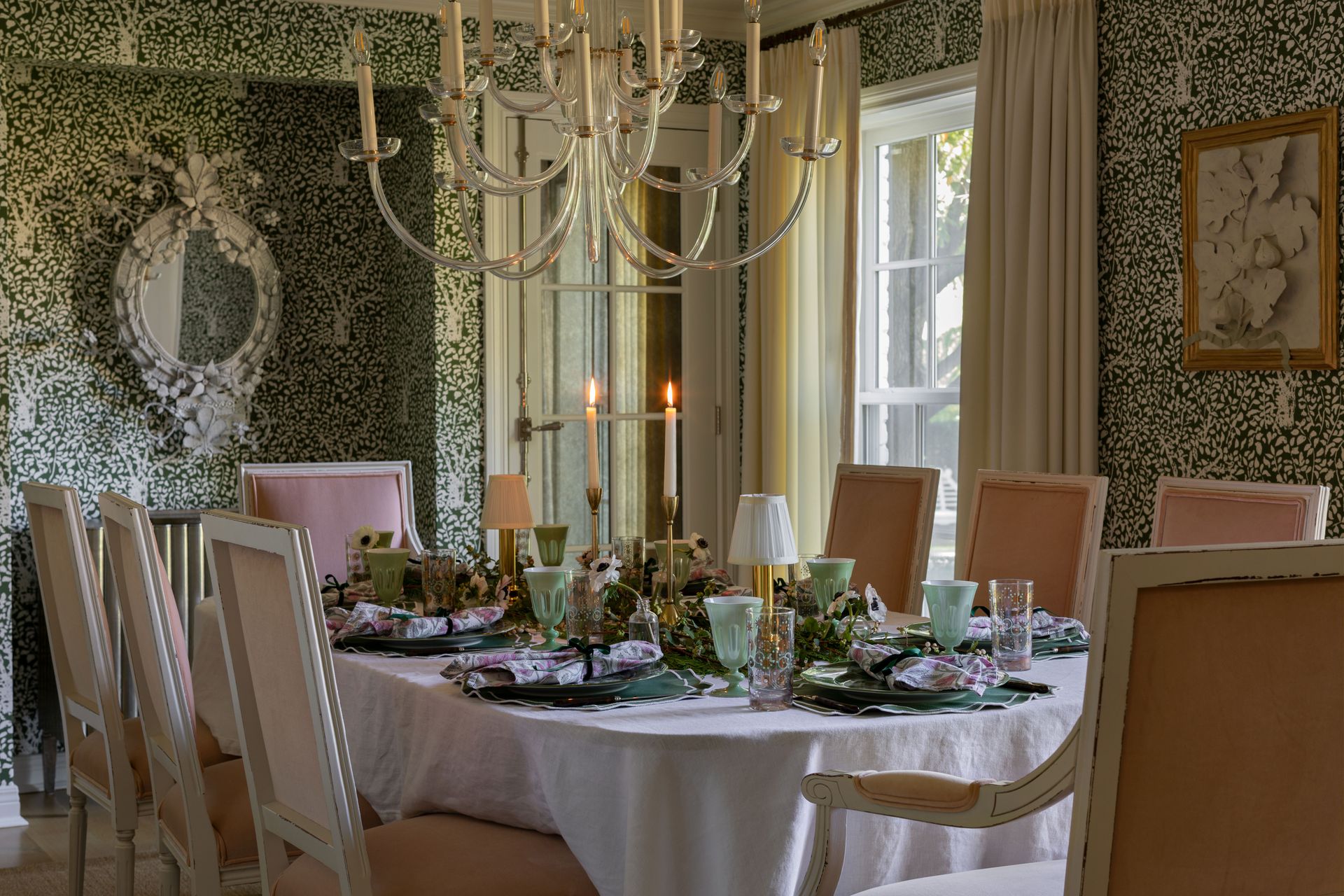 As fun as it can be to get creative with decorations across the home, for an easier Thanksgiving decor idea, focus on decorating just one main area instead.
The most obvious place to decorate would be your Thanksgiving table in your dining room or kitchen, but if you're a guest at someone else's home for the celebrations, why not get creative with decor on your mantel, on living room shelving, or even on an entryway table – pick a place where you know the decorations will be seen and appreciated.
FAQs
What can I do for DIY Thanksgiving decor ideas?
From no carve pumpkin ideas, to making wreaths and garlands from foliage and flowers, there are lots of easy DIY Thanksgiving decor ideas that can enhance your home with beautiful, hand-crafted decoration.
Thanksgiving craft ideas are a fun and festive way to enjoy the seasonal celebrations, and are great for all the family. Other ideas include:
Create your own pumpkin planter, perfect for placing on a table or front porch
Painting and carving pumpkins
Hand-made table name settings
Crafted Thanksgiving table centerpiece – it can be as simple as arranging some flowers and foliage
---
Thanksgiving decorations come in many different styles and themes, and our designers have shown that the easiest of seasonal decorating ideas can still make your home feel more special for the celebration.
If you're looking to add a few fresh new decorations to your Thanksgiving scheme, we've rounded up the best Pottery Barn Thanksgiving decorations to buy this year.
Sign up to the Homes & Gardens newsletter
Decor Ideas. Project Inspiration. Expert Advice. Delivered to your inbox.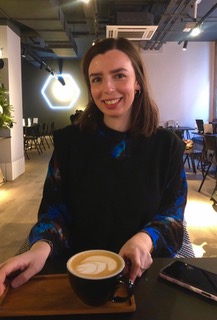 Zara joined Homes & Gardens in February 2022 as a Content Editor. After studying English Literature at University, she worked as an Ecommerce Website Editor, Content Writer and Buying Intern at multiple independent businesses within the luxury retail and lifestyle sectors. Her role at Homes & Gardens unites her love, experience and passion for the world of design and desire to create inspiring written content. She enjoys nothing more than discovering new trends, brands and products, whether that be in fashion, interior design or lifestyle.