Thanksgiving centerpiece ideas – 10 stylish displays for a festive dining table
From classic to contemporary, these Thanksgiving centerpiece ideas are really something to celebrate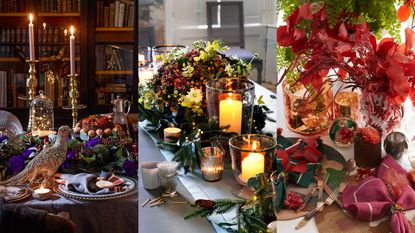 (Image credit: Dan Duchars/Simon Brown/Joanna Buchanan)
Thanksgiving centerpiece ideas really are at the heart of the action at this time of year, so be sure to make them count.
Gathering round for turkey and all the trimmings is the most important part of the big day and, as such, the dining table should always be the focus of your Thanksgiving decor ideas.
A thoughtful, well-designed centerpiece helps to elevate any table from dinner-party-perfect to special-occasion-spectacular – and having likely missed out on seeing everyone last year, this Thanksgiving deserves to be extra special.
Thanksgiving centerpiece ideas
From autumnal displays of pumpkins and pine cones, to glistening gilded candlesticks and unexpected color schemes, we found some stunning Thanksgiving centerpiece ideas, and asked the experts for their tips on creating the perfect fall showstopper.
1. Make a display from organic fall favorites
Need a little inspiration for your Thanksgiving table decor ideas? Simply look out the window. 'Remember you can add gourds, small pumpkins, nuts and pheasant feathers on the table to create a runner for a centerpiece,' says interior designer Cindy Rinfret (opens in new tab). 'This creates an autumn cornucopia which is fabulous for fall dinners or holidays.'
Celebrate nature's transition through the seasons with organic items that only appear in these special fall months. A pumpkin planter might be too bulky, but in this example, a simple but effective centerpiece has been created through arranging miniature pumpkins, pine cones and berries on a serving plate.
'You can also buy autumn leaves at your party or gourmet store and place them as a runner down the center of your table,' adds Rinfret.
2. Use a wreath to create a circular centerpiece
Don't restrict your Thanksgiving wreath ideas to your front door – turning one sideways and placing it on your dinner table makes for a perfect festive centerpiece. A wreath's circular nature means every guest gets a good view of it (working particularly well at the heart of round tables), while the center can be filled with pine cones, candles or pumpkins. You can either go all out and decorate it with feathers and all sorts of fall decor, or keep it simple like this pine version – which can easily be jazzed up in time for Christmas.
3. Display seasonal florals in warm colors
While florals may initially strike you as more of a spring or summer centerpiece, bear in mind that there are plenty of cut-flower favorites that come into their own in the colder months. 'Seasonal winter flowers like honeysuckle or roses make the perfect impact and bring a burst of nature in from the outdoors,' says Jessica Hanley, Founder of Piglet In Bed (opens in new tab). Fall florals also include rudbeckias, chrysanthemums and dahlias, which are used in this display on a tablescape by Joanna Buchanan. Choose flowers to tie in with your favorite fall color schemes, and use oranges, reds and yellows to bring warmth to your Thanksgiving table.
4. Take on the turkey with bird decor
The best Thanksgiving decorations are ones that balance style with a sense of playfulness – and what can be more fun than a feathered friend? 'I have two kinds of pheasants,' says Rinfret. 'One sculptural one which I use on my sideboard, and feathered small quails and pheasants for the tables.'
In this luxurious display, the traditional turkey dinner is given a run for its money in terms of top bird, as a beautiful silver pheasant ornament makes a bid to steal the show. Pair a pheasant or turkey with seasonal foliage to give a sense of it wandering through the undergrowth.
5. Swap a single Thanksgiving centerpiece for a runner
Thanksgiving or otherwise, an important part of choosing a centerpiece is making sure it works for the size and shape of your table. For dining table decor ideas that need to entertain for the length of a long banqueting table, consider switching up a single centerpiece with a display that includes a runner. The floral accent in this centerpiece is just one part of the arrangement, which includes a fabric runner, interweaving branches of pine and hurricane candles that stretch from one end of the table to the other.
6. Bring the outside in with foraged items
Fall decor ideas should always make at least a nod to the outdoors, but why not make that connection stronger by quite literally bringing the outside in? 'I love going to the flower mart to start a long, low, meandering foliage centerpiece and then taking a long hike in the woods with my children to fill in local bits,' says interior designer Lindsay Anyon Brier (opens in new tab).
Make your Thanksgiving centerpiece feel personal by (responsibly) foraging for natural items to include in it from your local surroundings. In this display, pine cones, wheat flowers and pumpkins tell us a little something about the local flora – and it's an excellent excuse to take an autumnal walk with family and friends.
7. Mark the special occasion with glimmering metallics
Of course, a Thanksgiving meal isn't just any old dinner party – it's a special occasion that deserves an aesthetic to match. 'Try to focus on a few key items to ensure that your table is welcoming, elegant and a little bit opulent,' says interior designer Benji Lewis (opens in new tab). 'I like splashes of gold, paired with chic colors such as blue and ivory.'
A glimmer of warming gold will always make a table feel just that extra bit magical. On this table, a golden fabric runner acts as the subtle centerpiece, which is bestowed with brass candlesticks and white and gold ceramic vases. The gold theme is also mirrored in the place settings with gold-rimmed plates and a shimmering bird-shaped napkin ring.
8. Switch up traditional color schemes
Warm colors inspired by the autumn leaves are always a favorite among fall table decor ideas – but why not make this Thanksgiving a little different? Turn the tables on what your guests may expect from your centerpiece, says home decor designer Joanna Buchanan (opens in new tab).
'Instead of sticking with browns and oranges, try adding in some indigos and other shades of blue. This combination really pops and feels much more festive than you might expect!' In this tablescape put together by Buchanan, a centerpiece of large blue pumpkins made from capiz shell makes for an invigorating alternative to the gourd's natural orange hues.
9. Create a warming atmosphere with candles
If there was ever a time to get out your best candles, it has to be for Thanksgiving. Creating a cozy atmosphere to share with family and friends is arguably the best bit of the holiday, so you can't really go wrong with putting candlelight at the heart of your dining table.
This centerpiece is given both height and elegance by the addition of three tall candles rising from a bowl of moss, berries and pine cone decorations, while foliage trickles out across the rest of the table.
10. Keep it low
A Thanksgiving dinner should be about sharing conversation with loved ones – so, make sure you can actually see them. 'Over-sized centrepieces that block access to speaking to one another across the table for example can be a nuisance,' says Lewis. 'You need easily to be able to see and enjoy one another's company.'
It's a practical note, but one that can easily be forgotten in pursuit of a spectacular table display. Keeping it low can be just as rewarding among a simpler scheme – in this example, a meandering trail of eucalyptus is elegant, just enough to feel special and well below eye level.
What is the traditional Thanksgiving centerpiece?
For many, the essence of Thanksgiving can be summed up by a traditional cornucopia, or 'horn of plenty' centerpiece. These cone-shaped baskets have their origins in Greek mythology as a symbol of abundance, and have long been associated with celebrating the culinary bounty brought by fall harvests.
If you can't get hold of a cornucopia basket or you're not keen on the look, think about how you can make food the focus of your table display. Create a ceremonial space for your turkey at the table's heart, or fill bowls with harvest fruit and veg for a rustic approach.
How do you make a floral Thanksgiving centerpiece?
Florals never cease to add wonder to a centerpiece, but to make them feel appropriate for Thanksgiving, think about including in-season flowers only. Blooms like dahlias, marigolds and rudbeckias and stunning autumnal options, that can be blended with evergreen foliage like grasses, ivy and eucalyptus for a fall theme.
'If you're particular about the placement of your stems, why not try making a quick and easy grid to sit on the top of your vase using clear florist tape,' suggests Carmel Donohue of Poppy Belle Florals (opens in new tab). 'Alternatively, inside the vase, use a ball of chicken wire. This simple mechanic will allow you to carefully position your floral stems and keep them in place. Make sure you disguise the grid with your preferred foliage, blooms or dried moss.'
Ailis started out at British GQ, where a month of work experience turned into 18 months of working on all sorts of projects, writing about everything from motorsport to interiors, and helping to put together the GQ Food & Drink Awards. She then spent three years at the London Evening Standard, covering restaurants and bars. After a period of freelancing, writing about food, drink and homes for publications including Conde Nast Traveller, Luxury London and Departures, she started at Homes & Gardens as a Digital Writer, allowing her to fully indulge her love of good interior design. She is now a fully fledged food PR but still writes for Homes & Gardens as a contributing editor.