Thanksgiving wreath ideas – 10 tips for stylishly festive decorations
Thanksgiving wreath ideas can add a festive touch to your front door, entryways and beyond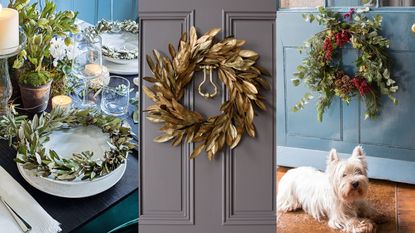 (Image credit: Chris Everard/Brian Benson/Mark Bolton)
Thanksgiving wreath ideas offer so much more than a warm welcome on your doorstep.
Over the holiday period, their construction can be an excuse to get together with friends, they can bring outdoor wonders into almost any part of the home, and they are among the Thanksgiving decor ideas that feel most instantly festive.
'A seasonal statement that will never change is a door wreath,' says Carmel Donohue, Founder of Poppy Belle Florals (opens in new tab). 'Both welcoming and inviting, a wreath is an effortless way to spruce up your home this autumn.'
Thanksgiving wreath ideas
From color-popping coronets to decorations covered in feathers, foliage and even harvest vegetables, we've found a whole bounty of beautiful Thanksgiving wreath ideas, and asked the experts to share their top tips on choosing – and making – your own.
1. Get creative and make your own
Not only is a wreath one of the best Thanksgiving decorations, it's one that you can make totally unique to your home with a little bit of DIY know-how.
'Creating your own with a bundle of foliage and florals, a simplistic willow ring and a reel of binding wire can also double up as an activity with friends,' says Donohue. 'You can really get creative and make a masterpiece to showcase all season. Pick up gorgeous seasonal faux flowers from [the likes of] TK Maxx and Homesense and experiment with refreshing your personal style.'
2. Add a wreath to your table setting
Wreaths aren't just for your front door, nor are they even confined to the walls – use them to make your Thanksgiving table decor ideas feel extra special too. The dining table is, after all, the center of the action on the big day, and adding wreaths to the back of your guests' chairs or to their place settings makes each seat feel thought-through and important.
Take after this example and create small, simple wreaths to sit on top of your dinner plates, mirroring the foliage or colors in your centerpiece and wider decor – it doubles as a party favor for guests to take home.
3. Fill your design with feathers
The star of the day is almost always the turkey, nudging elbows with your Thanksgiving centerpiece ideas for rapturous attention at the all-important dinner table. Game birds, however, are also a favored symbol of autumnal feasting – and the rust-colored, striped plumage of the pheasant makes for a gorgeous addition to holiday decor. Add feathers into your wreath for a forest-floor look, or go all out with an entirely feathered display like this stunning example.
4. Reflect the outdoor world in your indoor wreaths
Wreaths can, of course, work as well as indoor fall decor ideas as they do for our front doors. But they should always be used as a vehicle for bringing the outdoors in.
'Reflect the world around you,' says interior designer Benji Lewis (opens in new tab), who calls the fall his 'favorite season'. In this example, dried teasels are used for a spectacular indoor wreath, and cover the mantel too, with the look given a touch of order and style with a draping ribbon bow.
'It is important for the inside to be a reflection of what is outside our windows,' says Lewis. 'I love embracing the change into the season and always look to incorporate elements which are representative of this.'
5. Pepper your home with pops of color
Wrapping our homes up in warming fall color schemes would be the ideal way to welcome in the holiday season – but for most of us, repainting the house is a little beyond our capacity. Instead, consider using your Thanksgiving decorations to add pops of autumnal color to spaces throughout your home. Create a collection of smaller wreaths that are rich in color – like this red berry example – and run them through different rooms of the house to create a cohesive look. Back up the color injection with throws and cushions in a similar shade.
6. Add sophisticated sparkle to your home
While Thanksgiving decor doesn't tend to be quite as jazzy as its Christmas equivalent, introducing a little bit of subtle sparkle is a great way to hail the start of the holiday season. Combining the man-made luxe effect of metallics with Thanksgiving's celebration of nature's bounty can be tricky, but it can work with a gentle touch. In this wreath, foliage reimagined in soft matte gold and copper tones adds a luxurious touch to the traditional use of organic motifs and materials.
7. Go big
Fall wreath ideas look great all season long – but if you want to upgrade them for the special occasion, go big for your Thanksgiving edition. In this example, an indoor wreath is not only so wide in diameter that it takes up at least half the door's width, but it also sports a tail of fern leaves that drapes to the floor. What holds its size back from feeling too brash or imposing is the wreath's relaxed design, organic style, and subtle use of color.
'For an insider tip, use extra-large Command hooks to hold the wreath in place with no damage to your door,' suggests Donohue.
8. Stay on trend with eucalyptus
'With sage green shades on the rise, dip your toe into the trend with eucalyptus,' says Donohue. 'Eucalyptus is a neutral filler that works well with all other floral colour palettes of your choosing while carrying you through the whole season. Whether you opt for fresh, dried or artificial, you can style single stems in narrow neck vases for delicate detailing or gather a whole bundle into a rustic basket for a cozy, homely feel.'
In this wreath, the contemporary foliage favorite is combined with seasonal globe artichokes and roses, the former acting as a nod to the harvest celebration.
9. Pair your mantel decor with your wreath
Gathering round the fire after a turkey dinner is the ideal way to spend Thanksgiving's waning hours – so make your fireplace looks the part. Wreaths are an excellent seasonal addition to your over-fireplace decor, but to really make sure the overall effect looks considered, make an impact by tying your fall mantel ideas into the scheme. In this cozy living room, a large pine-based wreath is peppered with pine cones, delicate florals, autumn leaves and fairy lights – the mantel garland below is decorated just the same, and creates a real centerpiece to the room.
10. Incorporate tons of texture
The best thing about fall's natural bounty is that it can be so visually varied – from crunchy orange leaves to jewel-like red berries, from spiked pine cones to bulbous pumpkins. Be sure, then, that your Thanksgiving wreath is filled with a variety of textures in order to fully celebrate the season. This wreath includes around a dozen different types of organic components, and features a rough, relaxed edge to allow the silhouettes of each to make their presence felt.
How do you make a Thanksgiving wreath?
To start, you'll need a base. You can either make this yourself using pliable branches like willow that can be twisted into a circular shape, or you can purchase metal or natural ones from a homeware store.
You'll then need to get hold of your desired foliage, and start attaching it to, or wrapping it around, the base – use floral wire to secure it into place. Build this up in layers until the base is hidden from view, and intersperse the design with details of your choice, from pine cones to bunches of berries, also attached to the base using the floral wire.
To finish, get some fishing line (if you want the attachment to be discreet) or ribbon (for a feature), and tie it around the top of the wreath to create a way to hang it from your door or picture hook.
Ailis started out at British GQ, where a month of work experience turned into 18 months of working on all sorts of projects, writing about everything from motorsport to interiors, and helping to put together the GQ Food & Drink Awards. She then spent three years at the London Evening Standard, covering restaurants and bars. After a period of freelancing, writing about food, drink and homes for publications including Conde Nast Traveller, Luxury London and Departures, she started at Homes & Gardens as a Digital Writer, allowing her to fully indulge her love of good interior design. She is now a fully fledged food PR but still writes for Homes & Gardens as a contributing editor.