6 Thanksgiving mantel decor ideas – create a cozy and festive fireplace
From flowers and foliage to colorful candles and pretty pumpkins, make this warming heart of the home even more inviting and stylish with Thanksgiving mantel decor
(Image credit: Renaissance London/Ronny Colbie | Kit Kemp | Sophie Allport )
A fireplace already acts as an inviting, cozy, and eye-catching focal point in a room, so provides the perfect place to get creative with elegant Thanksgiving mantel decor to make it look and feel even more special for the season.
Some of our favorite Thanksgiving decor ideas are often found around a fireplace, as this warm, snug space is a natural gathering point in the home during fall and winter, creating an ideal spot to get creative with seasonal decor.
Of course, many of us will already have plenty of stylish mantel decor in place, but swapping a few pieces out for some new, stylish seasonal decorations can create a fun and festive new look.
Designers share their favorite Thanksgiving mantel decor ideas
We've asked a selection of interior designers to share their favorite ways to style a mantel for Thanksgiving, and how best to enhance this warm hub of the home with both classic and contemporary seasonal decoration, perfect for coordinating with fireplace ideas of all shapes and styles.
1. Style with foliage and flowers
A classic fall mantel decorating idea, you can never go wrong with celebrating nature's bounty and beauty and styling your mantel with a collection of fall flowers and foliage.
Enhancing a room with beautiful color, texture and shape, these natural accents can be as minimalist or as maximalist as you like. From layers of branches and flowers that simply rest atop the mantel, ideal for rustic Thanksgiving decor, to Thanksgiving wreaths and vases of delicate stems and branches, there are so many different styling options to explore.
2. Accessorize with pumpkins and gourds
'When I style my mantel for a new season or holiday, I always like to start with one larger focal piece and accent it with candles and vases of seasonal greenery or foliage – and Thanksgiving time is no different. For a festive Thanksgiving mantel, try a large pumpkin or gourd, or even a woven vessel of several gourds and ears of dried corn, as your primary decorative object. Then, fill out the rest of the space with rustic brass or wood candleholders and smaller ceramic or stone vases filled with autumnal foliage sprigs,' suggests interior designer, Kathy Kuo.
Designer Tara McCauley also adds, 'gourds are my favorite option for bringing the outside in – and they last for a long time. I suggest choosing a few different textures, sizes, and colors and play with different heights when you arrange them. A mixture of ivory, ochre, and green could be really beautiful – I prefer to keep the perfectly round orange pumpkins to decorate the front porch.'
Whether you decide to have a fun family day out and pick a collection of real pumpkins and gourds, or embrace a more modern look with stylish faux pumpkins, you can never go wrong with decorating with pumpkins at Thanksgiving.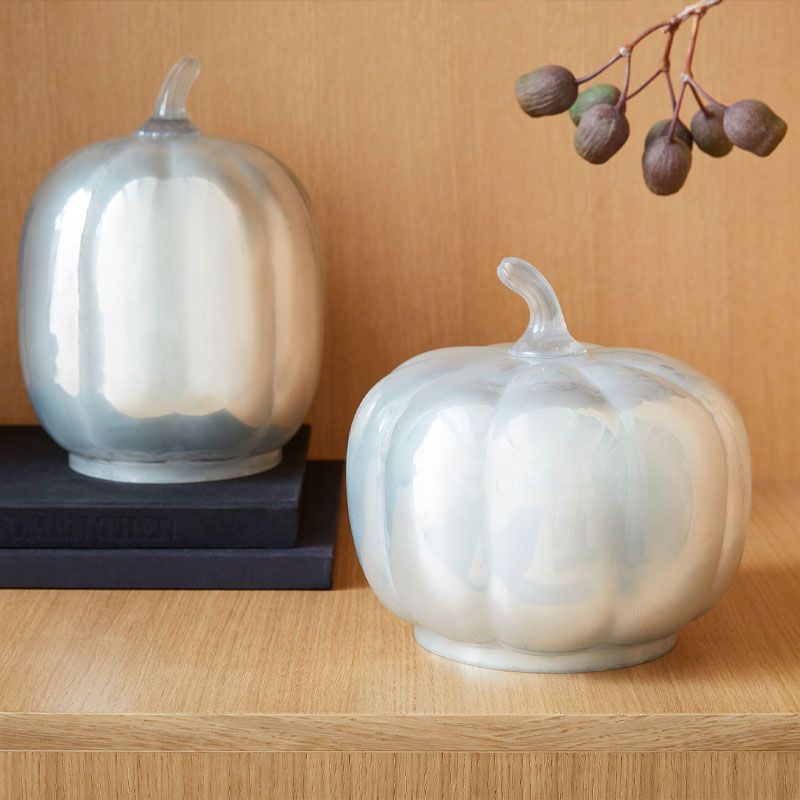 Mercury Glass Silver Pumpkins
Make a subtle statement with these silver glass pumpkin decorations; perfect for adding a touch of glamor to tabletops and mantels.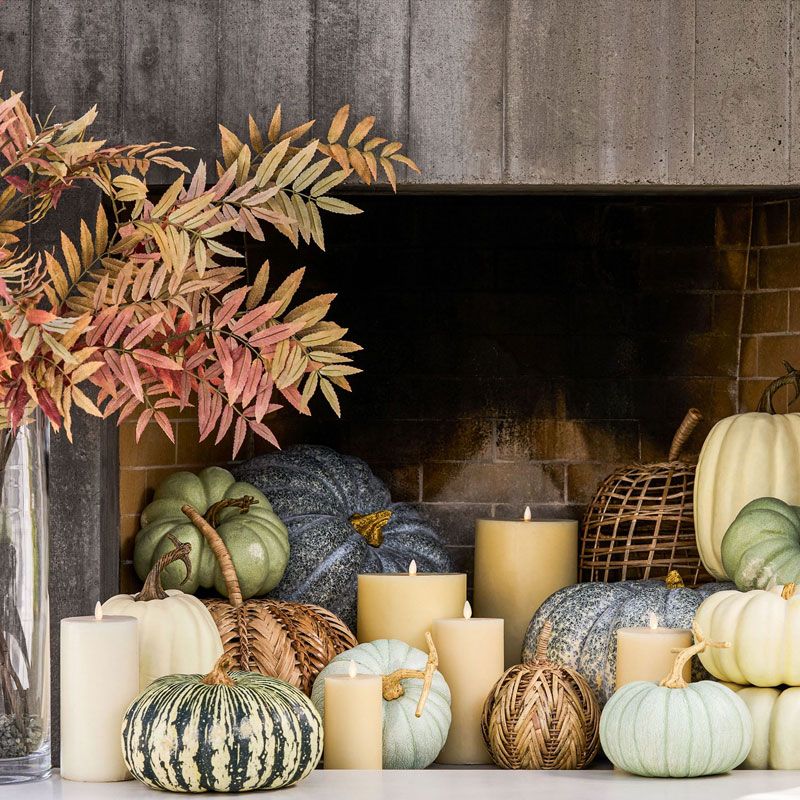 Showcase fall's bounty with these hand-painted pumpkins and gourds, available in a variety of organic shapes and seasonal colors, they can be placed all over the home (both inside and out) to celebrate the changing seasons.
Downtown Manhattan-based interior designer Tara McCauley draws from an eclectic array of influences from art history, fashion, and travel, and has experience working with clients in New York, Westchester, the Hamptons, and Los Angeles. She recently designed the Primary Bedroom at the Brooklyn Heights Designer Showhouse.
3. Decorate with an inviting garland
Seasonal garlands really do come in all shapes, sizes, and materials. From traditional, festive fall garlands crafted from foliage and flowers – if you have some time on your hands, this can make for a great Thanksgiving craft, to more modern garlands that feature lights, signs and hanging ornaments, they make for a wonderful addition to a Thanksgiving mantel.
Designer Chantelle Hartman Malarkey says, 'I love adding a festive sign to my mantel. It adds a focal point to the decor, and is the perfect item to add to an existing space to be instantly festive during the holidays. A hanging garland with a Thanksgiving saying on it like "Give Thanks" "Happy Thanksgiving" or "Thankful" is a classic,' – we think this 'Thankful' design from the John Derian x Target Thanksgiving collection is perfect.
Chantelle Malarkey is an interior designer and photographer, and uses her blog to inspire others to transform every space in the home into its most beautiful version.
4. Create an enhanced feeling of coziness with candles
An easy Thanksgiving decorating idea that is simple yet effective, a collection of candles placed across your mantel can create an irresistibly cozy feel, perfectly complementing the warm flames of the fire.
From more unique candles that double up as seasonal ornaments, such as these pretty pumpkin designs from Pottery Barn, to classic elegant taper and pillar candles – these taller candles also work well for Thanksgiving table decor, candles will always be a wonderfully versatile decoration, adding inviting warmth, scent, color and shape to a space.
5. Get creative with seasonal decorative ornaments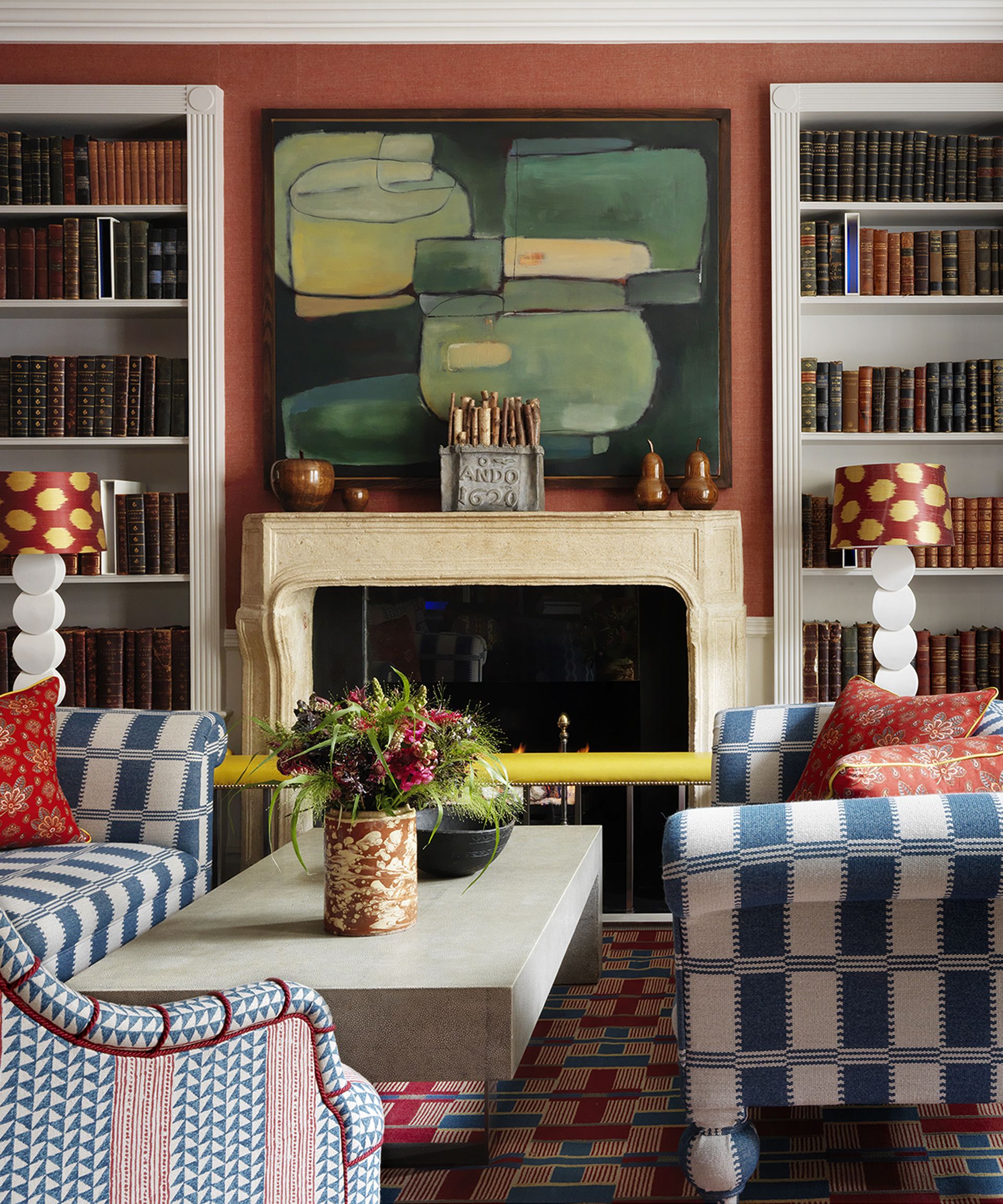 Home decorating expert, Nikki Rajnovich, says to style your Thanksgiving mantel with, 'A selection of DIY and store-bought ornaments that encapsulate the essence of Thanksgiving for you. Whether that's ceramic turkeys, pilgrim hats or intricate mini-pumpkin designs, these pieces can be arranged to enhance the depth and dimension of your mantel display.'
In this colorful living room, the mantel has been elegantly styled with a selection of glass pumpkin and gourd ornaments, with the deep brown finish perfectly complementing the room's rich red tones, establishing a more subtle, modern Thanksgiving decorating idea. These glass pumpkins from West Elm can create a similar effect.
FAQs
What decorations do you put up for Thanksgiving?
As we have explored in this piece, there are a whole host of decorations to use to make your home feel more fun and festive for Thanksgiving.
Whether you want to create a more traditional look with real pumpkins and glorious green garlands or are taking a more modern approach with unique faux pumpkins and contemporary ornaments, most Thanksgiving decorations celebrate the changing of the seasons and the beauty of nature.
Of course, some decorations, such as wreaths and pumpkins, are more traditional than others, but there are no rules on how you should decorate your home for Thanksgiving, making your home feel more special, cozy, and inviting for the celebrations is key.
---
If you're looking for some beautiful new decorations for a fresh Thanksgiving scheme, we've selected some of our favorite designs from the Pottery Barn Thanksgiving collection and the Anthropologie Thanksgiving collection; from colorful tableware to ornaments and more, both brands have a brilliant selection of seasonal decor.
Sign up to the Homes & Gardens newsletter
Decor Ideas. Project Inspiration. Expert Advice. Delivered to your inbox.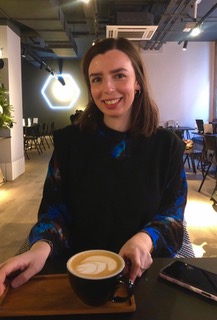 Zara joined Homes & Gardens in February 2022 as a Content Editor. After studying English Literature at University, she worked as an Ecommerce Website Editor, Content Writer and Buying Intern at multiple independent businesses within the luxury retail and lifestyle sectors. Her role at Homes & Gardens unites her love, experience and passion for the world of design and desire to create inspiring written content. She enjoys nothing more than discovering new trends, brands and products, whether that be in fashion, interior design or lifestyle.