Living room divider ideas – 9 creative ways to divide your living room
We share nine clever trends to create a stylish and useful divide in your sitting room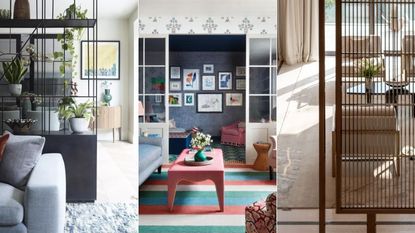 (Image credit: Future/Mary Wadsworth / Studio Peake/Alexander James / Champalimaud Design)
Sign up to the Homes & Gardens newsletter
Decor Ideas. Project Inspiration. Expert Advice. Delivered to your inbox.
Thank you for signing up to Homes & Gardens. You will receive a verification email shortly.
There was a problem. Please refresh the page and try again.
Living rooms, lounge rooms, call them what you will, contemporary homes cast a new light on lounge living, and with it the need for room dividers.
Modern properties, apartments and renovations can often take the form of one central living space, which could include a kitchen, dining area and a living room, sometimes a workspace might be thrown in for good measure. The question is how designers break up these open modern spaces so that they do not feel like a town hall with furniture in various corners. The answer? Dividers.
As walls are knocked through and open-plan living takes center stage in contemporary living, how do we creatively and elegantly divide a room up so that it looks good but allows the natural zoning of spaces?
So, how do we divide and conquer?
1. Use a classic screen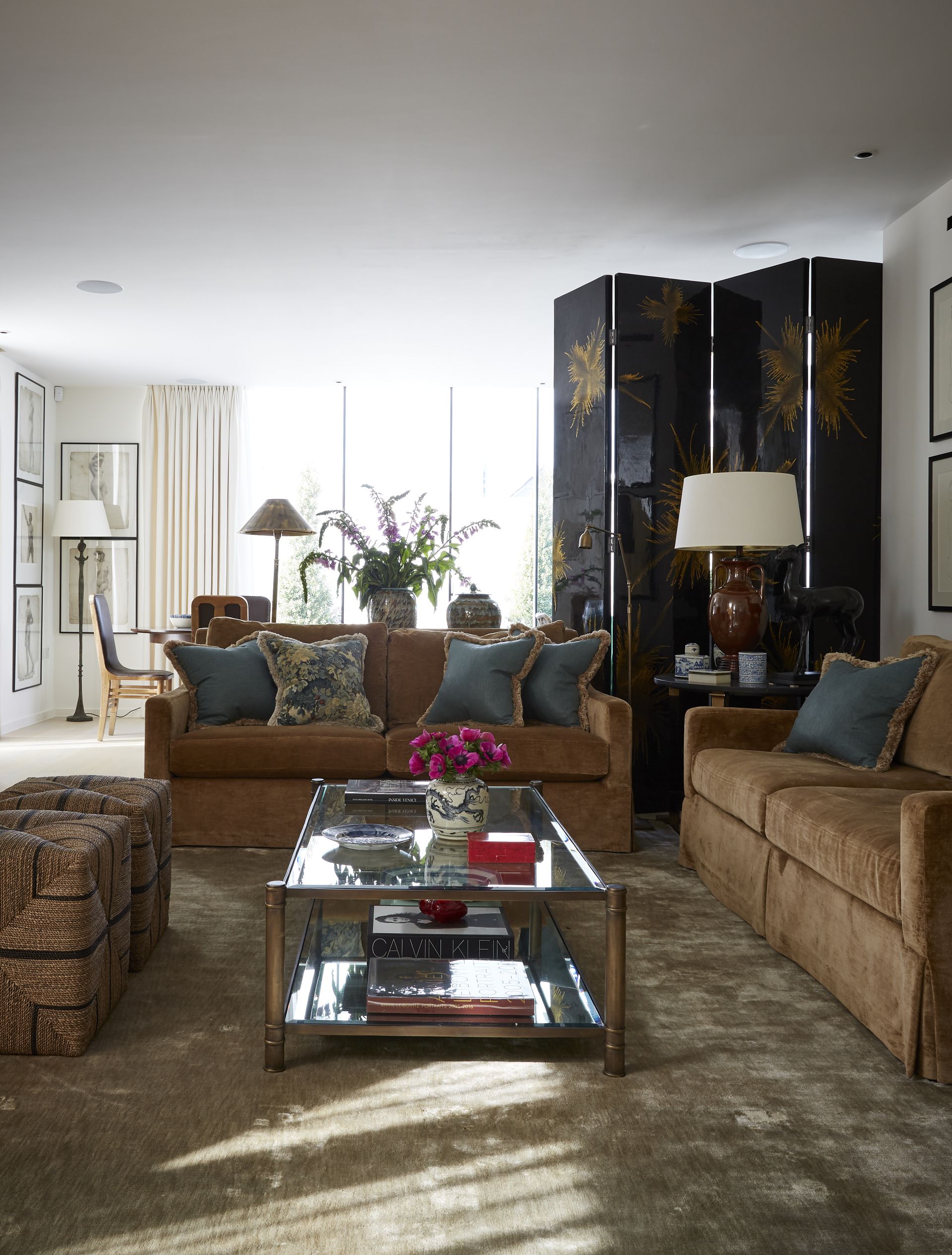 Traditional ideas are often some of the best, and decorative screens have been used in interior decorating as room dividers for many centuries. Ornately decorated, lacquered, detailed with fine threads or paintwork, and woven from cane or bamboo, these beautiful interior pieces of furniture are exceptionally useful, because they can easily be picked up and moved, and reconfigured to suit any space.
Dane, principal at Dane Austin Design concurs, 'Room dividers can be useful as a stylish accent piece to dress up a simple corner, add an element of architecture, or as a versatile space planning solution for spaces both large and small.'
They are brilliant at hiding unsightly detritus in a room, stretching out and dividing long areas in a room or you fold them into smaller screens to allow them to divide a minor corner of a room. The choices of division and style are almost endless which is what makes these particular pieces of design furniture so popular, incredibly practical, and of course, the kind of enduring piece of furniture that can be handed down and kept as heirlooms.
2. Chose practical shelving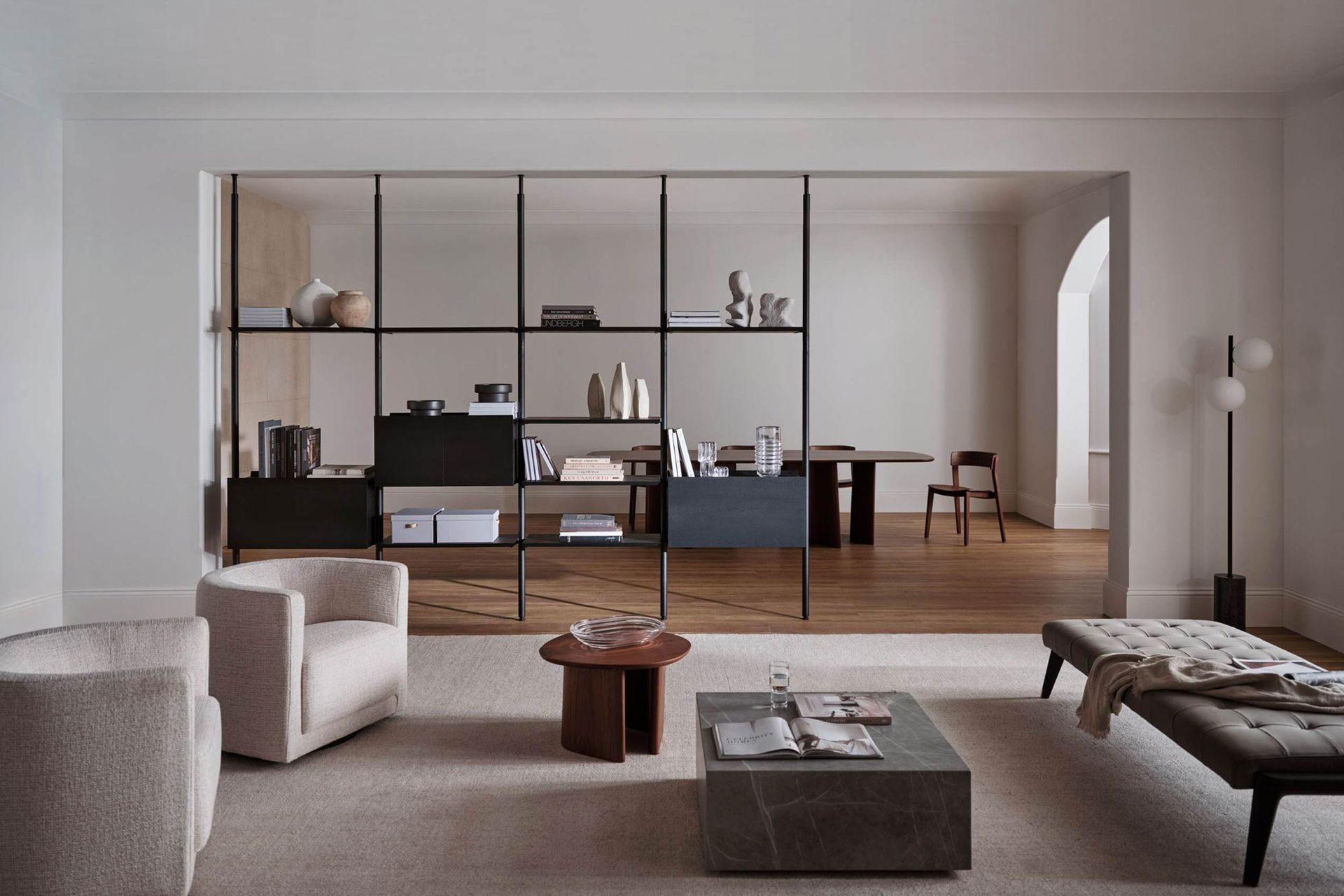 A more modern take on dividers is shelves. Shelving can be a simple and functional solution for dividing a living room and creating separated zones. Free-standing shelves come in many highly stylized designs and can be decorated to create an office-type zone in the living room, or they can be styled with objects, artworks, houseplants and design books to create a chicer and more minimal look to the division.
Your shelving choice can run short or run long, depending on the kind of division you would like to create. Some shelving units are designed to be configured in any way that suits, allowing you to entirely shut off a space, or partially create a division.
'Zone a large living room with open shelving, this allows light and air to flow and does not obstruct sightlines, but still creates a sense of division, be sure to channel your inner interior designer and style the shelves.' Says Irene Gunter, Principal at Gunter & Co.
How you create the division is obviously what kind of living space you want, if you want to feel connected to each zone in your living room, then leaving space between the shelving makes more sense. But if you are keen to create very separate zones then use shelving that offers this type of configuration.
3. Get creative with furniture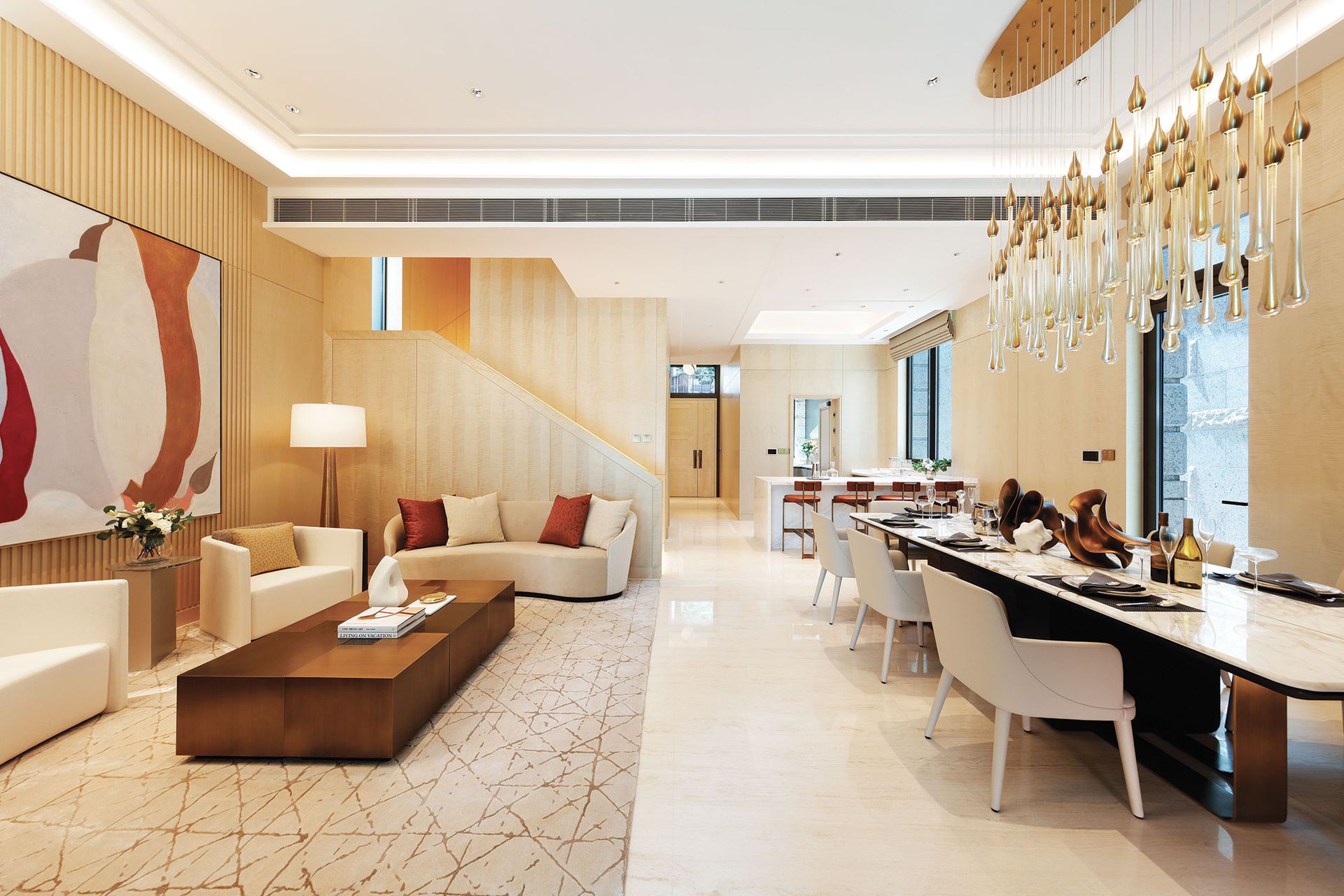 Elisabeth Rogoff, principal at Champalimaud Design, explains that the trick to creating visual division is, 'To make each area an extension of the last while giving each module a distinct personality so you are drawn into the next area with a sense of curiosity and don't feel jarred or confused when you make the transition.'
In this open-plan living space, division has been created using furniture, but as Elisabeth explains, there is cohesion in the overall tone and color choices in the design, providing a sense of connection, whilst also delivering separate areas in a room.
4. Chose a console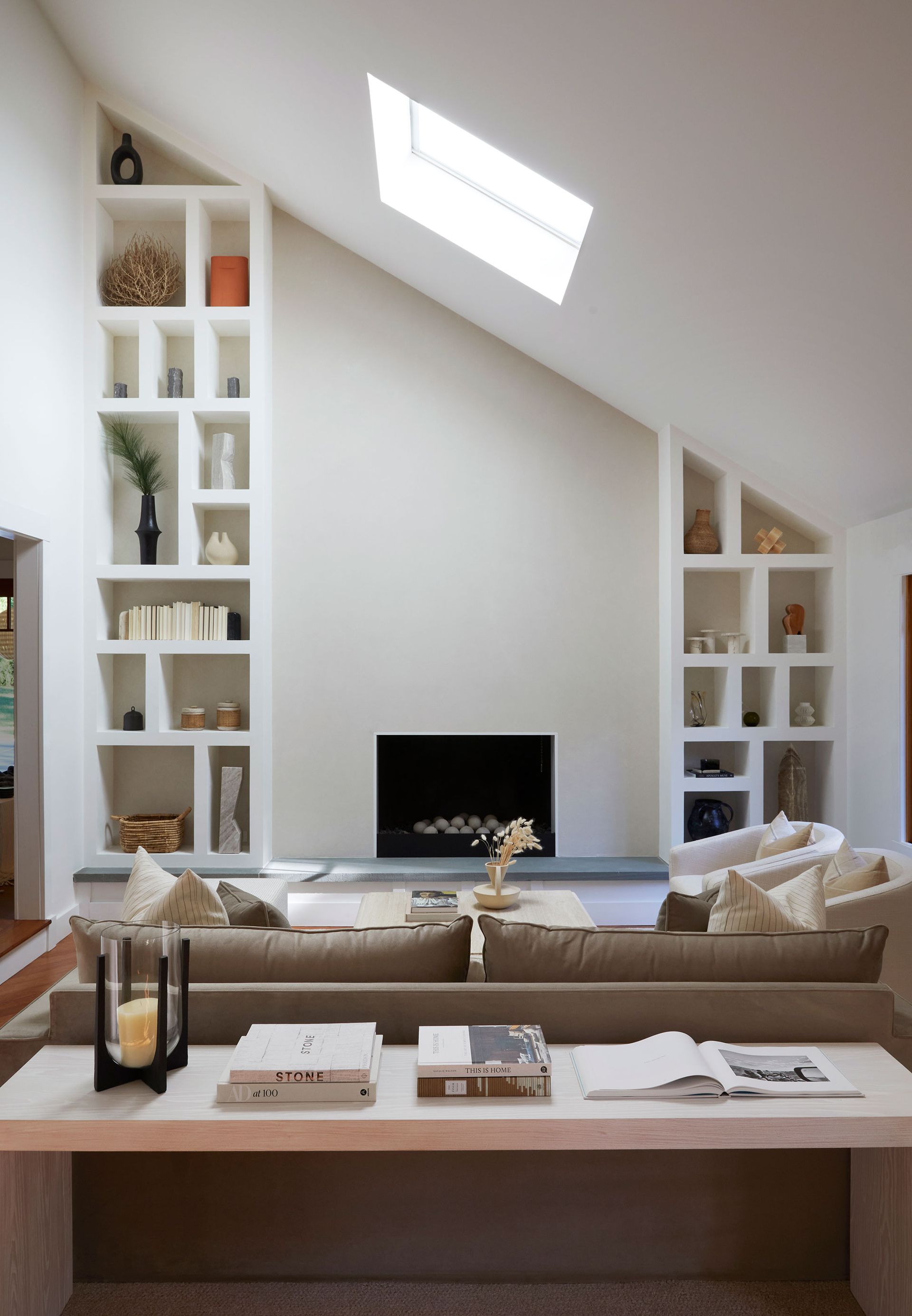 How you configure your furniture is a brilliant way to subtly, but clearly, create different zoning areas in your living room. Console tables are great pieces of furniture to divide a sitting room between a relaxing, chilling area to an office or eating area. By their very nature and design the length and breadth of a console table ensure they simply create division.
Hyphen & Co designer Eliza McNabb, 'Use furniture to your advantage! A console behind a sofa is a great way to indicate that two spaces are separate. Decorative light fixtures installed over separate areas can also provide visual separation, defining separate spaces.'
5. Make space for multiple seating areas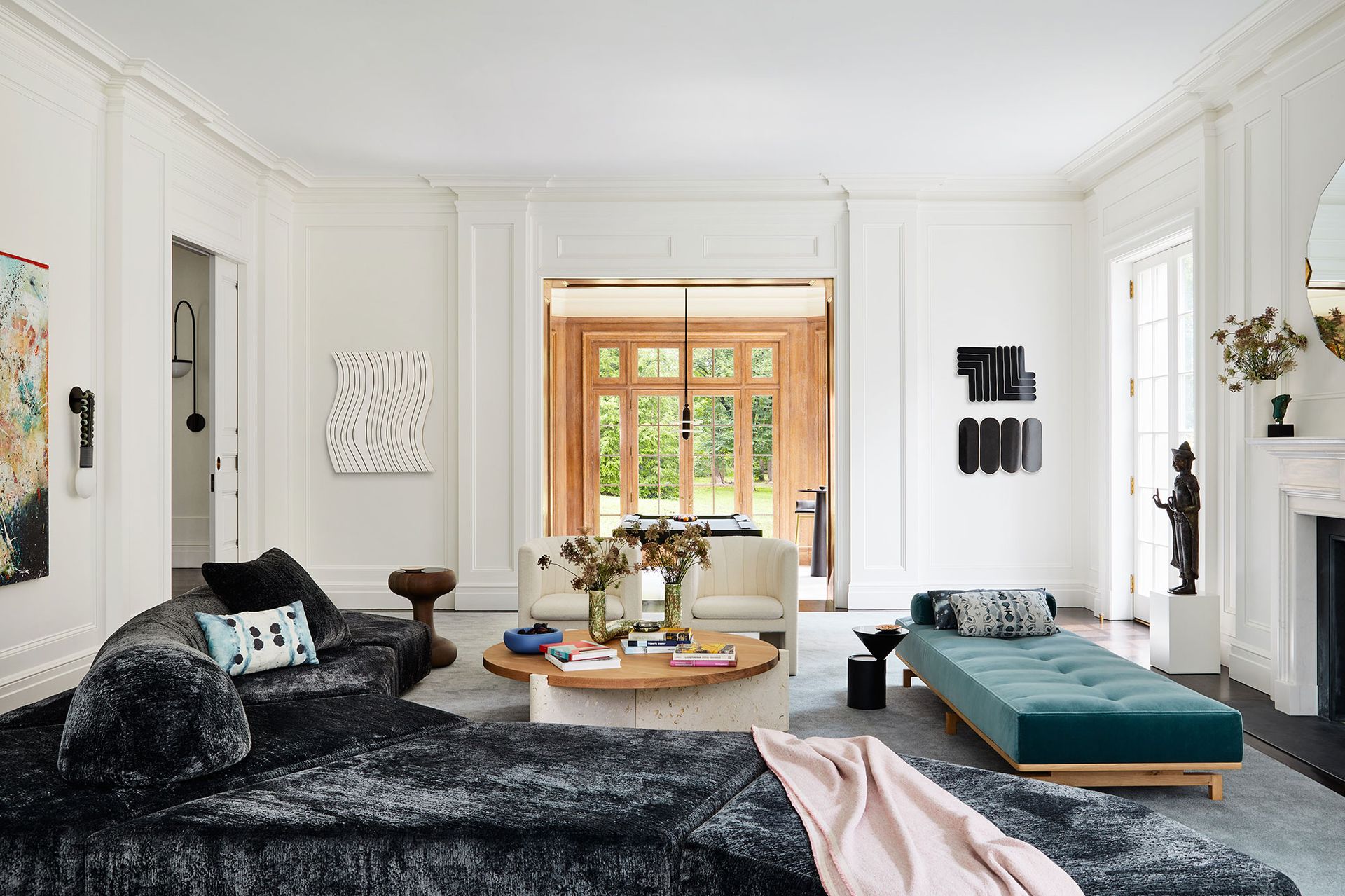 Seating can offer a different perspective to the division of a sitting room, by simply choosing different types of seating. You can create a plethora of division that although separate, feels joined up by the very fact of the furniture offering the same solution.
Dividing a living room using seating can be an effective visual choice and provides you with the opportunity to select a variety of seating options. Lucy Harris at Lucy Harris Studios thinks that: 'Chairs are like jewelry and should have an interesting shape that contrasts with the sofa.'
Lucy adds, 'In a large room, I like to have several seating areas and generally only one sofa or sectional in the main seating area. Multiple seating areas make a space feel generous. I like one of the seating areas to feel grander than the other so your eye has a place to rest. In a secondary seating area, I would use chairs and a bench, not a sofa, for seating.'
6. Invest in statement steel-framed doorways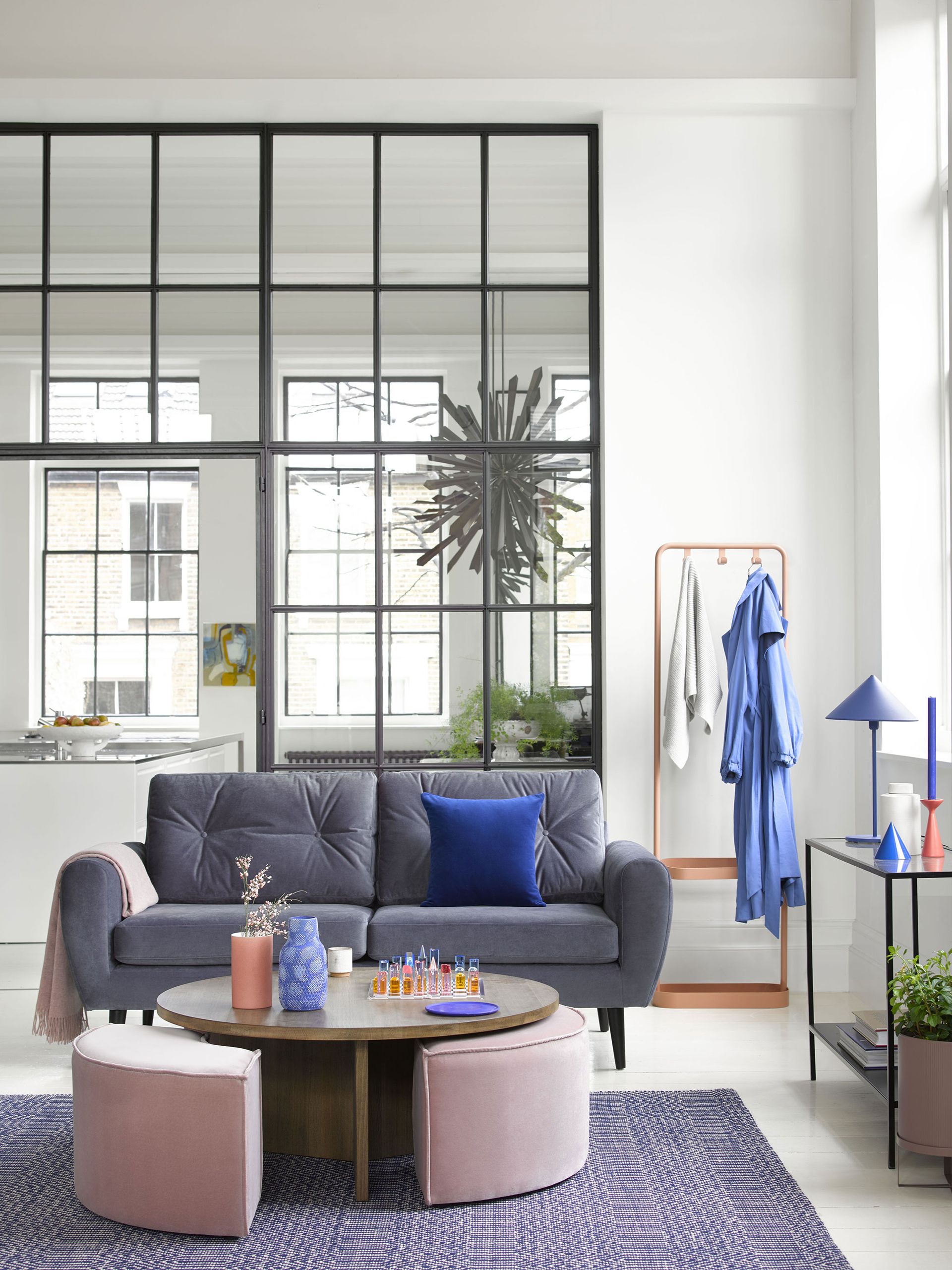 Having a large living room is a joyful thing, but often working out how to create stylish division can give you a headache! It can provide you with plenty of space to entertain and get away from family at Christmas, but it can be tricky to make it feel joined up and cozy.
Dividing a room into smaller zones can be done with doors and windows and Critall style doors and windows can be used as dividing options and are a fashionable solution to choose inside a larger room. This contemporary style of framed glass allows a room to breathe, ensuring the flow is not disturbed and that light is able to access every part of the room. Critall doorways or windows can be chosen to fill an entire space for division or just partly and the look is definitive and extremely chic.
7. Take a modern approach with slatted screens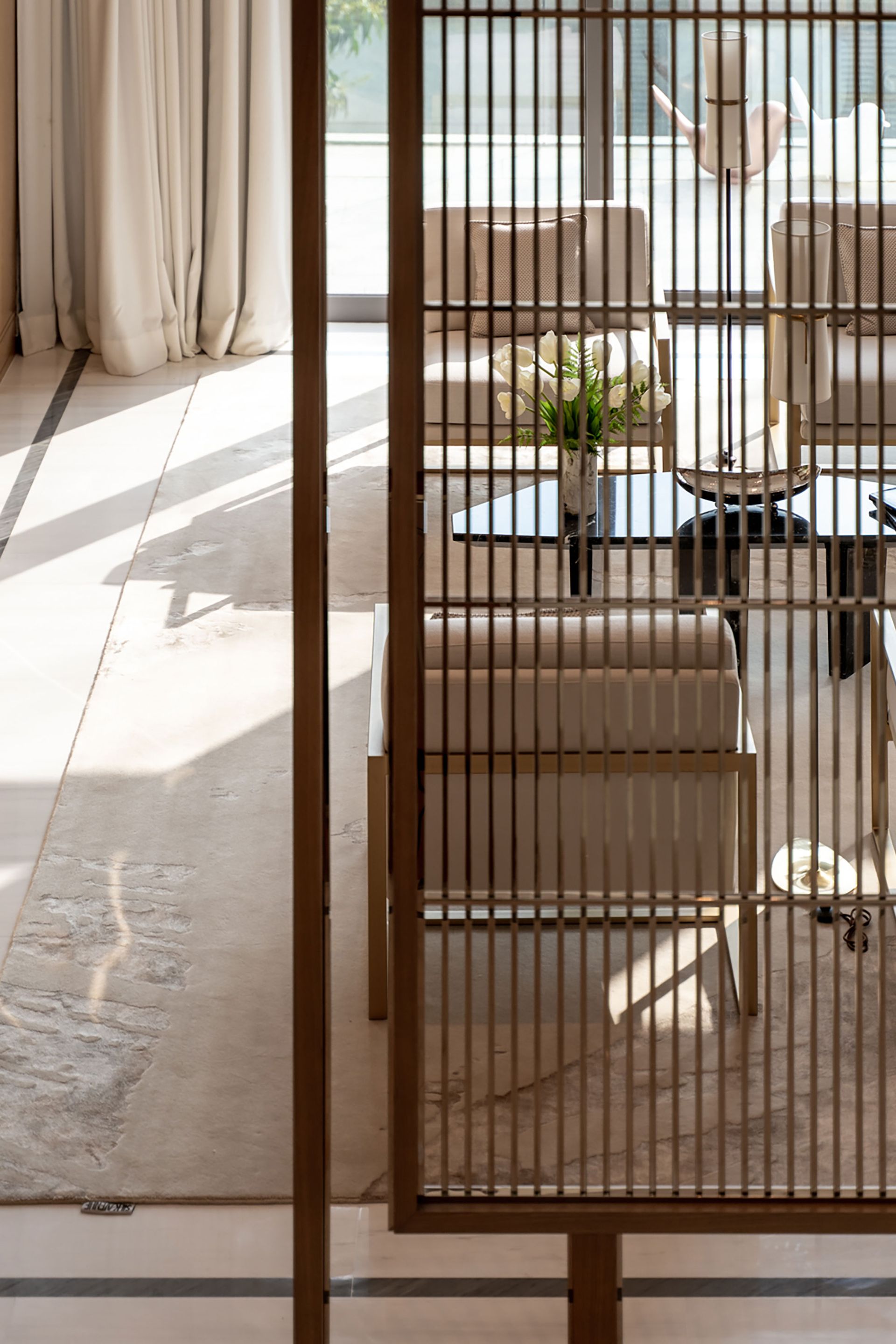 Design is ever evolving, from the brilliant and much-used decorative screens from previous centuries, new designs born from classical features such as screens offer a contemporary slant on an original design.
Perforated metal screens or slatted louvered elements made from natural materials offer a distinct and modern way to divide a room. This home in Hong Kong boasts beautiful, modern wooden screens, which gently and effectively partition the living space, offering a classic design but delivered with a modern twist.
8. Use color to create zones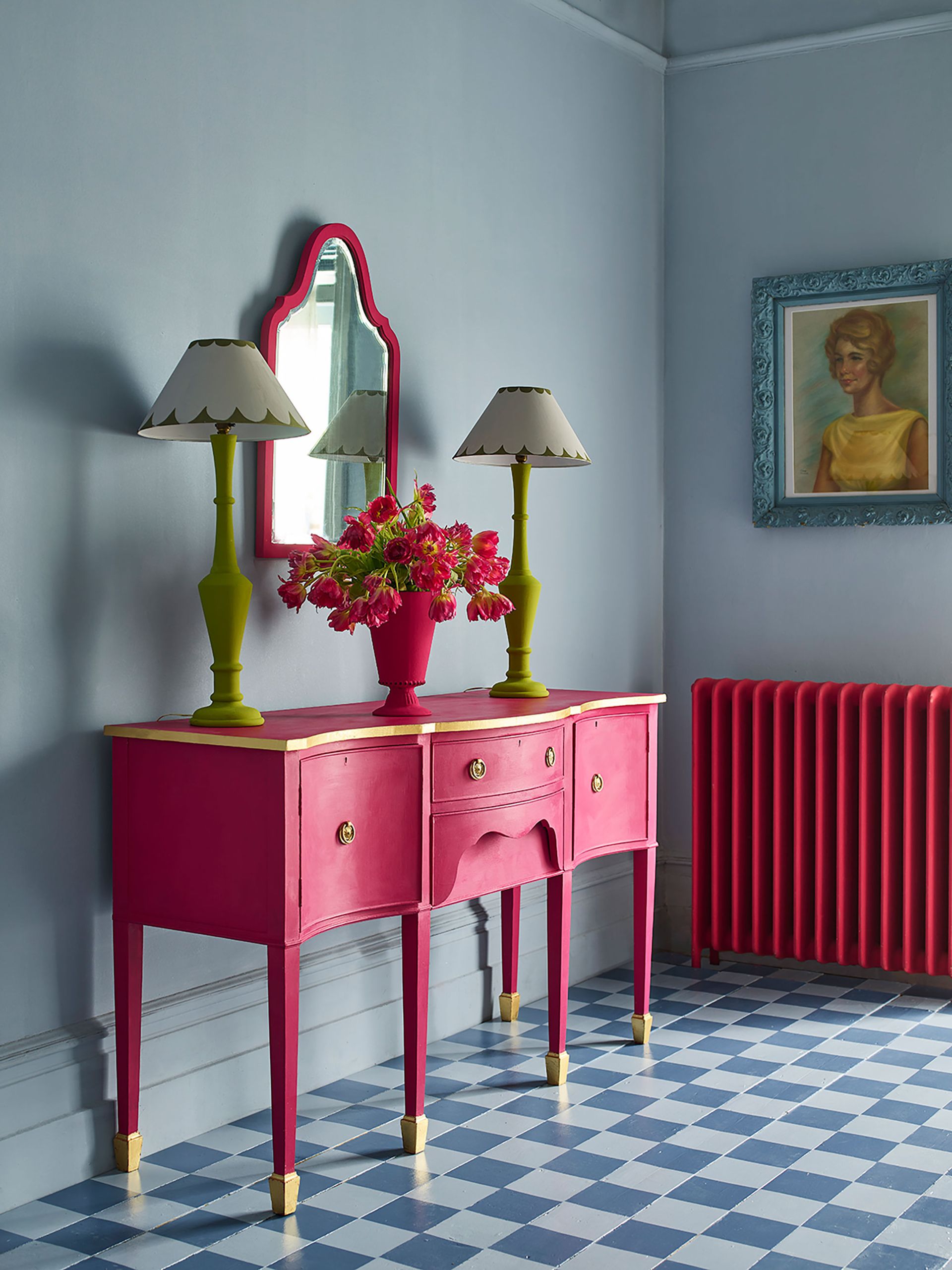 'Zoning is so useful within our homes and makes our living space so much more flexible. So many rooms are dual-use now, think studies in bedrooms, kitchen-diners, living rooms with children's play spaces, etc. The quickest, most effective way to create a definition between spaces is using paint'.
Believes color and paint expert, Annie Sloan CBE, using paint to separate areas in an open living space is an affordable way to create division in your living room.
Paint furniture or walls or even the floor to get that feeling of division.
9. Hang curtains in a contrasting color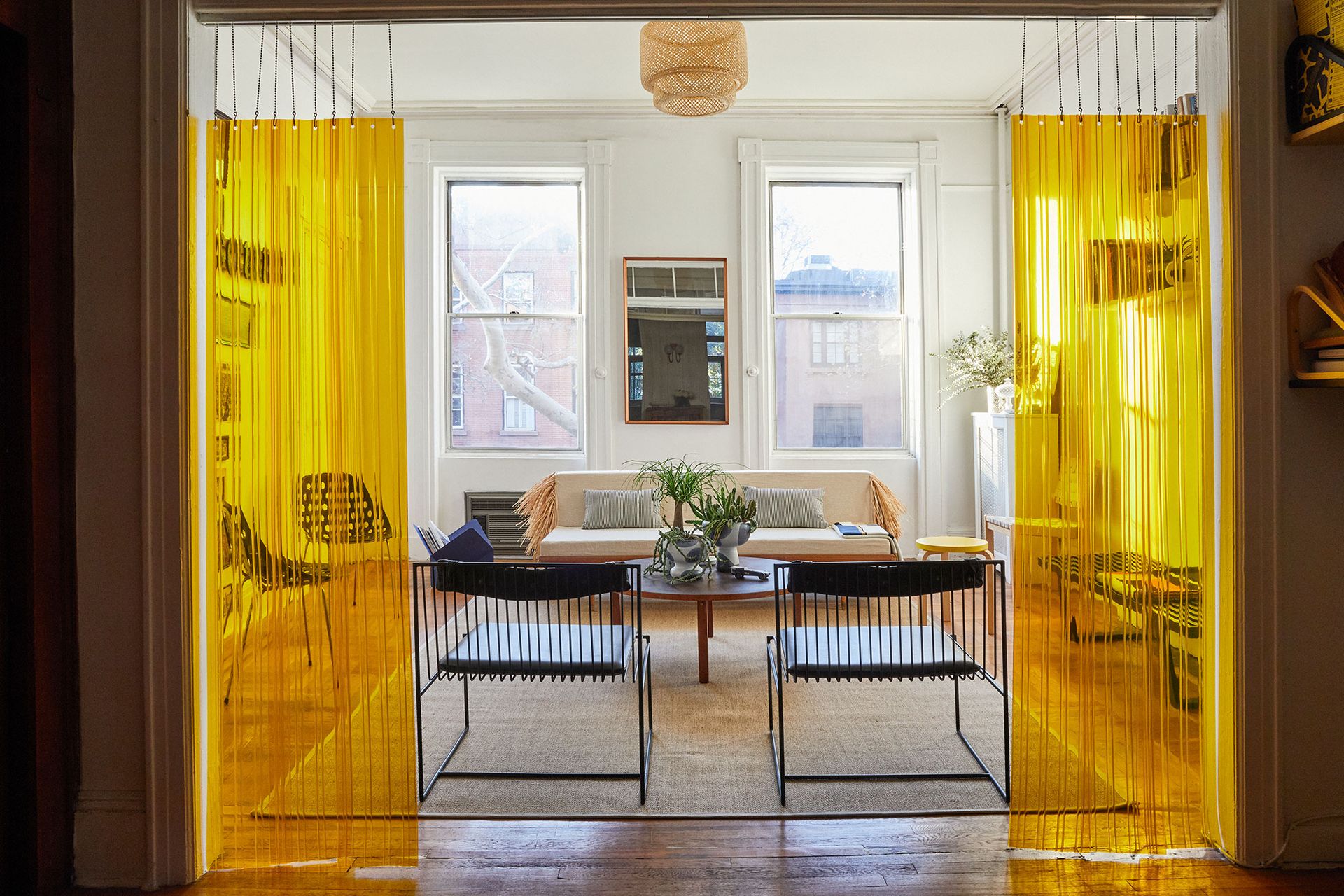 Think out of the box when it comes to divider ideas, curtains can become dividers, and depending on the fabric, they can offer dark, heavy dividers so that a zone can become snug, or they could be light and airy, offering more of a suggestion of division.
In this Brooklyn apartment, interior designer C.S. Valentin wanted a unique design solution to divide his living and working space.
'I wanted something a bit out of place to separate the office space from the living room.' He explains, 'I didn't want a traditional curtain, so I started looking into hospital drop chains curtain tracks, but I also wanted color and ideally yellow, somehow it led to those industrial food storage PVC strip curtains.'
How do I divide up my living room?
Dividing ideas are as varied and creative as you can imagine, they can be subtle, for example, choosing to use a rug as a simple way to divide a room and create a separate zoned space. Or they can be ornate and decorative with more thought put into the installation, perhaps choosing Critall windows, doors, or a glass partition.
You can use different types of furniture, differing seating options, a dining table and chairs, or something as straightforward as a console table. Or you might prefer to choose a more decorative design selection, such as an ornate or antique screen or color blocking using varying tones from the same palette or a completely bold paint tone, to delineate clearly a different zone.
Whatever method of division you use, ensure your zones are clearly marked by your choice. Aim to keep the colors of furniture or furnishings in the same design palette as the rest of the room to ensure visual harmony. Most importantly, have fun, and trust your own personal design instincts.
Sign up to the Homes & Gardens newsletter
Decor Ideas. Project Inspiration. Expert Advice. Delivered to your inbox.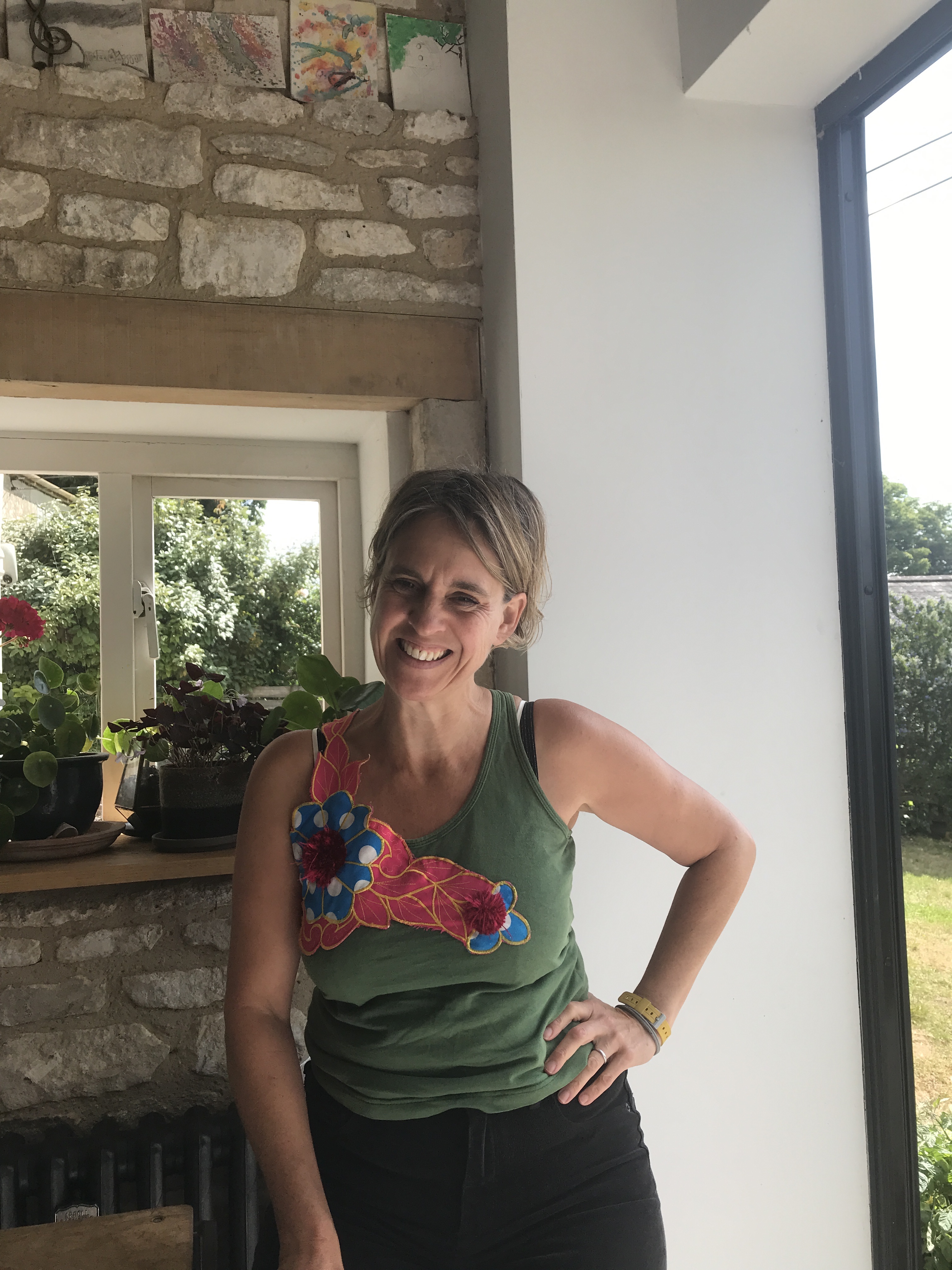 Hannah Newton is a lifestyle, interiors, travel and design journalist and editor who has been writing for the past two decades, she has written for national newspapers including The Times, The Telegraph, The Guardian and The Observer as well as interiors titles Elle Decoration and Architectural Digest in the UK and across Europe, South Africa and Australia.