How to paint trims with carpet – 5 professional decorator tips to protect your flooring
Painting experts explain how to paint trim with carpet to avoid drips and stains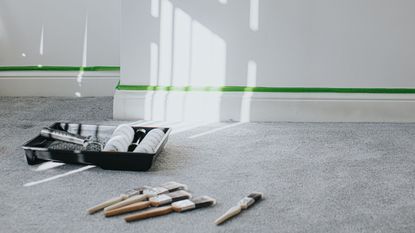 (Image credit: Improovy)
Whether you have high- or low-pile carpets they often get in the way of painting around the home. So how do you paint trims with carpet?
Given that it is incredibly difficult to get paint out of a carpet, protecting the flooring when painting trim is essential – even if laying down painter's tape on fibers is not as easy as wooden flooring.
Professional painters and decorators have shared how to paint trims with carpets for a complete paint job without any mess.
How to paint trim with carpet
You should always paint trim before walls, so your baseboards are one of the first tasks to complete when painting a room yourself. As a result, the time you put into prep work now will pay off as you move up the wall and around the room.
Here are the five expert-approved methods you can use when painting trim with carpet.
1. Stick down painter's tape
Painter's tape is a go-to for any paint job, whether it be painting trim or painting a wall. You can lay down a layer or two of thick painters tape like Frog tape from Amazon, along the base of your trim to push down the carpet, suggests Mike Beaulieu, professional painter and owner of New Look Painting, Michigan, or you can use it to secure a drop sheet close to the wall.
'Make sure to push the painter's tape along the edge of the carpet where it meets the trim to prevent leaks,' he says.
2. Wrap a rubber band around the brush hairs
A less conventional method of painting trims is to use only part of your paintbrush, leaving the lower half of the brush clean so it can brush the carpet safely, says Andre Kazimierski, CEO and professional painter at Improovy painters. He recommends using a rubber band as a makeshift shield.
'Simply wrap a rubber band tightly around the bristles of your paintbrush, leaving about half an inch of bristles exposed at the top. This will create a barrier that can help prevent the paint from getting on your carpet while you're painting the trim,' he explains.
'You can use this technique when painting along the bottom edge of the trim closest to the carpet. Be sure to use a light touch with your brush and apply the paint in thin, even strokes to minimize the risk of drips or splatters.'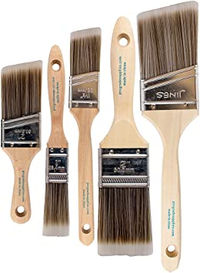 Prograde Paint Brushes | $11.99 at Amazon
These pro paint brushes are highly rated on Amazon and are angled for smooth paint applications on a variety of projects such as painting trims.
Andre Kazimierski founded Improovy in 2019 and has developed it into a leading home improvement service. It is his mission to make painting more efficient for all of his clients and uses generations of expertise to inform his work.
3. Move the carpets away from the walls
The best way to paint the trim around the carpet without marks is to move the carpet away from the area altogether, says Phi Dang, painter and owner of Newline Painting. This will also provide you with more space to work.
'If you're painting a room that has not yet been carpeted, it's best to paint the trim first before the carpet is installed,' he adds. 'This will save you time and effort and ensure a neater finish.'
4. Use paint that doesn't drip
When selecting a paint finish for a trim you should opt for a paint that can withstand scuffs and marks but also doesn't drip to help prevent an uneven finish and paint sliding to the carpet as it dries, says phi Dang. He often uses this approach on top of using sheets and tape to cover carpets. Whether you choose matte or gloss, ask at your local DIY store which paints are less likely to drip and ensure you aren't using too much paint on your brush, as this can mean more splatters.
5. Use sticky plastic floor coverings
If you are going to be redecorating the space for a while or are having some heavier work done on top of the painting, then you may want to consider using some heavy-duty carpet protector sheets, which you can find at Amazon.
This sticky-backed plastic stays down for longer and withstands more frequent footfall, making it a great alternative to painter's tape. What's more, it is far wider, protecting a greater area of carpet – we used it when we had workmen in the house and it was a lifesaver.
FAQs
Do you paint before or after laying down carpet?
If you are redecorating a room that you have planned carpet for, it is easier to complete all of the painting including walls, ceilings, and trims, before installing the new floor coverings. This makes the process easier and protects your new carpet from stains.
What is the best way to cover carpet when painting?
When painting, it is a good idea to use a plastic polyurethane sheet to protect the fibers from dropped paint and spray from rollers. You can use a fabric drop sheet, but be aware that thick droplets of paint may soak through and stain the carpet regardless.
Always secure the sheet close to the baseboards with painter's tape to ensure it doesn't move as you work and accidentally expose the flooring.
---
Painting trims with carpet isn't as daunting a task as you may initially think. Using one or more of these expert tips will ensure your trims are finished to perfection without compromising on your floor coverings.
Sign up to the Homes & Gardens newsletter
Decor Ideas. Project Inspiration. Expert Advice. Delivered to your inbox.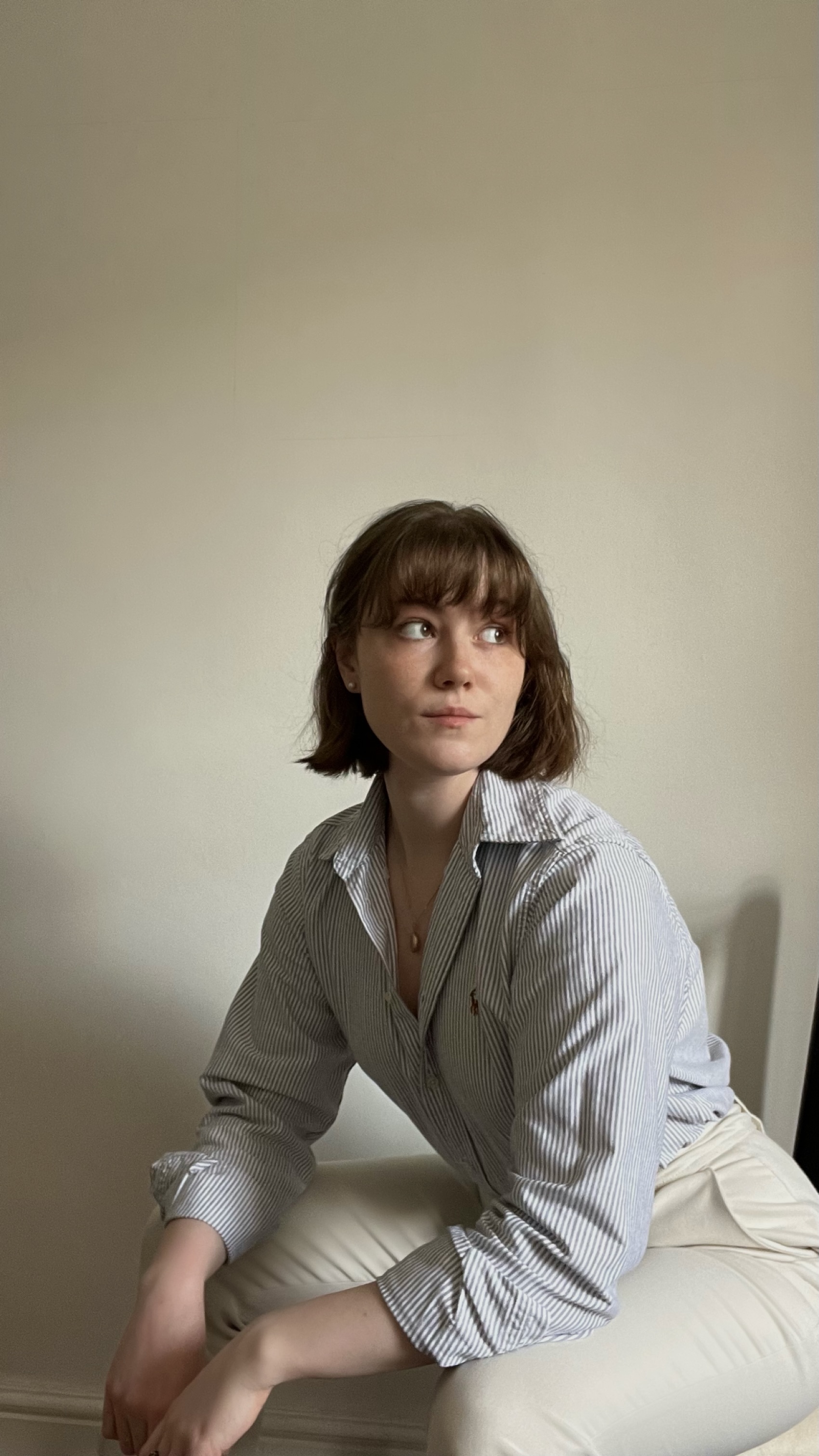 Chiana has been at Homes & Gardens for a year, having started her journey in interior journalism as part of the graduate program. She spends most of her time producing content for the Solved section of the website, helping readers get the most out of their homes through clever decluttering, cleaning, and tidying tips – many of which she tests and reviews herself in her home in Lancaster to ensure they will consistently deliver for her readers and dabbles in the latest design trends. She also has a first-class degree in Literature from Lancaster University.