Professional painters agree: this is the best way to paint doors for an expert, flawless finish
This single approach makes for the easiest door painting experience, professionals say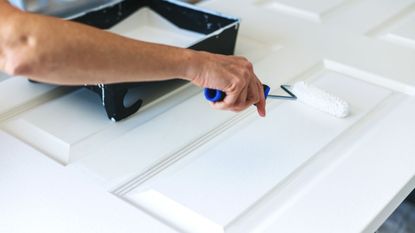 (Image credit: Getty Images)
Doors need painting and refreshing regularly because they take the brunt of our everyday lives, chipping, marking, and becoming grubby over time – even when we treat them with the utmost care. Unfortunately, they are not the simplest of surfaces to renew.
As a result, it is helpful to have a basic understanding of how to paint doors in your DIY arsenal to make this tedious task easier. But what is the best way to paint a door, according to professional painters?
We asked, and here, they share their door painting best practices for a smooth finish without drips, brush marks, or sticky door frames.
The best way to paint doors
It should go without saying that it is far easier to paint a flat surface than it is a vertical one, so it is worth taking the door off of its hinges and laying it on a workbench when possible. That being said, there are some situations, such as when painting front doors, that make this more difficult – especially if your paint has a long drying time.
Nevertheless, the best methods for painting doors don't change all that much, vertical or horizontal, though you will need to be more conscious of potential drip marks on a door that has stayed on its hinges than on a door lain flat.
1. Clean, prep, and prime the door
Whether you are leaving the door on its hinges or not, prepping is the most important step if you want a perfect finish, experts say. Good prep should involve removing any hardware such as handles and knockers before sanding and cleaning the surface of the door, says Joshua Bartlett, home improvement specialist and owner of I'll Just Fix It Myself.
Just as when painting wood furniture, sugar soap, available at Amazon, is a good option for cleaning high-traffic areas such as doors to remove any built-up grease and grime.
'The next step is to smooth out the surface for painting by using a high-quality primer explicitly made for doors and which is compatible with the paint you will later be using,' Joshua continues. Make sure to apply it over all of the surfaces of the door, not forgetting to prime the edges of the door too.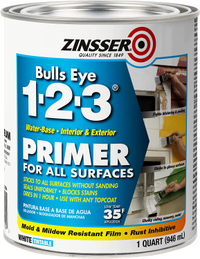 Zinsser Bulls-Eye 1-2-3 Primer | $17.99 at Amazon
This primer has been recommended by professional painters time and time again for a whole host of household painting tasks.
Joshua Bartlett has been responsible for the upkeep of several homes, apartments, and rentals. He created I'll Just Fix It Myself to help others learn alongside him, sharing what he has learned through his decades of successes – and failures – to tackle home improvement.
2. Pick the right paint for the door's location
The type of paint you pick will largely depend on the location of the door. Inside doors, for instance, can be painted with high-quality latex-based paint, suggests Jay Sanders, contractor and founder of Castle Dream Construction, while external doors such as front doors need a much tougher epoxy paint to stand up to the changing weather.
As for paint finishes, paint with a semi or high-gloss finish will also be the best option for doors as they stand up to frequently being touched and knocked more easily than a flat paint, which can mark with the slightest of scratches. Home improvement specialist Joshua Bartlett suggests looking for products that have a smooth, self-leveling formula, provide good coverage, and resist stains and scuffs for a lasting finish that should hide obvious brush lines and drips too.
The color, on the other hand, is completely down to you – just be aware of some front door colors to avoid to safeguard curb appeal.
3. Use a combination of foam rollers and high-quality paint brushes to avoid lines
Painting with a roller is the simplest way to avoid drips and brush marks when painting a door, but that doesn't mean that your brushes should be left in the shed, says Andre Kazimierski, professional painter and founder of Improovy Painters.
'Rollers will help you cover the majority of the surface with paint while avoiding brush and drip marks, while brushes can help you get full paint coverage in detailed areas or around glass panels,' he explains.
Alternatively, you could choose to paint a door using a paint sprayer. While these offer the best finish with the least effort, they are expensive if you do not regularly repaint doors and cabinetry in your home, and require altering your paint to get it to a good consistency to avoid blockages. Whether you go down this route will depend on your level of interest in DIY and if you can justify purchasing or hiring the sprayer.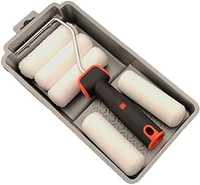 Foam Rollers | $9.95 at Amazon
This seven-piece foam roller set is perfect for working in tight spots and on awkward corners and with tacky paints such as high-gloss
Andre Kazimierski founded Improovy in 2019 and has developed it into a leading home improvement service. It is his mission to make painting more efficient for all of his clients and uses generations of expertise to inform his work.
4. Paint the trim around the door first if left on its hinges
Although there is some debate as to whether you should paint trim or walls first, professional painters unanimously agree that you should always tackle trims before painting your doors – especially when painting a door still on its hinges.
'We always begin by painting the frame and door casing and leaving it to dry completely before painting the door or reattaching the painted door to its hinges and closing it,' says Paige NeJame, professional painter and owner of CertaPro Painters of South Shore and Boston. 'Trims are often a little more fiddly to paint, so it makes sense to get this out of the way first so you don't accidentally get paint on the freshly painted door.'
5. Apply at least two coats of paint
The most common painting tip is always to apply two coats of paint to any surface if you want to ensure even coverage and prevent easy peeling and marking.
'Two or three very thin coats will not only dry quicker but will prevent drip marks and deep brush lines – as well as adding some extra protection,' explains painter Paige NeJame. 'Just be sure to allow each coat to dry before adding the next, and do the same number of coats on both sides of the door.'
If you notice any drips when painting a door vertically, use a foam roller to even out the paint before it dries. If the drips dry into the paint before you have the chance to rectify it, lightly sand down that small area and reapply the paint using a small brush.
6. Leave to dry completely before re-adding hardware
Although it can be tempting to rush the process of drying and hanging the door right away – or to close it again, it is vital to wait until the door is completely dry to the touch and no longer tacky before adding the hardware back on and allowing it to close against the door frame. For the best results, leave it overnight where possible, or, for front doors, consider using some professional methods to make the paint dry quicker without ruining the finish to ensure the security of your home again.
FAQs
Do you paint doors or walls first?
Painting doors before you paint walls can make a lot of sense, no matter if you are taking them off the hinges or leaving them in situ. While the paint dries, you can begin work on the trims and walls. When painting a door on its hinges, then painting the trim then door first and allowing it to dry entirely will provide you with an easy surface to tape up and cover when painting the walls.
Can you gloss a door with a roller?
When using a roller to apply gloss paint to a door – or any flat surface for that matter – it is best to use a short piled gloss roller sleeve, or a foam sleeve, to help avoid small tacky marks in the paint. Long pile roller sleeves or microfiber sleeves can leave little pull marks in the paint resulting in an uneven finish.
---
The best way to paint doors may require a lot of steps, but will ensure the paint coats last and you avoid unsightly drip marks. When following these tips for painting a door, make sure to work in a well-ventilated space with open windows or outside when possible, and never use exterior paint on indoor doors to avoid prolonged exposure to VOCs which can cause breathing difficulties and headaches.
Sign up to the Homes & Gardens newsletter
Decor Ideas. Project Inspiration. Expert Advice. Delivered to your inbox.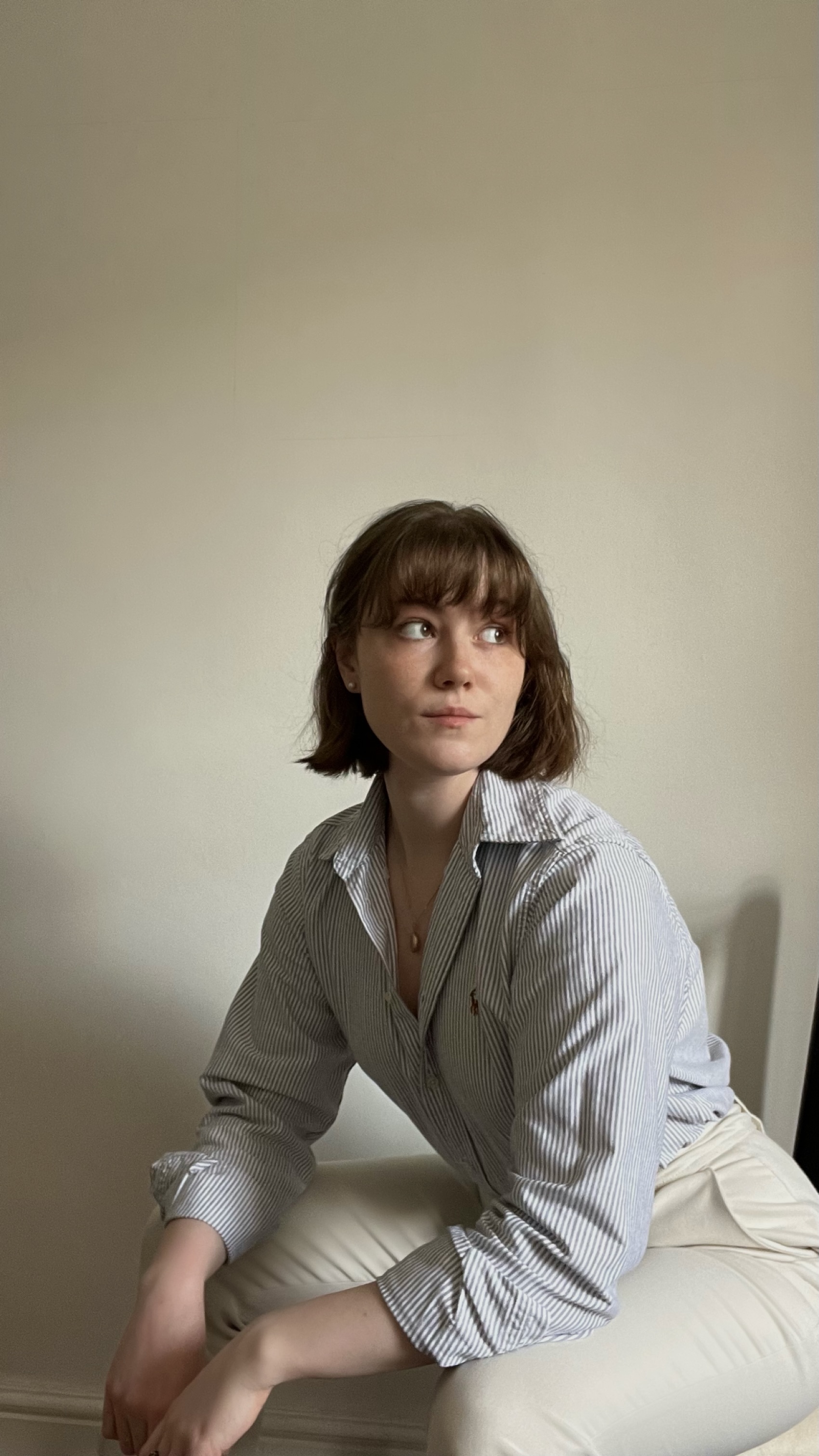 Chiana has been at Homes & Gardens for a year, having started her journey in interior journalism as part of the graduate program. She spends most of her time producing content for the Solved section of the website, helping readers get the most out of their homes through clever decluttering, cleaning, and tidying tips – many of which she tests and reviews herself in her home in Lancaster to ensure they will consistently deliver for her readers and dabbles in the latest design trends. She also has a first-class degree in Literature from Lancaster University.