What are the best colors for north-facing rooms? Designers offer help and advice
At a loss choosing colors for north-facing rooms? We've asked interiors experts to point us in the right direction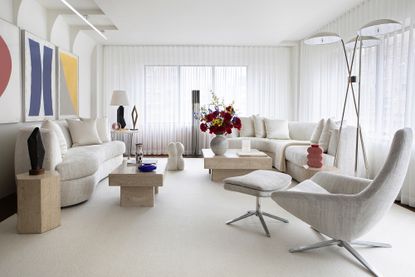 (Image credit: Andrew Suvalsky Designs)
Sign up to the Homes & Gardens newsletter
Decor Ideas. Project Inspiration. Expert Advice. Delivered to your inbox.
Thank you for signing up to Homes & Gardens. You will receive a verification email shortly.
There was a problem. Please refresh the page and try again.
If you're thinking about what are the best colors for north-facing rooms, then you're already ahead of the game. The direction a room faces and the resulting quality of the natural light can have quite an effect on how colors will read, so it's a good idea to consider this when planning your interior design.
North-facing rooms tend to feature a cooler, fresher light, but how you deal with that is a matter of personal preference. Some people will be looking to introduce warmth and brightness to their colors to create warm color schemes for north-facing rooms, while others will look to enhance the cooler look and embrace it with shades from the colder side of the color wheel to create cool color schemes.
To help you decide, we gathered advice and tips from designers on the best colors for north-facing rooms. The good news is, there is plenty of room for flexibility and choice in colors for north-facing rooms. And rules? Well, they're made to be broken.
What are the best colors for north-facing rooms?
We asked interior design and color experts for their thoughts and advice on what are the best colors for north-facing rooms.
Their professional tried and tested techniques for how to choose paint colors will help you identify the best colors for a north-facing room and create an interior design scheme to be proud of.
We'd always recommend getting sample or tester pots of paint to ensure you're happy with the color in situ and to get the results you want, as variations in light levels will give different effects from room to room.
Choose light, warm colors for a north-facing room
Among the design professionals we spoke to, the most popular approach to decorating north-facing rooms is to use color to counteract the colder light quality, with many designers suggesting warm white paint shades as their go-to. These variations on a soft-white theme will all create an illusion of warmth, or at least gently filter the sometimes stark northern light. Additionally, using matt paint finishes will soften the overall effect.
Interior designer Stephanie Brown says, 'North-facing rooms tend to automatically feel cooler-toned, and darker. I recommend offsetting this with light, warm-hued colors. A favorite warm-white of mine is Sherwin Williams, Origami White.
Hannah Yeo, color marketing & development manager at Benjamin Moore, agrees that choosing light colors is the best way to tackle the muted and toned-down natural light in north-facing rooms. 'Bright white paint colors with a touch of warmth, like Cotton Balls, White Chocolate and Powder Sand, are great options to counterbalance the cast of cool tones,' she says. 'Or you may want to opt for richer hues, such as Chelsea Gray or Wheeling Neutral, to create a moody yet warm ambiance.' The company's Pale Moon shade (pictured) adds a buttery warmth and softness in a north-facing space.
French-born, Los Angeles-based interior designer Victoria Gillet often opts to work with cool shades, and says, 'To make the room feel brighter and energetic, consider light and airy colors such as pale yellows or cool blues.' But she shares her colleagues' enthusiasm for white paints in a north-facing space and lists her favorites as Benjamin Moore's Decorator's White, which she says is clean and crisp, and enhances natural light for a brighter and inviting feel, and White Dove with a slightly warmer undertone, that adds a touch of warmth to the room. Her third suggestion is Sherwin-Williams' Alabaster, which she advises is versatile and neutral.
Analisse Taft-Gersten, the co-founder of The 1818 Collective, advises being very clear about the effect you want to achieve. 'If it's just about making a room warmer, then obviously using warmer tones: creams, sands and earth tones would be a direction I would go. You can also play with the types of paint to bounce off light like using high lacquers, etc. In some cases even using wood walls can really add warmth to a room,' she says.
Use rich shades to create atmosphere
But there's more to life than warm white, and far from limiting your color choices to those safer paler shades, north-facing rooms can be made to look their best with other décor options, including deeper toned colors. Darker, richer shades can help to create a real sense of atmosphere.
Interior designer Victoria Gillet agrees, and says: 'North-facing rooms offer flexibility in color choices to create desired effects. For a warm and cozy ambiance, try rich colors like deep reds or dark browns, taupe.'
Charles Cohen, founder of Charles Cohen Designs, loves to use deeper shades and adds 'North-facing rooms are a fun opportunity to create a moody space where the color maintains a true tone not manipulated by outside sun exposure. I like using rich tones such as Benjamin Moore's Briarwood, Night Train, or Bella Blue, and painting walls and trim work in the same color and finish.'
'In effort to embrace the dark nature of these rooms, deep jewel toned walls, with leathers, and velvets, warm wood furnishings, and textural lamp shades, or light fixtures can create a very cozy dramatic space,' says Mika Durrell, founder of Able Moraine. 'A place to focus, or rest, to feel embraced by the space, the darker hues and enveloping materials can feel very comforting when done right. Sprinkling in antiqued brass metal accents also layers in some lighter accents, to help the darker walls, or cabintry to settle in to the background of the space. '
Don't overlook the finish on your north-facing walls – Analisse Taft-Gersten says that texture, as well as color, will help to create more of a moody room, and so plaster and lime wash finishes will add another layer of interest.
On the subject of adding interest, Victoria Gillet advises incorporating texture and patterns for depth and interest, including textured fabric too, not just wall color. 'Also using greenery and natural elements to infuse life and including natural materials in the furniture and décor, think raw wood, live edge, and rock planters. Lastly use warm accent pieces like rugs, artwork and décor in earthy, rust and gold tones.'
Avoid these colors in north-facing rooms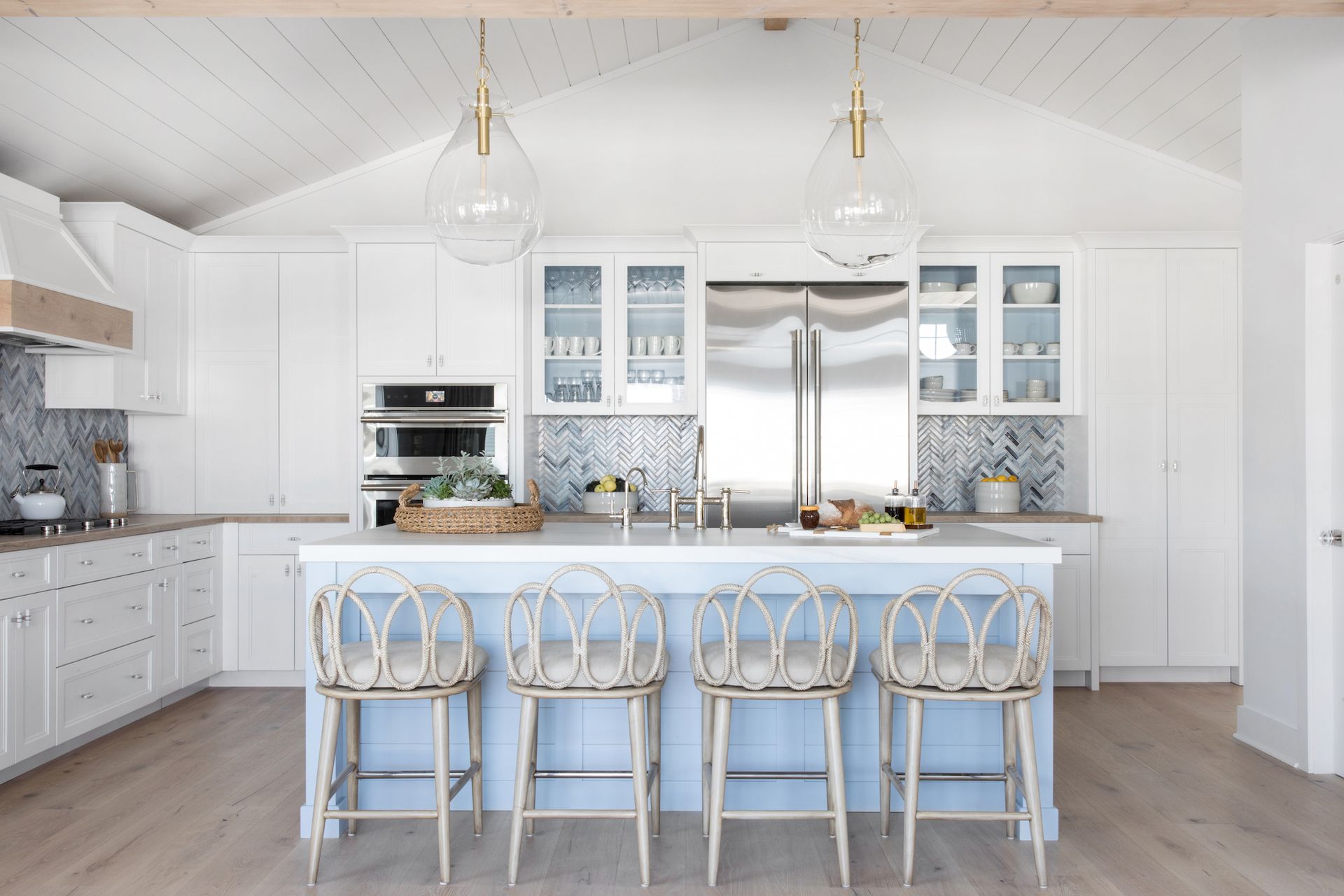 If you're trying to mitigate the low-light levels in a north-facing room then it's best to stick to warmer and brighter colors. 'Avoid heavy, dark hues that may further dim the space due to limited sunlight,' says designer Victoria Gillet.
Consider also the room's purpose. Cool tones in a north-facing kitchen are a good fit to promote a feeling of cleanliness and hygiene in a food prep area, whereas the same colors in a north-facing living or dining room might leave you feeling, well... cold. For those more sociable spaces, you'd be well advised to avoid cold colors and embrace the warmer shades to create a more cozy, welcoming space.
Ultimately, however, it depends on the desired effect. If you're embracing the cool feel of a north-facing space, a rich dark blue, or deep green can be dramatic. If you want a warmer, brighter look then obviously steer clear of those deeper shades.
Add in mirrors to boost the light levels
We all know how effective mirrors can be in increasing the sense of space in a smaller room, but adding a mirror or two to reflect the light around is a useful device that two of our design experts suggested.
Stephanie Brown says, 'When furnishing and decorating, it can be helpful to incorporate mirrors to help amplify natural light' and Victoria Gillet adds: 'Strategic use of mirrors can reflect light and create a brighter appearance and use reflective surfaces like mirrors to bounce light.'
In the bedroom scheme pictured above, not only is there a large overmantel mirror, but mirrored backing to the alcoves works hard to reflect light back into the room.
Layer lighting for impact
Besides choosing your colors carefully to achieve the look you want in a north-facing room, consider the lighting scheme as a key part of the room's interior design.
Victoria Gillet provides an insight into how all these elements come together, colors, accessories, furniture, and lighting: 'Layer lighting sources, including natural light if available, to ensure a well-lit and inviting atmosphere. Incorporate furniture and décor that complement the color scheme and enhance the desired atmosphere. Experiment with personal style to create a comfortable and inspiring space. Some additional tips for these types of rooms will be to maximize artificial lighting sources with decorative lighting.'
Charles Cohen adds, 'It is important to utilize several sources of lighting within the space, I like to layer chandelier fixtures, perimeter recessed pin lighting along with accent table lamps or for spaces with lower ceilings, accent the room with wall sconces to add dimension and warmth.'
In Andrew Suvalsky Designs' Park Avenue apartment, pictured above, the emphasis here, is on providing different 'layers' of light to create an atmospheric and truly welcoming space. A dramatic floor-standing lamp, together with table lamps and concealed lighting above the artworks ensures multiple options to supplement the daylight.
FAQs
Does it matter which way the room faces?
So that's the theory behind choosing colors for north-facing rooms but what if none of the shades discussed above suits the room, or fits with your personal preference? Does it really matter? Will the decorating scheme fail miserably if you choose a different approach and color palette? Designers Analisee Taft-Gersten and Matt McKay think not and favor a less prescriptive approach. They think the best colors for north-facing rooms are the ones that feel right for each individual space. Here's what they have to say on the subject:
'I'm less focused on north- versus south-facing rooms and find the nuance in color choice is informed by what's outside or the view itself,' says Matt McKay. 'A neighboring red brick building will reflect red, requiring a cooler shade, in contrast, a beach house with views of the sea and sky will do well with a richer tone to combat the intense blues. My whites for beach houses and boats are often very creamy. Similarly, for alpine cabins, with stark winter views, I use much more saturated hues to contrast the expanses outside.'
And Analisse Taft-Gersten? 'Personally, I don't choose to paint and or design based on the direction of where rooms are facing,' she says. 'I like to work within a room and spend time there to see what feels right in the space as a whole. Light moves through the day and throughout the year so basing paint color and or the design on a direction only seems to limit the design in itself.'
As Analisse Taft-Gersten says, the time of year will also affect the light quality whichever way the room faces, so it's wise to factor this in when thinking about the best colors for a north-facing room.
Benjamin Moore's Hannah Yeo explains: 'Winter has natural light that tends to be cooler and sharper than summer. And if you have shadows falling on the wall of an already dusky room, it can appear even darker,' she says. 'In this case, you may want to add some vibrancy to the room with an accent wall. Try Hawthorne Yellow or Palladian Blue for this.'
As we've seen, there are many factors to take into account before deciding the best colors for a north-facing room, and many more actions you can take to get the best out of any room scheme.
Whether you stick to the conventional approach of using warmer, brighter shades to counteract cool northern light, or embrace the muted natural light with deeper tones, or simply opt for a scheme you love regardless of the room's direction, it's important to choose colors you love and colors you can live with. Test your color options in situ, with sample pots, and if you're happy with how it looks that's all that matters.
Sign up to the Homes & Gardens newsletter
Decor Ideas. Project Inspiration. Expert Advice. Delivered to your inbox.
Karen is the houses editor for homesandgardens.com and homes editor for the brand's sister titles, Period Living and Country Homes & Interiors, and an experienced writer on interiors and gardens. She loves visiting historic houses for Period Living and writing about rural properties for Country Homes & Interiors, and working with photographers to capture all shapes and sizes of properties. Karen began her career as a sub editor at Hi-Fi News and Record Review magazine. Her move to women's magazines came soon after, in the shape of Living magazine, which covered cookery, fashion, beauty, homes and gardening. From Living Karen moved to Ideal Home magazine, where as deputy chief sub, then chief sub, she started to really take an interest in properties, architecture, interior design and gardening.