What colors go with dark gray? 7 ways to successfully pair this popular color
From cool blues to rich ochres, learn which accent colors can work wonderfully with a dramatic dark gray scheme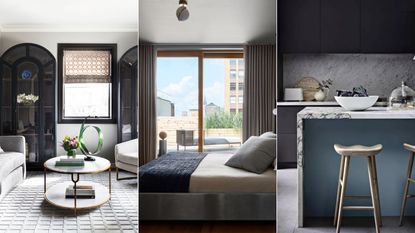 (Image credit: Malka Helft/Think Chic Interiors / Lee Broom / Future)
Sign up to the Homes & Gardens newsletter
Decor Ideas. Project Inspiration. Expert Advice. Delivered to your inbox.
Thank you for signing up to Homes & Gardens. You will receive a verification email shortly.
There was a problem. Please refresh the page and try again.
Functional, quiet, cool and undemanding: gray, the perfect neutral tone that is neither black nor white, ensures this utilitarian and serviceable color is extremely useful in interior design.
Tasteful, timeless and chic, gray, particularly dark grey, invites an air of sophistication when used in interior design. But does this brooding tone suit a particular room? What other colors complement and work well when decorating with gray?
A modern and versatile color, gray can be perfectly and beautifully paired with a whole host of other shades on the color wheel. To help you turn the gray rooms in your home into a space to cherish, we have asked a collection of interior design experts for their favorite accent colors for gray – so you can create a stand-out color scheme.
What colors go with dark gray?
Gray interiors are popular in design and although it is considered a refined color, it could also be thought of as dull and bland if not used with thought. However, in design circles, it is a popular and flexible neutral tone that is used to present warmth and coolness and is at ease both in a contemporary or traditional setting.
'Gray is everywhere, dark, and moody or light and uplifting. In a kitchen, it creates a calming air and can be a lovely backdrop for adding a splash of color,' says Helen Parker, creative director of deVOL.
When it comes to color combinations for rooms the options are endless. As gray pairs well with nearly every color, this shade makes a fantastic choice for walls and floors, serving as a popular room color idea and a sophisticated alternative to white for those looking to stamp their personality on a space with colorful furniture, fabrics, and artwork. Here's how the experts get it right...
1. Pair dark gray with yellow for a statement color contrast
'It's so easy to get gray right,' says Helen Parker, creative director of deVOL. 'In a kitchen, it creates a calming air, I love it with yellow, fresh, and a little retro. If you pair it with terracotta, you create an industrial look with a soft unexpected Mediterranean twist. Add some white stone countertops, and suddenly, it's classic, clean, and crisp.'
'I hope gray is here to stay, it's the basis for so many good-looking kitchens,' she says. 'It is strange that it was once considered dull and lacking inspiration, but now it's chic, industrial, and classic.'
In this gray kitchen, the soft, dark gray is simply tied to the dark gray floor tiles, this calming style is lifted immediately with the addition of floor tiles, which work beautifully with the mustard yellow tones from the window frame behind, the brass hardware brings out the yellow and pulls the entire room together. The black countertop fits perfectly with these tones and the white sink adds a clean look.
2. Use light gray and black alongside dark gray for a calming feel
Lee Broom, founder of Lee Broom, agrees that gray is an easy and adaptable color to work with in interior design. Here, Lee has used gray as a neutral tone in a bedroom, adding darker greys and blacks alongside metal and wood to deliver a chic and smart zen-like space that is conducive to sleep.
He explains: 'Dark gray is a versatile neutral that works well in any room and creates a calming and contemporary background that is easy to pair with all styles of furniture and decor. Incorporating warmer tones through natural materials like wood flooring or an oversized rug balances out the cooler tones from the gray and creates a cohesive design scheme.'
3. Prioritize sophistication with a rich color pairing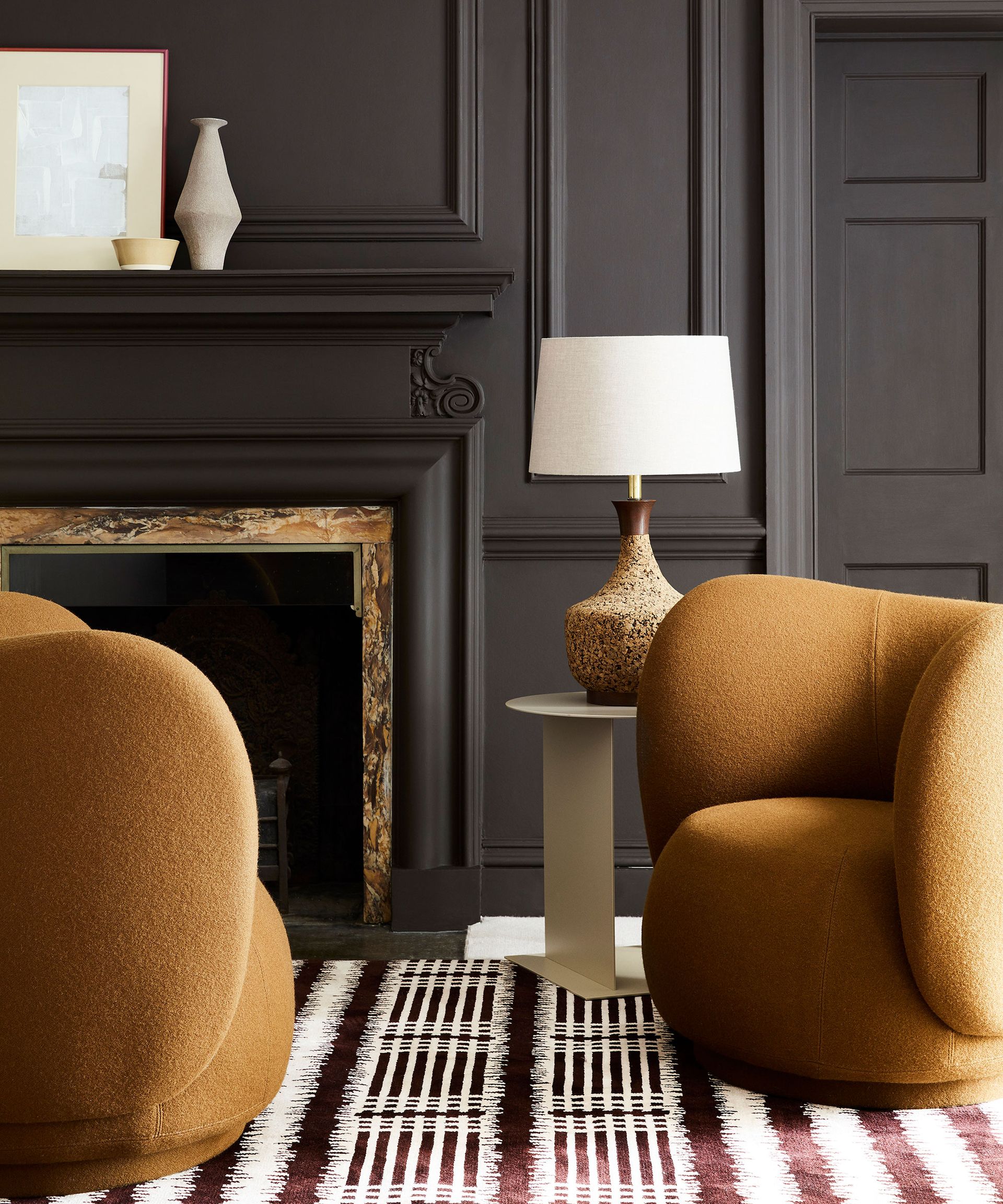 Gray is the color of conformity, architecture, dignity, wisdom, and industry, according to color psychologists on dark gray. But, this tone will also elicit a feeling of mystery and used as a pure backdrop will create grownup, stylish, drama.
'Gray has been a 'go-to' interior color for centuries, working equally effectively in classic and traditional or modernist settings often as a backdrop for decoration rather than the highlight itself,' says, Ruth Mottershead, creative director at Little Greene.
In this dark living room, elegant gray pairs effortlessly with the rich ochre seats, and the dark and light veins in the marble fireplace surround seamlessly join these two rich colors together to create a sophisticated room.
4. Mix light, mid and dark grays for a tranquil aesthetic
Using one color, in varying hues, is a wonderful way to curate a color scheme that is guaranteed to work. Here, Malka Helft, principal at Think Chic Interiors, selected a kaleidoscope of grays to produce this refined gray living room. Black cabinets and the brass detailing on the seating elevate this gray color scheme to the next level of elegance. A softer gentler gray is used on the walls with richer gray tones heightening the theme from the textiles chosen for the sofa, cushions, chairs, carpet, and blinds to produce a rich tapestry of grays.
5. Choose colors from the post-modernist period
Post-modern, industrial decor takes its cue from the distinct look and feel of factories, warehouses and manufacturing structures of the 20th century. As globalization has changed the way we lived and worked, materials and objects were produced elsewhere in the world, and major cities such as New York, London and Berlin were left with vast abandoned warehouses and factories – these old technical buildings informed the foundation of this particular school of design.
In this space by King Living, the look is perfected using a rich array of dark gray tones, which are the epitome of industrial chic. The concrete floors, walls and ceiling provide this gray industrial form, which is softened through the sofa and rug, all selected in softer gray tones to accentuate the industrial tone but ensure it is comfortable.
6. Go for a dark and dramatic feel
Small bathrooms and powder rooms make excellent environments to use dark, rich, gray tones if you feel too shy to take this style into a larger living space. A bathroom or cabinet can make an excellent starting point to embrace dark tones. The neutral aspect of this tone allows it to pair simply with a huge array of bathroom colors and contemporary materials.
In this modern powder room, designed by Kitesgrove, a deep, dark gray is beautifully paired with the natural grey veins found in slabs of Italian marble. The wooden beam above unites the dark tones, with the brass details from the taps and hardware.
7. Take a cool approach by teaming dark gray with blue
A hugely versatile, primary color, blue can be perfectly paired with dark gray for a cool color scheme to be admired.
With many of us moving away from the color trend of decorating a room head to toe in dark gray, uniting this popular neutral with the vibrancy of blue can establish a more modern take on neutral room ideas.
Blue is one of the most popular and enduring colors to decorate within interior design, so it pays to know that this universally-loved shade works well with most other colors too.
FAQs
What warm colors go with gray?
Warm color schemes can bring a cozy, enveloping sense of well-being and energy to your home décor ideas, so it is no surprise that more and more people are searching for ways to warm up a dark gray room.
If you're looking to take the room temperature up a notch in a cool gray room, try decorating with red, or go for an orange decorating scheme for an instant impression of warmth.
Sign up to the Homes & Gardens newsletter
Decor Ideas. Project Inspiration. Expert Advice. Delivered to your inbox.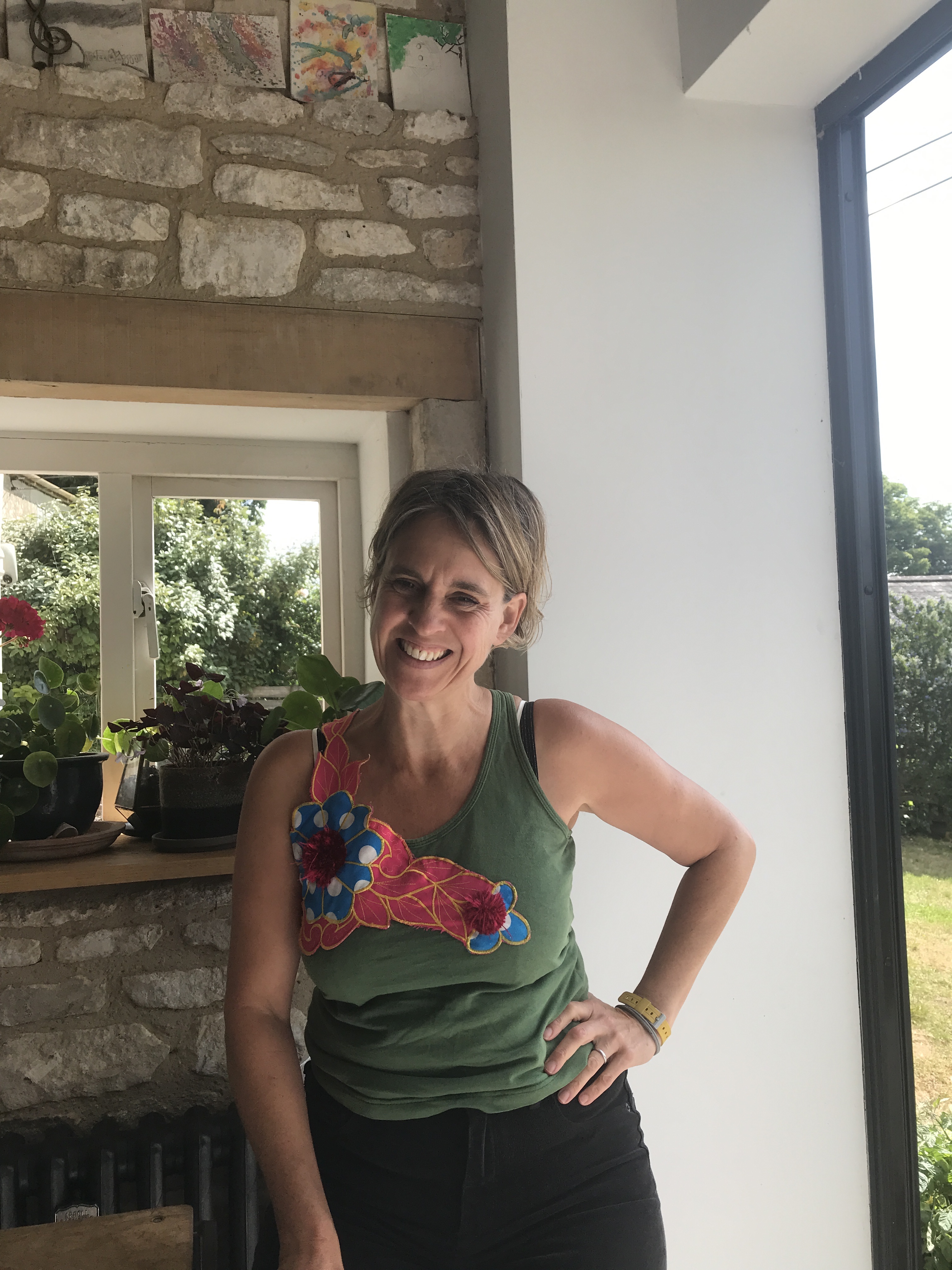 Hannah Newton is a lifestyle, interiors, travel and design journalist and editor who has been writing for the past two decades, she has written for national newspapers including The Times, The Telegraph, The Guardian and The Observer as well as interiors titles Elle Decoration and Architectural Digest in the UK and across Europe, South Africa and Australia.