What interior designers think about your fall decor – opinions on the 5 most common motifs
These brutally honest reactions to common fall decor may have you rethinking your autumnal space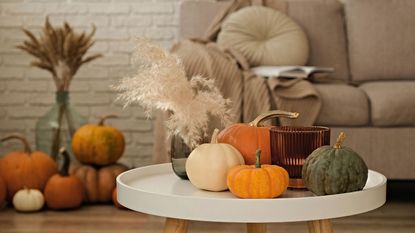 (Image credit: Getty Images)
As with any seasonal styling, there is a fine line between tasteful fall decorating and your house looking like the fall section of Michaels. While there is nothing wrong with the latter, designers have some fairly strong opinions about creating a timeless scheme to see you through the season.
It turns out that there are some common fall decor ideas that are making your home look less stylish, designers say. The good news is that they are often simple to fix.
We have asked interior designers for their thoughts on the most common fall decor pieces – and they haven't held back.
What interior designers think about your fall decor
From toning down Halloween decor to going natural with your fall flowers and foliage, here's what designers think about five common fall decorating items.
1. Pumpkins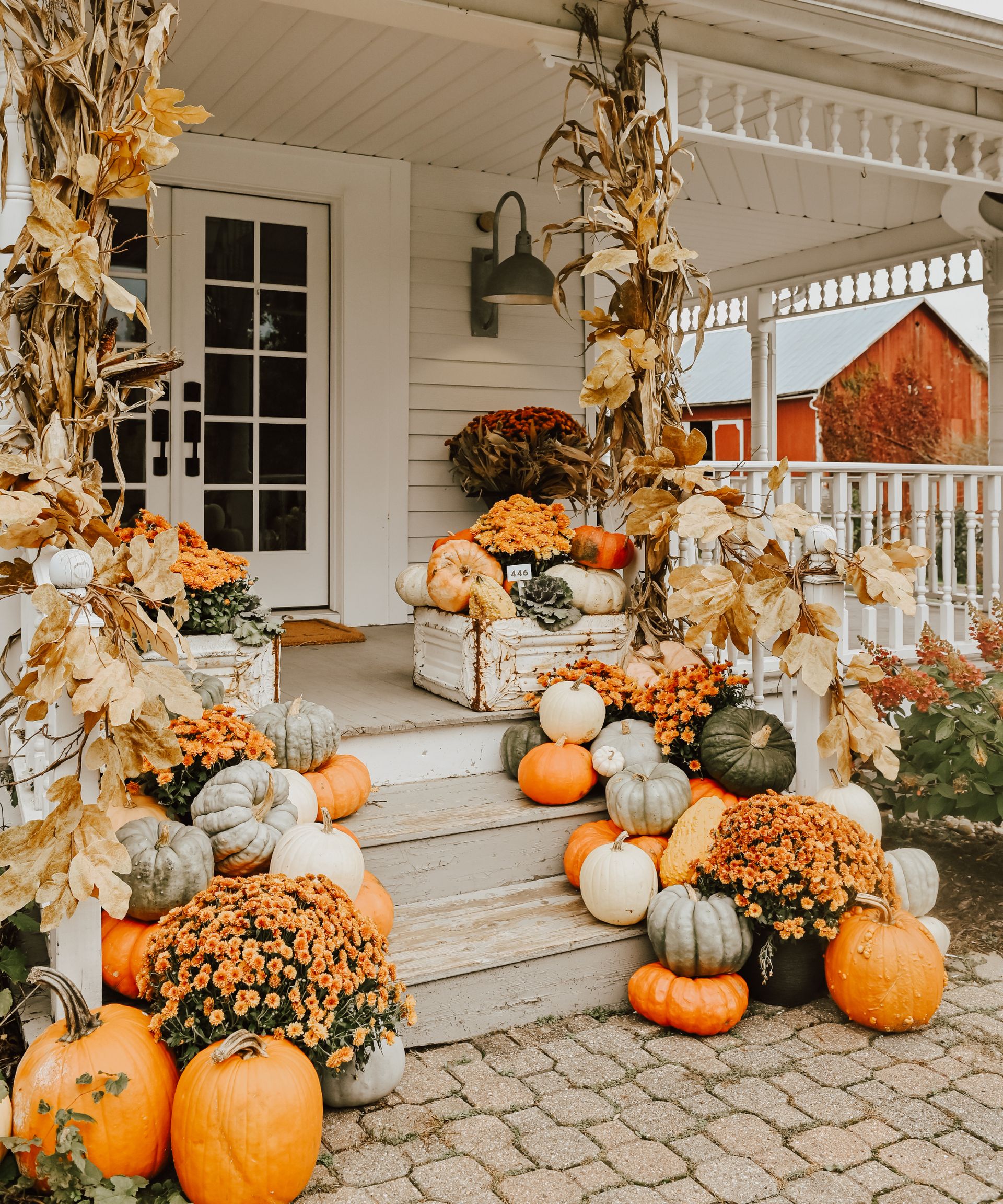 It wouldn't be fall without a pumpkin or two – or ten.
However, while designers have no objections to these gourds, how you decorate with pumpkins is paramount to keeping your scheme subdued: 'Pumpkins aren't just for porches anymore – try arranging them in a centerpiece, tucking a tiny one onto a bookshelf, or even going bold with a painted cluster,' suggests Jeannine Rose, host and homemaker, and founder of Sweet Humble Home. 'It's all about seeing the extraordinary magic in the everyday pumpkin.'
For Michele Salazar, principal designer and founder of Cozy Salazar Design it is also essential that the pumpkins are real too, or at least incredibly realistic: 'If you're looking for timeless, classic, and tasteful fall decor, I highly suggest an abundance of pumpkins in all shapes and sizes. Whether it be your front door steps or foyer table, nothing welcomes fall and your guests with the same warmth of pumpkins.
'Stay away from plastic decor for the interior of your home,' she urges. 'Nothing feels less fall than a plastic purple pumpkin.'
2. Changing out all your decor pieces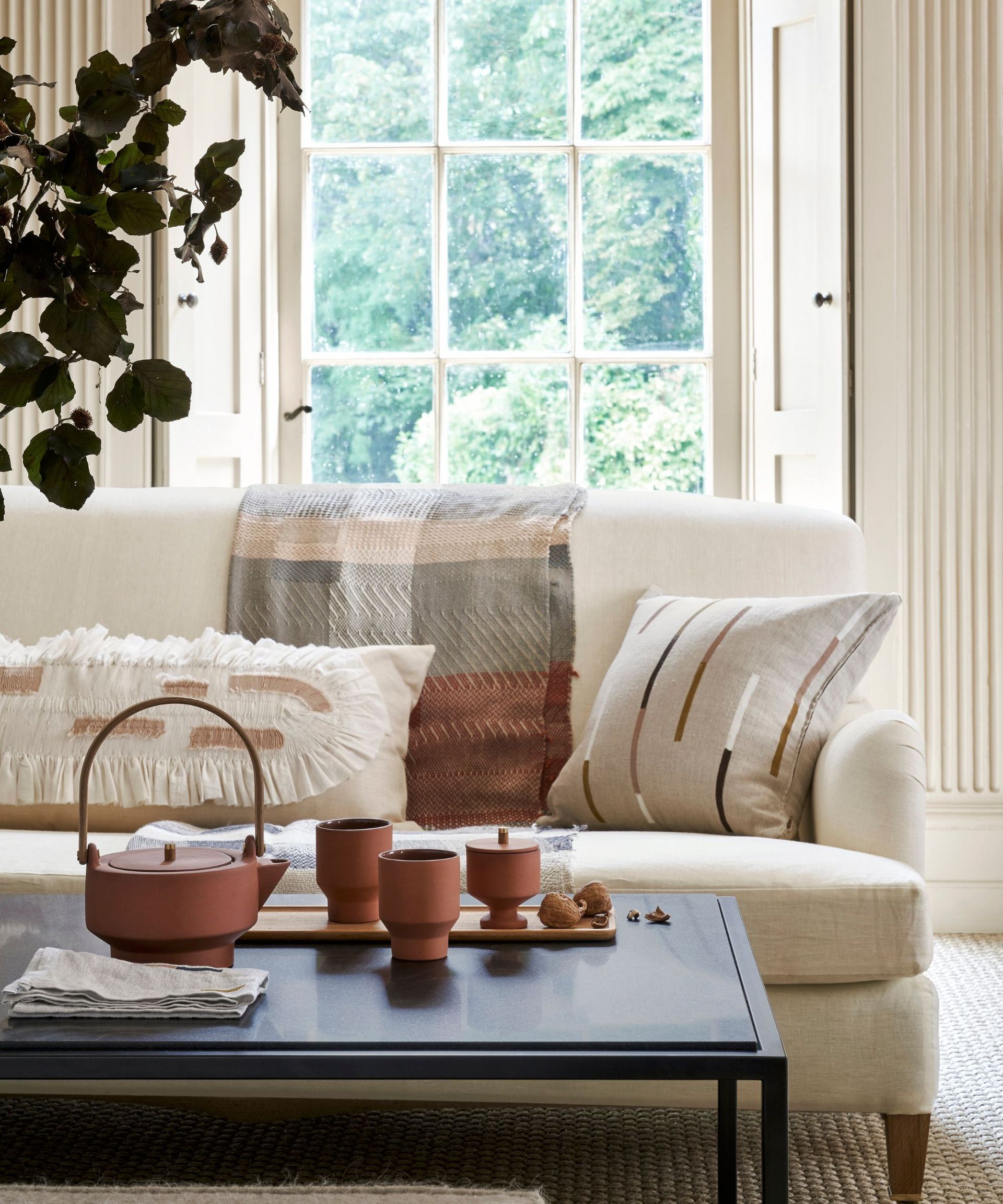 If you are wondering how to start decorating for fall, changing out all of your decor – from throw pillows to blankets to artwork is often a common place to start. However, this complete seasonal swap is not the best way to go about it for a relaxed fall scheme, Michele Salazar, designer, says.
'Proceed with caution when changing furnishings and decor each season. There are beautiful ways of doing this, but avoid turning your home into a craft or department store!
'My take on adding fall touches to my decor and furnishings would be, perhaps, swapping an existing blue throw out for a burnt orange throw or swapping out your pastel throw pillows for some solid linen ones in a fall color. Don't go overboard here! A couple of the additions to your home discussed above should do the trick.'
Michele Salazar is part of the new guard of design rising in Miami. A lifelong design student, Michele completed professional design courses after school and interned for major firms with high-profile clients nationwide. Taking on her first project at just 18 years old, Michele has earned abundant experience in the last ten years. And despite being from Sunny Miami, she has an incredible neck for making fall decorating work in tropical places and everywhere else.
3. Wicker
The fall season is a common time to switch to more rustic materials that connect your decor to nature. Of these materials, wicker is a common choice but it is often not used well, points out Jeannine Rose, host and homemaker.
'Those woven wonders are more than just chairs and baskets – too many of which can overtake the space or make your home look more like a conservatory. I recommend using them to add textural variety with wicker lampshades or even decorative screens. Wicker pieces are a subtle way to introduce the feel of fall, it's all about being a bit creative.'
With a look plucked from a Parisian pied-à-terre, the Besson lamp offers natural texture warmth with a chic design.
4. Fall foliage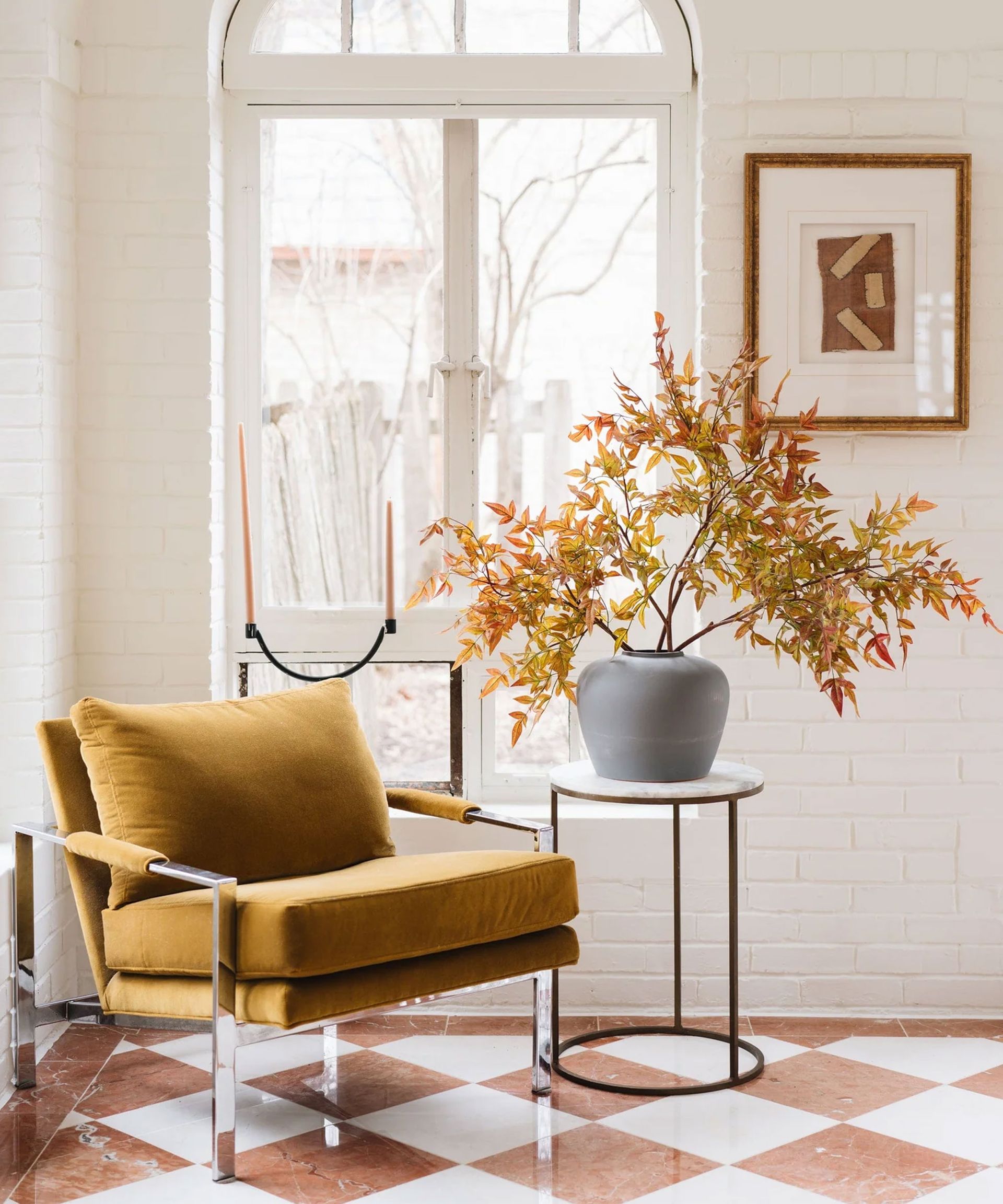 Whether woven into a fall wreath, draped for fall mantle ideas, or placed pride of place on a dining table, fall foliage is another must for a seasonal home. However, as with pumpkins, it is essential to go for the real thing – or at least a well-made realistic piece instead, says Michele Salazar. There is perhaps little worse than a plastic leaf with a thick fake stem standing garishly and unavoidable in the corner of your living room.
'As discussed above, with pumpkins and wicker, natural elements like fall foliage, pine cones, autumn fruit, and homemade potpourri are great additions to your fall decor. A fresh bowl of pinecones at your coffee table, a vase full of autumn leaves in the foyer, or a bowl full of pears or apples at the kitchen island are all great ways to exude feelings of fall and bring a touch of nature's beauty and warmth into your home.'
5. Halloween decor and motifs
Halloween is great for kids, and your outdoor Halloween decor can be frightfully chic for the big day itself. Indoors, however, and for the rest of the season, it is best to err on the side of caution, recommends Cyble Rizwan, of Persimmon Design:
'Halloween decor can be fun but often lacks sophistication. To improve it, choose a color scheme that complements your existing decor, opting for more elegant or minimalist subtle Halloween decorations rather than cartoonish ones to decorate tastefully for Halloween.'
Jeannine Rose, host and homemaker reminds us that 'it's not all cackling witches and plastic bats. Think crows perched on mantels, vintage apothecary labels for vases, or lacy spider web doilies. Our favorite pieces are those that whisper Halloween, not shout it.'
If in doubt, opt for a less traditional but still somewhat spooky theme, such as Dark Academia with its emphasis on dark colors and antiques, to add a touch of mystery to your home without the giant cartoon skeletons on printed throw pillows.
FAQs
What are the themes for fall decor?
When decorating for fall, it can help to work to a theme to prevent your decor from looking mismatched or becoming overwhelming. Some good fall decor themes include natural themes, using pumpkins and dried foliage, or spookier themes using antiques and tasteful Halloween-esque pieces that are not cartoonish for a dark academia vibe.
Can you start decorating for fall in September?
Although some may disagree, it is fine to decorate for fall in September if you want to. It is generally a rule of thumb to leave the decor until late September or the beginning of October, but there is nothing stopping you from breaking out the pumpkins early if you are eager for the cooler seasons, or want to prolong your fall decor before having to change over the Christmas.
---
When it comes to decorating for the new season, consider looking to fall decor trends for some inspiration from designers, rather than diving headfirst into the seasonal aisles of your favorite shops. This way, you can plan your scheme ahead of time, rather than be lured in by the bright colors and excitement of a new decorating project.
Sign up to the Homes & Gardens newsletter
Decor Ideas. Project Inspiration. Expert Advice. Delivered to your inbox.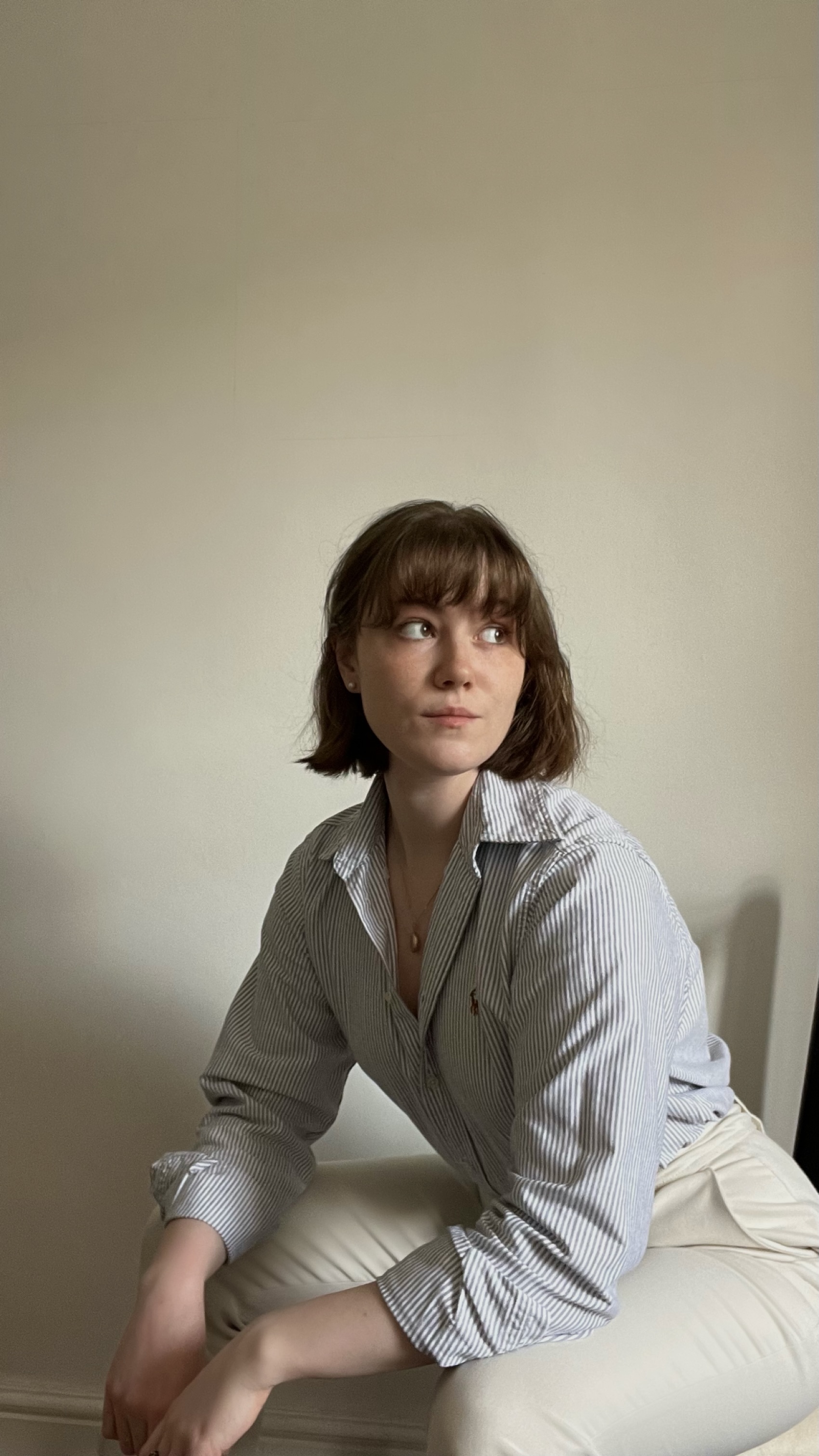 Chiana has been at Homes & Gardens for a year, having started her journey in interior journalism as part of the graduate program. She spends most of her time producing content for the Solved section of the website, helping readers get the most out of their homes through clever decluttering, cleaning, and tidying tips – many of which she tests and reviews herself in her home in Lancaster to ensure they will consistently deliver for her readers and dabbles in the latest design trends. She also has a first-class degree in Literature from Lancaster University.