What's the worst bed sheet color to choose? Our sleep editor advises on a better choice
I've tried and tested every bed sheet color possible. This is the color you should stay away from in the bedroom – and the interior designers agree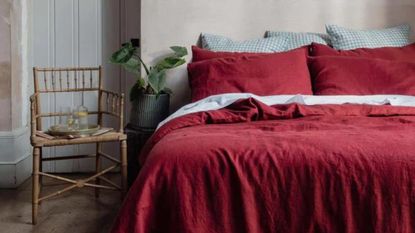 (Image credit: Piglet in bed )
The bed sheet color you choose can completely change the look of your bedroom. Opting for fresh white sheets will keep your room looking clean and bright, blue contributes towards a feeling of tranquillity, and purple can inject opulence into an otherwise plain room. If you're not planning on painting your walls anytime soon, getting some colored bed sheets is a simple way to style your space.
The right bed sheet color can also help you sleep. Yes, light, cool colors can be problematic at night, by alerting your brain and keeping you awake, but they are also the most breathable. Dark, warm colors can help you wind down, but they're also prone to trapping heat.
As a sleep editor, I've been sleeping under piles of the best bed sheets of all different colors and patterns. After plenty of testing, interior designers have confirmed my conclusion that you should stay away from red bed sheets (of all shades).
What is the worst bed sheet color?
The worst color is red. Unless you want your bedroom to be incredibly intense, then you should stay away from red. The walls are one thing, but especially on the bed, red creates a bold, energizing atmosphere, which is exactly the opposite of relaxation. As Artem Kropovinsky, interior designer and founder of Arsight agrees, 'the vibrant hue of red has a stimulating effect, which may pose challenges in maintaining sleep.'
In one test, I found that red bed sheets kept me up at night. I normally have no problem sleeping, but the bright red of the polyester set I was testing had me wide awake. Studies have also shown that 'red is such a powerful pigment that it can provoke passion or anger,' adds Kropovinsky. Even if it's only used as bed sheets, 'intense colors can be too invigorating for a sleep environment, hindering relaxation and tranquility.'
You'll notice most direct brand-to-consumer bedding brands don't sell red bedding and for good reason. Most red bed sheets are only available through cheaper retailers and in low-quality fabrics like polyester.
Artem Kropovinsky is an interior designer and founder of Arsight, a NYC-based interior design studio that is specific in its truthful approach to connecting the imperfect with the sleek and innovative workflow. We work on residential and commercial spaces.
The bed sheet color you should choose for a great night's sleep
Generally, it's advisable to stay away from overly vivid or striking shades. Instead, Kropovinsky suggests 'opting for subtler tones like blue, green, or light gray to create a serene and soothing bedroom ambiance.'
I found light gray to be the best bed sheet color. After trying lots of calming shades, a pale gray made me feel the calmest and looked the most glamorous in my bedroom. While obvious, traditional white is amongst the bed sheet colors to avoid, off-white colors or a shade towards gray are not as bright or stark. They relax the mind rather than stimulate it. Light gray is also the easiest to wash, as you won't have to worry about a vivid color bleeding or white staying bright.
These are the light gray bed sheets I'd recommend buying:
Pale grey bed sheets
Ettitude Signature Sateen Sheet Set
Sizes: Twin, twin XL, full, queen, king, California king
Material: Bamboo lyocell
OEKO-TEK certified: No
+ Great eco-credentials
+ Luxurious sateen finish
- Silky look isn't for everyone
Ettitude's moon gray bedding set is my favorite. The gray itself isn't dull, more pearly, and even after many washes the color has stayed. It's made from bamboo and has a silky finish which makes it look at that more expensive. It's subtly glamorous and adds a touch of opulence to my bedroom.
Silver grey bed sheets
Beddable Silver Gray Core Bedding Set
Sizes: Twin, Queen, King
Material: 100% long-staple cotton
OEKO-TEK certified: Yes
+ Soft to the touch
+ Washes well
- Needs ironing
This mid-grey shade from Beddable looks and feels comfortable. It's a little warmer than the previous light grey option, but this only adds to its coziness. Made from premium washed cotton it has a brushed finish that will make your bed look effortlessly stylish.
Dove grey bed sheets
Sijo AiryWeight Eucalyptus Sheet Set
Sizes: Twin, Twin XL, Full, Queen, King, California King
Material: 100% TENCEL™ Lyocell Eucalyptus
OEKO-TEK certified: Yes
+ Cool to the touch
+ Great price
- Prone to wrinkling
This dove gray is the perfect complimentary tone to most schemes. These sheets from Sijo Home are cooling to the touch but still super soft. They feel great when both relaxing and sleeping, and my only issue is that they are prone to wrinkling.
FAQs
Does bed sheet color matter?
When it comes to creating the perfect sleep sanctuary, color can play an important role. But just like painting the walls will contribute to the overall feeling and atmosphere, the bed sheets you choose will make a difference. If you're unable to change the color of your walls, switching out the bed sheet material can make an impact, as the bed is always the focal point of a bedroom. Different colors can influence your mood, sleep pattern, and how well you wind down.
Why do people prefer white bedding?
Whilst studies show white bedding can be bad for your bedroom, it continues to be one of the most popular bedding colors. Chosen for its freshness and versatility, white bedding can make a space look clean and bright and will go with whatever scheme you already have going on. Popular amongst those with Scandi or minimal aesthetics, it can look simple and chic.
White linen bedding will give a laid-back effortless look, while white cotton percales are used in hotels for their premium qualities. It's also easy to clean as you can wash it with the rest of your white laundry. However, it is more likely to stain and dull over time. If you struggle with sleeping, it's recommended not to have bright white bedding as it can keep you awake as you try to wind down.
---
Choosing bed sheets should take more consideration than just the color. In fact, material and bed sheet type should come first. Bedding material can make all the difference to how comfy you are in bed, and how your room looks. You should also check thread counts and keep your budget in mind.
Sign up to the Homes & Gardens newsletter
Decor Ideas. Project Inspiration. Expert Advice. Delivered to your inbox.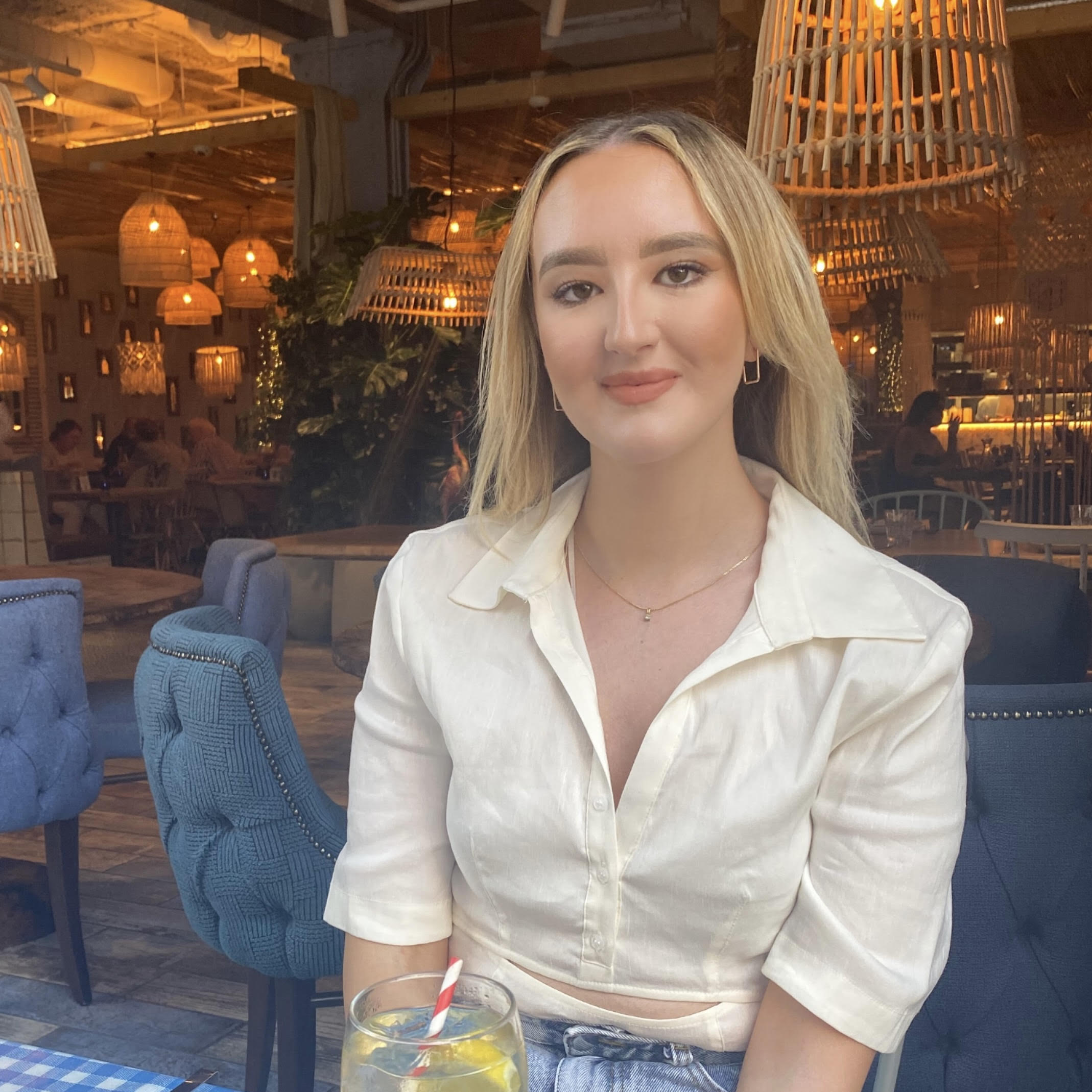 Louise is your eCommerce Editor and sleep specialist to help you wind down well. A connoisseur of the mattress world, Louise previously covered sleep and wellness (as well as the occasional organizational buy) at Real Homes, and has tried, tested, and reviewed some of the buys for your bedroom. With an MA in International Journalism and PR experience, Louise brings bags of bedding expertise and enjoys nothing more than helping readers find solutions and products that best suit their sleep needs.