Can a kitchen island have a different countertop? These are the rules on mixing
Like the idea of using a different countertop on an island? Take advice from design pros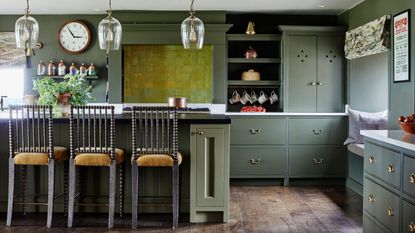 (Image credit: Brent Darby)
The idea of choosing a different countertop for a kitchen island sounds appealing, right?
It can make the island even more of a standout feature for the room, can allow you to use your kitchen island countertop ideas to create a unique design for your space– and use two favorite counter materials rather than just one.
If the idea sounds tempting, we've got the lowdown on whether a kitchen island can have a different countertop.
Can a kitchen island have a different countertop?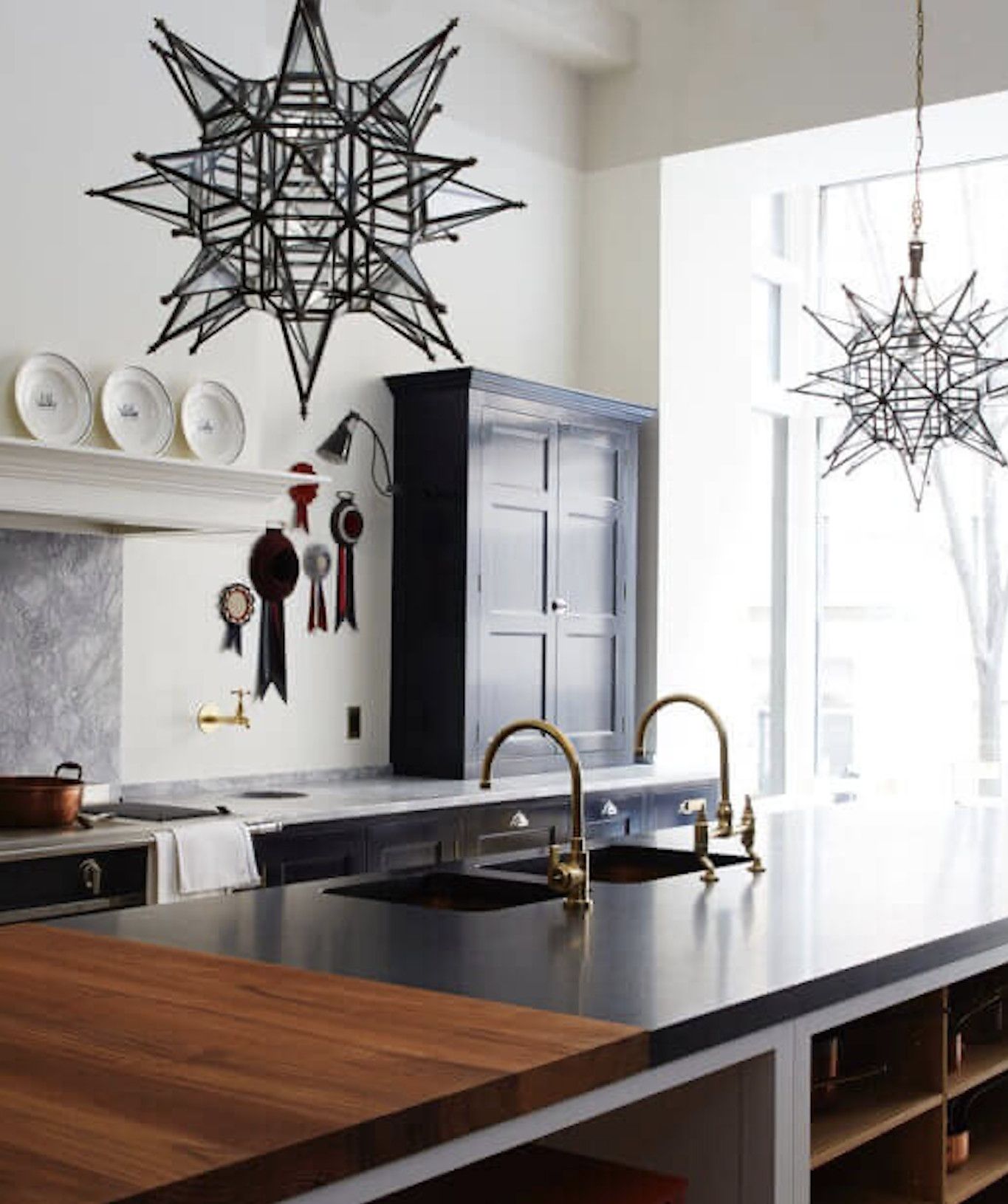 The answer to the question of whether a kitchen island can have a different countertop is a resounding yes. That's not to say that using the same countertop for the island and the rest of the room isn't a great strategy because it is. However, using a different countertop on the island can bring fabulous results.
The key to success? Taking advice from the design professionals who know how to choose two different kitchen countertops that will make a happy combination, and that will stand up to the wear and tear experienced by different areas of the room.
How to choose different countertop materials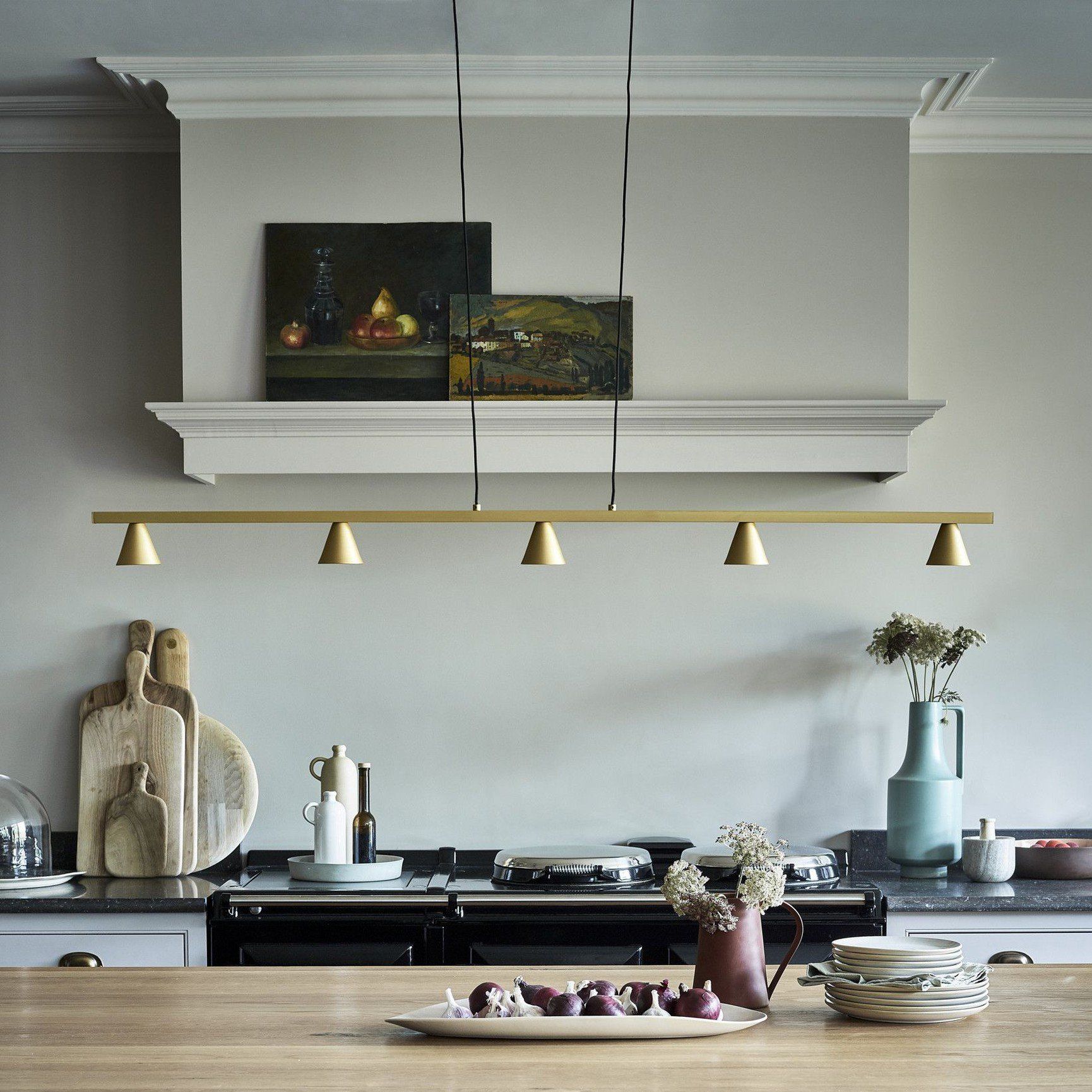 Follow these guidelines for using a different countertop on a kitchen island.
Think: durability
All kitchen surfaces should be practical – in other words, they need to be durable through the daily use they are likely to see. The countertop for a kitchen island is no exception, and typically experiences heavy wear.
'Kitchen islands seem to get the most use and abuse from homeowners, and that's a tradition that goes way back,' says Dustin Gerken of Dustin Gerken Design of Columbus, OH. 'The island has historically been the workstation of the kitchen.'
The takeaway? 'Function is key when determining the best material to use for an island countertop,' says Erika Jayne, a DC designer, general contractor and owner of Erika Jayne Design.
Be sure that any material that's among your kitchen countertop ideas is going to be suitable for the tasks which you propose to complete at the island, including dining, which, like cooking, can involve spills.
Consider maintenance
The best kitchen countertop materials need to be sufficiently hardwearing and their care needs must also be those you are prepared to take on. For some materials, cleaning will be the extent of your duties, but natural materials can need resealing from time to time.
'Marble island tops are gorgeous for a pastry chef, but the maintenance needs won't be appropriate for a young family,' says Erika Jayne. 'Low maintenance materials like quartz, quartzite, and granite are ideal choices for kids, cooks, and rental properties alike.'
Choose a balance of materials
However, in addition to considering both durability and maintenance requirements of any countertop you're interested in for a kitchen island, it's also essential to think about it in combination with the rest of the countertops.
'Avoid mixing similar natural and manmade materials such as a natural carrara marble with a Cararra-look quartz,' advises Erika Jayne.
Pay attention to color
It's not only the materials combination you should think about, though. The colors of kitchen island countertop and the rest of the countertops also need to be considered as a pairing, especially if you're wondering whether kitchen countertops should be light or dark?
'If we select a different material for the island, we tend to go with a tone or color that stands out and doesn't make a poor attempt at blending in,' says Dustin Gerken. 'For example: if one were to use classic Carrara marble (light stone with light gray veining), we may suggest a darker marble or granite for the island – pietra gray, graphite, or similar.'
Think color temperature, too. 'Cool-vein marble can mix well with graphite soapstone or a chestnut wood top can mix well with a warm-veined quartz,' says Erika Jayne.
Consider surface
Another element you might like to take into account when choosing a different countertop for a kitchen island is its texture. You can achieve design success with a contrast.
'This is a great time to play with the surface of the island, if you're up for it,' says Dustin Gerken. 'Honed perimeter counters play well with a leathered quartzite or flamed granite island.'
And focusing on the sense of touch can pay dividends in more than just aesthetic terms. 'These more haptic surface finishes also aid in wear and tear – they don't show scratches quite as easily as a polished or simple honed surface will,' says Dustin.
What can I use for the countertop on a kitchen island?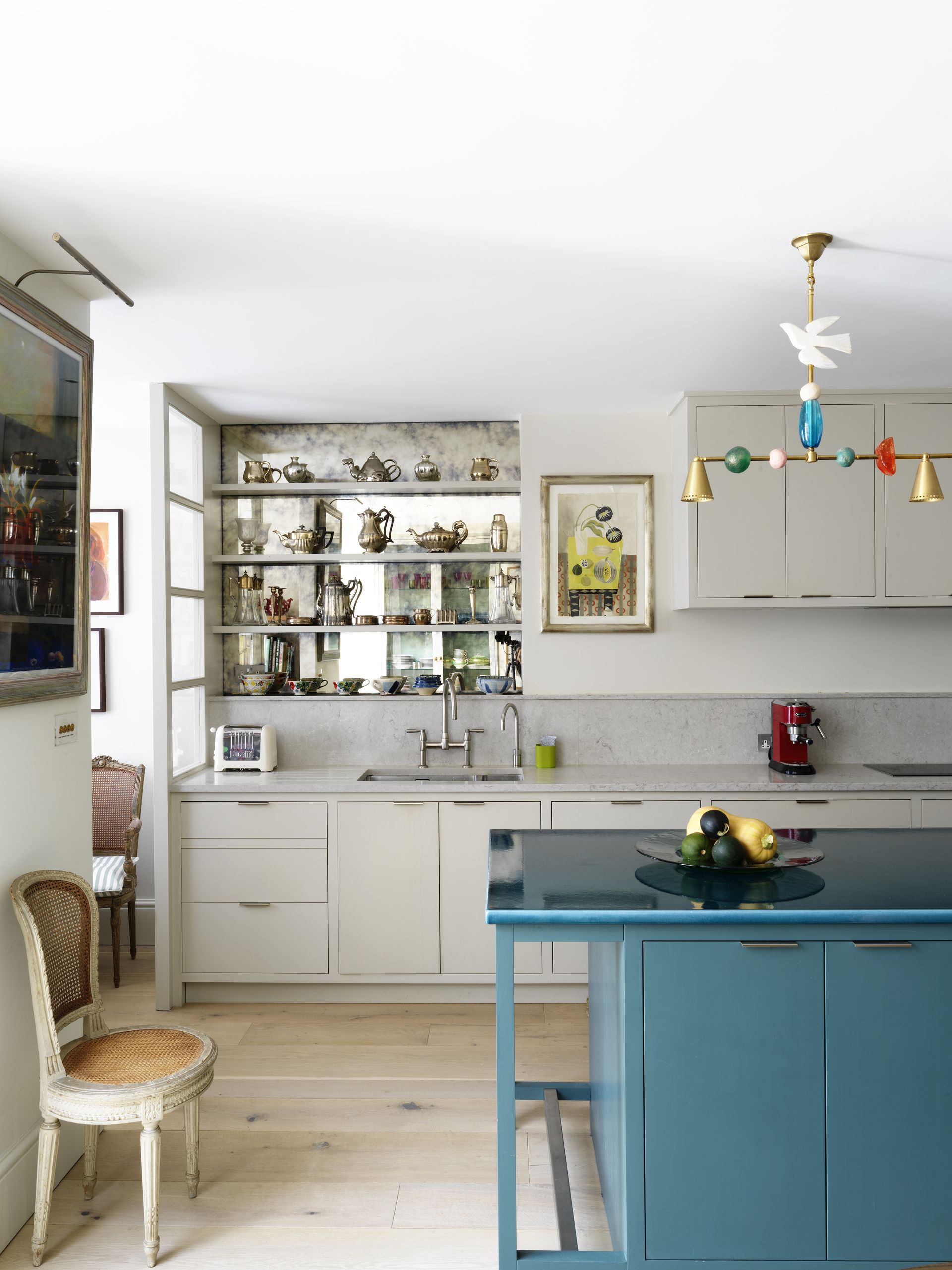 There's a wide choice of materials you can use for the countertop on a kitchen island. Island countertop materials, include natural stones such as granite, marble, and wood, and manmade quartz, concrete and stainless steel. As with any countertop material, be sure before buying that you know how to clean it and care for it correctly to preserve its beauty.
Think about its qualities in everyday use, too. Granite and marble can be etched by wine, as well as citrus and vinegar, so spills should be avoided and wiped up immediately if they happen. Stainless steel, meanwhile, could be scratched or dented, so you'll need to pay attention when you set down items on its surface (unless you count any marks as characterful).
FAQs
What is the most timeless countertop?
If you're looking for a timeless countertop, both marble and granite should be high on your list. Each marble or granite countertop will have unique qualities since they're both natural stones and either will elevate the look of your kitchen.
Correctly cared for both marble and granite will last for many years, so although they are a more costly choice of material for countertops, they will repay you in durability and lasting looks.
Sign up to the Homes & Gardens newsletter
Decor Ideas. Project Inspiration. Expert Advice. Delivered to your inbox.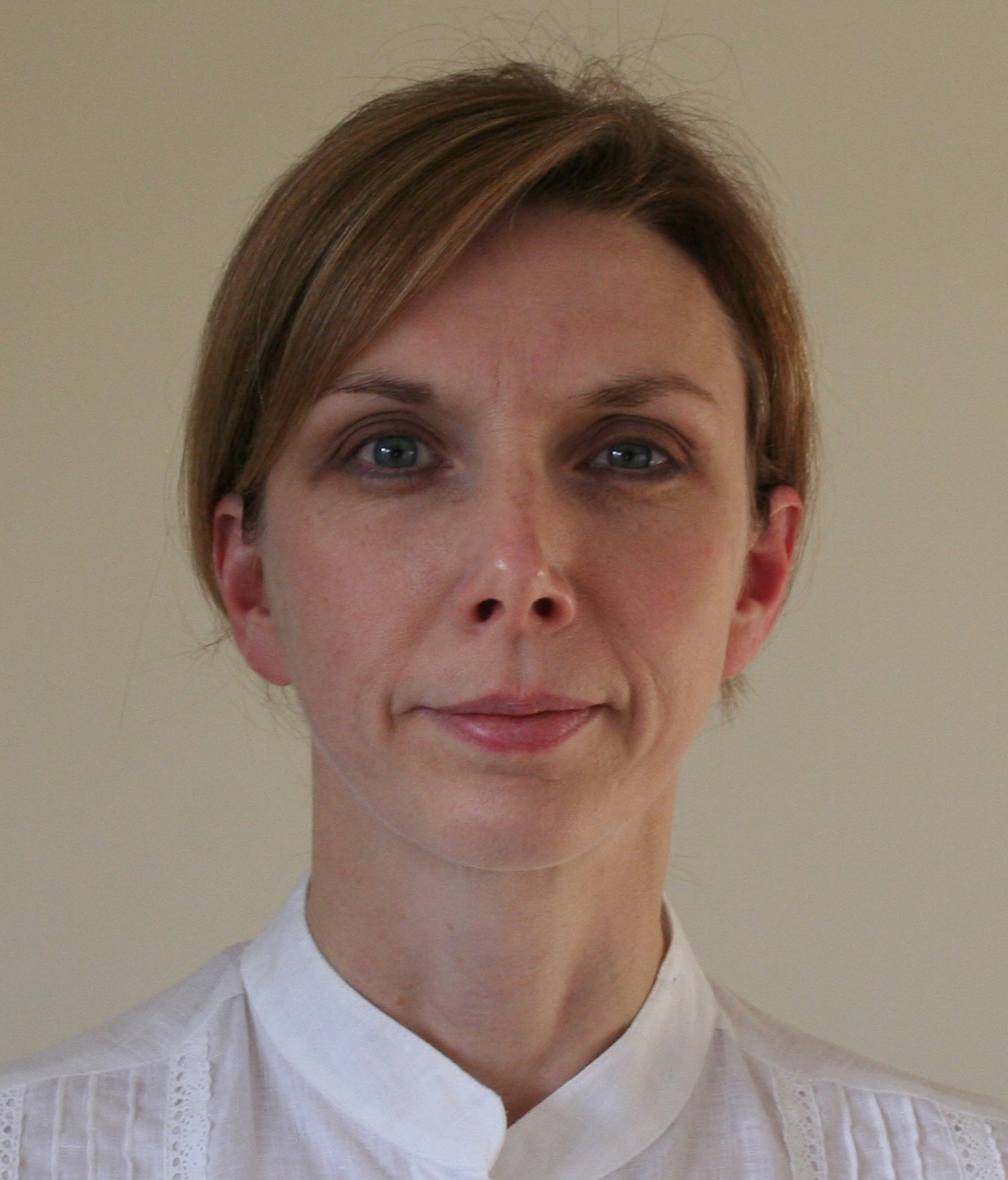 Sarah is a freelance journalist and editor. Previously executive editor of Ideal Home, she's specialized in interiors, property and gardens for over 20 years, and covers interior design, house design, gardens, and cleaning and organizing a home for H&G. She's written for websites, including Houzz, Channel 4's flagship website, 4Homes, and Future's T3; national newspapers, including The Guardian; and magazines including Future's Country Homes & Interiors, Homebuilding & Renovating, Period Living, and Style at Home, as well as House Beautiful, Good Homes, Grand Designs, Homes & Antiques, LandLove and The English Home among others. It's no big surprise that she likes to put what she writes about into practice, and is a serial house renovator.