Should kitchen countertops be light or dark? Designers explain the pros and cons
Not sure if your kitchen countertops should be light or dark? These are the benefits and downsides of each from the experts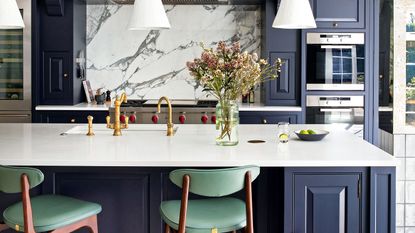 (Image credit: Future / Paul Raeside)
Should kitchen countertops be light or dark? It's a question you'll likely be asking if you are remodeling the room, and deciding on colors for everything from cabinets to walls, floors, and window treatments along with the countertops.
As you'd expect, there are pros and cons to both light and dark kitchen countertop ideas. Both have benefits that could drive your decision depending on your aesthetic preference and also the size of the room, but even some of the downsides might be avoided with some designer knowhow.
We've put their expert insights together here to make it easy to complement kitchen cabinet ideas along with the rest of your kitchen color palette.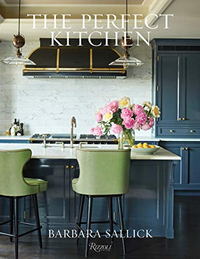 The Perfect Kitchen, Barbara Sallick | From $21.87/£30.45 at Amazon
Learn more about the fundamentals of kitchen design in this bestselling book. Find practical advice as well as hundreds of images to inspire your own remodel
Should kitchen countertops be light or dark?
Kitchen countertops are a major element in the room's color palette, and need to complement the cabinets along with the hues chosen for walls, floors and to dress windows.
The typical choice? 'The traditional approach to countertops has usually been to have a contrast between the color of the cabinet doors and the countertop, that is dark doors/light countertop and visa versa,' says Josie Medved, design manager at Symphony Group.
However, this is a recipe that's seen change. 'In the last few years there has been a trend to have the countertop in a similar color to the kitchen doors,' she notes. 'This has been especially popular with traditional painted pale colored kitchens with white or cararra marble style countertops.'
Whichever option you're contemplating for kitchen countertops, here's what the experts advise, and it's savvy you can also use when thinking of laundry room countertop ideas as well.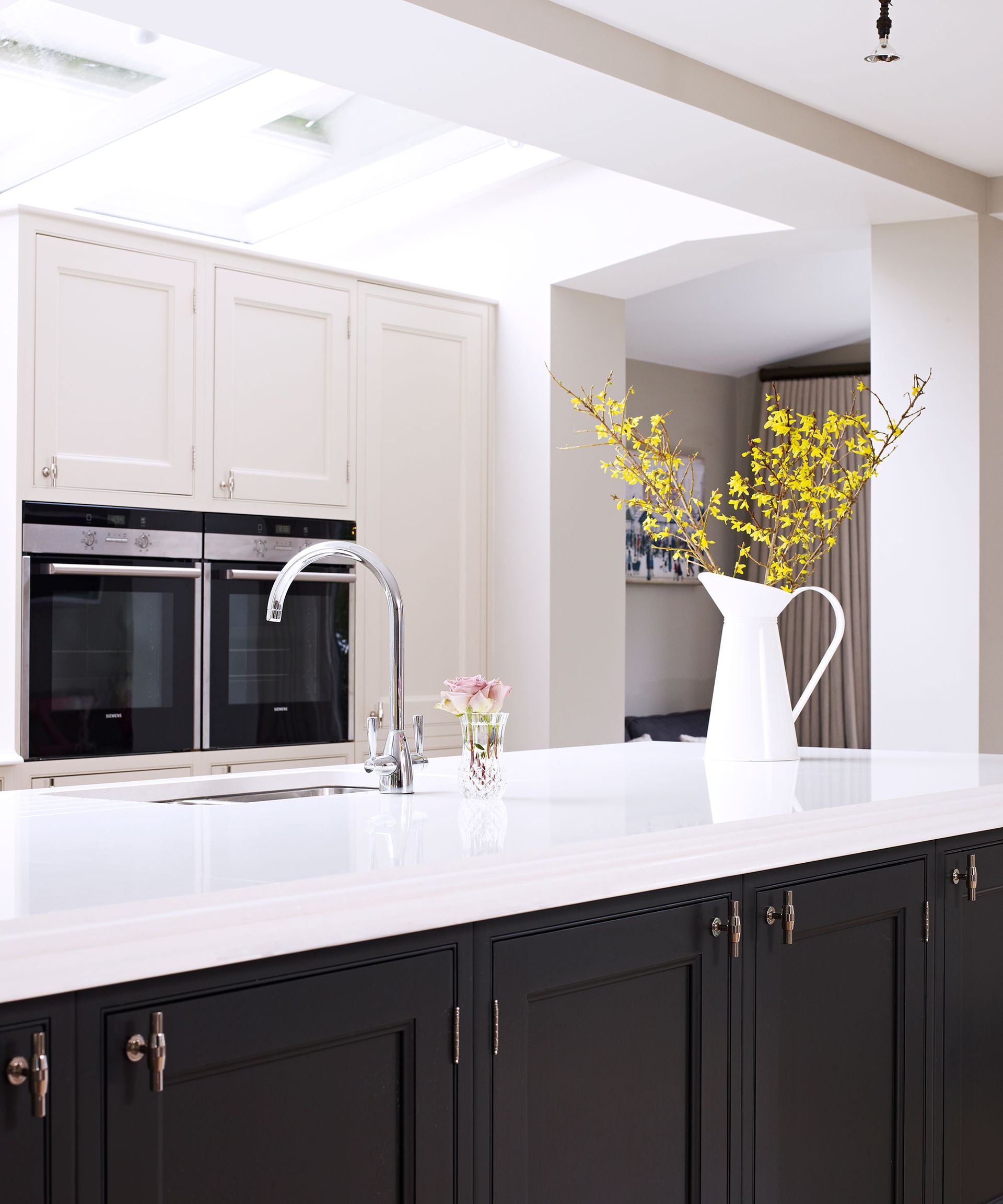 The pros of light kitchen countertops
Number one on many people's lists of why kitchen countertops should be light in color is their reflective quality. 'Light surfaces reflect the light around the kitchen and can help to balance darker cabinetry,' says Simon Temprell, interior design manager at Neptune.
The reflective quality of light countertops can be a particular boon in compact rooms, says Alex Main, director, The Main Company. 'A bright countertop is a great way to help give the illusion of space in small kitchens as the hue will help bounce and reflect light around the room, resulting in your kitchen feeling more airy and spacious,' he explains.
Light kitchen countertops give the room an aesthetic many prefer. 'Lots of people just love the freshness of kitchen that is various tones of light or white,' says Julia Brown, design director, Mowlem & Co.
Versatility is also a benefit of light countertops, according to Oliver Webb, director of natural and manmade surface specialists Cullifords. 'They will brighten up the space and can either be paired with dark cabinetry or light cabinetry, so they're more versatile in terms of application within different types of kitchen styles,' he says.
Light countertops can equally make it easy to choose flooring. 'They work with a wide variety of cabinet and floor colors and finishes,' says Chris Dance, head designer and director at InHouse Inspired Room Design.
The cons of light kitchen countertops
While their reflective nature is often a benefit of light kitchen countertops, it can be a disadvantage. 'Sparkling, reflective finishes can reflect too much light, thus making the kitchen feel a little too dazzling,' says Chris Dance.
White or cream kitchen countertops could also feel a bit characterless, he advises. 'Avoid light countertops in a single, plain color. Without any texture, dappling, or variation within the countertop material or finish, light countertops risk making the kitchen feel too clean and sterile when paired with light floors, walls and cabinets,' he says.
To avoid this, Richard Davonport of Davonport Kitchen & Home suggests, 'There are some beautiful grays and greens about currently which are much more interesting options.'
'We tend to use a lot of gray quartzites and white marble lookalikes in quartz,' he continues. 'I'd never recommend real marble in a kitchen simply because it's not durable enough. It can scuff and scratch and, as it's porous, it is also prone to staining. There are some excellent manmade quartz and granites which will give an almost identical effect while also going the distance.'
Simon Temprell agrees that marking can be a problem. 'Marble and granite can stain quite badly if red wine stain or tomato juice is left for too long on the surface,' he says.
Alex Main emphasizes that clean-up of light countertops is something to be considered. 'It requires a lot of maintenance to keep it looking its best for years to come,' he says. 'Homeowners need to be mindful of spills when preparing food.'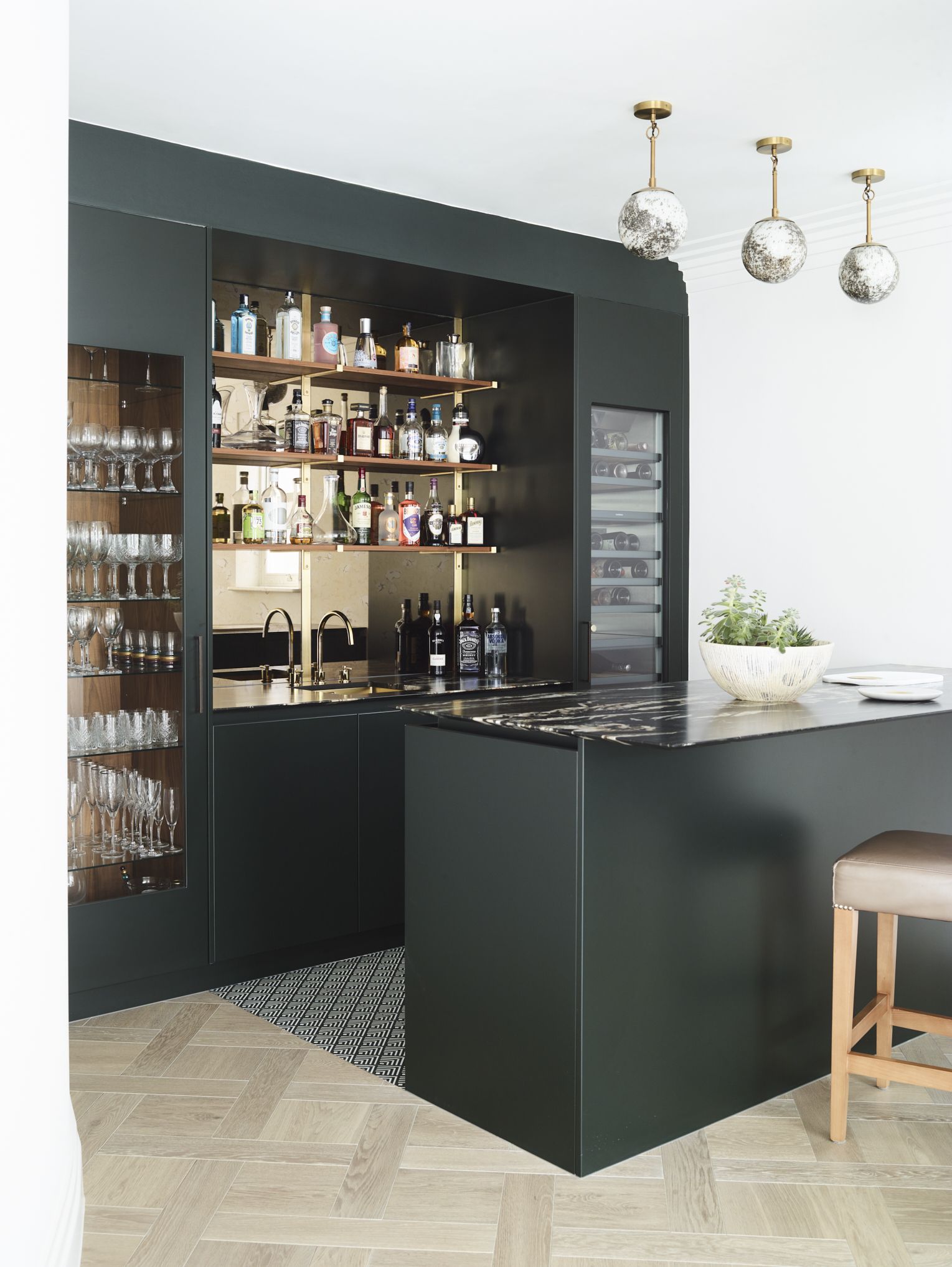 The pros of dark kitchen countertops
Opt for dark countertops for a striking look. 'They make more of a statement feature, and can add much more drama to a kitchen design,' says Oliver Webb of Cullifords.
Equally, dark countertops can make the kitchen feel homely. 'Dark countertops contribute to a cozy, warm atmosphere, and are a nice anchoring point when combined with lighter cabinets,' says InHouse Inspired Room Design's Chris Dance.
Dark kitchen countertops also have the benefit of being available in a wide range of materials, explains The Main Company's Alex Main. 'Homeowners have a lot of choice and variety when it comes to darker countertops,' he says. 'From granite and reclaimed wood to concrete and metals, there is a style and tone of countertop to suit every interior design style.'
Opting for dark might mean the countertop looks its best for longer. 'A darker surface can be easier to maintain as it's better at hiding signs of wear and tear, whereas a lighter surface can often stain or mark,' says Alex. 'Reclaimed wood is a good choice if you'd like a darker surface as it gets better with age, as well as offers its own unique character.'
Oliver Webb agrees. 'A matte textured surface will hide markings well, and you won't need to worry so much about any stains and maintenance,' he says.
The cons of dark kitchen countertops
One of the downsides of dark kitchen countertops is that they absorb rather than reflect light with a kitchen-shrinking effect. 'They can make a space appear smaller if not used in the right way with the right light,' says Oliver Webb.
Dark countertops can also involve more maintenance than you might suppose. 'Unless a client specifically specifies a darker hue, we tend to avoid them as these heavier colors often show water marks more easily,' says Richard Davonport. 'Although it may sound counterintuitive, they also show every speck of dust and dirt, too, so it can be harder to maintain a pristine finish.'
Fingerprints can be a particular issue on dark kitchen countertops. 'I'd avoid a shiny dark surface, or something similar, as this is known for showing fingerprints and can create endless work polishing the countertop – especially when the sun shines directly on it,' says Alex Main. 'If you prefer a darker, black surface, then consider a matte finish instead as it will make life much simpler.'
Oliver Webb has the same caution. 'A high gloss surface can show fingerprints and marks more than a lighter surface,' he says.
And it's not just fingerprints that can compromise a dark kitchen countertop. 'As with light countertops, the texture and finish is as important as the color,' says Chris Dance. 'There's a big difference between a black granite worktop and a matte, dark mahogany-effect one. The latter, with warm red undertones, has a softer feel than many of the dark, shiny stone worktops. So pay attention to the overall atmosphere of the kitchen and the effect you want to achieve. To soften contrasts, play with curved edges and corners, while steering clear from solid white and black pairings.'
Are dark countertops out of style?
Dark countertops are not out of style, including when they're combined with dark cabinets. 'The "dark on dark" look is currently very much on trend,' explains Josie Medved, design manager at kitchen specialists Symphony Group. 'However, you would need to have excellent task lighting in your kitchen to compensate for the darkness.'
Consider the aesthetic you want to create as well as the size of your room if you're contemplating dark countertops. 'When paired with other rich tones, dark countertops can create a warm, luxurious feel,' says Roundhouse designer Lauren Wright. 'The dark pigment absorbs light, helping to create a moody scheme. This has a cocooning effect, making a room feel smaller so it's important to take this into consideration.'
What color countertops make a kitchen look bigger?
To make a kitchen look bigger, light countertops are the answer. 'Light countertops, particularly if they have a polished, glossy finish, will reflect the light in a room and make it appear bigger and brighter,' says Josie Medved, design manager at kitchen specialists Symphony Group.
Be mindful that you will have to keep up with the cleaning to preserve the beauty of light countertops. 'Although paler stones with veining are aesthetically pleasing, depending on the stone, they are often more susceptible to staining and marks are more visible,' cautions Lauren Wright, designer at Roundhouse.
Sign up to the Homes & Gardens newsletter
Decor Ideas. Project Inspiration. Expert Advice. Delivered to your inbox.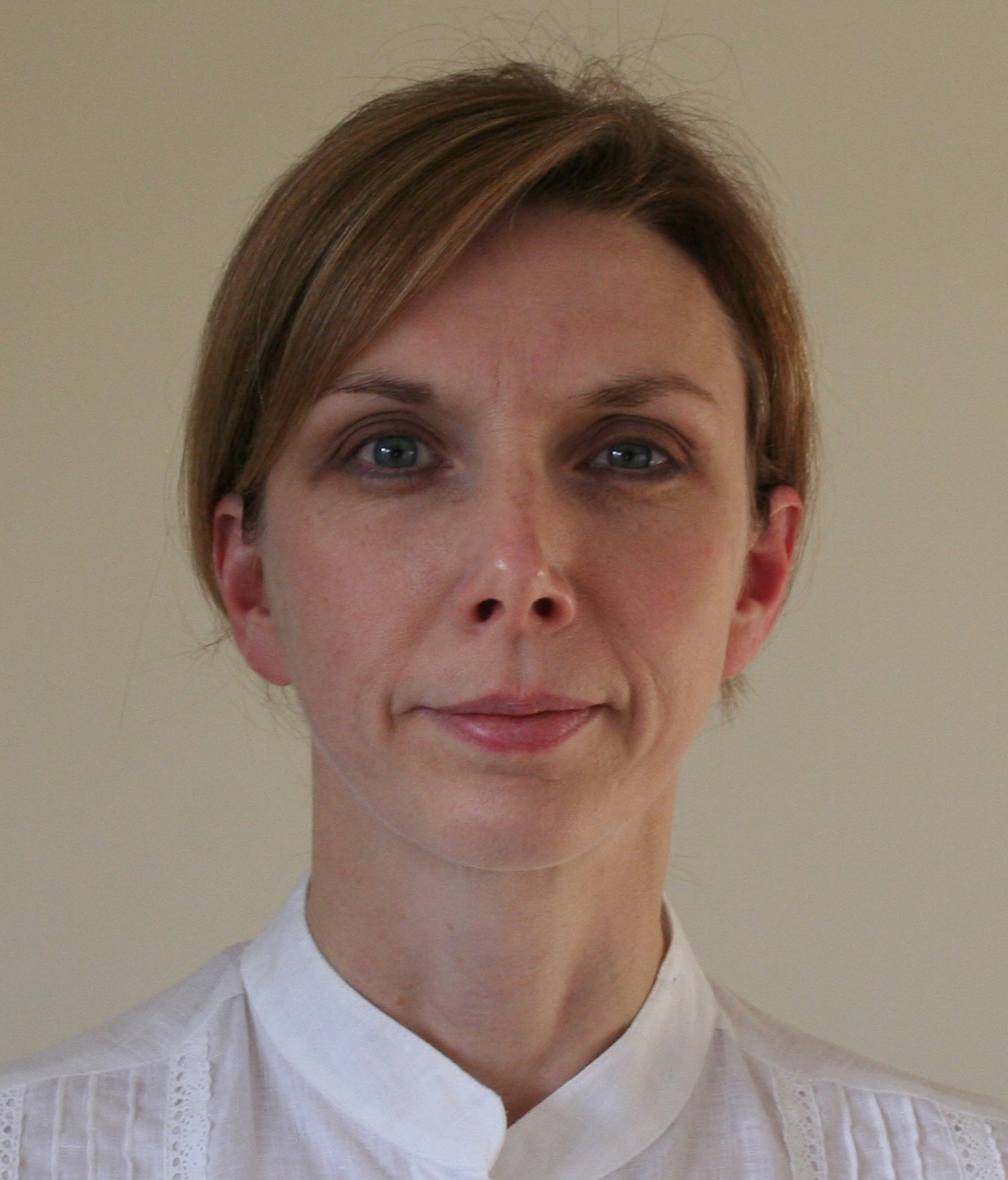 Sarah is a freelance journalist and editor. Previously executive editor of Ideal Home, she's specialized in interiors, property and gardens for over 20 years, and covers interior design, house design, gardens, and cleaning and organizing a home for H&G. She's written for websites, including Houzz, Channel 4's flagship website, 4Homes, and Future's T3; national newspapers, including The Guardian; and magazines including Future's Country Homes & Interiors, Homebuilding & Renovating, Period Living, and Style at Home, as well as House Beautiful, Good Homes, Grand Designs, Homes & Antiques, LandLove and The English Home among others. It's no big surprise that she likes to put what she writes about into practice, and is a serial house renovator.