Cheapest kitchen appliances to run – experts reveal the 4 best options for an energy-efficient kitchen
Experts reveal the cheapest kitchen appliances to run to make your kitchen more energy-efficient – and your savings bigger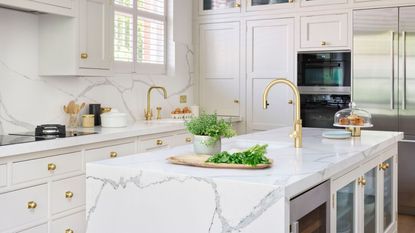 (Image credit: Martin Moore)
With prices continuing to rise almost all of us are looking for ways to lower our household bills – especially when it comes to everyday tasks and daily essentials like cooking.
While many people may be familiar with the best places to buy appliances for a kitchen, with many household names offering the best value, understanding what the cheapest kitchen appliances to run are can help you make more informed decisions when it comes to cooking and feeding your family.
Here, experts have broken down the four best energy-efficient appliances for a kitchen so that you can save money at home while continuing to enjoy good food.
The cheapest kitchen appliances to run
When it comes to the cheapest kitchen appliances to run, it is often smaller, countertop gadgets that offer the best value both upfront and in use.
Here are four of the best options for your kitchen ideas.
1. Air fryers
It is a well-known secret that the best air fryers are some of the best options for saving money in a kitchen – a fact we can testify to having tested and reviewed several models such as the Ninja Foodi DZ401 6-in-1 air fryer review, and the Phillips Essential Air Frier XL review.
'Air Frying is a much more energy-efficient wayto cook versus an oven as you are heating up a smaller space and the preheat time is faster, meaning you have the unit on for a shorter amount of time than you would when cooking with your conventional oven,' explains Amanda Long, managing director of Russell Hobbs.
Compared to an electric convection oven, an Air Fryer is estimated to be around 50% more energy efficient costing users around 25 cents per hour depending on the make and model. It turns out that it really is cheaper to cook with an air fryer.
2. Slow cookers
While slow cookers have had a bit of a bad rap amount younger generations over the last few years, the best slow cookers are starting to make a comeback due to their low costs and energy efficiency despite their longer cooking times. The savings come from the fact that slow cookers (or crock pots) usually only use around 250 watts of energy in comparison to a 4000-watt oven as well as heating up a much smaller area for concentrated cooking.
'Slow Cookers are among the kitchen's most energy-efficient appliances, allowing you to cook up a variety of different dishes from stews to curries, and even desserts, in minimal time with minimal fuss,' Russell Hobbs's Amanda Long says. 'Great for gently cooking meals over a longer period of time, load your slow cooker up with your ingredients in the morning and come home to a delicious homecooked meal after work – it couldn't be easier!'
It is a good time to consider snapping up a slow cooker too, with some of the best Black Friday slow cooker sales cropping up online this weekend.
3. Microwaves
Possibly one of the least glamorous kitchen appliances, microwaves are arguably one of the best low-cost appliances for cooking using as little as 215kWh of energy per year in the average home. What's more, many of the latest, most energy-efficient models are cropping up in Black Friday appliance deals.
'Microwaves offer useful solutions for cooking in your home. Not only packed with easy-to-use functionality, they're also a great energy-efficient way to cook in your kitchen,' Amanda explains. By heating just the food and not the air space inside like an oven, they use less energy to cook up a meal, whether it's reheating or defrosting those family favorite meals, or warming through a delicious batch-cooked soup.'
4. hot water tap
Whether you already own one of the best electric kettles or still prefer to heat water up on the stove, newer kitchen upgrades are proving to be the best for cutting costs. Hot water taps, often seen as a luxury, are fast becoming some of the cheapest kitchen appliances to add when designing a kitchen from scratch.
'According to Uswitch, it costs eight cents to boil a kettle for five minutes at a time,' begins Michael Sammon, managing director at Wödår. 'An instant boiling water tap costs about three cents a day and saves you time/effort on waiting and filling up the kettle.
'Having a gallon of piping hot water literally on tap means you can use exactly the amount required every time. This helps you to avoid overfilling, which reduces both water waste and energy waste,' he adds.
If adding a new tap into your kitchen is not on the horizon for your household, make sure to invest in one of the best electric kettles with a good energy efficiency rating.