Amazon Prime Day sales – the best appliance deals, selected by experts
There's plenty of appliance deals in the Prime Day sales. Here are the best prices you'll find on these tried-and-tested air fryers, blenders, coffee makers, and more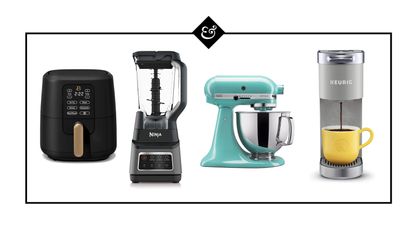 (Image credit: Beautiful | Ninja | KitchenAid | Keurig)
Amazon Prime Day is the best time to shop for appliances. Trusted brands, including Dyson, KitchenAid, Smeg, and Vitamix, are all reduced, so whether your kitchen needs an upgrade, or you need an excuse to treat yourself, now is the time to act.
Throughout the year, our team of experts have tested the best juicers, blenders, air fryers, and toaster ovens. With an intricate knowledge of the best appliances on the market, our experts have scoured the sales, finding you the biggest discounts from the best brands.
Here are all the appliances you need to equip your kitchen countertops with if you're looking for both substance and style. Our team of experts know these products so well, they'll be able to let you know everything about a product and why you might need, or not need, it, ensuring all your money is well-spent.
Whether you're just browsing food processor sales or specifically looking for a Ninja blender deal, our team can help you shop with ease this Prime Day.
Quick links for Prime Day
Coffee maker deals
As a barista, I get particularly excited about Prime Day's coffee maker deals. These are the kinds of appliances which can save you hundreds, if not thousands, long-term, but people don't always prioritize investing in the best.
That's why Prime Day is a good time to get shopping. There's discounts on top brands such as Breville, Nespresso, and even De'Longhi. Whether you want the latest Keurig to make speedy pod coffees for the morning school run, or a state-of-the-art espresso machine to work on your latte art, we are expecting savings on every coffee maker you could wish for.
Toaster deals
Whether you're grabbing a slice in the morning before you dash out the door, or toasting a bagel to perfection before layering it with your favorite fillings, investing in one of the best toasters will add a stylish essential to your countertop and save you money.
Air fryer deals
The best air fryers are a win-win in our book. Not only is food better for you when made in an air fryer, but it's a while lot easier to cook in one, too. We will be keeping an eye out for the top Prime Day deals on air fryers from Ninja, Instant Brands, and Philips, but for now, there are still some great deals out there.
Slow cooker deals
While the best slow cookers come into their own in wintertime, they're useful all year, especially for making delicious dishes like chili. Here are our favorite options, which just happen to be reduced too.
Stand mixer deals
Whether you're a master chef or a keen home cook, the best stand mixer is a must-have. They can also be expensive, which is why shopping now makes sense – especially if you're shopping for a gift. While many will be looking for a Prime Day KitchenAid deal, there are more brands to enjoy such as Cuisinart and Smeg.
Juicer deals
With a New Year health kicks just around the corner, a Prime Day juicer deal could be just the thing you need to get a jumpstart. We have highlighted some of the top juicer deals in our best juicer and best cold press juicer pages, but you can take a look at the very best below.