Black Friday appliance deals: save money on vacuum cleaners, coffee machines and more
Starting your Christmas shopping early? These brilliant Black Friday appliance deals will save you time and money in advance of the big day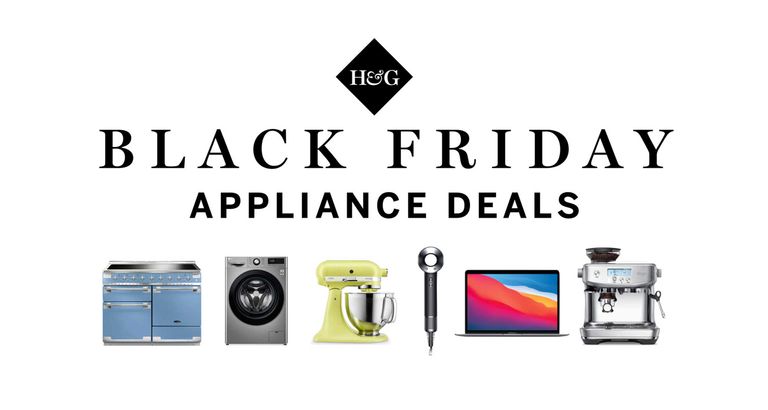 (Image credit: Future)
If you're one of those really organized people that has already started on the hunt for the best Black Friday appliance deals, then look no further. While our Black Friday home deals may still be a few weeks away, we've found plenty of stores that are offering some early bird Black Friday deals that you can take advantage of now.
So whether you're unsure of what to buy friends or family this Christmas, or perhaps you've been eyeing up a fabulous food mixer for months, or your old vacuum cleaner is on its last legs, you've definitely come to the right place. 
If you know exactly what you're looking for, use our quick links to shop with your favorite stores and see what they have on offer. 
However, if you prefer to browse, scroll down to see our selection of the best appliance deals, all sorted into different categories to make it super easy to navigate. 
Black Friday appliance deals for the US - quick links
Stateside shoppers! Do you already know what you're looking for? Use these links to jump straight to the following retailers to save time (and money)
Black Friday appliance deals for the UK - quick links
If you're in the UK and you already have you eye on something, use the following quick links to head straight to the deals available at your preferred retailer
Black Friday appliance deals by type
We've listed all of our Black Friday appliance deals below in separate sections to help you find what you're looking for quickly and easily. 
Jump straight to vacuum cleaners, coffee machines, toasters, air fryers, kettles, slow cookers, microwaves, washing machines, refrigerators and stand mixers now. 
Not sure what you're looking for? Simply scroll down to discover all of the brilliant deals we've found for you in all of the categories.
Best vacuum cleaner deals
We've hunted down the best vacuum cleaner deals we could find - one for our US readers and one for our readers in the UK - so you can bust that dust in plenty of time for the holidays. 
Best coffee machine deals
Craving your daily barista-style coffee hit? Why not invest in a brand new machine for less with one of these great value models? We've chosen one for the US and another for the UK so everyone's covered.
Best toaster deals
Whether you're grabbing a slice in the morning before you dash out the door, or toasting a bagel to perfection before layering it with your favorite fillings, these two toaster offers - one from either side of the Atlantic - will perk up your kitchen countertop and save you money.
Best air fryer deals
Air fryers are a win-win in our book. Not only is food better for you when made in an air fryer, but it's a while lot easier to cook in one, too. We've found the top Black Friday deals for the US and UK so you can find out for yourself how great they are.
Best kettle deals
Regular tea drinkers know that boiling water won't cut it with some teas and you need to invest in a temperature controlled kettle to get the most out of your tea bag. Grab one of these two great offers now to keep you in hot cups all winter long.
Best slow cooker deals
While slow cookers come into their own in wintertime, yet have a surprisingly wide use year round, especially for making delicious dishes like chili. Here are the best  advance Black Friday deals we've found for slow cookers so you can get ahead for the holidays.
Best microwave deals
Whether you're steaming fish, making popcorn or reheating a plate of pasta, a microwave is an indispensable piece of kitchen kit for a busy family home. Here are the best deals we've discovered from both sides of the pond.
Best washing machine deals
A must-have for a busy family home, a good washer (or washing machine if you're in the UK) is an appliance that you simply can't do without. We've found this year's best deals and listed them below so you can get the best quality, for less.
Best refrigerator deals
Everyone's refrigerators are pushed to the max each winter and if yours is performing poorly, now's the time to upgrade to something better (and perhaps bigger) while the offers are available. Take a look below at two of the best deals we've discovered.
Best stand mixer deals
Whether you're a master chef or a keen home cook, a stand mixer is a must-have. But they can also be expensive, which is why shopping now makes sense – especially if you're shopping for a gift.
Best blender 2020 – the top models for crushing ice and making smoothies and soups
Hello there, I'm Ginevra Benedetti, 
Associate Editor on the Homes Content Team at Future. 
I've been fortunate enough to have been writing about interiors for the past 16 years on the majority of Britain's monthly interiors titles, such as Ideal Home, Country Homes & Interiors and Style at Home, as well as Livingetc and of course, Homes & Gardens. 
This naturally feeds into writing for wonderful websites like HomesandGardens.com and IdealHome.co.uk.
Over the years, I've interviewed some of the most talented designers in the business and I've pretty much written about every area of the home, from shopping and decorating, appliances and home tech, wallpaper and fabric, kitchens and bathrooms, even extensions and conversions.  
I never tire about reading or writing about interiors, from classic timeless designs to innovative smart tech - the subject is always evolving, just as our homes do, year after year.