Cyber Monday appliance deals – the lowest prices for top offers
Cyber Monday appliance deals are here and these are the best prices and sales for air fryers, blenders, coffee makers and more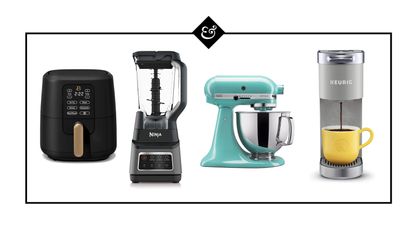 (Image credit: Beautiful | Ninja | KitchenAid | Keurig)
There is no better time to shop for appliances than during the Cyber Monday appliance deals period, so save on all your kitchen needs and make the most of this year's Cyber Monday appliance deals.
From juicers and blenders to air fryers and toaster ovens, our collection of BCyber Monday appliance deals can help you equip your kitchen counters with top brands at discounted prices. Some of the biggest and best brands have excellent discounts this year, with savings on coffee makers from Nespresso and Keurig to air fryers from Ninja and Phillips.
Having tested many small appliances here at Homes & Gardens, we have expert insight on some of the top products so that we can bring you the best on Cyber Monday.
So, whether you're just browsing Cyber Monday food processor sales or are specifically looking for a Cyber Monday Ninja blender deal, our H&G small appliance roundup can help you shop with ease this Black Friday.
Cyber Monday appliance deals
You can shop best Black Friday large and small appliance deals today by retailer or via our top H&G picks.
Best places to find Cyber Monday appliance deals
Our top rated Cyber Monday appliance deals at today's best prices
Below we've added our top Black Friday kitchen appliance picks, for discounts on coffee makers, slow cookers, and many more appliances. Scroll through to explore the top deals available right now, or jump straight to the right section for you.
Coffee maker deals
Cyber Monday coffee maker deals
Craving your daily barista-style coffee hit? Why not invest in one of the best coffee makers for less with one of these great value models?
We were impressed by last year's Black Friday coffee maker deals, with discounts on top brands such as Breville, Nespresso, and even De'Longhi. Whether you want the latest Keurig to make speedy pod coffees for the morning school run, or a state-of-the-art espresso machine to work on your latte art, we are expecting savings for every coffee maker you could wish for.
Toaster deals
Cyber Monday toaster deals
Whether you're grabbing a slice in the morning before you dash out the door, or toasting a bagel to perfection before layering it with your favorite fillings, investing in one of the best toasters will add a stylish essential to your countertop and save you money.
Air fryer deals
Cyber Monday air fryer deals
The best air fryers are a win-win in our book. Not only is food better for you when made in an air fryer, but it's a while lot easier to cook in one, too. We will be keeping an eye out for the top Black Friday deals on air fryers from Ninja, Instant Brands, and Philips, but for now, there are still some great deals out there.
Slow cooker deals
Cyber Monday slow cooker deals
While the best slow cookers come into their own in wintertime, yet have a surprisingly wide use year round, especially for making delicious dishes like chili. Here are the best advance Black Friday slow cooker deals we've found so you can get ahead for the holidays
Stand mixer deals
Cyber Monday stand mixer deals
Whether you're a master chef or a keen home cook, the best stand mixer is a must-have. But they can also be expensive, which is why shopping now makes sense – especially if you're shopping for a gift. While many will be looking for a Black Friday KitchenAid deal, there are more brands to enjoy such as Cuisinart and Smeg.
Juicer deals
Cyber Monday juicer deals
With a New Year health kicks just around the corner, a Black Friday juicer deal could be just the thing you need to get a jumpstart. We have highlighted some of the top Black Friday juicer deals in our best juicer and best cold press juicer pages, but you can take a look at the very best below.
Blender deals
Cyber Monday blender deals
Everyone needs one of the best blenders, but with top models from Vitamix and KitchenAid at play, it's a good idea to wait until the Black Friday blender deals have arrived. Here are our top picks, including some of the best portable blenders.
Refrigerator deals
Cyber Monday refrigerator deals
Microwave deals
Cyber Monday microwave deals
What is Black Friday?
Often hailed as the biggest shopping day of the year, Black Friday falls on the last Friday of November, which this year means Black Friday will fall on Friday, November 25, 2022.
The term Black Friday originated in the US to denote the first day following Thanksgiving when retailers would cut prices to draw holidaymakers to shop their store's sales. Driven by global brands, the price-slashing event soon became a worldwide phenomenon, and now Black Friday, closely followed by Cyber Monday, has become one of the globe's biggest consumer extravaganzas.
What is Cyber Monday?
Cyber Monday falls directly after Black Friday and is the conclusion of the shopping event, with many online-only deals. This year, Cyber Monday falls on Monday, Nov. 28th.
Is Black Friday a good time to buy small appliances?
Yes, Black Friday is definitely a good time to buy small appliances. It is a time when some of the biggest brands drop their prices before the holiday season, allowing you to purchase products for both you and your loved ones.
As we have explored in this guide, there are some excellent deals to be had, whether you're having a kitchen appliance refresh, or have had your eye on an air fryer for a little while, now is definitely the time to buy!