Black Friday small appliance deals 2021: today's best deals
Black Friday small appliance deals are live now, and here are our top picks of blender, air fryer, stand mixer, and juicer deals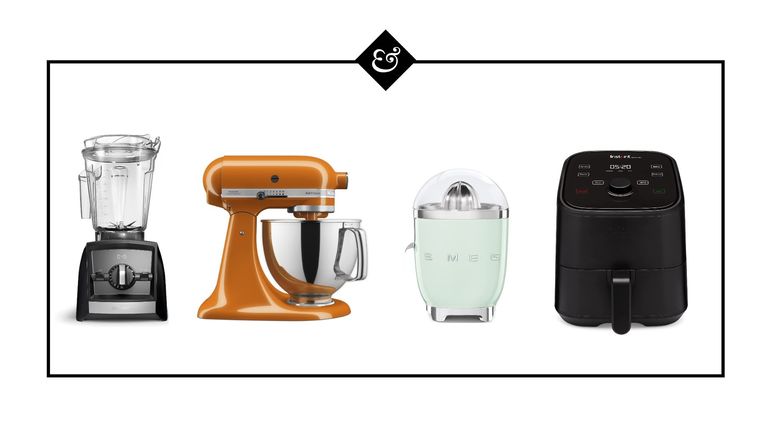 (Image credit: Future)
By Millie Fender published
Save on all your kitchen needs with this year's Black Friday small appliance deals. From juicers and blenders to air fryers and toaster ovens, this year's best small appliance deals will equip your kitchen counters with top brands at a discounted price.
Although we're not technically in full Black Friday mode, many of the best Black Friday small appliance deals of the season have already dropped. That includes savings on coffee makers from Breville and Philips, and toaster ovens from KitchenAid and Cuisinart. We have also dedicated a whole page to the Black Friday food processor deals and Black Friday slow cooker deals, and if you're more concerned with finding a specific brand, our KitchenAid Black Friday deal page has savings on some of our favorite stand mixers and immersion blenders.
Even sought-after products such as Hurom juicers, Instant Pots, Vitamix blenders, Ninja air fryers, and Crock-Pot slow cookers can be found on sale when you know where to find the best Black Friday small appliance deals. That's why we've included quick links to our favorite places to shop for Black Friday and Cyber Monday savings this year. We have also covered the best for a more in-depth look.
Where to find Black Friday small appliance deals
We will be looking through all of these retailers, and more, to find the top discounts available on small appliances this Black Friday. However, if you want to jump straight in to see the top deals of the day at a specific retailer, here are the places we recommend looking for Black Friday small appliance deals.
Black Friday small appliance deals 2021
Below we've added our top picks right now for discounts on coffee makers, slow cookers, and many more appliances. Scroll through to explore the top deals available right now, or jump straight to the right section for you.
Coffee maker deals
Black Friday coffee maker deals
Craving your daily barista-style coffee hit? Why not invest in a one of the best coffee makers for less with one of these great value models?
We were impressed by last year's Black Friday coffee maker deals, with discounts on top brands such as Breville, Nespresso, and even De'Longhi. Whether you want the latest Keurig to make speedy pod coffees for the morning school run, or a state-of-the-art espresso machine to work on your latte art, we are expecting savings for every coffee maker you could wish for.
Toaster deals
Black Friday toaster deals
Whether you're grabbing a slice in the morning before you dash out the door, or toasting a bagel to perfection before layering it with your favorite fillings, investing in one of the best toasters will add a stylish essential to your countertop and save you money.
Air fryer deals
Black Friday air fryer deals
The best air fryers are a win-win in our book. Not only is food better for you when made in an air fryer, but it's a while lot easier to cook in one, too. We will be keeping an eye out for the top Black Friday deals on air fryers from Ninja, Instant Brands, and Philips, but for now, there are still some great deals out there.
Slow cooker deals
Black Friday slow cooker deals
While the best slow cookers come into their own in wintertime, yet have a surprisingly wide use year round, especially for making delicious dishes like chili. Here are the best advance Black Friday slow cooker deals we've found so you can get ahead for the holidays
Stand mixer deals
Black Friday stand mixer deals
Whether you're a master chef or a keen home cook,the best stand mixer is a must-have. But they can also be expensive, which is why shopping now makes sense – especially if you're shopping for a gift. While many will be looking for a Black Friday KitchenAid deal, there are more brands to enjoy such as Cuisinart and Smeg.
Juicer deals
Black Friday juicer deals
With New Year health kicks just around the corner, a Black Friday juicer deal could be just the thing you need to get a jumpstart. We have highlighted some of the top Black Friday juicer deals in our best juicer and best cold press juicer pages, but you can take a look at the very best below.
Blender deals
Black Friday blender deals
Everyone needs one of the best blenders, but with top models from Vitamix and KitchenAid at play, it's a good idea to wait until the Black Friday blender deals have arrived. Here are our top picks, including some of the best portable blenders.
When will Black Friday small appliance deals start?
Black Friday 2021 falls on November 26, but if last year is anything to go by, many of the best Black Friday small appliance deals have already started! Then of course, you can always look forward to Cyber Monday small appliance deals, which will be falling on November 29th.
Kitchen appliances were some of the top sellers in last year's sales. This is likely because they make such brilliant presents for the holidays, and because many of them can be a real investment, it is often worth waiting for a discount to save some money.
Last year's Black Friday highlights included a hundred-dollar saving on a KitchenAid Artisan mixer, which had been sold out for most of the year. We were also impressed with a 20% discount on a top Breville coffee maker, which usually costs in excess of $1,000.
Millie Fender is the Small Appliance and Cooking Editor on the Homes and Gardens Ecommerce team. She specializes in cooking appliances and also reviews outdoor grills and pizza ovens. Millie loves to bake, so she will take any excuse to review stand mixers and other baking essentials. All of Millie's reviews are conducted at home, meaning she uses these products in her own kitchen, the way they're designed to be used.
Millie is from Bath, England, and she grew up surrounded by classic Georgian architecture and interiors. She dreams of buying her own house and filling it with antiques, but for now, she lives in a sunny London flat with a very busy kitchen.