Where to put a microwave in a kitchen – for a space-saving, seamless aesthetic
Microwave placement suggestions from designers to keep the heart of your home running smoothly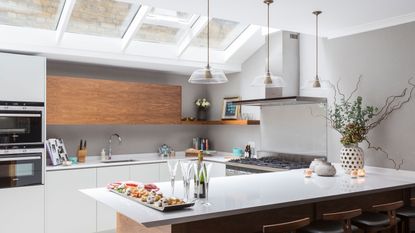 (Image credit: Future PLC)
It's important to work out where to put a microwave in the kitchen if you want it to be super easy to access without cluttering up valuable cooking space.
If you can think about practical details, such as where your small appliances will go, early on when mapping out kitchen layout ideas you will thank yourself later. Equally, moving your microwave may declutter your countertops and make your kitchen more functional for the whole household.
Consider how you use your kitchen day to day and take advice from kitchen design professionals below. There are lots of options that will banish unsightly cords and avoid any hazards.
Microwave placement advice from experts
According to interior designer Sarah Walker, the ideal location for your microwave all hinges on the flow of your kitchen work zones. On her kitchen projects, she generally places the microwave away from high-traffic areas, such as the range or sink. Positioning them elsewhere is both safer and makes it easier for more than one person to use the kitchen.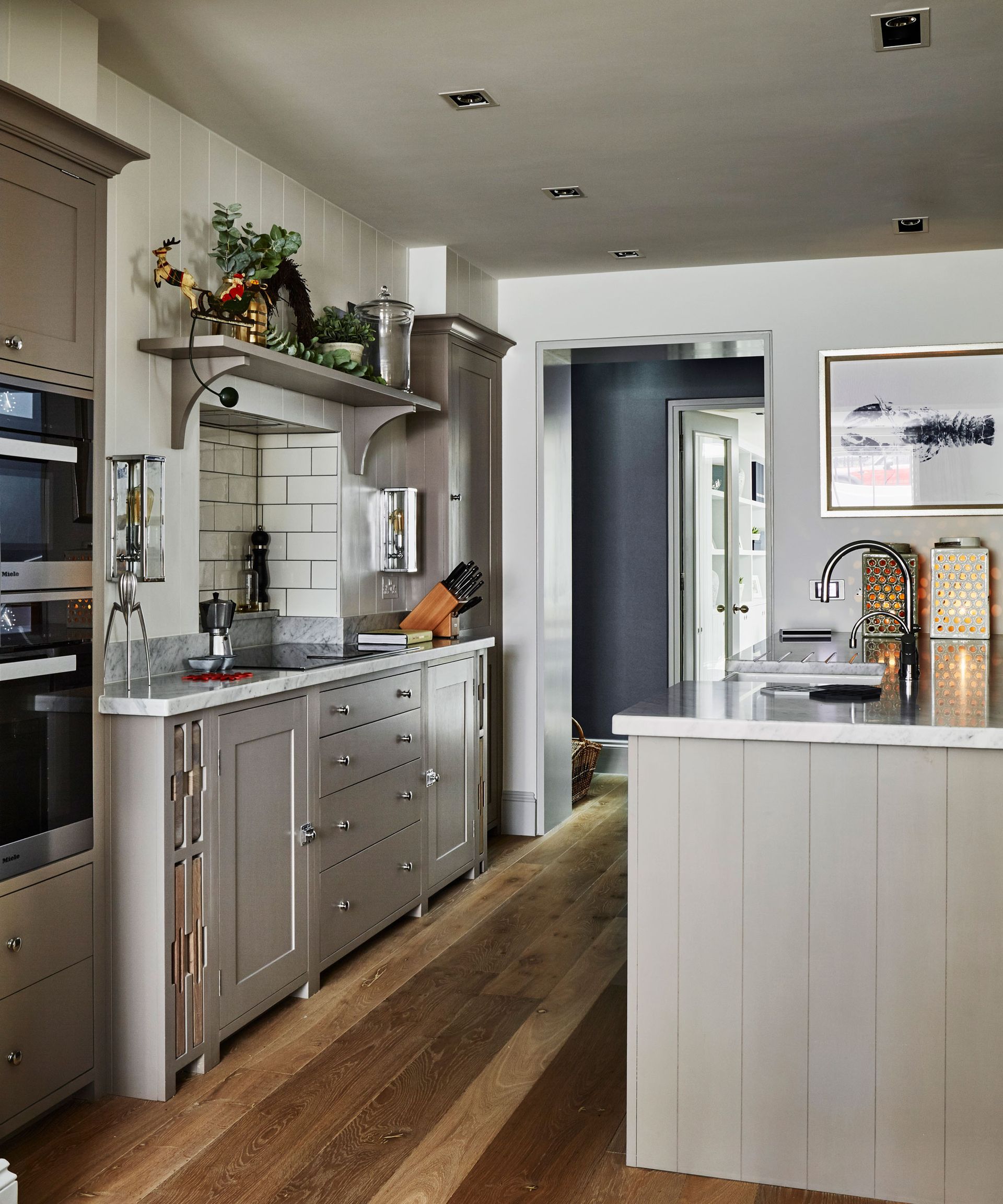 Under the counter
'In today's kitchens, clients often prefer the range to be a focal point with custom tile and beautiful hoods. They prefer a cleaner look to their kitchen, stowing small appliances away with modern kitchen storage ideas. Microwave drawers are an option, but they can be expensive,' says Trudi Smith, an interior designer based in upstate New York.
Trudi most often suggests putting the microwave under the counter, often on the end of the island to free up space in upper kitchen cabinets. Building your microwave into the cabinetry below your countertop means it's at a great height for kids warming up snacks and keeps it out of the main kitchen flow.
Trudi Smith is a certified interior designer who studied architectural design. She specializes in bathrooms and kitchens, creating functional and balanced spaces, and knowing exactly where to place appliances is a speciality.
In a drawer
Maia Roffey, director and principal at Black Sheep Interior Design strongly recommends a microwave drawer. These are mounted below the counter and, as you would expect from the name, they pull out like a drawer.
'They free up counter space and my clients who have installed them say they find the drawer function to be more ergonomic than a traditional micro,' Maia shares. 'But these units are significantly more expensive than standard models, so if you are more budget-conscious consider purchasing a trim kit for your microwave, which is a sleek way to build it flush into cabinetry.'
Built-in (at just the right height)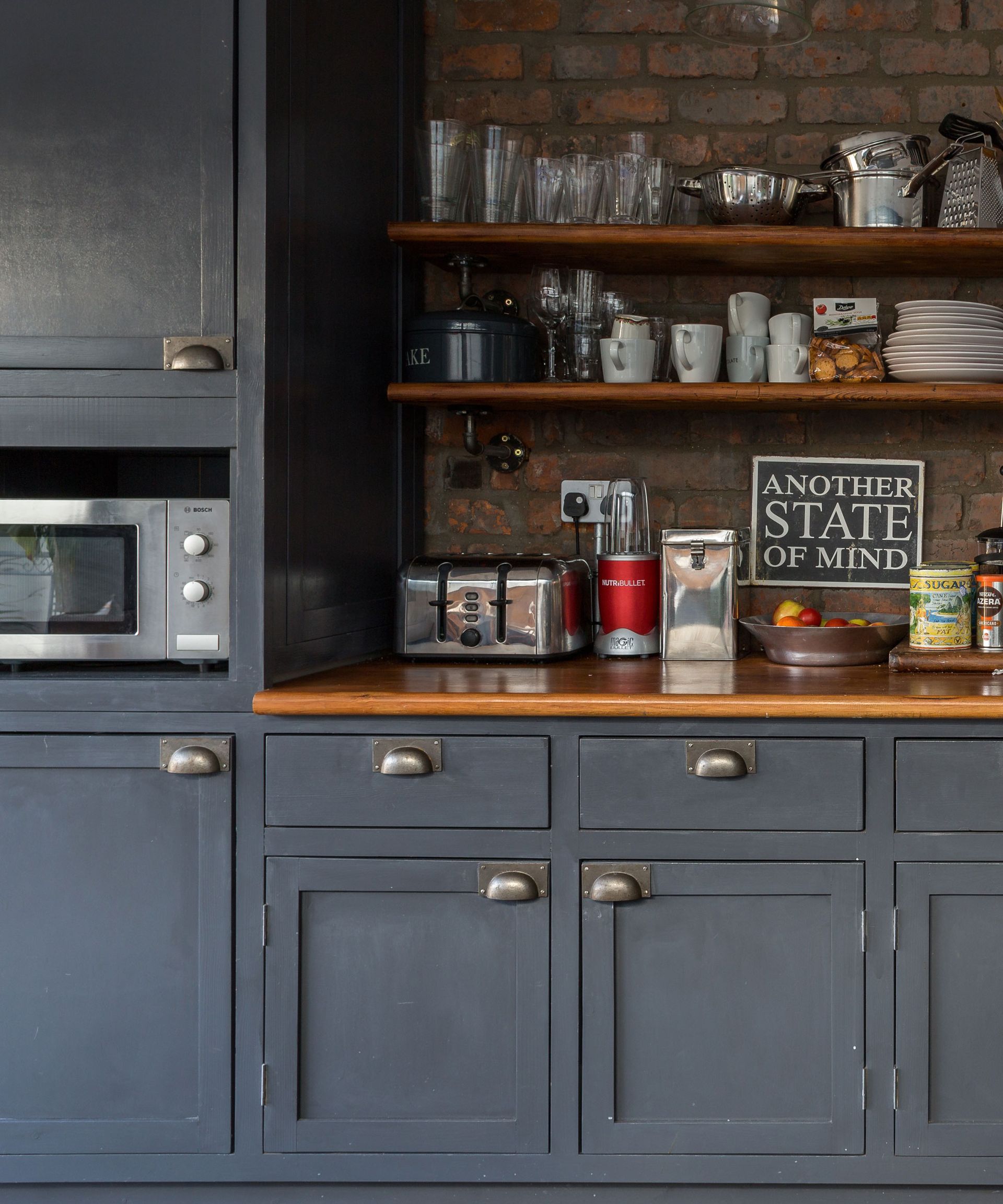 'I like to place a trimmed-out microwave into a bank of full-height cabinets around a fridge and pantry area,' Mai Roffey continues. 'This puts it close to food storage for defrosting and reheating.' We think it makes a lot of sense to position your microwave near to your refrigerator as it means the other two corners of the kitchen triangle, the sink and the stove, are free, avoiding a scenario of 'too many chefs'.
'If you are considering a wall oven, stacking the microwave above the oven makes a cohesive area for warming food,' adds Maia. She recommends thinking about the heights of the members of your family before installing them.
If you have children, consider mounting the microwave at a height where they will be able to use it when they are old enough to prepare their own snacks.
In the pantry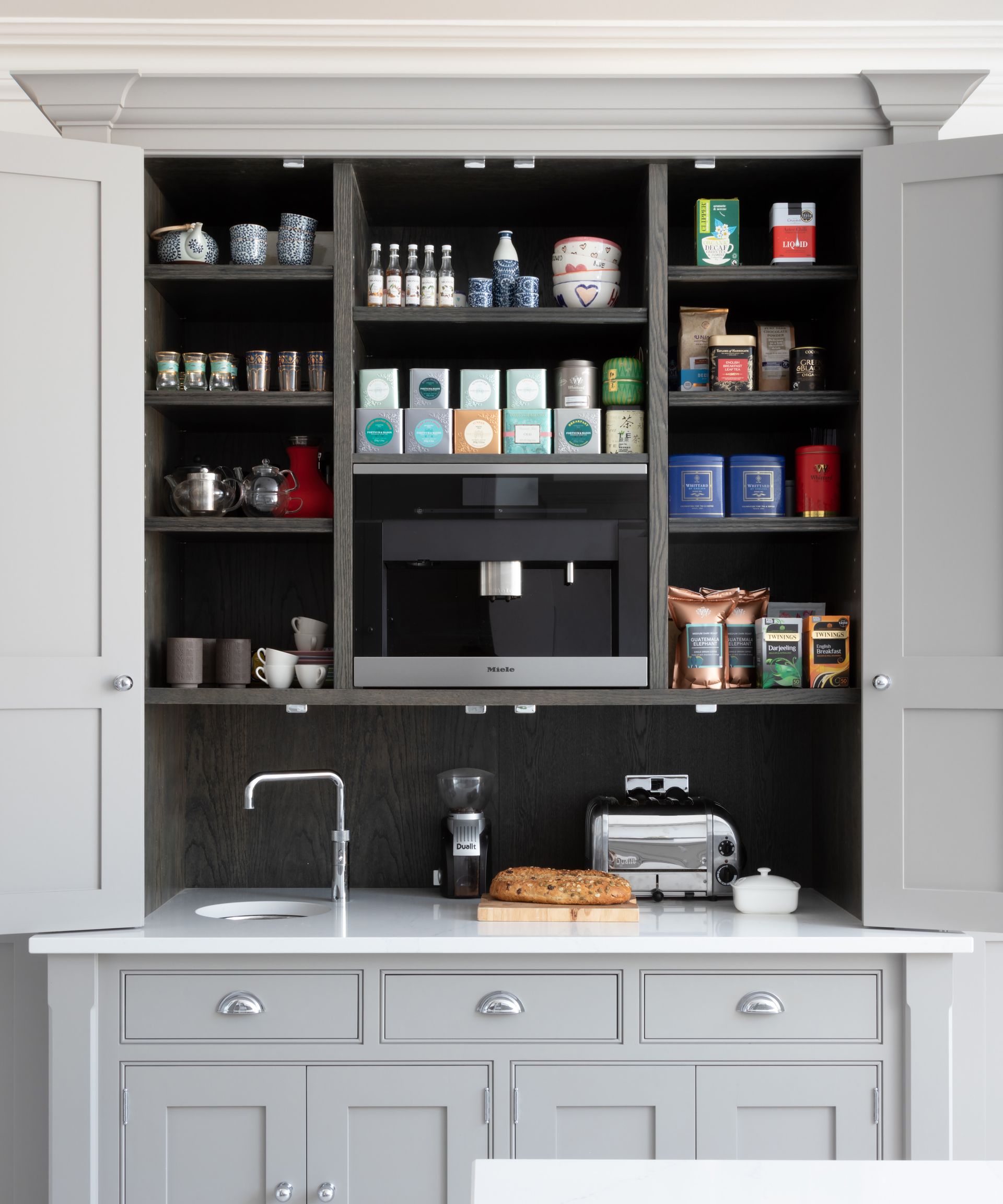 Alternatively, incorporate small appliances into your walk-in pantry ideas. This keeps the clutter out of the main kitchen and creates an extension to your workspace, a little like a butler's pantry that gives you extra behind-the-scenes space when entertaining.
If you have a microwave with a smaller wattage, Trudi says you could keep your microwave in a pantry cabinet. 'Always consult the appliance specifications for space, ventilation, and proper use recommendations. Your electrician will be able to guide you on local regulations,' she adds.
On a rolling cart
No pantry space? Invest in a rolling kitchen cart, at Wayfair. There are some aesthetically pleasing options that are sturdy and will blend into the rest of your scheme. Place your microwave on the top, and store cookbooks and other food containers on its shelves beneath. These are easy to transport around as needed and offer handy additional storage. Keeping it out in the open makes cleaning a microwave easier, too.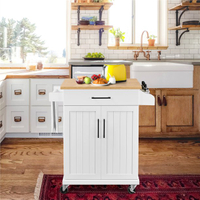 Rolling storage cart with pull-out drawer | $144.99 at Walmart
The cart has a slide-out drawer under the top and a storage cabinet with two doors on the bottom. The wheels rotate 360 degrees, two of which are lockable.
In an appliances garage
The appliance garage trend had a big moment last year and they could be your key to a visually clutter-free kitchen, especially if you love a minimalist aesthetic. Store frequently used appliances – like your best coffee maker and toaster – together in a space that is concealed behind a door.
'We often hide them behind pocket or folding doors that can then comfortably stay open when the microwave is in use without intruding into the space,' says kitchen design expert Sarah Walker.
Combine appliances
Instead of dual wall ovens, chose a multi-technology top oven with convection, microwave, warming, speed cooking, and even air frying in one unit, saving precious space. The best toaster ovens are another handy addition and could even replace your air fryer or toaster.
FAQs
Where is best to put a microwave in a small kitchen?
'One of my favorite ways for placing a microwave in a kitchen is to utilize an often-overlooked corner or even suspend it from a shelf,' says Tam Tran Home Improvement Writer at Daily Dream Decor.
We always recommend making use of empty walls, so you could certainly rest your microwave on a shelf, although this does require your outlets to be in the right spot. Alternatively, you could have the microwave mounted directly onto the wall.
Is it okay to put a microwave in a cupboard?
You can, but it's not recommended. Chris Estes, owner of Top Notch Home says microwaves should remain in an open space for safety reasons.
'I don't recommend keeping it in a cupboard or cabinet of any sort because of the lack of airflow and how close things will be to it. It could lead to a number of harmful consequences for you and your home,' he says. 'Personally, I like seeing the microwave in an open area with no shelving units close and nothing to cover it in any sense. If you can find a place for it where it can remain in the open, that's the best place for it to be.'
Doing so will also make cleaning a microwave easier.
---
We rely on our microwaves a lot to make everyday life easier, from heating up batch-cooked chili for midweek dinners to softening butter for baking, so getting the location right is key.
Sign up to the Homes & Gardens newsletter
Decor Ideas. Project Inspiration. Expert Advice. Delivered to your inbox.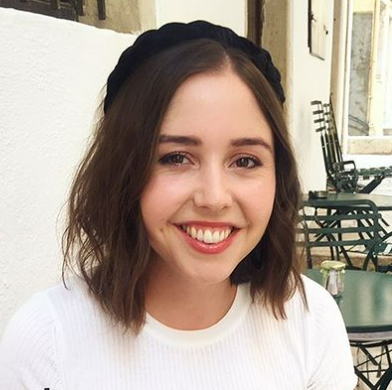 Millie Hurst is the Solved Section Editor at Homes & Gardens. She has six years of experience in digital journalism, having previously worked as Senior SEO Editor at News UK in London and New York. She then gained experience writing for women's magazines before joining Future PLC in January 2021. Millie has written for an array of homes brands including Livingetc and Real Homes and was formerly Senior Content Editor at Ideal Home before taking on the position of Section Editor with Homes & Gardens. She has written and edited countless features on home organization, decluttering and interior design and always hopes to inspire readers with new ways to enjoy their homes. She lives in Sheffield, South Yorkshire and loves to weave nature-inspired decor and nods to time spent in Italy into her own home.