Best dishwashers 2023: our expert picks of the best
The best dishwashers promise gleaming glasses and spotless plates. Our expert reveals which dishwashers are worth the price tag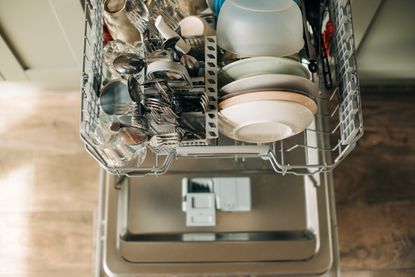 (Image credit: Getty Images)
Dishwashers are an underappreciated appliance. If you're getting by without one, you know that washing by hand is a tedious chore that plays havoc on your hands. The best dishwashers will quietly and quickly clean dishes and glasses for you. It shouldn't get more complicated than that, but a bad dishwasher can be more inconvenient than no dishwasher at all. That's why it's important to invest in the best.
Quick Menu
Short of turning my kitchen into an industrial dishwasher unit, I've thoroughly researched the best dishwashers on the market. I also have hands-on experience with the Fisher Paykel and Bosch dishwashers. As in our guide to the best washing machines, I've rigorously examined a range of customer and professional reviews, assessed expert information, and followed up on some of the magnificent claims made by each brand.
Not only have I found the best dishwasher you can buy - the Miele G 7566 SCVi SF - but I've also found the best for different needs. Whether you want your dishwasher to be smart, quiet, large, small, or a drying specialist, it's on my list.
Best dishwashers 2023
You can trust Homes & Gardens. Our expert reviewers spend hours testing and comparing the latest products, helping you choose the best for you. Find out more about how we test.
Best dishwasher overall
1. Miele G 7566 SCVi SF
Best dishwasher overall
Specifications
Dimensions: 23.7 x 33.5 x 22.5 inches
Noise: 40 dBA
Racks: 3
Reasons to buy
+
Exceptional cleaning quality
+
Automatic detergent dispenser
+
Adjustable racks for tall glassware
+
Relatively quiet
+
App is easy to use
+
Useful cycles: EcoStart and SaniWash
Reasons to avoid
-
Expensive
-
Cutlery tray is fiddly
Why you should buy it
The best dishwasher around
What we love
Miele consistently delivers premium products and this dishwasher is no exception. Designed to make dishwashing effortless, the AutoDos system automatically dispenses detergent, and holds enough for twenty cycles. This thrives at busy times of year, or when you're entertaining, because rather than overpour the detergent with back-to-back loads, the dishwasher regulates how much detergent you need. The result: less of an overflow of suds.
The range of cycle settings all perform exceptionally well. The QuickIntenseWash is a favorite amongst users. It takes just under an hour and tackles the toughest foods effortlessly. The Ecostart setting runs when utility rates are lower, and the auto-open arms ensure that you don't have dishes sitting in damp for long periods of time. The SaniWash and IntenseZone receive lots of praise from reviewers with families too, because they can reach high temperatures and tough soils, making your dishes sanitary again. Users also like the adjustable shelves, which can make the most of this washer's capacity.
Good to know
Premium performance comes with a price tag close to $3,000. Some suggest the Bosch 800, the second in this roundup, as a comparable dishwasher, but for less money. It's also worth noting that this has a cutlery tray, not a basket, so you'll need to be organized when loading, because each utensil needs to be lined up, rather than loaded in a big bundle.
Best dishwasher for drying
2. Bosch SGX78B55UC
Best dishwasher for drying
Specifications
Dimensions: 32.06 x 23.56 x 22.56 inches
Place settings: 15
Noise: 42 dBA
Racks: 3
Material: Stainless Steel
Reasons to buy
+
Excellent cleaning power
+
Impressive CrystalDry technology
+
ADA-compliant
+
Middle rack can be repositioned
+
Quicker than average cycles
+
Quieter than many other models
+
Good capacity
Reasons to avoid
-
Some minor redeposit issues
-
Smaller than standard size
Why you should buy it
A do-it-all dishwasher with excellent results
What we love
This is one of the dishwashers that I have used. Often touted by reviewers as the less expensive version of the Miele, this dishwasher comes in at a close second. That's thanks to the incredibly efficient CrystalDry technology. No gimmick, CrystalDry works using a mineral that takes in water and releases heat rather than drying with heating elements. Users consistently found that CrystalDry is effective. I'm used to finding pools of water in the tops of dishes or having plates that still feel a bit damp, but not with the Bosch. The only time I had damp dishes was when I made a mistake loading a bowl, so just make sure not to overfill the dishwasher.
The cleaning power is close to faultless: I never experienced any grease or redeposit on dishes or glasses. It's really easy to reposition the middle rack for larger items such as vases. The cycles are very quick: the Express takes 30 minutes and the Heavy cycle takes 135 minutes. It's also ADA compliant, so has great accessibility features: a lower height, it can be used with one hand, and doesn't need a great deal of force to set. Reviewers also note how quiet it is.
Good to know
This is in second position because it has some minor redeposit problems. This only came up amongst reviewers in their analysis, so is unlikely to affect the average user. In fact, this is one of the dishwashers that I have used and I never noticed any redeposit problems. However, it's in the statistics, so it would be remiss of me to exclude. Make sure to check your cabinet sizes before installing the washing machine, because it's a little shorter than average. It'll only be by around an inch, but this could affect the noise and appearance.
Best affordable dishwasher
3. Whirlpool Quiet Dishwasher with 3rd Rack
Best affordable dishwasher
Specifications
Dimensions: 33.5 x 24.9 x 16.5 inches
Noise: 51 dBA
Place Settings: 14
Racks: 3
Material: Stainless Steel
Reasons to buy
+
Adjustable rack
+
Fan drying technology
+
Fingerprint resistant
+
Folding tines for extra space
+
Cycle status indicator
Reasons to avoid
-
Cycles take a long time
-
Feels a little flimsy
-
Can be loud
Why you should buy it
A dependable dishwasher; brilliant but basic
What we love
If you're looking to save some money, or don't need smart technology, this is a good option. Reviewers all agree that it washes well. The drying fan technology is a little more temperamental, but overall, to clean and dry dishes, this is reliable. The second of the three racks is adjustable, so it can accommodate larger pots and pans, and although some users said that it felt a little flimsy, this is a useful feature. It looks smart and the fingerprint resistant stainless steel helps to keep your dishwasher looking good.
Good to know
This features a range of cycles, but the deep cleans take longer than two hours. Timings are inconsistent on reviews, so if you're looking for speed, this isn't for you. Although the name claims that this is a quiet dishwasher, it's louder than the others on this list.
Best smart dishwasher
4. LG Top Control Dishwasher
Best smart dishwasher
Specifications
Dimensions: 23.75 x 24.7 x 33.7 inches
Noise: 42 dBA
Place Settings: 15
Material: Silver or black PrintProof Stainless Steel
Racks: 3
Reasons to buy
+
Easy to use app
+
PrintProof finish
+
Steam technology is good for glass
+
Adjustable rack
+
Uses 4 water streams
+
Quiet setting
Reasons to avoid
-
Limited capacity
-
Not the best at drying
-
Rack feels a little flimsy
Why you should buy it
Brains and beauty: it's stylish and practical
Why we love it
I often open my dishwasher, mid-cycle, thinking it's finished, or adding a dish in at the last minute. LG's smart technology is the solution to this problem. The built-in WiFi and SmartThinQ app means you can monitor your cycle status and avoid interrupting the cycle. You can also receive notifications about maintenance on your phone to make sure your LG is always performing at its best.
LG boasts QuadWash technology, which means that they use four spray arms rather than the standard two. It's effective, because users and reviewers alike think that it delivers better results than competitors. With steam technology to prevent watermarks and help to remove dried-on foods, this produces sparkling dishes. It's also handy to have an adjustable rack so you can put bigger items inside.
Good to know
The tines and racks are adjustable, but some users said that they feel flimsy, which, for the price, isn't ideal. It doesn't dry utensils as well as the Bosch and is a little on the small side.
Best looking dishwasher
5. Café Smart Stainless Steel Dishwasher
Best looking dishwasher
Specifications
Dimensions: 34.6 x 24 x 24 inches
Noise: 45 dBA
Place Settings: 16
Colors: customisable
Reasons to buy
+
Customisable design
+
Three racks
+
Fold-down tines
+
LCD screen displays cycle status
+
Steam and sanitize setting
+
Very quiet
Reasons to avoid
-
Basic interior organisation
-
Good value
-
Not the most powerful wash
Why you should buy it
An aesthetic addition to any kitchen
What we love
There's a theme with Café appliances: they look beautiful. If you don't have the budget for a built-in dishwasher or for a cabinet panel, this dishwasher looks good no matter what. It's incredibly customisable for the price. There's three different body colors and 6 different hardware finishes. That means you can match your decor, whether it's from GE or not. I love that it is available as a drawer dishwasher, so if you're short on space, you can opt for that instead.
The price is reasonable and users all felt that it came with a good finish. It's consistently praised for both how quiet it is and how lovely it looks. It cleans well, has three racks, but users caution not to overload it, because you compromise on wash-quality. The LCD screen is a useful addition, because you can track the wash's cycle.
Good to know
In user reviews, the majority of people were pleased with the clean. However, it struggled with tough foods, which is poor for the price, so tended to score a little lower on the 'value' aspect.
Best drawer dishwasher
6. Fisher Paykel Double Dishwasher Drawer
Best drawer dishwasher
Specifications
Dimensions: 36.4 x 23.6 x 22.6 inches
Noise: 44dBA
Place Settings: 12
Material : Stainless Steel
Reasons to buy
+
Easy to open
+
Convenient
+
Can do independent washes
+
Quiet
+
Great for small loads
Reasons to avoid
-
Limited capacity
-
Can't handle dishes over 10"
-
Need to pre-rinse
-
A little technical
Why you should buy it
Easy option for small households
What we love
Fisher Paykel caters to smaller spaces and singletons, or people who would rather get a mini wash done if they're hosting a party, for example. You can put these drawers together or individually. I have experience using the double and I loved it.
These look great, as you can customize the handle and choose whether it's recessed or straight. These feel seamless among kitchen drawers; you just pull them out and load them up. This hingeless opening is really useful if you are short on space around an island, for example, because they don't block the way. They're also great because you don't need to bend all the way down to use them, which is both convenient and makes for clever futureproofing as you get older. This dishwasher cleans well and has a range of settings, albeit a little more basic than the Miele. You can put the drawers on separate cycles at different times, so it's less wasteful if you want to run a smaller load. It's really quiet too, which is a welcome change for dishwashers.
Good to know
The standard height of a dishwasher level is about 32 inches, so you lose two inches when you have a drawer. This can make a big difference if you have large dishes or bowls which you need to fit in. I would recommend rinsing dishes quite well if you are filling the drawer, because I found that it had some redistribution issues. Nothing major, but it's good practice to rinse your plates anyway.
How We Research
Dishwashers are difficult to test, but I have hands-on experience using both the Bosch and Fisher & Paykel appliances. As for the others, I have extensively researched all the dishwashers on the market. I read through expert and customer reviews to determine whether these dishwashers lived up to their claims. Plenty of other dishwashers made it to this stage and fell down on customer testimonials. If readers find it confusing to use, poor at drying, or even slightly too loud, it won't make it into my guide. I've only included the very best dishwashers. For more about how we test, visit our dedicated page.
FAQs
How do I pick the best dishwasher?
If we are thinking about dishwashers, there are a few key aspects:
Cleaning performance
It's obvious but essential. You don't want to have to run your dishwasher twice. It defeats the point of having a dishwasher. Choosing a smaller, or sometimes, more aesthetically pleasing dishwasher can mean that you compromise on performance.
Drying performance
Not all dishwashers are great at letting steam out, so your dishes end up smelling a bit stale after sitting in cold water. Look for dishwashers that have special technology, whether that's Bosch's CrystalDry or a particularly effective heating element.
Noise levels
As with many home appliances, these can be noisy when they're busy working. You can get dBA ratings for all dishwashers. Dishwashers can be as loud as 60 dBA, but that would be too noisy. 45 dBA and under is quiet, so anything up to 50 dBA is reasonable.
Cycles and options
More basic appliances have less of a range of cycle settings, but you might have a very specific need. For example, if you have children, it's good to have a santizer setting for baby bottles. If you often cook food that sticks to pots and pans, you need a more intense wash.
Smart
You can buy smart dishwashers to track your load and notify you of any maintenance updates required. These are a luxury, so you might not need them. It is nice to have though.
Installation
Check the installation requirements before buying a dishwasher, as some will need specialists. Drawer dishwashers in particular often require you to notify the plumber beforehand, so that they can anticipate a slightly different appliance.
Efficiency
Many dishwashers have eco settings, but it's good to check the energy efficiency ratings of your dishwasher. They're an appliance that you'll use daily, so this will help you to avoid a big bill.
How do I clean my dishwasher?
You can buy specialized dishwasher detergent, which you place inside your empty dishwasher and then run it for a cycle. Make sure that you clear out the filter, because this can sometimes get clogged up with food. If you're looking for a more economical option, try out dishwasher maintenance trick with vinegar.
Should I use a dishwasher or handwash my dishes?
If you're cleaning full-load, a dishwasher is likely to be more efficient than hand washing. If it's only a few dishes, you are probably better to handwash. However, this is why I love dishwasher drawers, because they are suitable for a small load and they don't feel wasteful.
Which dishwasher is the best?
It's a tie between the Miele and the Bosch, and hence they are our top two. The Bosch's drying is amazing and saves a lot of time stood with a tea towel, feeling like you could have hand-washed these dishes yourself. It looks amazing too and the cleaning results are great. The same can be said for the Miele though and, without personal experience of both, I can't choose between them. If you have a small kitchen, you might want to opt for the drawer instead.
Which dishwasher dries the best?
The Bosch 800 Series. They have a special CrystalDry technology that I can personally vouch for. They also recycle any excess heat from the dishwasher back into the system to heat the water which it is using, so it's efficient too. The Miele has a clever auto-opening system, which lets the steam out of your dishwasher, so that helps to dry your dishes well too.
Which dishwasher is the quietest?
The LG and Bosch both make 42dBA when running. That's pretty quiet - about the noise level of la running refrigerator.
---
There's a lot to consider when buying a dishwasher. The three key aspects I would think about are capacity, reliability, and appearance. If you're a big household, you'll want a lot of space, if you're a single person who would struggle to fill a dishwasher, you'll want a smaller capacity drawer. Once you've sorted what size you need, you'll want a reliable appliance: one which will clean your dishes to a consistently high standard. For me, it's important that the dishwasher looks elegant and smart amongst the countertops too. If they look clumsy, they can ruin a kitchen's aesthetics.
Laura is our eCommerce editor. Before Homes & Gardens she studied English at Oxford University. Alongside her studies, she qualified as a barista and trained as a master perfumer. This makes her our certified expert for all things coffee, candles, and fragrance. Laura has worked for luxury retail brands, reinforcing the importance of quality and style over quantity and fads. She looks for products which have been designed with thoughtful finishes.