Best dishwashers 2023: our expert picks of the best
The best dishwashers promise gleaming glasses and spotless plates. Our expert reveals which dishwashers are worth the price tag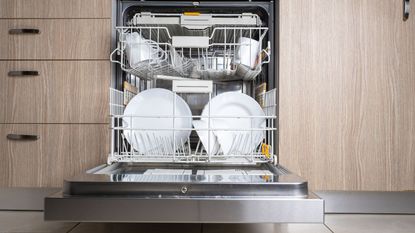 (Image credit: GettyImages)
Best dishwashers2023: Jump Menu
Dishwashers are an underappreciated appliance. If you're getting by without one, you know that washing by hand is a tedious chore that plays havoc on your hands. The best dishwashers will quietly and quickly clean dishes and glasses for you. It shouldn't get more complicated than that, but a bad dishwasher can be more inconvenient than no dishwasher at all. That's why it's important to invest in the best.
Short of turning my kitchen into an industrial dishwasher unit, I've thoroughly researched the best dishwashers on the market. I also have years of useful hands-on experience with the Fisher Paykel and Bosch dishwasher. As in our guide to the best washing machines, I've rigorously examined a range of customer and professional reviews, assessed expert information, and followed up on some of the magnificent claims made by each brand.
Not only have I found the best dishwasher you can buy - the Miele G 7566 SCVi SF - but I've also found the best for different needs. Whether you want your dishwasher to be smart, quiet, large, small, or a drying specialist, it's on my list.
Early Black Friday dishwasher deals
Now the sales have started to land, we will share top buys here as we spot them — perfect for anyone who wants the best and a bargain. Check out what is on offer, or scroll on to see the best dishwashers on our list.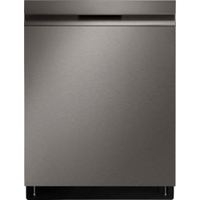 LG Top Control Tub Washer| Was $1,499.99 , now $649.99 at Best Buy
Post-party cleanup has never been so easy than with this washer. It has QuadWash technologies, using an extra two spray arms to ensure a thorough wash of your grubbiest dishes. It comes with a useful app for tracking wash cycles, too.
The quick list
If you want a top-quality dishwasher, but you're in a hurry, here's a summary of our top picks. There's more details below.
Load the next 3 products ↴
Best compact
The best dishwasher for sustainability
If you're looking to switch your dishwasher for a more sustainable cleaner, this is the one you need. It's incredibly effective across a range of cycles and reasonably priced too.
Best compact
The best compact dishwasher
Highly rated, budget friendly, and space efficient, this is a popular dishwasher in reviews. It's only 18 inches wide, so can squeeze into small spaces expertly.
Best drawer
The best dishwasher drawer
If you're a small household, looking to save on space, this is an easy option. They look great, are customisable, and will sit seamlessly beside your kitchen drawers. It's great for running smaller loads.
The best dishwashers in 2023
You can trust Homes & Gardens. Our expert reviewers spend hours testing and comparing the latest products, helping you choose the best for you. Find out more about how we test.
The best dishwasher overall
Image 1 of 1
1. Miele G 7566 SCVi SF
Exceptional capacity, cleaning quality, and drying on all dishes
Specifications
Dimensions: 23.7 x 33.5 x 22.5 inches
Noise: 40 dBA
Racks: 3
Place settings: 16
Cycles: 9
Reasons to buy
+
Exceptional cleaning quality
+
Automatic detergent dispenser
+
Adjustable racks for tall glassware
+
Relatively quiet
+
App is easy to use
+
Useful cycles: EcoStart and SaniWash
Reasons to avoid
-
Expensive
-
Cutlery tray is fiddly
Buy it if
✅ You are too busy for quirks: this is straightforward and expert
✅ You use glassware as well as ceramics: there are adjustable racks for all dishes
✅ You like tracking your washer: the app is easy to navigate
Don't buy it if:
❌ You're on a budget: you pay a high price for the best dishwasher on the market
❌ You're impatient: the cutlery tray is fiddly
❌ You're short on space: this isn't particularly compact
The bottom line
🔎 Miele G7566SCVISF: This diligent machine automatically dispenses detergent and can thoroughly clean and dry dishes across a range of cycles.
Miele consistently delivers premium products and this dishwasher is no exception. Designed to make dishwashing effortless, the AutoDos system automatically dispenses detergent, and holds enough for twenty cycles. This thrives at around Thanksgiving or Christmas when you're entertaining, because rather than overpour the detergent with back-to-back loads, the dishwasher regulates how much detergent you need. The result: less of an overflow of suds.
The range of cycle settings all perform exceptionally well. The QuickIntenseWash is a favorite amongst users. It takes just under an hour and tackles the toughest foods effortlessly. The Ecostart setting runs when utility rates are lower, and the auto-open arms ensure that you don't have dishes sitting in damp for long periods of time. The SaniWash and IntenseZone receive lots of praise from reviewers with families too, because they can reach high temperatures and tough soils, making your dishes sanitary again. Users also like the adjustable shelves, which can make the most of this washer's capacity.
Premium performance comes with a price tag close to $3,000. Some suggest the Bosch 800, the second in this roundup, as a comparable dishwasher, but for less money. It's also worth noting that this has a cutlery tray, not a basket, so you'll need to be organized when loading, because each utensil needs to be lined up, rather than loaded in a big bundle.
Swipe to scroll horizontally
Test results

| Attributes | Notes | Rating |
| --- | --- | --- |
| Range of cycles | Nine differrent useful cycles | ★★★★★ |
| Drying performance | Excellent | ★★★★★ |
| Wash performance | Faultless on all cycles | ★★★★★ |
| Value | Quite expensive | ★★★★ |
The best dishwasher for drying
Image 1 of 1
<