How to tile a backsplash – step by step
Tiling a kitchen or bathroom backsplash is a breeze with our expert guide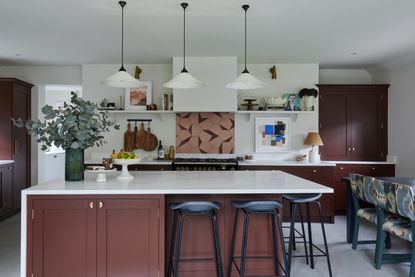 (Image credit: Murus Art/Chris Snook)
Once you know how to tile a backsplash, there will be no turning back. The wall space directly above your kitchen and bathroom's busiest surfaces deserves protection from splashes and spills and tile is a great solution.
Learning how to tile a backsplash may sound daunting but it can prove a great starting point for anyone looking to add tiling to their DIY repertoire. As simple as tiling a wall, a simple rectangle of tile above a kitchen or bathroom countertop, with no tricky corners to tile into, shouldn't prove too arduous or time-consuming.
Master tiling a simple kitchen backsplash, and you can soon try your hand at trickier projects.
How to tile a backsplash
One of the main benefits of tiling your own backsplash is the extra money you'll have to splash out on design-led kitchen or bathroom backsplash ideas. With no labor costs to cover, you can justify those truly dreamy tiles.
To get the job done neatly and professionally it's worth investing in a few inexpensive tools, which you can re-use time and again.
You will need:
Tape measure
Pencil or chalk
Long spirit level or laser level
Tile cutter – this tile cutter from Amazon is recommended for porcelain and ceramic tile
A bucket
Mixing stick or drill with mixing paddle
Flat trowel
Notched trowel
Tile spacers
Tile pen
A sponge
Grout float
1. Source your tiles
Measure the area you're tiling to find out how many tiles you will need and add 10-15% for breakages (20% if you have a lot of fiddly sockets to work around). Tile is often sold in square feet; measure the height and width of your backsplash area and multiply the two to find out how many square feet you will need.
Many tile outlets will let you return unopened boxes – it's always better to have more than you need than not enough. Do buy tiles from the same batch number to ensure a perfect color match. Natural stone and encaustics will need to be sealed before you tile.
'If you're relatively new to DIY, we recommend choosing a smaller ceramic wall tile such as 9in x 9in. Not only are these easier to cut than porcelain or stone, they can be fixed using pre-mixed wall tile adhesive, saving you time and effort,' adds Abbas Youssefi, director, Porcelain Superstore.
2. Buy the adhesive and grout
'The type of adhesive and grout you buy depends on the substrate/walls that you are planning to tile onto,' advises Colin Lincoln-Evans, Buyer, Tile Mountain. 'If in doubt, a good tile retailer will be able to advise on the correct products and tools.'
Look on the back of the adhesive and grout packaging to find out tile and wall suitability and typical coverage. In kitchens and bathrooms, it's best to buy waterproof grout with anti-mold additives. Rapid dry adhesives and grout don't allow much time for resetting so are best left to the professionals.
As Abbas Youssefi mentioned, ready-mixed tile adhesive will speed the job up and is less messy. You can buy two-in-one formulas that work as both adhesive and grout. However, ready-mixed is more expensive than powdered adhesive so if you have a large area to tile it's not the wisest choice.
3. Prep the walls
'Before installing a tile backsplash there are a few steps you'll need to take to prep the wall. The most important step is to check the flatness and condition of the wall and fix any imperfections,' says Gary McCoy, Store Manager, Lowe's. 'You'll need to fill dents, dips and ripples more than 1/16 inch deep with joint compound. Let it dry, then sand, smooth and prime.'
The wall will also need to be clean before you begin tiling. Give it a vacuum over and then wipe down with diluted sugar-soap before leaving to completely dry.
'If your walls are not flat and level, we recommend fixing a tile backboard to give you a perfectly flat level to tile onto. You can screw these into the timber studs behind,' says Abbas Youssefi, director, Porcelain Superstore.
4. Plot your starting point
Wondering where you start when tiling a backsplash? Colin Lincoln-Evans, Buyer at Tile Mountain, offers this advice:
'Measure your wall and mark the middle point then lay out the first row of tiles on either side of this point to get an idea of what size the cuts will be at either end and how they will fall in relation sockets and windows if you have them.
'If the cuts look as though they may be too small, adjust the layout by taking the first tile you laid out and line up its center point with the middle mark you made, this will ensure that the cuts are larger but still equal.'
Don't forget to make allowances for the grout width when working out tile placement. Tile spacers range from 0.1 to 0.2in wide. The smaller spacers require more precision but will leave less grout keep clean. Go a little larger if you'd prefer a little more tolerance.
If you are tiling down to an upstand or countertop, don't assume it is level. Always check with a spirit level and mark a straight line, or tack a baton onto the wall, to act as your guide when applying the first line of tiles.
5. Apply tiles to the wall
To begin tiling, first trowel a thin layer of adhesive onto the wall at your starting point. Then use the notched trowel to scrape furrows into the adhesive, taking care not to overlap the lines. 'Only apply 3sq ft of adhesive at a time, so it doesn't dry out too quickly,' adds Daniel O'Toole, tiling expert at PriceYourJob.
Next, take your first tile and position it firmly onto the adhesive with a small twisting motion. Add tile spacers and then apply your next tile. Once you have covered a your square, take a moment to wipe the tiles down with a damp sponge, before mixing your next batch of adhesive.
Work from the middle outwards, leaving any edge tiles that need cutting until last. Remember to protect baths and sinks with dust sheets or cardboard while you're tiling – a dropped tile or trowel can cause damage.
5. Cut tiles to size
Once all the whole tiles are in place, it's time to start cutting. If you have followed our advice and chosen small ceramic tiles, you'll be able to use a regular tile cutter to score and cut each tile. Thicker or bigger tiles may require an electric tile cutter.
An easy way to measure the cutting line is to lay the tile that needs cutting squarely on top of the nearest whole tile to the wall or fixture. Next pop another tile on top, this time pushing it right to the wall or fixture. Then take a tile pen and draw a line on the tile to be cut beneath it, using the edge of your top tile as a guide.
'If you need to tile around switches or sockets, ask an electrician to disconnect and remove sockets and switches first, leaving just the box. Then, once the faceplates are placed back on you won't see the tile edges,' says Daniel O'Toole, tiling expert.
6. Grout your backsplash
Allow your tiles to dry for the duration specified on the adhesive packaging (usually 24 hours), and then mix up the grout. A little goes a long way so work in small batches. Use a grout float to push the grout deep into the gaps between each tile, looking out for air bubbles as you go.
After grouting, wipe the tiles gently with a damp sponge to remove as much residue as possible without disturbing the grout.
'Once the grout is completely dry you can help prevent it from getting grubby on your backsplash by applying grout sealant, a water-resistant substance that protects tile from damage,' adds Gary McCoy, Lowe's Store Manager.
Can you tile backsplash over drywall?
The simple answer is yes, according to Colin Lincoln-Evans, Buyer at Tile Mountain. 'However, if you are using a cement-based powdered adhesive, you will also need to use a suitable primer,' he adds.
Priming before tiling is essential because drywall is very porous and will suck the moisture out of your adhesive making it much less effective. Primer also makes the drywall moisture resistant, which is important in kitchens and bathrooms.
You should always repair any damage to drywall before you tile a backsplash and ensure it is clean, dust-free and dry.
Sign up to the Homes & Gardens newsletter
Decor Ideas. Project Inspiration. Expert Advice. Delivered to your inbox.
Linda graduated from university with a First in Journalism, Film and Broadcasting. Her career began on a trade title for the kitchen and bathroom industry, and she has worked for Homes & Gardens, and sister-brands Livingetc, Country Homes & Interiors and Ideal Home, since 2006, covering interiors topics, though kitchens and bathrooms are her specialism.