Designers reveal the outdated countertop materials we should all be avoiding in 2024
Choosing your kitchen countertop? These materials are the ones to steer clear of...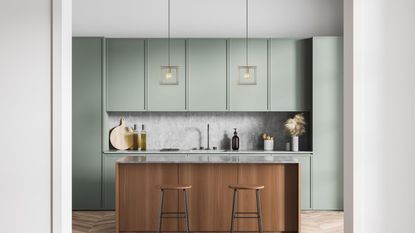 (Image credit: Industville)
Sign up to the Homes & Gardens newsletter
Decor Ideas. Project Inspiration. Expert Advice. Delivered to your inbox.
Thank you for signing up to Homes & Gardens. You will receive a verification email shortly.
There was a problem. Please refresh the page and try again.
When designing a kitchen there is a big focus on the cabinetry. What style to choose, the color scheme to go for, and the material of the hardware. The countertops definitely come in a lot further down the list of importance but think about it, visually they take up as much space in your kitchen. And they are the most hard-working surfaces in your home. Hence why, we always recommend to be thinking about the type of kitchen countertop you want to go for, as you are making all the big decisions for your cabinetry, don't leave it as an afterthought.
There are hundreds of possibilities, they all have their pros and cons and there are so many factors to consider too. With these being such hardworking surfaces, it's important not to be too led by trends or just choose a material because of the lower costs.
4 outdated countertop materials to avoid
Kitchens are an investment so you want to choose countertops that have longevity both in terms of style and durability. We spoke with designers on what countertops to avoid, what materials are going to date your kitchen, what materials won't last, and what materials are far too 'on trend' to be worth the investment (marble lovers look away now)...
1. Granite
Granite is a popular choice for a kitchen countertop, its big draws are that it's durable and relatively affordable for a stone worktop. However, certain grains and colors are definitely on the out and can bring down the whole look of a kitchen.
'While I always encourage using natural stone for countertops, I can't think of a faster way to date your home than by installing granite countertops,' says designer Megan Evans. 'While granite is often a budget-friendly option, quartz would be a much better material to consider at a comparable price point.'
The kind of granite we are talking about is like the granite from a classic 90s/early 2000s kitchen. It's brown or beige, with a really shiny, busy finish to it, and usually has some funky edging. In a modern kitchen, this is not quite yet retro enough to be cool, the material has no place – avoid, avoid avoid. If you are opting for a granite surface, choose a darker shade, or something unexpected like the green used in this kitchen, and look for designs where you can't see too much shine, you want to steer clear of it looking too... glittery.
2. Tile
Honestly, this is a kitchen trend we love right now and we are obsessed with this kitchen, but we totally understand a tiled worktop is incredibly impractical, despite how great they can look. Plus, there's the risk that if they aren't done right that they just look like they did back when they were popular in the 80s – fussy and old-fashioned. And will this still be on trend next year? You can never be sure.
'Tile countertops can look beautiful as they give you the aesthetic freedom to really choose something unique and personal. However, while beautiful at the start, more often than not, they don't stay that way!' says Richard Davonport, managing director at Davonport.
'If you use ceramic tiles, these can crack very easily from not much use – a dropped mug, heavy pan or even just leaning on them wrong. There is no way to repair them either, and it is a case of replacing any that do chip. Porcelain tiles are much stronger, but just like ceramic tiles, you also have to deal with grout lines and joints. These are very difficult to maintain and keep clean, even more so if they are part of a kitchen countertop that is subjected to spills on a daily basis. It's advisable to reseal the grout joints every year or so and so require a lot of maintenance.'
Al Bruce, founder of Olive & Barr agrees that 'When it comes to designing a kitchen, choosing the right worktop material is crucial. While tiles are commonly used in various areas of the house, including bathrooms and floors, opting for tile kitchen worktops might not be the best decision.'
'They are typically porous, making them susceptible to staining and water damage. The grout requires more maintenance and can become a magnet for dirt and grease. The nature of the tiles also means the surface is uneven, making it difficult for those preparing food on the work surface.'
3. Laminate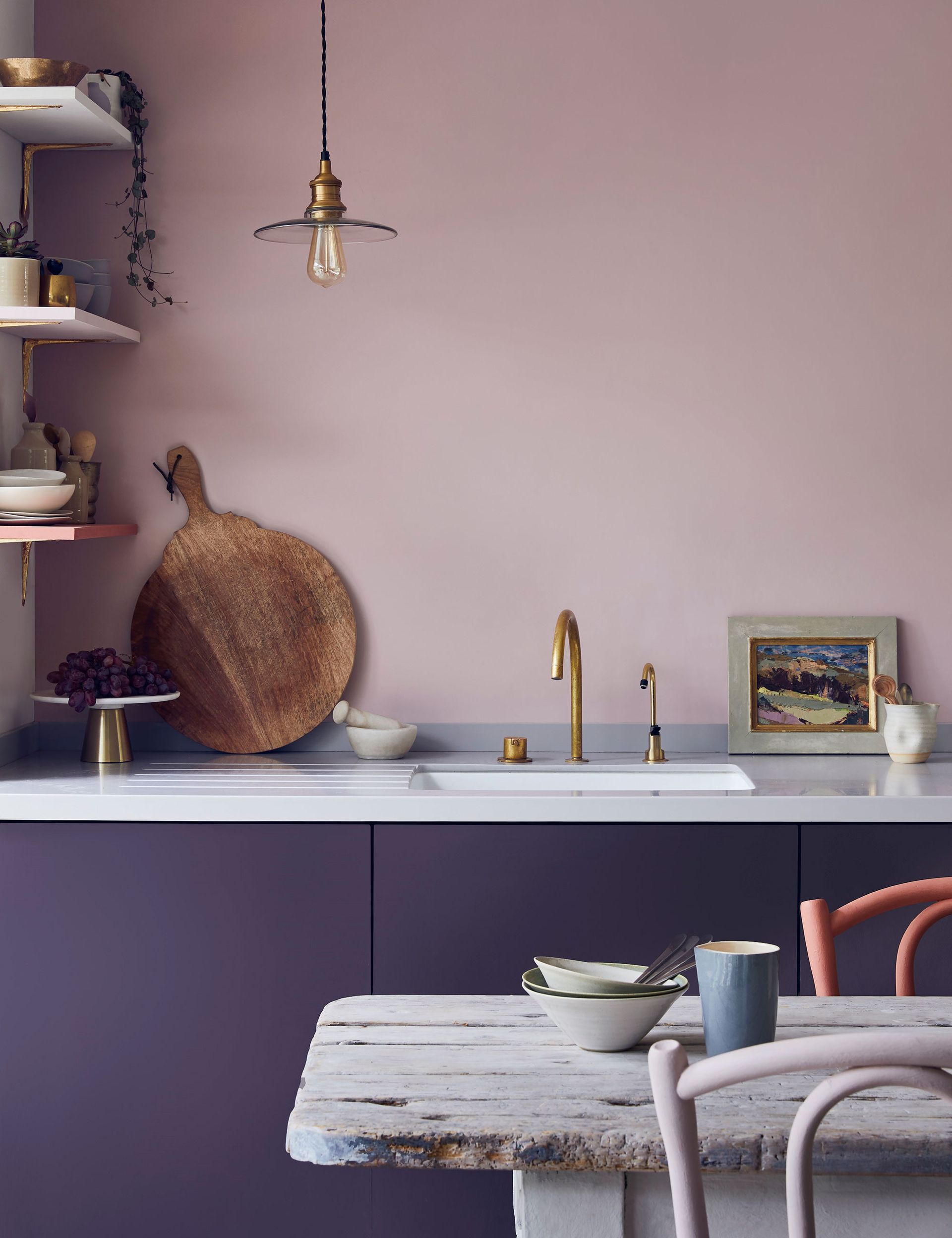 This is not a totally surprising one, we rarely see an example of a laminate worktop that doesn't look like a laminate worktop and chances are, after time, they are going to make a kitchen look dated.
'Although an affordable and easy to maintain solution, many homeowners are moving away from plastic laminate worktops,' explains Alex Main, founder of The Main Company. 'With many color and style options, while laminate can attempt to mimic the natural patterns found in stone, marble, or granite for example, the end result is never the same. Unlike real stone or reclaimed wood, the surface can stain or be easily damaged, and over time, it'll mean it needs replacing more often - which will have more of an effect on your budget than buying well and buying once'
Hugh Leader-Williams, creative lead at Blakes London adds, 'We don't use Laminate countertops. They are a false economy and almost always lead to a compromised design. You can't under mount sinks in them as the cut edges where the sink would slot into the need to be hidden as the core is made of chipboard, so you have to use a surface mounted sink which gives a much less sleek installation.'
4. Marble
The love of marble countertops has been going strong for a few years now, but they are the most expensive option and are they worth the investment? Possibly not...
'Kitchen worktops are used constantly – from unloading groceries and chopping vegetables to serving as offices and homework hubs. They're the foundation of all activity that goes on in the heart of a family home. Marble is one of the most elegant and luxurious worktop options, but the drawbacks, along with the high cost, are that it is a soft, porous stone, making it prone to staining and chipping – especially in high-traffic kitchens.' says designer Naomi Astley Clarke.
'If you want the look of marble but with more practicality, I recommend quartz as it offers a natural stone aesthetic whilst being extremely durable, virtually non-porous, and stain and scratch resistant. Designing a good modern family kitchen is about achieving the optimal combination of both functionality and beauty.' she suggests.
Richard Davonport adds that 'There is a trend developing that homeowners are seeking out real marble for their worktops, though it isn't something we recommend as it isn't resilient and marks very easily. There is also a move towards porcelain being used to replicate marble with mitered edges to give a 59mm thickness, however, this remains an expensive alternative. Instead, there are great alternatives such as white man-made quartz that replicates the look of Carrara marble but is much more resilient than marble or granite, and best of all, it doesn't come with the hefty price tag!'
Our tip would be, if you are really taken with marble, make it a feature of the kitchen and use it just on the kitchen island. That way it won't see as much heavy use and it will be less susceptible to stains and chips.
FAQs
What is the best countertop material?
All countertop materials have their pros and cons and the best kitchen countertops options will come down to your style and budget. Quartz is a great choice in terms of resilience and price – the more hardwearing that marble or granite but you still get that natural stone look. Unlike laminate designs that try to replicate stone, quartz has a very realistic effect.
Ultra-compact surfaces are another great option. They are usually made of porcelain or ceramic and are exposed to extremely high temperatures to produce a really strong surface. They are really low maintenance, easy to keep clean, and heat, scratch, and stain resistant.
Sign up to the Homes & Gardens newsletter
Decor Ideas. Project Inspiration. Expert Advice. Delivered to your inbox.