Kitchen countertop trends 2023 – 10 desirable surfaces that will elevate your home interiors
We reveal the best kitchen countertops to make your kitchen stand out from the crowd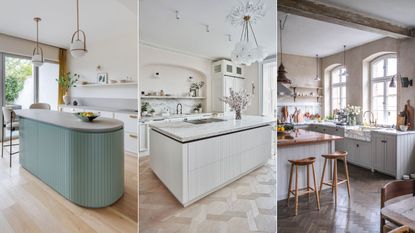 (Image credit: Caesarstone/Kate Feather Kitchens/Birgit Mons Photography / Blakes London / deVOL/Our Food Stories)
Sign up to the Homes & Gardens newsletter
Decor Ideas. Project Inspiration. Expert Advice. Delivered to your inbox.
Thank you for signing up to Homes & Gardens. You will receive a verification email shortly.
There was a problem. Please refresh the page and try again.
Kitchen countertops are possibly the hardest working element of the kitchen. These long slabs of stone, wood, metal and quartz are in use on a constant, daily basis, whether it's for preparing food, a dining perch, dumping shopping bags, or drying dishes – just to name but a few.
Busy, family kitchens need tough, hardworking kitchen countertops, not only to withstand a daily onslaught of use but to look contemporary, stylish and complement your kitchen décor. Timber and granite tops have long been popular choices, while natural stones are available in a vast array of colors, designs and thicknesses to suit every kitchen style. Seek out new alternatives such as warm copper and slick porcelain plus unusual edgings such as stacked, bullnose and waterfall for something a little different.
'The favorites in the world of natural stones and classic marbles (such as Statuario and Arabescato) continue to reign supreme, but designers like us are constantly in pursuit of the next extraordinary stone,' says Allison Lynch senior design consultant for Roundhouse.
'While we cherish the timeless classics, the use of manmade composite stones that closely resemble concrete remains immensely popular. We now treat work surfaces as distinctive elements, typically selected after choosing the flooring. This approach allows us to seamlessly blend colors and materials, creating a cohesive aesthetic across the entire space. The demand for durability remains paramount, which means an increased preference for robust natural stones such as Quartzite and porcelains.'
Kitchen countertop trends 2023 – 10 surfaces packed with style and substance
When compiling kitchen ideas, it is tempting to focus on the room's finished look, but the functionality, durability, and ease of cleaning of the kitchen countertop you choose is a priority, too. Longevity should always be a top consideration for anyone undertaking a kitchen remodel.
And of course, it's likely that you will want to choose your kitchen countertops in conjunction with kitchen cabinet colors and kitchen backsplash ideas. Below, we consider the practicalities, as well as the aesthetics of each kitchen countertop trend, so you can be well-informed before making your final decision.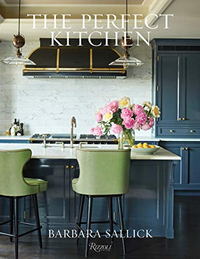 The Perfect Kitchen, Barbara Sallick | From $21.87/£30.45 at Amazon
Learn more about the fundamentals of kitchen trends and design in this bestselling book. Find practical advice as well as hundreds of images to inspire your own remodel
1. Try a retro look with terrazzo
Terrazzo is a kitchen trend that is experiencing a style revival – and it's easy to see why. This highly individual material, which has been around for centuries, offers a restrained retro look with classic 1930s overtones. A base of marble, granite, and quartz (along with cement or resin binders) is mixed with shells, marble, or glass chippings to create a statement, particulate surface. Terrazzo is poured into custom-made molds and then transported to your kitchen. The surface is polished to give a high gloss surface and then sealed to prevent staining (because of the high marble content) and to create heat resistance.
The result is a strong and beautiful surface. Each surface is completely bespoke – from your choice of marble and glass chip color, through to size and extras like an integrated backsplash and drainers. Material costs are low but intensive labor costs bump up the overall price to make this a luxury feature.
'We have seen an increase in clients opting for terrazzo for their worktops, as it's a great way of adding personality into the kitchen with a mix of colored stones,' says Will Eaves, design and development director at British Standard by Plain English. 'It's durable and long-lasting but also very sustainable as it uses a lot of recycled materials such as offcut stone chips and glass fragments.'
2. Embrace warm color
Pale hues and marble finishes will always be a classic choice for kitchen countertops. However, the richly colored earth tones warming up the living areas of the home are making an impact in the kitchen too – and counters are an unexpected trend for this shift.
'Warmer, natural tones that induce a sense of well-being and calm into the home have seen a surge in popularity within kitchen design,' says Charlotte Hues, retail manager at Cosentino. 'This shift toward earthy tones, as opposed to the minimalist, clinical white homes that were previously popular can be incredibly powerful in conveying calm and tranquillity in a space.'
Sunlit Days – Silestone's first Carbon Neutral collection produced using a minimum of 20% recycled raw materials – features a variety of colorways inspired by natural, warm, Mediterranean shades. Think clay red, meadow green, and sea blue, modern hues that tap into our need to connect with nature. This is also a great choice if you are looking to tap into the sustainable kitchen trend.
3. Go for concrete curves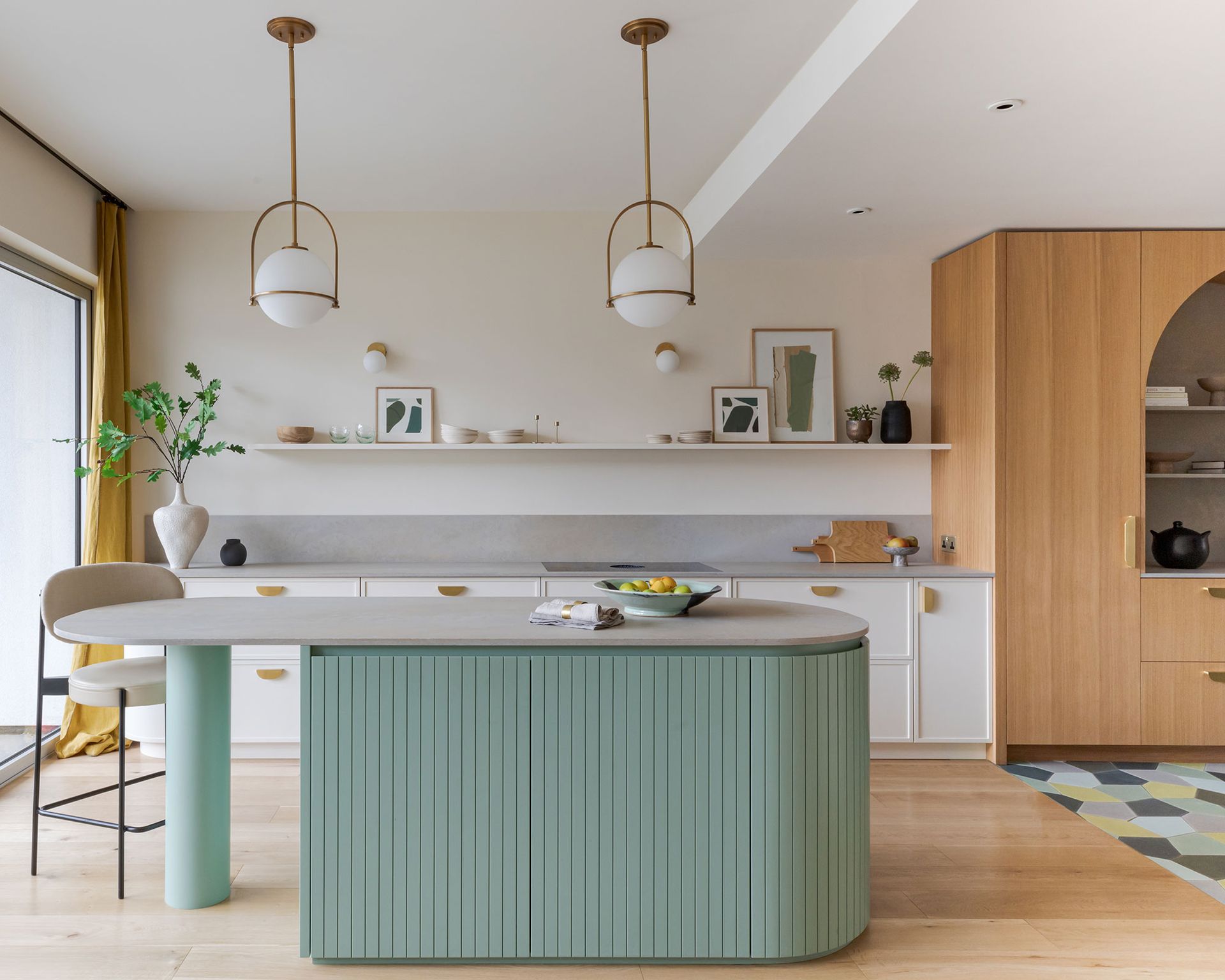 Curve appeal has never been so hot for the home – and sweeping, countertop edges will add a touchy-feely, ergonomic silhouette to your kitchen. This softer kitchen mood ties in with our love affair with natural materials and sophisticated pastels, as shown here in this kitchen with a curved, concrete-inspired worktop.
'Curved countertop designs are having a resurgence in the kitchen,' says Mor Krisher, Caesarstone's head of design. 'Beautifully organic, rounded edges immediately soften a space and bring feelings of calmness to the kitchen. These curved edges remind us of our natural surroundings, making us feel grounded and serene. Curves are inviting and are especially suited to family homes or those entertaining moments when guests can comfortably sit around the kitchen island.'
Bespoke kitchen designer, Tom Howley couldn't agree more: 'Break from tradition and don't follow the crowd. If you're a lover of things that are a little bit different, then you probably want your kitchen to reflect that sense of individuality and style. Make a bold statement with a sweeping, curved island with grand pilasters and exquisite kitchen cabinetry, creating a decadent centerpiece where you can cook up a storm for the family or catch up with good friends.'
4. Create interest with detailed edging
Elevate your countertop by adding detailed edging to your design. In this Georgian townhouse, the modern kitchen was relocated from its original position on the lower ground floor to the grand, formal reception room on the upper ground floor. The grand space – tall ceilings, ornate cornices and statement Regency windows – demanded an impressive yet classic design. This included a traditional paneled door front offset with gently ribbed detail on the island.
'The triple, bull-nosed edging on the shelf and countertops offer a classy detail, picking up the ribbed theme on the island,' says Magnus Nilsson, lead designer at Blakes London. 'It was also incorporated into the gently curved edges on the island.' To create such an intricate counter that oozes sophistication, a 20mm thick slab of marble is finished with a bullnose detail cut into the edge.
The triple-stacked look is achieved with two more separate strips of stone – often offcuts of marble – also finished with a bullnose edge and then glued to the underside of the main surface. 'This effect can only be achieved with a solid stone like marble or a quartz composite,' adds Nilsson. 'It doesn't work on porcelains or man-made stones due to the natural veining that is required to achieve the effect.'
5. Use two different materials for the same design
You don't need to stick to one countertop material for your kitchen design. Combining two different materials, such as timber and quartz, or concrete and marble, creates a unique contrast in your room. Pairing two materials will also help to zone functions: a solid wood-topped island unit offers a modern rustic look while stainless steel or stone around a sink area creates a hardworking hub for preparation and washing up. Mixing and matching two countertops is a slick way to add texture and color to a neutral mood.
In this kitchen by deVOL, a mix of bespoke aged copper on the island is offset with natural Arabescato Corchia marble on the perimeter cupboards. 'A pale stone with dark swirls of veining throughout is a fantastic choice, especially paired with one of our matching fluted Tuscan farmhouse marble sinks,' adds Zoë Parker, head of PR at deVOL Kitchens.
6. Introduce vibrancy with lava-stone brights
Try something different with a lava-stone countertop. This natural stone is made from blocks of volcanic lava rock – a solidified magma, or lava that has erupted from a volcano. Countertop slabs are cut from lava blocks and coated with an enamel glaze of any color and then placed in a kiln – the result is a smooth, super durable finish. 'Sometimes, durability and beauty are at odds with one another,' says Emily Flaxman, owner and principal designer at Flax Interiors.
'Some of the most beautiful materials are also the most delicate and aren't the right fit in a bustling and busy home kitchen. In this colorful kitchen project, we sought the best of durability and beauty for a kitchen that is the hub of the home. I brought a pop of color into my client's kitchen with a slab of bright teal lava-stone on her island. It's a great choice for kitchen countertops as it's extremely durable, non-porous, and resistant to heat and cold. It's also available in a wide range of fun colors. The teal kitchen color brings a joyful happiness and statement piece to what would have been an otherwise neutral kitchen.'
The enamel may develop a distinctive crackled finish called 'crazing' as the slabs cool – but this is a unique, signature look to lava-stone. 'The glazing process is where there is endless potential for custom colors and creative designs,' adds Flaxman. 'It also improves the durability of the countertop by making it impervious to heat.'
7. Let it flow with a waterfall edge
Achieve a luxe, elegant mood for your kitchen counter with a waterfall edge that flows down the side of a unit, to create a striking, one-piece silhouette.
'The right surface offers a sense of elegance, even in a busy family household,' explains Jon Stanley, vice president of marketing at Caesarstone. 'Consider a marble-look 'waterfall' edge – a striking island feature where the kitchen countertop continues at a 90-degree angle, flowing to the floor, creating a seamless continuation of the quartz or porcelain surface. You will need to choose a material carefully as you want the entire design to look like it's made from one continuous slab.'
8. Glow with copper countertops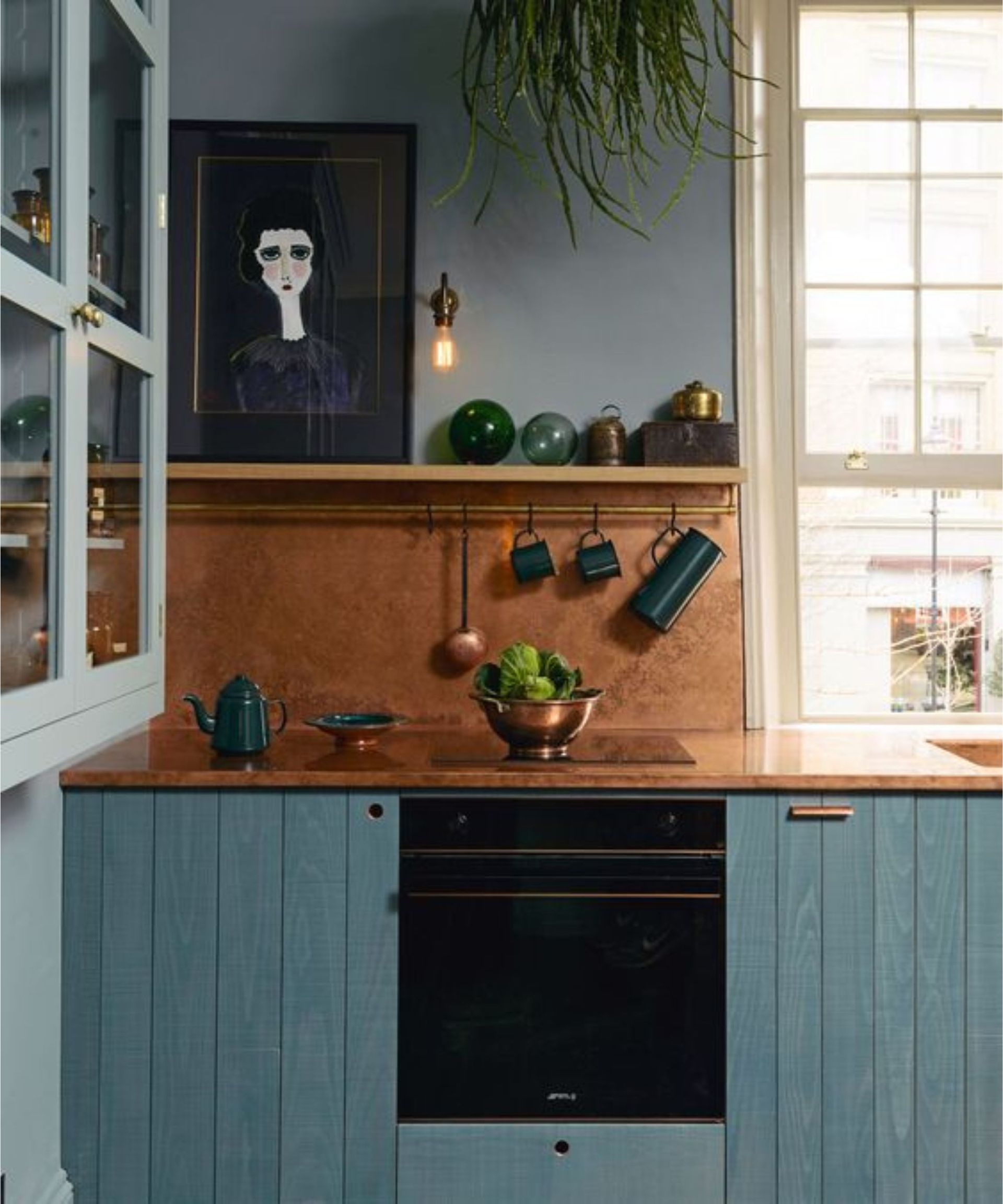 The warm glow of a copper counter is hard to resist – particularly in a modern rustic kitchen that marries a palette of feel-good natural materials. Copper not only exudes a tactile warmth, but it also offers so many practical plus points for the busy, family kitchen too.
'Copper is shiny and has an incredibly fluid, ever-changing patina,' adds Helen Parker, creative director of deVOL Kitchens. 'It looks rare and precious and turns out to have amazing antibacterial properties which makes it even more desirable. What a special product it has turned out to be – so glamorously chic and a little bohemian with the power to kill pathogens in minutes.'
At deVOL, copper surfaces are made to order to ensure a completely sealed unit. They are fabricated from 1.5mm thick copper wrapped around a water-resistant MDF substrate to limit denting and hand-welded or soldered at the corners.
'We also offer an option with integral copper sinks and create a very distinctive draining section using a tactile arrangement of tiny, raised domes from hammering the underside of the copper,' adds Parker. 'Copper has a long history of being used for countertops and has amazing, inherent antibacterial properties, although we do not recommend food preparation directly on the copper as it can taint the taste of food – we also recommend you don't cut directly onto copper as it is soft and will scratch.'
9. Make a statement with a bespoke design
Make the counter the star of the kitchen with an incredible bespoke design. 'Designed in collaboration with Lara Bohinc of Bohinc Studio, the island top is made from a selection of Italian marbles tessellated together and bordered by a brass edge trim,' explains Charlie Smallbone, founder of Ledbury Studio.
'There's no doubt that it's a work of art in its own right.' Although marble is one of the softer natural stones, it is still a durable material that can last a lifetime with proper care. Smallbone suggests regularly sealing the surface and immediately cleaning any spills, particularly red wine or anything acidic. 'The surface will also develop knocks and small scratches, but this adds personality and patina that reflects its long life in your kitchen,' he adds.
10. Pick out a versatile porcelain
If you thought porcelain was just for plates and bowls, it's time for a rethink. Porcelain is now a top choice for kitchen counters – and for many reasons.
'Thanks to its durability, easy maintenance and hygiene, porcelain is fast becoming the go-to material of choice for countertops,' says Raquel Dominguez, retail senior area manager at Laminam.
'Its supreme versatility means it can be used for multiple applications, both indoors and out. Indoors, it is ideal for kitchen countertops, but can also be used to create a seamless look by matching it on floors, cladding, furniture, or even sinks. What's more, there are many ways to utilize porcelain outside too, including flooring, wall cladding, or even as part of an outdoor kitchen thanks to its weather resistance.'
FAQs
What is the most popular countertop?
Quartz remains top of the wishlist for kitchen countertops. Quartz worktops are made from engineered stone – a combination of ground quartz, resins and polymers to create a really tough material. Countertops made from quartz are durable, long-lasting and can effortlessly withstand everyday wear and tear being scratch and stain resistant, impervious to heat and easy to clean. Quartz is also available in a wide range of colors, patterns, profiles and finishes such as polished, suede and smooth.
What is the best countertop to have in a kitchen for 2023?
The best countertop to install in your kitchen depends on many factors, including style, color and design preference of cabinets plus who is likely to use the kitchen. Laminate is a good budget option for a hardworking family kitchen while quartz, engineered stones and solid surface materials like Corian will offer a more upmarket look. Pale woods and dark timbers are warm, luxurious and naturally antibacterial but will need treating with oils to withstand heat and moisture. For a more cutting-edge choice try terrazzo, concrete or marble (or lookalikes made from engineered stone that might be easier to maintain).
Sign up to the Homes & Gardens newsletter
Decor Ideas. Project Inspiration. Expert Advice. Delivered to your inbox.
Lara has worked in the ever-changing world of interiors and lifestyle journalism for many years. She cut her teeth in a busy newsroom of a kitchen and bathroom business title where she gained vast product knowledge and industry contacts that would prove invaluable. She now freelances for a variety of magazines, newspapers and online blogs and relishes the changing landscape of the interiors world