How to plan a kitchen remodel – design a stylish and practical room
Discover how to plan a kitchen remodel that delivers good looks and functionality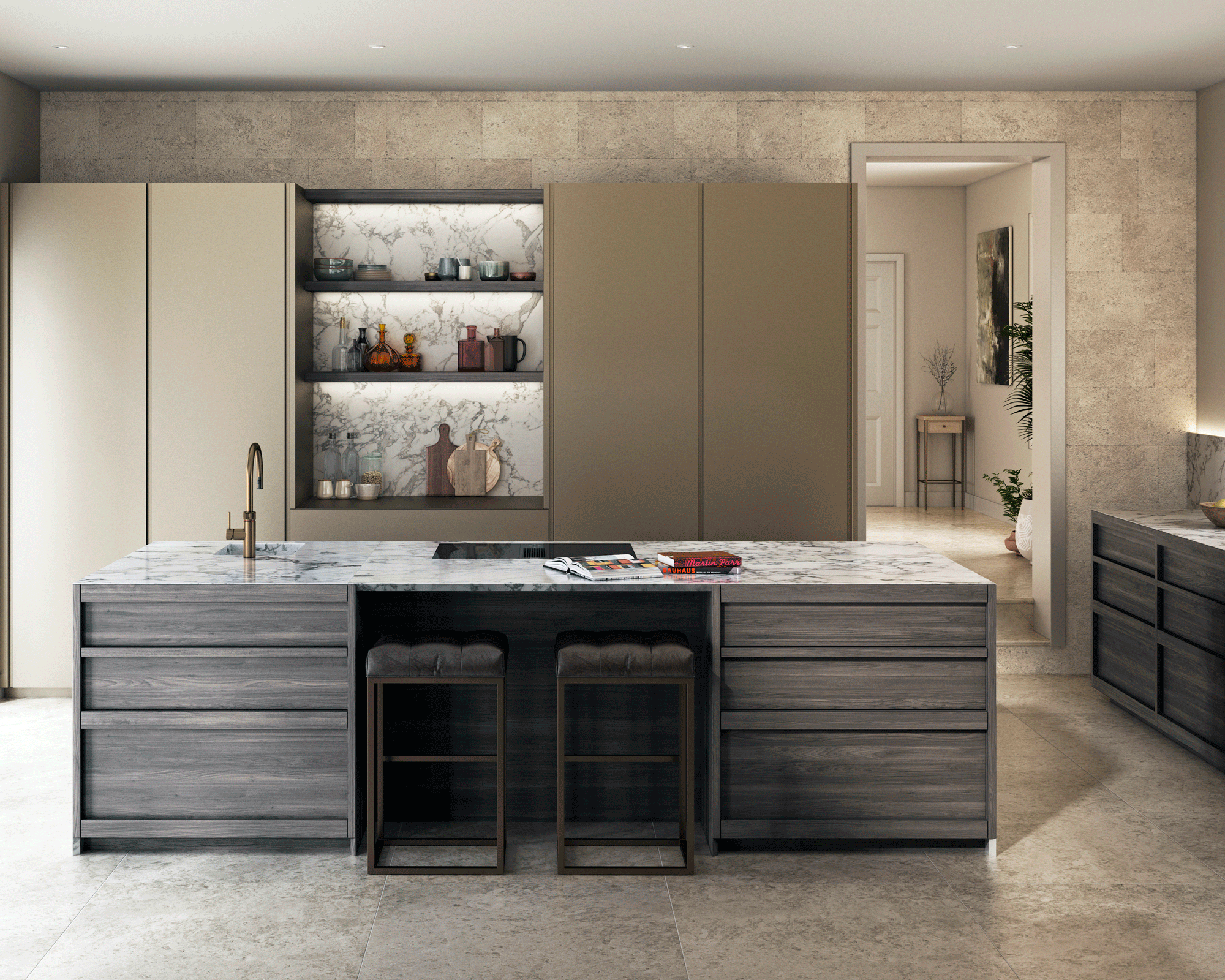 (Image credit: Minotticucine London)
Being confident about how to plan a kitchen remodel is crucial to a successful renovation. It's a home project that's top priority for many in order to create a room that meets all the household's needs, as well as delivering on style.
Following the stages of planning a kitchen renovation will ensure that elements such as storage, layout, appliances, lighting, materials, style, color, and more are all considered with nothing left out.
Here we guide you through the process of realizing your kitchen ideas into a design that meets all your expectations.
How to plan a kitchen remodel
Before you meet with a designer to discuss your kitchen remodel ideas, spend time considering what you want in terms of the kitchen's style and its features.
Meet with your designer early, particularly if the remodel involves any construction work. Their advice will prove invaluable when considering positioning of walls, doors and windows – vital elements of planning a kitchen remodel.
Choose cabinetry style
You may have been browsing kitchen makeovers for kitchen cabinet ideas – that's usually the starting point for a kitchen renovation. And while, in considering how to plan a kitchen remodel, selecting the cabinetry style might seem as if it's something you can do later in the process, but it's worth choosing this early. 'In particular do you want it to be more contemporary or traditional?' says Emma Cowburn, kitchen designer at Harvey Jones.
'Not only are the door styles different but the way you lay out the design will be impacted by your overall style.'
Think appliances
Incorporating all the appliances required in your household is crucial when you're remodeling.
'The appliance choice is key to the success of any design,' says Tom Howley, design director at kitchen company Tom Howley. 'A mix of cutting-edge appliances will give you more and you don't need to compromise on the overall design to get this. Positioning all the appliances within a workable distance of each other provides the chef complete flexibility. Creating separate zones for preparation, cooking and cleaning creates an easy flow around the kitchen.'
Particularly vital if your kitchen is a smaller one is that opening of oven or refrigerator doors won't obstruct walkways. Keep a small kitchen open, too. 'A key tip is to fit built-under appliances,' says Tom. 'This will provide lots more work space, leaving views across the kitchen at eye level uninterrupted.'
Consider the layout
Key to success when it comes to planning a kitchen remodel is the layout of the room – especially if you're looking for remodelling ideas for small kitchens.
'It needs to be both functional and somewhere that you love walking into,' says Alex Main, director, The Main Company. 'Textiles such as curtains can be changed fairly easily, whereas a kitchen layout cannot.'
Sink, refrigerator, and stove are often arranged in a triangle as seen on a plan – the work triangle of which you'll hear designers speak. It makes for a practical room reducing the number of steps between them.
The layout should also provide sufficient counter space for the number of people likely to be preparing food at any one time in order to optimize the kitchen's functionality.
An island is a welcome feature in most households, but beware the fate of many. 'Consider breaking up the surface of the island with cooking or washing-up components to ensure it's used to its full potential and to prevent it becoming a dumping ground,' says Alex.
The layout needs to incorporate sufficient circulation room for movement around the space without compromising the safety of working areas. Choosing the right kitchen island size is one crucial factor as this is where friends and family will congregate.
Be mindful of the aesthetic potential of the room, too. 'Leave spaces where individual pieces can be introduced, whether on the wall or floor – it furnishes the room and accentuates the "living" feeling we all seem to strive for in modern times,' says Alex.
Take storage into account
How many kitchen storage ideas you require is personal. 'Every household will differ so it's important to first consider what you will be storing before you start designing your space,' says Alex Main. 'If you need space for wine, for example, think about integrating some dedicated shelving or a wine fridge. If you would like to keep your small appliances out of sight, consider space for your toaster, kettle and coffee machine to be neatly tidied away.
'Think about ergonomic storage, the use of drawers for plate stacks, pull-out shelves instead of scrabbling around in the back of a cupboard only to find an out-of-date packet. Also, consider finding a static home for heavy appliances; this should help to free up extra work surface space.'
Select colors
What about how to plan a kitchen remodel in terms of the colors for the room? If your kitchen cabinetry is to be hand painted in situ, you can afford to wait until other elements of your kitchen remodel are decided before selecting a color. If that's not the case, you will need to settle on a cabinetry color sooner.
But the color palette for the kitchen includes counters, walls, and floors as well as the cabinetry, and you'll want to consider kitchen color ideas as a whole. Emma Cowburn suggests an approach based on how easy a color is to change. 'For example, changing flooring is a lot harder than painting walls,' she says. 'Therefore the harder it is to change, the more neutral/timeless you should go. Vice versa, the easier it is to change, well, that's your opportunity to be bold.'
Consider the light that reaches the room, too. 'You can't go wrong with a pale pastel colour to make a room feel bigger and brighter,' she says. 'If you want to go bold with darker flooring, cabinets or worktops, I suggest buying a large piece of fabric in a similar color, the bigger the better, tuck it under/behind your furniture, pin in to a wall, cover your existing cabinetry – does it complement the other furniture in the room? How does it look in daytime with natural light, evening time with artificial light? What does it remind you of? Does it make you feel as you expected? Be honest with yourself: does it feel more claustrophobic or even depressing?'
As for the color of counters, she suggests thinking about how much cleaning you want to do. 'Matte finishes are a lot more forgiving and natural patterns like wood or Carrera marble will help keep things visually calmer.'
You might, of course, want to use two colors for cabinetry with a second hue for an island, for example, and this is an on-trend look. But put this in the context of all the colors in the room – using a mood board can help – rather than thinking of it simply in combination with the other cabinetry color.
Concentrate on counter materials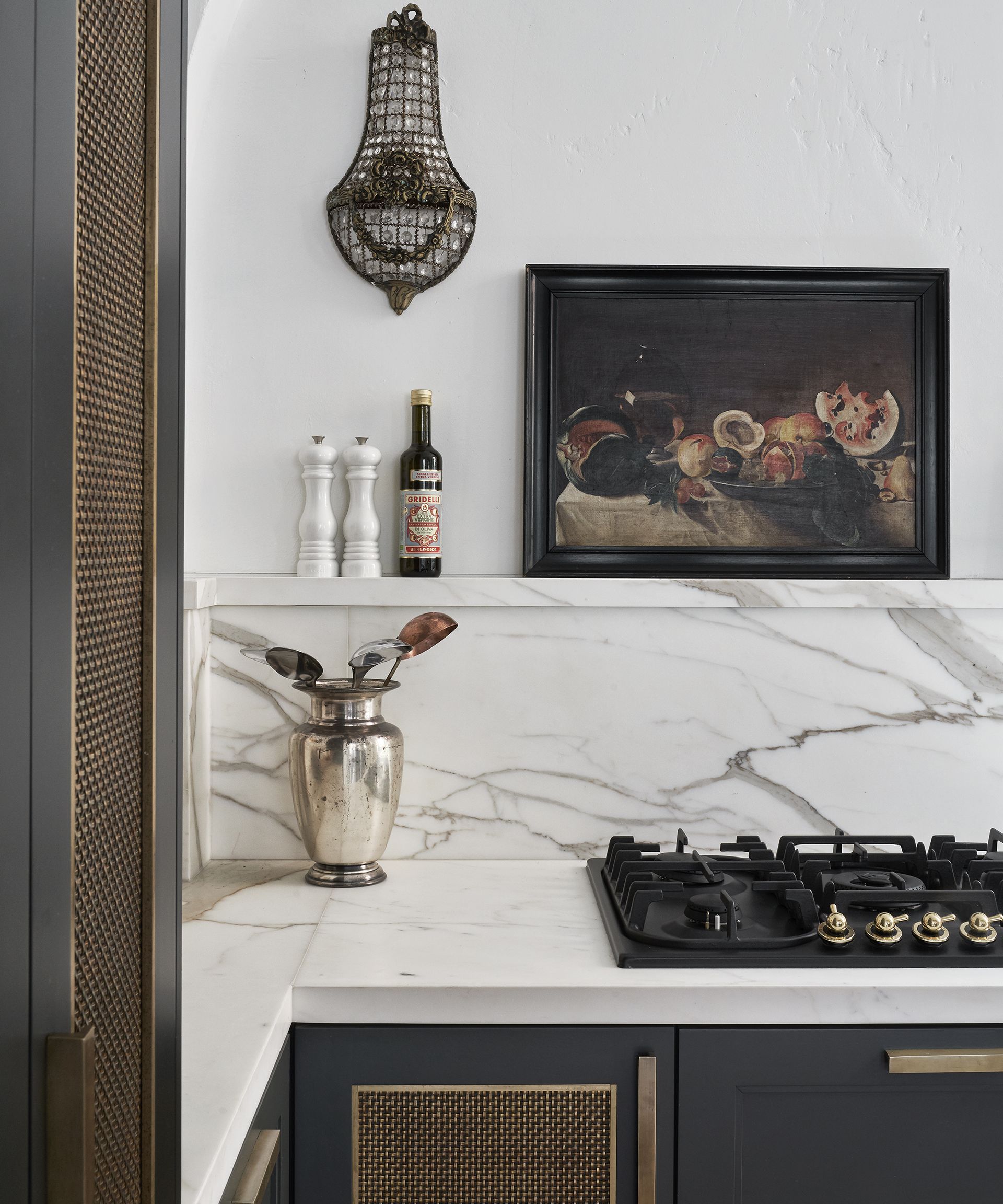 It's not just the colors and finishes of counters that are important, of course. 'A kitchen counter needs to be both tough and stylish, and the key to this lies in choosing the right materials for the job,' says Tom Howley. 'Luckily with advancements in technology the choice of materials is vast for all budgets and styles of kitchen.'
When considering kitchen countertop ideas, opting for a natural stone may require a little more care in terms of protecting it from spills and selecting the cleaning products to use on it, but it has the benefit of being a unique piece of material. Solid surfaces can't boast this uniqueness, but they offer a huge range of looks and colors, and are hygienic and easy to look after.
Focus on flooring
Kitchen flooring needs to be hard wearing as well as easy to keep clean as the room is a high traffic work space in which the family will gather. Wood flooring is an enduringly popular choice for kitchens, but you might want to consider a wood-effect porcelain tile as an alternative. 'The prints and tones available certainly do mimic the look of real wood,' says Isabel Fernandez, director at Quorn Stone. 'A porcelain tile is non-porous and will therefore provide a stainproof option which can be preferable with young children,' she says.
Stone tile is a further possibility. 'Natural stone flooring can be one of the most forgiving floor coverings if the right stone and finish are chosen,' she says. Do bear in mind that natural stone should be sealed, however, to protect it from stains.
Plan kitchen lighting
Also on the list of factors involved in planning a kitchen remodel is kitchen lighting ideas. 'For electric lights the go-to is spots and pendants,' says Emma Cowburn. 'I recommend an even and continuous grid pattern for spots as strange patterns are distracting.
'I also recommend warm white lights. Warm white is the most inviting. For pendants, put these over fixed things like kitchen islands. If you put pendants over kitchen tables, I suggest a style of pendant that has an adjustable height. You don't want to be limited if you come to hold a big party and move the kitchen table.'
How do I start planning a kitchen remodel?
Look for visual inspiration when you start planning a kitchen remodel. 'It's important to have a clear idea of what you want the space to look like,' says Alex Main. 'Pinterest and Instagram are great resources for saving your ideas into one place using boards or saves.
'This exercise will help you to visualize color choices, worktop materials and other key elements which help to bring the space to life. Alternatively, visit showrooms and get to grips with the raw materials in person.'
From there, you can work out how much a kitchen remodel will cost you and adjust your wish list accordingly.
What is the most expensive part of a kitchen remodel?
The most expensive part of a kitchen remodel is generally the cabinets. They are the foundation of the room, of course, and also have to be durable in daily use. 'For us, the cabinetry is really the star of the show, so we would suggest investing in bespoke, made-to-measure options,' says Tom Howley.
Bear in mind that high quality custom cabinets should have a long lifespan, and also that painted cabinets can be refinished over time so the look can be changed easily.
As for the overall cost of a kitchen remodel, a number of different factors will influence it. 'Budgets are project-specific and partially dictated by the size of the space and client requirements,' says Tom Howley. 'If you are hiring trades, you'll need to factor in a budget for construction, painting, tiling, flooring, plumbing, electrics and any extra fixtures on your wish list.'
Sarah is a freelance journalist and editor. Previously executive editor of Ideal Home, she's specialized in interiors, property and gardens for over 20 years, and covers interior design, house design, gardens, and cleaning and organizing a home for H&G. She's written for websites, including Houzz, Channel 4's flagship website, 4Homes, and Future's T3; national newspapers, including The Guardian; and magazines including Future's Country Homes & Interiors, Homebuilding & Renovating, Period Living, and Style at Home, as well as House Beautiful, Good Homes, Grand Designs, Homes & Antiques, LandLove and The English Home among others. It's no big surprise that she likes to put what she writes about into practice, and is a serial house renovator.