Remodelling ideas for small kitchens – 10 expert tips for tiny spaces
Remodelling small kitchens can be a challenge, but these clever ideas will inspire you to get creative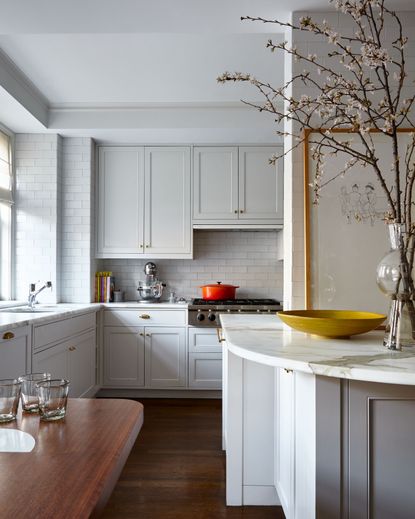 (Image credit: Barlis Wedlick)
Remodelling small kitchens can be a real challenge, but with the right advice, expertise and inspiration, you can ensure yours feels spacious, is practical, and looks wonderful.
Of course, adding extra square footage is the ideal, but if that's not a possibility, a clever revamp can be just as value adding. Here, we show you remodelling ideas for small kitchens that will ensure you don't waste an inch of space – or an opportunity.
Remodelling ideas for small kitchens
If the small kitchen ideas you're looking for are a little more ambitious than just an odd piece of storage or two, you may find these remodelling ideas for small kitchens useful. Whether you're starting from scratch in a new part of the house or remodelling a tiny, existing kitchen, you'll find plenty of inspiration.
1. Limit wall cabinetry to one side of a narrow space
This beautiful 17th century Grade II-listed cottage in the Cotswolds was in need of clever kitchen remodel ideas that played to its period styling and made the most of space.
The kitchen was designed by Irene Gunter, co-founder of Gunter & Co, who advises, 'Avoid using wall-hung cabinets on both sides as it creates the feeling of the walls falling down on you. Instead, try making use of open shelves or just having wall hung cabinets on one side. Narrow galley kitchens are actually very functional as it's so easy to get around and you do end up having a lot of usable work surface.'
The cupboards are crafted from distressed timber, incorporating oak boards reclaimed from the project. Mesh fronted drawers were devised to store produce from the cottage's large vegetable garden, while bespoke leather handles complement the tactile quality of the wood. The wooden countertop was contrasted with a second top in Belgian blue stone, while wall cabinets with metal frames and reeded glass fronts keep the effect light.
When new flagstones with the desired "pillowed" effect couldn't be found, the client took a slab from a local quarry and honed it himself, asking the quarry to finish each piece by hand in the same way.
2. Swap a dining table for a kitchen island
Kitchen island ideas are still worth checking out – even though they are usually synonymous with large kitchens. Lauren Wright, senior kitchen design consultant at Roundhouse offers her advice on fitting one in when remodelling small kitchens:
'An island can be achieved in a small kitchen as long as it isn't shoe-horned into the space. If the island is too big and the spacing around it too small, it will have the opposite of the desired effect.
'In a galley kitchen where the space is too narrow, an island may still be achieved by removing the cabinetry down one wall and having a central island instead. This isn't an easy decision to make as it is important to understand why you want the island, perhaps for the social aspect, and what you may potentially lose (ie, tall cabinetry) by having the island instead.'
If you do choose one, it's important that any kitchen island seating ideas are space smart – they should tuck under island when not in use and be backless to take up less visual space.
3. Consider a curvy countertop to soften the edges
Clever kitchen countertop ideas are a must when remodelling small kitchens.
'We rounded the outside corner of the Island countertop to provide more clearance and circulation space through the kitchen. It also creates a nice design element, mirroring the rounded corners on the banquette table,' says Tina Schnabel, interior designer at BarlisWedlick.
'To maximize space in this NYC Park Ave duplex, we included a custom banquette perfect for casual meals. Banquettes are a great option to introduce color on textiles that would otherwise be absent in a kitchen.'
4. Use color to highlight key areas and brighten a small kitchen
Kitchen color ideas should be high on your list of remodelling ideas for small kitchens – they can introduce personality but reflect light, too.
'We're seeing much more color being introduced into the kitchen as we move away from stark white spaces or lots of wood. Whether this is a color pop from accessories or a lick of paint, introducing a splash of color is a great way to update a kitchen and give it a new lease of life during a remodel,' explains Helen Shaw, Director at Benjamin Moore.
'These small introductions of color help to keep smaller spaces feeling light and bright, while allowing for your personality to shine through with the addition of pops of colorful accessories or furniture. If you're set on making the kitchen a colorful space, consider using tones of blue or green which feel reminiscent of the sky, ocean and open spaces. These work well on center islands in a neutral kitchen as they draw the eye to the center of the room and keep the rest of the space open and bright.'
5. Go for 'less is more' when considering your storage options
Although a wealth of good small kitchen storage ideas are a must, Lauren Wright, senior design consultant at Roundhouse cautions against overdoing it:
'When designing a small kitchen, I try not to fill every space, surface or wall with cupboards. Less can be more, and clever storage solutions to cater for what you actually need will give you a more effective kitchen than cramming a space with cabinets for the sake of it.
'At the entrance to the kitchen I try to avoid tall furniture or deep wall cabinets as this can crowd the space. A wider, more welcoming entrance can be achieved by reducing the amount of cabinets and grouping tall cabinets together toward the back and away from the windows.'
6. Using a mix of materials is great for distracting from the small space
'For this custom kitchen in upstate New York, we used a pop of color on the subway tiles from Heath Ceramics to act as a warm and inviting focal point. The concrete countertop provides a durable and modern work surface, and floating shelves were installed overhead to allow for a curation of interesting objects on display,' says Drew Lang, principal at LANG Architecture.
Using a mix of materials adds depth and interest to a small kitchen, and just because it's tight on space, it doesn't mean it can't be beautiful too.
7. Go light with your color scheme and add in some metallics
White kitchen ideas are, of course, as space-enhancing a scheme as possible.
'As part of a full mother-in-law suite, we used a neutral color palette to make this small kitchen seem larger. Not too big, but not too small – perfect for its purpose,' explains Eddie Maestri, AIA, founder of Texas based Maestri Studio.
Similarly light reflecting are the backsplash ideas – pearlescent tiles – and hints of metallic, all perfect for enhancing space in the kitchen.
8. Custom-build cabinetry to max out awkward spaces
When looking for remodelling ideas for a small kitchen, we often have to work with what we have – especially the sometimes difficult architecture of a small apartment.
Using the natural elements of the space can enhance your remodel as Richard Atkins, director at DesignSpace London explains:
'Characterful eaves with deeply arched window embrasures give this room great presence, but it required expert planning to design and build a high-function kitchen around such dominant architectural features.
'Drawers and cupboards are on a grand scale, effortlessly holding kitchen essentials, from appliances, pans, crockery and cutlery to wine and dry stores. This keeps the island surfaces clear, enhancing the powerful, minimalist feel of this kitchen.'
9. Choose light countertops to create the illusion of space
'There is a plethora of smart ways to make your kitchen feel spacious – to keep an open feel choose reflective materials such as bright white quartz countertop that will contrast beautifully with navy cabinetry. Utilize every inch of space from the full height, awkward nooks and the use of islands if you have room.
'Even though an island will take up floor space, it will benefit your kitchen by ensuring more storage, prep space and a place to gather and socialize,' says Tom Howley, design director at Tom Howley.
10. In a compact space, use color
This might sound counter-intuitive, but actually is great advice and works in a similar way to small powder rooms – in that you can go all out in smaller spaces and be wild and colorful if you so desire.
Sophie Ashby, founder and creative director at Studio Ashby loves to mix color, modernist furniture and artisanal finds to create spaces with 'a unique identity'. In this compact kitchen you can see all those elements in play, and although tight on space, this kitchen is has plenty of storage, is light and oh-so-functional
11. Ensure lighting is spot on
One element that is often left off of lists of remodelling ideas for kitchens is lighting. But lighting ideas for small kitchens can be key to its success. Unlike in larger kitchens, you may not want to – or have the space for – a characterful light fitting, in which case, recessing lights beneath wall and base cabinetry, over wall cabinetry and into ceilings will do the trick. The key is to have layers of lighting so that you can adjust each lighting type to your needs to create both atmosphere and functionality.
How can I get the most out of my small kitchen remodel?
The key is to be super organized so what you have is more efficient, and this goes for every aspect of your kitchen – from the cabinetry, flooring, storage to lighting, accessories and colors. Use every corner and every wall, but be mindful of using too many wall cabinets as they can make a small kitchen feel darker. Flooring should be light and practical, and consider color schemes – dark colors will feel more oppressive whereas lighter shades will give a visual lift to a small kitchen.
How do you maximize space when remodeling a small kitchen?
Look for clever hacks like sliding options – have a door that slides instead of opening up into the kitchen, pull-out chopping boards, a basin cover that can be used as an extra surface.
If you can fit in an island let it double up as a breakfast bar by having a space for stools to fit underneath. Floating shelves are a great option, they can work above a peninsula. And consider small shelving underneath cabinetry – useful for storing small items like spice jars.
Sign up to the Homes & Gardens newsletter
Decor Ideas. Project Inspiration. Expert Advice. Delivered to your inbox.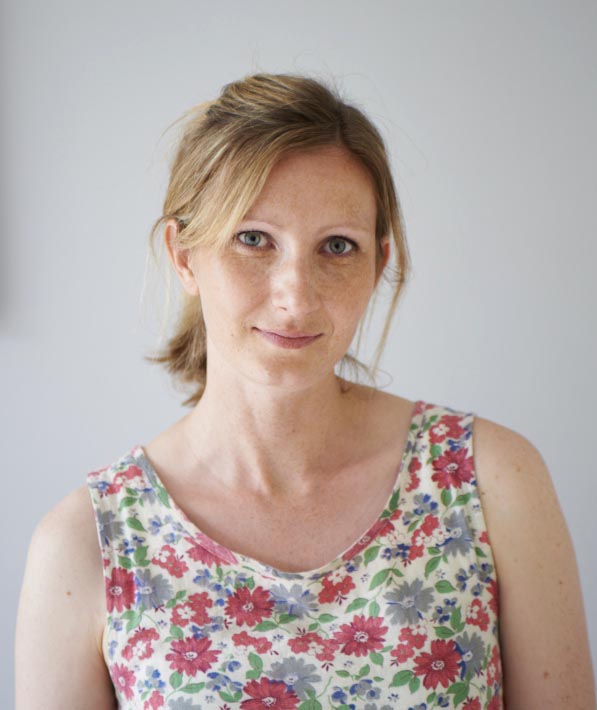 Sophie has been an interior stylist and journalist for over 20 years and has worked for many of the main interior magazines during that time, both in-house and as a freelancer. On the side, as well as being the News Editor for indie magazine, 91, she trained to be a florist in 2019 and launched The Prettiest Posy where she curates beautiful flowers for modern weddings and events. For H&G, she writes features about interior design – and is known for having an eye for a beautiful room.