5 rules for organizing an overflowing kitchen cabinet – from the professionals
They can be one of the most unruly parts of our kitchens - so what are the golden rules for making your cabinets as functional and streamlined as possible?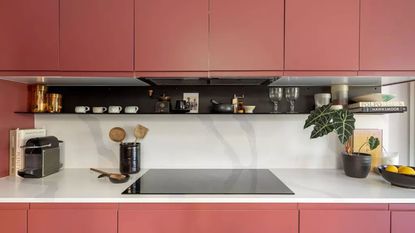 (Image credit: Dalodu Design Studio / Ben Sage Photography )
Sign up to the Homes & Gardens newsletter
Decor Ideas. Project Inspiration. Expert Advice. Delivered to your inbox.
Thank you for signing up to Homes & Gardens. You will receive a verification email shortly.
There was a problem. Please refresh the page and try again.
Our kitchen cabinets can be among the most disorganized places in our homes, despite how hard many of us try to keep them in good shape. But given how much we use them on a daily basis, and how many essential cooking tools they usually hold, it doesn't take much for them to become fit to burst – and a complete mess in the process.
Organizing your kitchen cabinets is all about prioritizing which items you need the most, and arranging them in a clear way that makes sense for your home. Another key component for getting your kitchen cabinet ideas into tip-top shape is realizing that you may simply have too much 'stuff' inside them. Decluttering will make organizing that much easier, as no one can organize a space that houses too many items to comfortably fit.
To help you get your kitchen cabinets in order ahead of a busy summer of cooking, professional organizers have shared their most vital rules to follow for organizing your overflowing kitchen cabinets. These tips are simple, easy to follow, and should make sure your cabinet stays neat and streamlined, for good.
5 rules for organizing an overflowing kitchen cabinet
Before you get to organizing your kitchen cabinet, it's important to set aside sufficient time in which to get the job done. Rushing through it is likely to leave you with a space that's even more disorganized than when you started.
'The time it takes to organize a messy kitchen cabinet depends on several factors, such as the size and level of clutter in the cabinet. It could take anywhere from 30 minutes to a few hours or more to get everything in order,' Michelle Hansen, cleaning and organizing expert, and owner of Practical Perfection, said. 'Take your time, and focus only on one cabinet at a time.'
So what are the most important rules to bear in mind when organizing your packed kitchen cabinet? These principles should simplify the process, and get the job done properly and efficiently.
Rule #1: Declutter and edit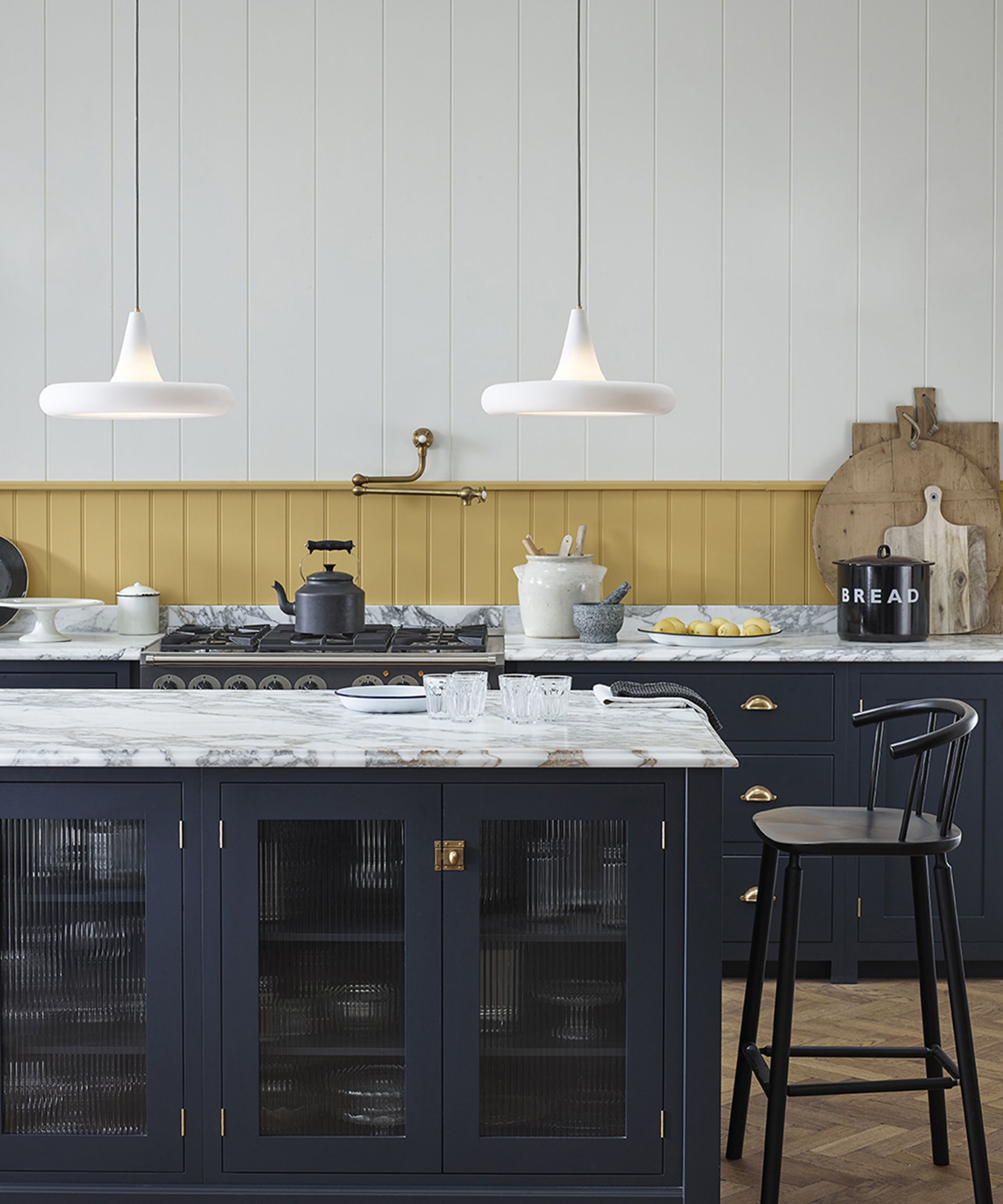 The first rule is arguably the most important – given that, as mentioned, it's almost impossible to organize a space overflowing with items. Michelle explained, 'This process involves getting rid of any duplicate or unnecessary objects that you don't use anymore. In doing so, you also create space for items that you use regularly.'
Michelle Hansen is a cleaning and organizing expert, and owner of Practical Perfection. She has been a professional organizer for four years and has organized for Instagram influencers such as @jordanpage and @modestshopping. Michelle loves to help others see (and feel) the life-changing difference that having an organized home can make in their lives.
So you're standing in front of your cabinet – what should you do first? One of the best initial decluttering tips is to 'take everything out! I know it will be scary, but it's necessary to see all that you have,' professional organizer Reba Bassett, of Revelation Organizing, said. 'Lay all the items out on the counter to begin with.'
After this, it may be helpful to group your items into a few different categories, be it mugs, condiments, or cans. Reba explained that, 'Once you see it all together, you can remove or combine duplicates. We often have multiple of the same item because we can't find the original and just buy more. Then, only put back the items that you use.'
Struggle with knowing what to throw out – or parting with something you have owned for ages? Reba has a trick. '"Best, favorite, necessary" is a phrase I use to help my clients decide what items to keep. Yes, you may have 20 coffee mugs, but which ones do you reach for the most? Which ones are in the best shape? How many do you realistically need, given your hosting and entertaining habits?
'By picking your favorite and most used items, you won't be overwhelmed by all the clutter and unnecessary items in your cabinets.' This is a fantastic trick for decluttering a small kitchen!
Reba Bassett is a professional organizer and the owner of Revelation Organizing, a professional organizing company based in Austin, TX. She works on all kinds of residential organizing and move management projects with a non-judgmental and functional focus.
Rule #2: Place items in the order you usually need them
Often find yourself wading through mountains of tins and jars just to get to that one bottle you need for your latest culinary creation? If so, you may want to consider keeping your most used products front and center in your cabinet – a rule that should work wonders for your organization. It's simple, but effective!
'Keep the most frequently used items in the front of the cabinet and at eye level,' Michelle explained. 'This method saves time and energy when preparing meals and snacks. In contrast, keep infrequently used items at the back of the cabinet, where it's harder to get to.'
In doing this, you'll not only reduce the time you spend looking for your most loved items, but you'll also be more easily able to see when you're out of your favorite, go-to products, which is especially useful when organizing cabinets in a small kitchen where duplicates take up valuable space.
Rule #3: Categorize all items inside cabinets
One of the biggest rules professional organizers rely on when putting kitchen cabinets in order, is grouping similar items together in order to create a space where everything has a logical place to sit.
Michelle advises grouping items 'according to their usage or purpose.' She said, 'For instance, store baking sheets and pans together, cooking utensils together, and so on. This strategy makes it easier to find items when you need them, and makes cabinets more organized.'
Once this is done, a handy trick is to create a logical and organized system within which to store said items. Amy Bloomer, founder and owner of Let Your Space Bloom, advised, 'Use organizing tools to maximize space and reduce items getting lost in the back, especially in deep cabinets. Two of my favorites are these lazy Susans, at Amazon, and these acrylic kitchen bins, at Amazon.' These top-rated Amazon kitchen organizers are also a great buy.
To use these items to their full potential, Amy suggests that, 'Lazy Susans are great for storing smaller containers that would get lost in the back of a cabinet. They make many different sizes, so I recommend finding one that fits the depth of the cabinet, to use all of the available space.'
Amy Bloomer has an MA in Organizational Psychology, and is founder and owner of Let Your Space Bloom, which operates in the Baltimore area.
Agreeing that both bins and lazy Susans should be used in different cabinets, or at least on different shelves, Amy also explained that 'acrylic bins are an easy way to turn any cabinet shelf into a "drawer" (this is whether it's better to have doors or drawers in a kitchen). Just be sure measure the depth/width/height of cabinets and find bins to fit.
'As far as what to store in your bins? Anything! They come in many different shapes and sizes so you can customize the size of the bins to the category (as above) for a near perfect fit,' she explained.
Professional organizer and owner of Clutter to Clarity, Lindsey Mahanna, however suggested that it's important to tailor your level of storage-based organization to your needs, time restraints, and personal preferences.
'Assess whether containers and drawer dividers, etc., make sense in your kitchen first. Think about what level of effort you want to go through to make things "beautiful",' she said. 'Do you want to take the time to decant items? Do you want to put the granola bars into a little bin, or would you rather just rip off the top of the box for easy access?'
Rule #4: Make use of *all* available space
When planning how to organize your overflowing kitchen cabinet, one rule that is often missed by those of us who aren't pros, is using all of the space you have inside the cabinet. And that doesn't just mean the bottom of your cabinets.
'Make use of the vertical space within your cabinet by adding hooks or installing shelves to store more,' Michelle said. 'This approach maximizes space and helps to keep everything organized, and in its proper place.'
There are plenty of clever vertical storage solutions available to buy – as well as hooks and extra shelving units, you can also purchase baskets that clip to the roof of your cabinet, at Amazon, or over the door hangers to make sure of any space you may have on the back of the door. This is a great trick for organizing a small kitchen, where space is at a premium.
Rule #5: Label your items
It may feel like you're really going the extra mile – but trust us, you will absolutely thank yourself for labeling items when it comes to overflowing kitchen cabinets.
Michelle said, 'Labeling things can be helpful, especially if you have a lot of similar items in your cabinets. Labels make it easy to identify and find what you are looking for quickly. You could use stickers, chalkboard labels, or masking tape as labels.'
Not only that, but Reba explains that labeling will also ensure your cupboard stays as organized as possible even if you're not the one putting items away. 'Labeling not only designates a home for each item, but it reminds you and others you may live with where an item goes. Easy to find, easy to put away!'
Wondering how best to do this? There are a variety of options, so make a call on which makes the most sense for you and your kitchen. Reba said, 'You may choose to label your bins or containers – if so, placing the label on the front in the center is best. Or, for entire cabinets, if needed, you can put a label on the shelf lip, inside the cabinet. For drawers, you can label the lip of the drawer that's visible once you open it.'
FAQs
What are the basics of kitchen organization?
While the above rules are important to keep in mind when sitting down to organize your kitchen cabinets, there are a few guiding principles that you should follow on a regular basis when tackling any disorganized part of your kitchen:
Declutter often: Like most areas of your home, keeping on top of items coming in vs. items coming out will help towards a calm, organized kitchen space. According to Reba, 'A basic principle of kitchen organization is to make sure you routinely go through items, especially food, to check for expiration dates, quality, and frequency of use. Once every 6-12 months should be good enough to maintain an organized kitchen.'
Take it a section at a time: Another vital part of kitchen organization (and really, any organization), is to avoid organizing everything at one. 'Tackle one category or one cabinet at a time, so it is not overwhelming,' Lindsey said. 'This also allows you to wrap up the project without creating a mess that you don't have time to clean up before the end of the day.'
Designate zones for your kitchen: An organized kitchen is far easier to achieve if you actually know where everything goes, and if items logically relate to the area in which they sit. In fact, this is a great trick when organizing kitchen countertops, too. For example, Reba explained, 'The basics of kitchen organization are having zones for your behavior and usage of the space. Have a spot where you usually make coffee? Put the mugs, pods, sugar, etc. in the cabinet above. Store all baking items in an area near the stove. The easier you make your kitchen function, the more likely you will enjoy the space!'
How do you use empty space above kitchen cabinets?
There are a variety of ways in which you can use the space above your kitchen cabinets – in fact, leaving it empty means you're not taking advantage of a very handy extra layer of storage.
Practically, you could install shelves or other (sort of) essential items. Michelle explained, 'Installing shelves or boxes above your kitchen cabinets can provide additional storage space for items that are not frequently used – and it's best to use clear containers so you can easily see the contents.
'Or, if you're a wine lover, using the empty space above your kitchen cabinets to store wine bottles can be a great idea! You can install a wine rack or use a few bottle holders to keep your wine organized.'
Lindsey agreed that it can be a good place for extra items that don't fit elsewhere. 'If you have a really small kitchen and need that space for storage, I recommend buying beautiful baskets to store items in so that they are "hidden" – be it extra appliances, or additional bakeware,' she said.
On the other hand, some households prefer to make the space above their kitchen cabinets more of a decorative feature. 'This is also a space to display your beautiful items, if you so choose - however, many may prefer to leave that space open for a "clean" look,' Lindsey said.
Reba agreed that, 'Visually, the space above kitchen cabinets can get cluttered with too much decor or storage. If you feel the need to use that space, place one or two small lettered signs or decor items, but don't overload the space.'
If left empty however, it can be a tricky spot to clean. As such, Reba suggests, 'If you don't plan on using it for storage or decor, placing parchment paper on top will help make cleaning the dust and grease that accumulate. Just replace it once a year!'
---
By following the above five rules for organizing an overflowing and out-of-control kitchen cabinet, you can pretty much ensure that this important space in your home will stay in order for as long as possible.
Always bear in mind that adding anything at all to your kitchen cabinets (without removing something else) will always be creating less space for a clear, logical and organized system – so be sure to apply rule number one to your cabinets at all times.
Sign up to the Homes & Gardens newsletter
Decor Ideas. Project Inspiration. Expert Advice. Delivered to your inbox.
Amy Hunt is a freelance lifestyle writer and editor primarily covering homes and interiors, wellness, travel and careers. She was previously Lifestyle Editor at woman&home, commissioning and editing the homes, books and features sections of the website,
In 2019, she won the AOP Digital Journalist of the Year Award, for her work on womanandhome.com. Having worked in the industry for over eight years, she has contributed to a range of publications including Ideal Home, Livingetc, T3,Goodto, Woman, Woman's Own, and Red magazine.