9 top-rated kitchen organizers on Amazon – we asked kitchen pros and professional organizers what they buy
These organizers could be everything your kitchen needs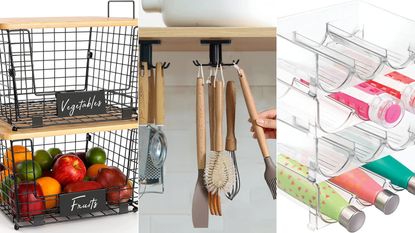 (Image credit: Amazon)
Some of the best kitchen organizing buys are to be found on Amazon. But there are thousands to sift through.
So, we asked kitchen experts and professional organizers for their list of the best kitchen organizers. It's a specific inventory: we've already compiled a catalogue of kitchen organizers that professionals always buy; this list is solely focussed on Amazon.
So, if you like the convenience the retail giant offers, you're looking to organize your kitchen once and for all, and you want some real-life recommendations you can trust, take advantage of this list of top-rated buys from our favorite pro organizers to find out not only what they use for their clients, but what they buy for their own homes.
Best Amazon kitchen organizers
You can trust Homes & Gardens. Our expert reviewers spend hours testing and comparing the latest products, helping you choose the best for you. Find out more about how we test.
Whether you are organizing kitchen drawers, looking for pantry organization ideas, or are looking to organize kitchen countertops, these buys are must-haves.
1. Stackable storage baskets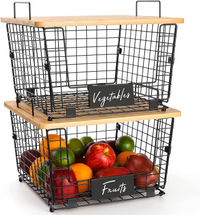 Stackable Storage Baskets, $39.99 for two, Amazon
One of the best things you can do in your kitchen is to maximize your vertical space.
According to Janelle Cohen, author of The Folding Book (also on Amazon) and founder of Straighten Up by Janelle, this is easily achieved with specific storage baskets and bins.
'To save space in your kitchen cabinets or pantry, look for stackable storage baskets and bins,' she explains. 'These types of baskets and bins can easily be stacked on top of each other, allowing you to maximize vertical space.'
One tip, though? Measure first! 'Before choosing storage bins, measure the space where you plan to put them. This will help you choose the right size of storage bins that fit your space and will hold the items you want to store. I take a picture of the space in the Notes app and then draw the measurements on the photo so I have a good visual when I'm at the store,' says Cohen.
Janelle Cohen is the professional home organizer behind Straighten Up By Janelle, author of The Folding Book, and TV personality, known for her appearances on top shows like The Today Show and Good Morning America. With a passion for creating organized and functional living spaces, Janelle uses her expertise to help clients declutter, streamline, and optimize their homes for maximum efficiency and style.
2. Glass food storage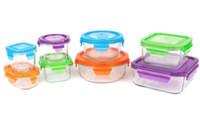 Wean Green Kitchen Storage 8-Piece Set, $49.99, Amazon
Convenient leftover food storage is a must in a well-organized kitchen, according to Catherine McCord, founder of Weelicious and author of Meal Prep Magic.
'I want to really see the food in my pantry, fridge, and freezer,' says McCord. 'When you use durable, clear, containers you're more apt to see foods that might have been overlooked. These are my go-to glass containers as they're made with tempered glass, have different colored lids, and are easy to microwave in.'
Catherine McCord is a mom of three, an entrepreneur, and the author of Meal Prep Magic. Catherine graduated from culinary school before working in high-end restaurants. When she had her first child in 2007, she discovered there was no comprehensive guide that offered new parents simple, nutritious, flavorful recipes and guidance on how to feed their new eaters. So, she created Weelicious, which now addresses not just baby's mealtime but the whole family's. In 2015 she launched One Potato, a meal delivery service focused specifically on the dinnertime needs of families.
3. Shelf risers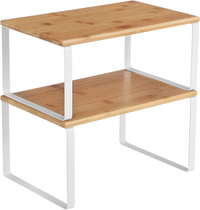 Songmics 2-piece stacking shelf, $, Amazon
If you already have a collection of perfectly good storage baskets but they're not stackable, don't panic. That's why shelf risers exist – and they're ideal for better organizing kitchen cabinets, though can be used on the countertop too.
'Shelf risers are underrated,' says Cohen. 'They have so many functions and can reduce stacking of any kitchen item.'
4. Water bottle organizers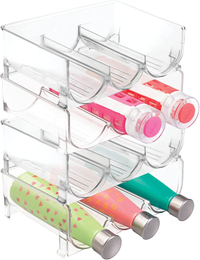 Refrigerator bottle rack, from $19.99, Amazon
The rising trend of reusable water bottles is one we all love, but it does mean some cabinet space gets sacrificed. That's why Cohen says she loves the new water bottle organizers.
'Water bottle organizers have really blown me away! It is so hard to get the one you need on a shelf and they fall over in a drawer,' she says. 'Water bottle organizers allow you to use vertical space and easily slide them in and out of your cabinet.'
If you are organizing a refrigerator, they are useful for keeping everything from ketchup to mayo to drinks' bottles cool and neat.
5. Glass spice organizers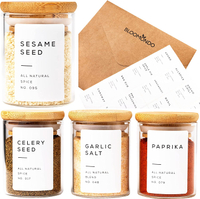 Seasoning containers, 24 pieces, $33.99, Amazon
If you have cabinet space for a spice rack or spice organizer, then this one might not apply. But if you need to have them out on display for some reason, and want to organize spices neatly, McCord gave us her top suggestion for keeping countertops visually clean and neat.
'My spice game totally changed when I invested in these glass spice containers,' she explains. 'Not only do they look organized, but they have wide mouths so you can fit a tablespoon or larger spoon into them for easy measuring.'
6. Mason jars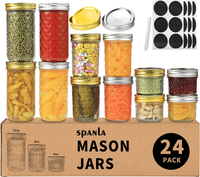 72-piece Mason Jar set, $28.99, Amazon
Another food-prep organizing must-have, according to McCord, is one that's easy to use in a variety of ways. They're the much-loved Mason jars!
'I use different-sized Mason jars for storing sauces and soups in the fridge and freezer,' says McCord. 'Tall glass jars are perfection for unboxing rice, pasta, beans, or candy in your pantry.'
Best of all, when not in use in the kitchen, you can use them as drinks carafes for parties or vases for tablescape arrangements.
7. Labeled woven baskets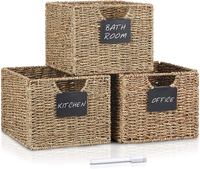 Woven baskets with chalkboard labels, $45.99 for 3, Amazon
Stackable baskets and bins are great, but if you have a cabinet that doesn't have much vertical space, then McCord says to go for the aesthetics – but with a function, of course.
'You want a basket that's easy to clean and looks great in your pantry, too,' she says. These labeled woven baskets definitely fit the criteria.
8. Lazy Susan turntable organizer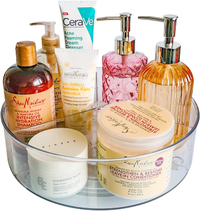 Lazy Susan, from $17.99, Amazon
While the phrase 'Lazy Susan' could probably use an update, it's still an organizing staple, according to Marcia Sloman of Under Control Organizing.
'My must-have kitchen organizing item is the Lazy Susan turntable organizers,' she says. 'I think it's the most underrated kitchen organizational item that more people should use – single-layer or tiered. Cabinet shelves can be deep, and many people use bins to organize items. When the bin is filled, it's heavy to pull down off the shelf. The Lazy Susan can be filled with heavy cans and bottles. Items are no longer in the back of the cabinet. With a simple turn, you can see and retrieve any ingredient for your food preparation.'
Cohen agrees, noting that she uses hers in place of a traditional spice rack. 'Spice racks make it really hard to see what's in the back and when you try to grab something from the last row, they all fall over,' she says. 'A Lazy Susan gives you visibility and accessibility.'
Marcia Sloman has been a professional organizer for more than thirty years. By helping individuals during and after times of life's transitions, Marcia is particularly well suited to work with those facing personal or professional shifts, as well as anyone coping with the avalanche of tasks and stuff. Her specialty focuses on help for individuals challenged by ADHD, anxiety, medical issues, or life changes such as job changes, birth, death, moving, or divorce.
9. Under-cabinet utensil organizers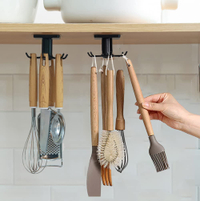 Under cabinet utensil holder, $12.99, Amazon
In-drawer utensil organizers and countertop utensil crocks are kitchen staples, but Sloman says there's one item she loves that frees up both valuable drawer space and counter space.
'One kitchen organization item that has really blown my mind with its functionality is the under-cabinet utensil organizer,' she says. 'Utensils such as spatulas, ladles, whisks, mixing spoons, and slotted spoons are the most often needed when cooking. If you need quick access to these utensils, you don't want to fidget in a drawer to find one. Having an under cabinet-mounted carousel is useful functionality, especially if there is limited countertop space or drawer space available.'
FAQs
---
In the past, we've looked at what all the most organized kitchens have in common. Two of the most pertinent are that they have had a good, regular decluttering session (our kitchen decluttering checklist can help with this), and they have great kitchen storage ideas. The latter is nothing without the former.
Sign up to the Homes & Gardens newsletter
Decor Ideas. Project Inspiration. Expert Advice. Delivered to your inbox.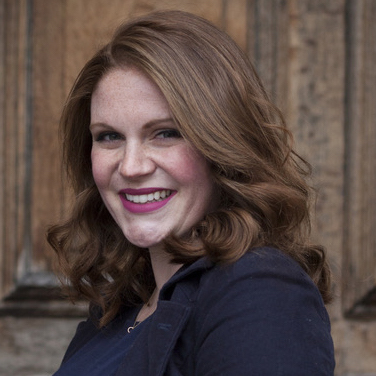 Ashley Chalmers is a freelance writer for Homes & Gardens with over 10 years' experience as a digital writer and content creator. Ashley started her career in entertainment and fashion PR in New York, before moving to the French countryside and taking up travel blogging. Now, Ashley lives in London. Her passion for travelling is only matched by her love of making her house feel like a home, and she loves to include her finds from around the world in her decor.