10 things all of the most organized kitchens have in common
Borrow tactics shared by the most orderly kitchens out there, to ensure you're really making the most of your space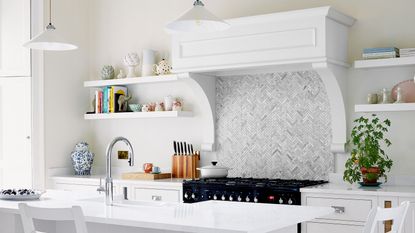 (Image credit: Future PLC)
They may not be organized in exactly the same way – different households have different priorities after all, but there are a few things that pretty much all of the most organized kitchens have in common. And, you'll be pleased to hear, they're pretty simple things, too.
How far you go when organizing a kitchen is really up to you, but employing even just a few of these tactics in your own home will immediately make your kitchen feel neater, tidier, and easier to use. You might even notice an improvement in your cooking, too, although we can't guarantee that, unfortunately…!
Along with successful home organizing ideas, the most organized kitchens also share a common goal. Not just to create a functional space, but one that's a pleasure to spend time in, too. After all, what's the point of investing in beautiful kitchen ideas if you don't show them off to their best effect?
10 things all of the most organized kitchens have in common
From decluttering countertops and improving a kitchen layout to kitchen storage ideas and the best kitchen organizers to use, we've uncovered the organizational secrets of the most orderly of kitchen owners, so you can start implementing them in your own home.
1. There's no clutter
Rule number one when organizing a kitchen efficiently – don't waste storage space on items you don't want, need or use. The most organized kitchen owners make decluttering a priority, and regularly, too.
'I like to start by laying all of my kitchen items out – it helps to see everything at once. Then, make two piles, one for keeping and one for donating. Part with duplicates or anything that's damaged, and only keep what you really need. Group like items together, then make a plan before you start putting things back into drawers and cabinets, organizing a section at a time,' advises Alexandra Davin, co-founder of Clairrow.
If you're not sure what counts as an 'essential' kitchen item, try removing it for six months or so. If you don't require it within that time, you can let it go. There is an exception to this rule: seasonal items (think turkey trays, pudding basins, cookie cutters, and entertaining crockery) should be grouped together and stored elsewhere so they're not taking up prime storage space.
2. The countertops are clear
As the busiest room in the house, day-to-day clutter tends to build up quickly in a kitchen – think keys, homework, unopened mail, piles of loose change… the list goes on. It's such a simple thing, but clearing your countertops will make the whole room feel tidier and more organized in an instant.
If you're wondering how to declutter and organize your kitchen countertops in general, ask yourself what really needs to be on there. The less you can leave out the better. When considering which items do make the grade, factor in aesthetics, as well as function.
'For any essential items that do sit on your countertops, choose colors that blend into your kitchen's color palette. A white toaster on a white quartz countertop feels more integrated than a bright blue appliance,' advises Alexandra Davin.
3. Everything has a place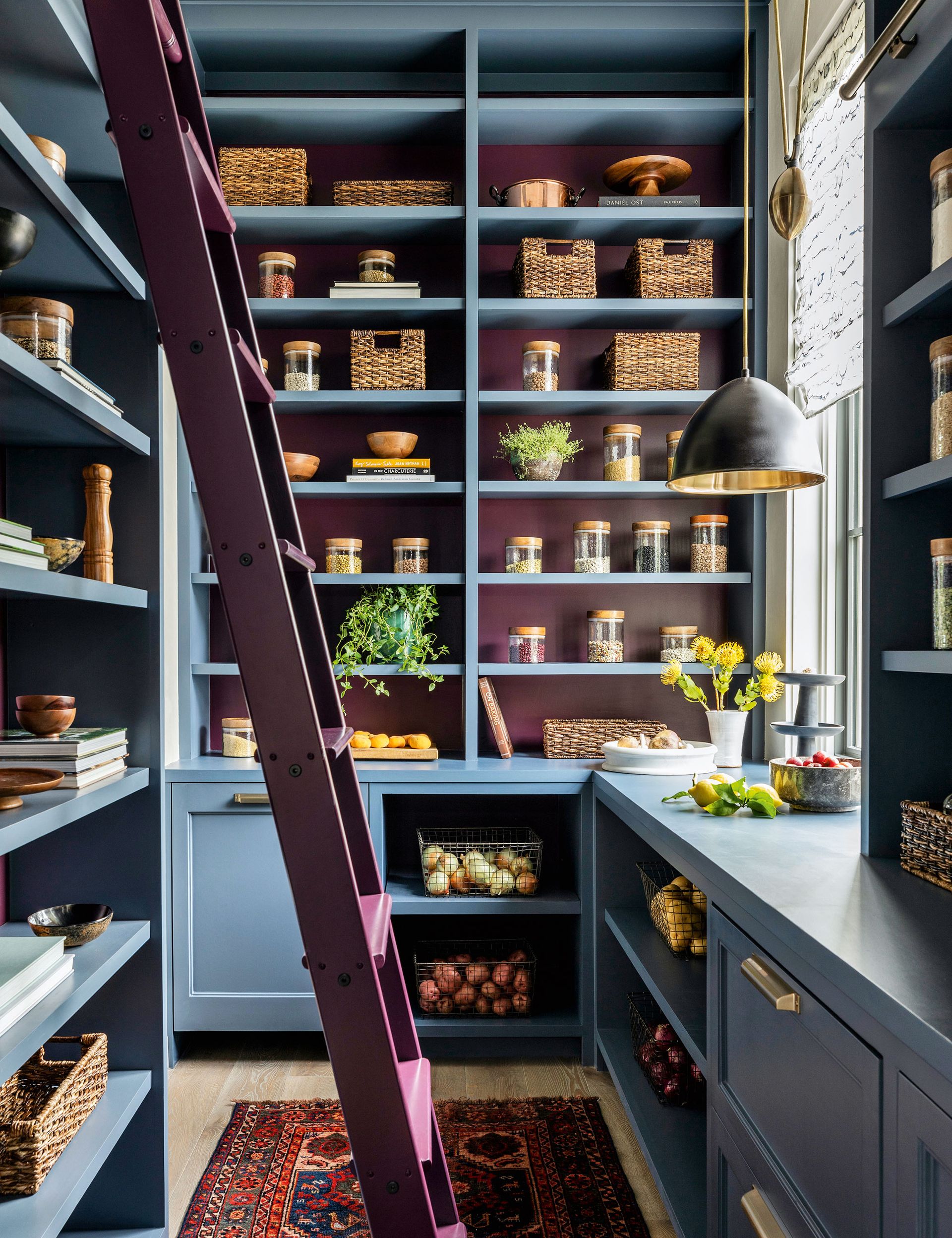 One of the most common kitchen storage mistakes is not having a designated place for everything, and it's an error the most organized kitchens will avoid at all costs. Assign space in drawers and cabinets for utensils, crockery, glassware, dishcloths, and cutting boards… everything down to the last teaspoon should have a home. Not only does this make things easier to find when cooking, but it also makes cleaning down afterward a lot quicker, too.
4. The layout makes sense
There's no doubt about it, a considered kitchen layout can make all the difference to your cooking experience. While no two kitchens are exactly the same, you'll find that the most organized ones will all have clearly defined zones that suit the family's lifestyle.
'The cabinets and drawers around the oven usually contain bakeware, pots and pans, utensils, while those in the island might contain glassware, crockery, cutlery – anything else you might use when entertaining,' says Lucy Searle, global editor in chief, Homes & Gardens.
'Dry ingredients should be stashed as part of organizing a pantry, but if you don't have one, create a zone for them too, ideally near the countertop where you do your prepwork. A dedicated "snacks" drawer is also advisable if you have children – less rummaging means less re-organizing for you!' says Lucy.
Lucy Searle has written about interiors, property and gardens for over 30 years. At Homes & Gardens, she has also taken on the editorship of the magazine, which is the UK's oldest interiors magazine at 103 years old. Lucy is a serial renovator and also owns rental properties in the UK and Europe, so brings first-hand knowledge to the subjects she oversees. She has tried all kinds of organizing tips and tricks over the years to keep her own kitchen streamlined.
5. They recognize the need for different types of storage
Closed and open storage both have great benefits if used in the right way. Open kitchen shelving offers up easy access to your most-used items, as well as the opportunity to inject style and personality, while closed cabinets and drawers keep inevitable clutter nicely hidden.
The most organized kitchens will feature a variety of both, to ensure they're maximizing utility.
6. They keep food in check
The most well-organized kitchen owners always have food at the front of their minds – and their storage systems. Employing a 'first in, first out' method means the items with the nearest expiration dates always remain at the front.
Whether you're organizing a refrigerator, chest freezer, or pantry shelves, getting rid of bulky food packaging is another space-saving idea employed by orderly kitchen owners – something to bear in mind if you're organizing a small kitchen. If you're borrowing this idea, be sure to decant into labeled, transparent containers, at The Container Store (all in the same style, if possible).
'This makes it much easier to locate what you need, plus you'll be able to see when essentials are running low so you can stock up as and when you need, rather than filling your cupboards with bulk buys,' says professional organizer Brenda Scott of Tidy My Space.
Brenda is passionate about home organizing, decluttering and creating a safe home. At Tidy My Space, she helps people to keep their homes tidy when life gets busy. Brenda shares useful tips and gives practical help with sorting and editing her clients' spaces, leading them to feel less stressed and bringing the luxury of time to be spent with family, friends, or on themselves.
7. They employ 'helpers'
To organize a kitchen to its best effect, every inch of space should be made useful. From wire racks and drawer dividers to carousels and risers, kitchen and pantry organizers can make all the difference, something to bear in mind when organizing trickier areas such as corner cabinets or deep pantry shelves, for example. If your helpers are on show rather than behind closed doors, experts advise paying closer attention to the aesthetics to ensure a streamlined look.
'Beautiful bowls, bamboo lazy Susans, matching canisters, and tiered hanging baskets are all beautiful storage items that when utilized can bring peace and organization to your workspace. I like to keep a neutral theme; by keeping everything calm, consistent, and coordinated, any clutter seems to just disappear,' says interior designer Betsy Moyer of The Estate of Things.
Kitchen Countertop Organizer
Whether you want to make a coffee station with pods and milk frother on hand for early morning brews or just need a better place for your olive oil, a kitchen countertop organizer like this one looks stylish and intentional.
2 Tier Bamboo Lazy Susan Organizer for Kitchen
Lazy Susans are one of the best kitchen organization products out there. The bamboo iterations are a lovely, natural-looking alternative, bringing warmth, texture, and functionality.
8. They use labels
Labeling is an effective organization technique with any task, but particularly so when it comes to kitchens and pantries, where you're sorting and storing expirable food items, as well as various tools and utensils. Things can quickly descend into chaos if you don't know what goes where.
'As well as having a functional use, they also help to streamline the whole look of your kitchen while adding an extra element of style. Always remember to keep your labels facing forward for easy-to-find access', say Jen and Mar, co-founders of Interior Fox.
9. Vertical space is put to good use
Storing items vertically rather than horizontally where possible is a real space-saver, and the most organized kitchens won't let any opportunity go to waste. As well as the more obvious wall-mounted hooks, rails, and shelving, you'll likely find efficient over-the-door storage racks for organizing spices, as well as vertical separators for organizing kitchen drawers and organizing kitchen cabinets, too.
10. They're clean
It's impossible to enjoy cooking in a dirty kitchen. Simply wiping down surfaces daily can make all the difference to how organized the space looks (something to bear in mind if you've got unexpected guests arriving), while a deep clean every week will ensure dirt and grime don't get a chance to build. When planning storage and organization ideas, the most organized kitchen owners will always have ease of cleaning at the forefront of their minds, too.
FAQs
What are the characteristics of an organized kitchen?
Ultimately, a well-organized kitchen has been planned with function in mind. Clean and clutter-free, they only play host to everyday essentials, all of which will have their own dedicated space. Where these live in the kitchen will be no coincidence; the kitchen layout will cater to the cook's particular requirements, ensuring everything is close to hand and easily accessed. Organizers and labels will have been used to great effect, to ensure all storage – open and closed – stays neat, tidy, and well-ordered, while food will be kept in check thanks to a sensible food storage system.
What is the major benefit of an organized kitchen?
Organizing a kitchen – and keeping it that way – does require some effort, but the benefit is well worth it. Doing it properly can truly transform your cooking and entertaining experience, making utensils, appliances, and ingredients easier to find, easier to use, and a lot nicer to look at, too.
Sign up to the Homes & Gardens newsletter
Decor Ideas. Project Inspiration. Expert Advice. Delivered to your inbox.
For 10 years, Tara King worked as a Content Editor in the magazine industry, before leaving to become freelance, covering interior design, wellbeing, craft and homemaking. As well as writing for Ideal Home, Style at Home, Country Homes & Interiors, Tara's keen eye for styling combined with a passion for creating a happy – and functional – family home has led to a series of organization and cleaning features for H&G.