How to organize cabinets in a small kitchen for ease and functionality
Maximize your kitchen cabinet space by following these 7 tips and tricks professional organizers swear by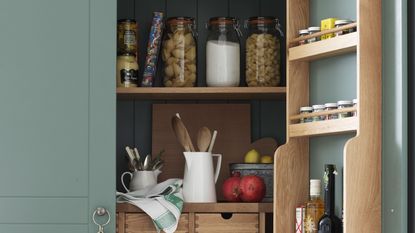 (Image credit: Future PLC)
Let's face it, day to day, we tend to shut the doors on our cabinets and forget about how it looks on the inside. While closed storage is a godsend for reducing visual clutter, we should still take the time to organize kitchen cabinets properly.
Because a few thoughtful tweaks will generate lots of extra space and improve functionality – it's less about looks and more about knowing where your ingredients and kitchenware are when you need them. In fact, when organizing a small kitchen, we think the cabinets are crucial to get right.
We simply can't afford to waste space or arrange items haphazardly when we're dealing with a narrow galley kitchen. So, where do you start?
How to organize cabinets in a small kitchen
With help from professional organizers and designers, we have gathered some practical advice on getting cabinetry streamlined. Leave your kitchen cabinets Swiss-watchmaker neat with these tips.
1. Take stock
Assess the whole space as if you were a professional organizer, looking at what you are storing in each cabinet. Is the cupboard under the sink chaotic? Is there wasted space around your plates and bowls? Do you have a cabinet overflowing with coffee mugs? Or maybe your kitchen has an awkward corner that you never use because it's hard to reach, or empty space between cabinetry and your refrigerator.
The next step, unfortunately, is to empty everything out. A small comfort is that clearing out a small kitchen takes less time compared to larger spaces, and why not use it as an opportunity to give the kitchen cabinets a clean? Time to banish crumbs, fingerprints, and germs that will have no doubt built up on the inside of cupboards.
2. Rearrange
Having taken everything out, new ways of arranging your cabinets' contents will become apparent; solutions that will help you to make cooking, entertaining, and loading the dishwasher easier. Keep pots and pans within reach of the stove, make a coffee station for a more seamless morning routine, or move the kids' snacks into a more accessible spot.
'In a small kitchen, it's crucial to think creatively about where to store dishes and glassware,' comments interior designer Artem Kropovinsky. 'If space permits, dedicate a cabinet near the sink or dishwasher for plates, bowls, and glasses.'
Tracy McCubbin, a professional declutterer also acknowledges that the layout of a small kitchen sometimes makes it impossible to put things in the logical place because the cabinet size doesn't warrant it. 'So think about where things will fit best when storing. Also, most used items always go on the lowest shelf. Less used, up high. Never-used items should be out the door!'
3. Create zones
Create clear zones that you can understand and easily maintain. Laura Price, the founder of The Home Organization, says to 'group items together in a way that is logical for you,' creating 'building blocks of the space which you can then adjust and move around to get the right combination.'
As one zone get bigger, be it spices or kitchen appliances, another zone will have to get smaller to prevent cabinets from overflowing.
4. Find ways to fill empty cabinet space
If there's a lot of empty space around your plates and bowls, try taking out the shelves and adjusting their height to suit your needs better. This simple tweak can work wonders, making cabinets much more functional. If that's not an option, cabinet corner shelf organizers, at Amazon, will do a similar job, helping layer pots and pans as well as plates.
For food storage, try wide-open front stackable bins, at mDesign. As long as you have measured the space, these will make the most of every inch and make it easy to see what you have, avoiding food waste.
5. Give infrequently used items a new home
The best appliances for small kitchens make baking, cooking, and making juices convenient without taking up too much valuable real estate. However, you can free up significant cabinet space and create more counter space in your small kitchen by storing those you don't use every day in a closet down the hall.
6. Try helpful kitchen organizers
While decluttering your small kitchen is the key to making things feel neat (more on that below), the best kitchen organizers shouldn't be overlooked, either. So, what do the professionals recommend?
'Risers are a game changer for small kitchens! Using them in cupboards can often give you the equivalent of another shelf,' says Tracy McCubbin.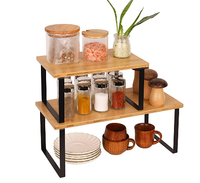 Kitchen risers | $28.99 for a set of two at Amazon
These kitchen risers are made of water-resistant bamboo on metal brackets. Reviews praise their sturdy design and ease of assembly.
Alternatively, Artem Kropovinsky recommends installing open shelving for dishes, or a wall-mounted dish rack, at Wayfair. This will save cabinet space while maintaining a visually appealing and functional setup.
We also think Lazy Susan turntables, at Amazon, are a must for spices. They stop anything from being hidden at the back and forgotten about, and the plastic ones are easy to wipe clean.
7. Declutter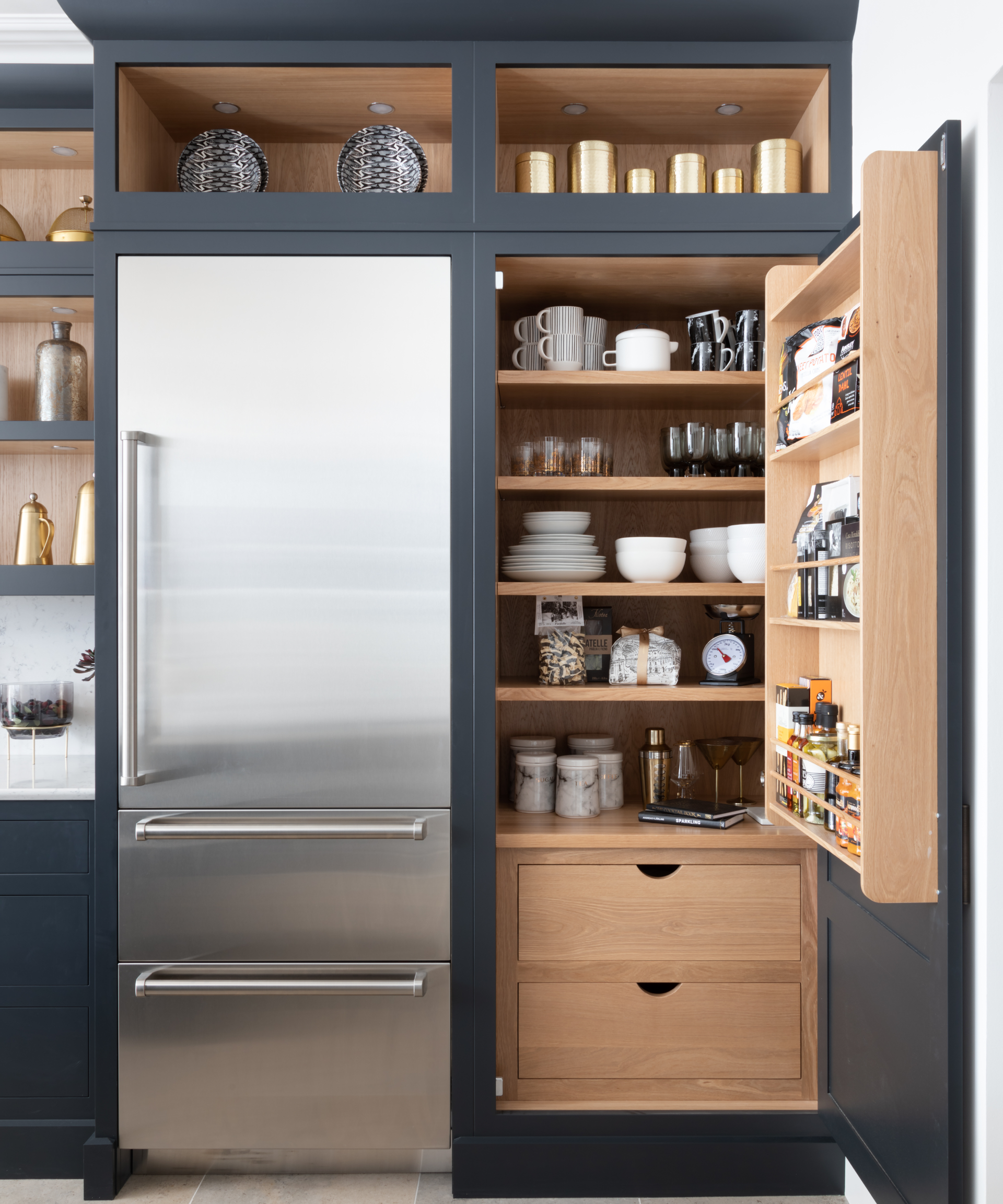 We mentioned it earlier, and there's no getting away from it. Hoarding kitchenware unnecessarily will prevent things from feeling organized, functional, and calm – as Tracy McCubbin explains: 'Declutter! The easiest way to stay organized is to have less stuff. Simple. We all have to accept that we have the space that we have. If you have a small kitchen, you don't have the luxury of three sets of dishes.
'You have to pare down to what you use and let go of the rest. You have to be very honest with yourself about how much room you have and let go of what doesn't fit, isn't used, or isn't needed.'
FAQs
Where do you put plates and glasses in a small kitchen?
'I like plates and glasses either near the sink and/or dishwasher so they are easy to put away when they are clean. Or close to the table so the table is easy to set,' comments Tracy McCubbin. 'These are the most used items in a kitchen, so they should be the easiest to reach.'
---
Organizing cabinets in a small kitchen takes a little more thinking and planning, and making the most of space-saving solutions. These in-cupboard hooks, at Amazon are brilliant for holding coffee mugs and utensils and can hang below the cabinet, using up dead space.
Sign up to the Homes & Gardens newsletter
Decor Ideas. Project Inspiration. Expert Advice. Delivered to your inbox.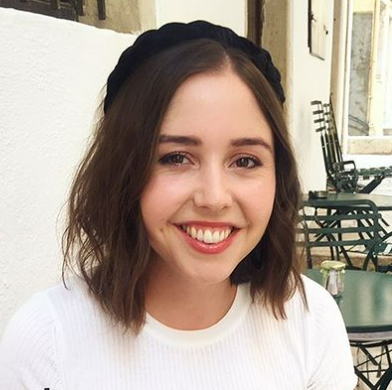 Millie Hurst is the Solved Section Editor at Homes & Gardens. She has six years of experience in digital journalism, having previously worked as Senior SEO Editor at News UK in London and New York. She then gained experience writing for women's magazines before joining Future PLC in January 2021. Millie has written for an array of homes brands including Livingetc and Real Homes and was formerly Senior Content Editor at Ideal Home before taking on the position of Section Editor with Homes & Gardens. She has written and edited countless features on home organization, decluttering and interior design and always hopes to inspire readers with new ways to enjoy their homes. She lives in Sheffield, South Yorkshire and loves to weave nature-inspired decor and nods to time spent in Italy into her own home.