How to make more counter space in a small kitchen – 10 ways to curb the clutter
Looking to create more counter space without the hassle of renovating your small kitchen? Rest assured, it can be done – here's how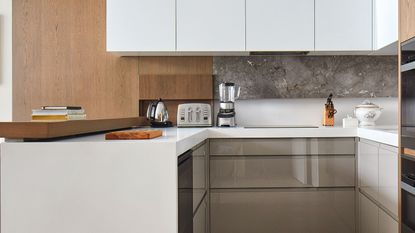 (Image credit: Future PLC)
You've done all the right things: decluttered, organized and tidied, yet still you're left scratching your head, trying to work out how to make more counter space in your small kitchen. It's a common frustration, but luckily it's fairly easy to solve.
There are actually two ways you can approach it, neither of which involve a complete kitchen renovation, you'll be pleased to hear. You can, quite literally, make more counter space by introducing a portable island or investing in an over-the-sink cover, for example. Or you can create more counter space, by knowing how to declutter and organize kitchen countertops already in place.
Both approaches are extremely effective, particularly when paired with the right small kitchen storage ideas. We've put together a list of ideas that cover both, so you can pick and choose what works best for you and your lifestyle.
How to make more counter space in a small kitchen
It's all well and good working stylishly arranged kitchen countertops into your small kitchen ideas, but if they aren't providing you with enough space to prep and cook, it's time to refocus with function at the fore.
It's important to remember that kitchen counters are primarily for food prep, not storage. Keeping items to a minimum should give you the space you need. 'Any items you do leave out should primarily be of practical benefit, but should also spark a little joy – you'll be seeing them every day, after all,' says Katrina Hassan, founder of Spark Joy London.
1. Create more storage space elsewhere
'One of the best ways to keep counters clear is to focus on other storage spaces; decluttering a small kitchen, organizing kitchen cabinets or organizing deep pantry shelves are all good examples. Do this strategically, and you won't need to store anything on countertops as everything will have its own place,' says professional organizer Michelle Vig, founder of Neat Little Nest.
If you're lucky enough to be in the initial stages of creating an all-new small kitchen layout, you can make this a lot easier by integrating a few 'creative' space-saving storage solutions, or perhaps even a pull-out counter, if you've got room.
'Don't be afraid to work with a joiner or designer, as they will be able to suggest innovative storage solutions for awkward corners and recesses,' says Will Lyne, lead designer and owner Christopher Peters Kitchens & Interiors. Utilizing pocket doors in a smaller kitchen is a great way to open out additional food prep and storage areas, such as a pantry, without taking up valuable floor space.'
Take further advantage of early planning by opting for as many built-in appliances as possible. Other ideas include investing in an oven with a microwave function or installing a hot water tap in place of a bulky kettle.
2. Create multi-functional work areas
However small your kitchen, it will have at least two things; a sink and a cooker top of sorts, both of which usually end up as dead space when not in use. Now's the time to change that. Whether it's an inset drying rack, at Amazon, or a custom-fit cutting board, at Amazon, that sits neatly across the top, make those spaces work that little bit harder.
There's also an extra storage opportunity to be had by displaying good-looking pots and pans on the cooker top – handy if you're struggling for space in cabinets and drawers.
'My Le Creuset pan looks lovely enough to leave out daily; it brings little design love to our stovetop scene – and means our morning eggs are that much quicker to make!', says Heather Goerzen, design editor at Havenly.
Heather Goerzen is the design editor at Havenly, a one-stop interior design shop and service.
3. Welcome portable workspace
Portable kitchen island ideas are ideal for creating space in small kitchens, both in terms of surface and storage. They're versatile too; the top can double up as an extra countertop and a temporary breakfast bar, handy if you've got guests staying (invest in a couple of foldable chairs or stools that you can bring out as and when).
The shelves underneath can be used to store items that might otherwise end up on the countertop, too. Choose one with wheels, so you can move it in and out, depending on whether it's counter space or floor space you're looking to increase.
4. Hang utensils on the wall
Storing utensils upright is a practical solution for finding what you need quickly and easily, which is why they often end up positioned in jars on the countertop, close to the stove.
While storing them in a drawer is a sensible solution, utilizing unused wall space, or even a backsplash, is far more space-efficient, and can look quite stylish, too. Consider installing a wall rail with hooks, like this one from Amazon. As well as utensils, you could hang oven mitts, tea towels, cleaning brushes and even mini herb pots – just be sure it's positioned far enough away from any open flame.
5. Swap wall cabinets for open shelving
If you're a keen cook who appreciates having cooking items close to hand, then open kitchen shelving ideas are a great solution. Unlike closed cabinets, you can grab what you need from them quickly and easily without having to sacrifice precious counter space for the privilege.
6. Utilize drawers
Coffee canisters, spice racks, knife blocks, and cutting boards are common counter-clutter culprits, however, you might be surprised to learn that all of these items store wonderfully well in drawers. A little bit of customization is all it takes to make them fit for purpose. While adjustable inserts and dividers work well, bespoke organizers are well worth considering if you want to maximize space.
'These can be tailored to your exact specifications, allowing easy access to kitchen essentials. Choose deep drawers for organizing pots and pans, clever pull-out designs which reveal two drawers in one, bespoke internal organizers, knife blocks, and even intelligent charging drawers for all your tech needs,' says Tom Howley, Design Director at Tom Howley.
When organizing kitchen drawers, allocate the most accessible ones to items that you reach for every day. That way, you're less tempted to leave them out on the side.
7. Put away appliances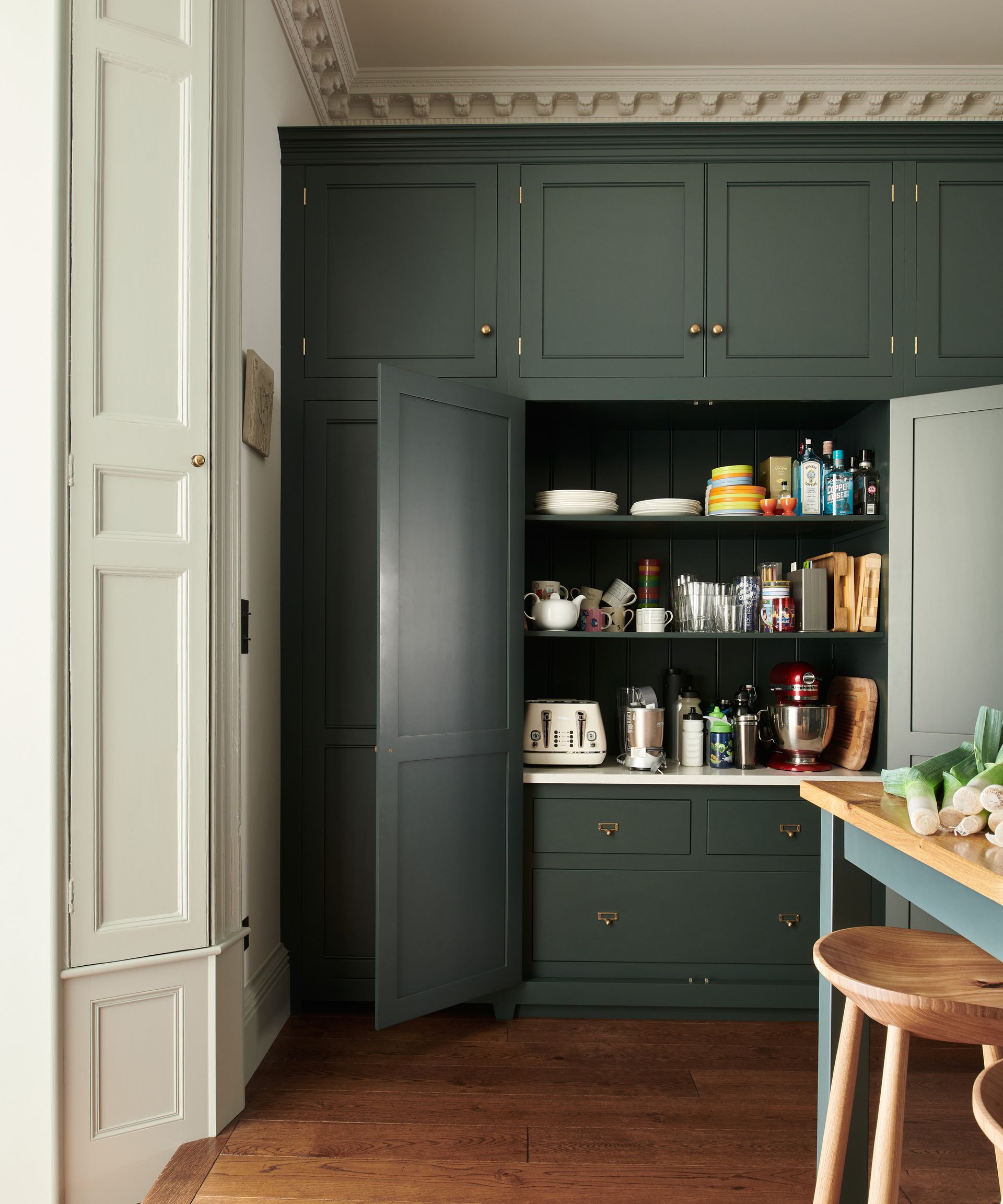 Free-standing appliances take up an awful lot of space on countertops, so it's really worth evaluating which of them really need to be there. Limit yourself to one or two of the best appliances for small kitchens that you use every day – a coffee maker and a stand mixer, for example, and store the rest away to free up food prep areas.
'It's also helpful to buy counter appliances in a color similar to your wall, tiles, and countertop so they blend nicely into the background,' advises Stephanie Nix, kitchen designer at Neptune.
8. Layer up
We'd usually associate shelf risers with freeing up space in kitchen cabinets and on pantry shelves, but they're just as effective when used directly on the countertop, too – as long as you choose an attractive design, like this bamboo version from Target. They're also moveable, meaning you can reposition them depending on how you want to use your counter space.
If you simply must store ingredients on your countertop, it's also worth considering other kitchen organizers, such as stackable containers and Lazy Susans. While they don't free up counter space underneath in the same way risers do, they do maximize on storage space.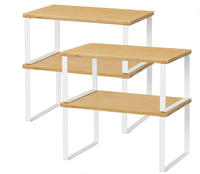 Bamboo Kitchen Cabinet and Counter Shelf Organizer | $29.99 at Amazon
Create space with this set of four stackable and expandable shelf risers in neutral tones
9. Create groupings of items – and position them carefully
Smaller items dotted around the countertop can make for a cluttered feel and usually results in a messier workspace that's harder to clean, as well. Lesser-used items such as dry ingredients, herbs, vitamins, pens, etc, can be corralled into stylish lidded containers, but for those items you need frequent access to (think washing up liquid, sponges, cooking oils, and seasonings), trays are a better idea.
'Position grouped items onto trays rather than directly onto the countertop. That way, everything can be lifted up in one go when you need to wipe the sides, or you can move the whole lot temporarily to free up counter space for cooking,' advises professional organizer Amy Bloomer of Let Your Space Bloom.
'Limit yourself to just one or two groupings for every couple of feet of linear counter space. If you have several short runs, space them out so you have one item in each stretch. If you have a longer run, say four to six feet of counter space, you might want to cluster three or four groupings together', adds Victoria Sass, founder of Prospect Refuge Studio.
Amy Bloomer owns Let Your Space Bloom, a home organizing company. She's been in thousands of homes, helping families, professionals and retirees to transform their space, and in turn, their lives.
10. Keep on top of tidiness
All your hard work will have been for nothing if you don't keep on top of tidiness going forward. As well as wiping them down regularly, it's well worth instilling a few daily habits to keep counters clear – or as clear as possible anyway!
FAQs
How do you turn a sink into a counter space?
Positioning a cutting board over the sink is a real space-saver in a small kitchen. It may feel a bit odd, but food prep and washing up are at opposite ends of the cooking process, so it really shouldn't cause any logistical issues. There are plenty of purpose-made designs (sometimes called 'noodle boards') you can buy, such as this extendable cutting board from Amazon, but any board that's slightly wider than your sink will work fine – we'd recommend applying adhesive rubber feet to the corners to prevent it from slipping.
---
So, as you can see, it's perfectly possible to increase counter space, whether that's literally adding it in, or simply making more of what's there through sensible organization. Put in the work, and we're willing to bet your small kitchen won't feel quite so small anymore!
Sign up to the Homes & Gardens newsletter
Decor Ideas. Project Inspiration. Expert Advice. Delivered to your inbox.
For 10 years, Tara King worked as a Content Editor in the magazine industry, before leaving to become freelance, covering interior design, wellbeing, craft and homemaking. As well as writing for Ideal Home, Style at Home, Country Homes & Interiors, Tara's keen eye for styling combined with a passion for creating a happy – and functional – family home has led to a series of organization and cleaning features for H&G.