9 essentials every home cook should have in their kitchens – to avoid culinary disasters and mishaps
Take inspiration from the professionals and enjoy a cooking space that's fully equipped for all your culinary adventures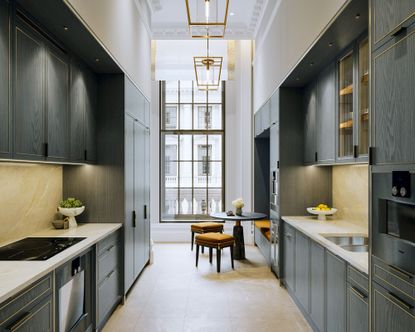 (Image credit: Smallbone / OWO)
Chef's kitchens are the ultimate in luxury for any budding cook or food enthusiast, but what should every home cook have in their kitchens? Technological advances in appliances, design, and materials mean that creating a professional or gourmet kitchen – once reserved for the best restaurants – at home is even easier to achieve than before.
Kitting out your kitchen with the best kitchen appliances and tools will revolutionize the way you prepare meals at home. But it can be hard to know exactly what to invest in when there are so many choices available.
We've put together a list of chef-worthy kitchen must-haves, some tried and tested by our team, that impressed us because of the quality and usefulness in the kitchen. In this checklist, we've covered kitchen items that will help make cooking more fun and efficient.
9 things every home cook should have in their kitchens
A well-equipped chef's kitchen will ensure that all your culinary adventures get off to a great start. 'Invest in the best kitchen appliances and tools that you can afford, and be sure to do plenty of research first,' advises chef and food writer Judi Rose, brand ambassador for Franke.
Make sure your gourmet kitchen is chef-worthy with these items that every home cook should have in their kitchen, as chosen by the experts.
1. A multifunctional stand mixer
Everyone recognizes the classic KitchenAid stand mixer – so we put it to the test to see if it's still the cream of the crop. The verdict? It's sturdy, efficient, and quiet, and one of the best stand mixers you can buy.
'The original KitchenAid mixer is an iconic design popular with budding and serious chefs alike,' says Alex David, head of ecommerce for Homes & Gardens. 'A thoroughly modern stand mixer with so many features it could happily replace your blender and food processor, too.'
From kneading dough to putting peaks on a meringue, a versatile stand mixer is the best route to baking perfection.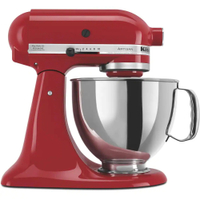 KitchenAid Artisan® Series 5 Quart Tilt-Head Stand Mixer| was $449.99, now $399.99 at KitchenAid
The Artisan Series 5-quart is our all-around favorite, well suited for everyone from the occasional holiday bakers to pastry chefs. Purchase directly from KitchenAid to have the most robust color selection (24 colors).
2. A sharp and sturdy chef's knife
The best chef's knives are the ultimate luxury for any budding cook or food enthusiast. Improvements in steel craftsmanship mean that investing in professional or gourmet kitchen equipment – once reserved for the best restaurants – at home is even easier to do than ever before.
Mainly coming with an 8-inch blade, a chef's knife is an all-rounder, able to chop or cube, peel or mince, dice or slice everything from tough vegetables and meat to delicate fruits and herbs.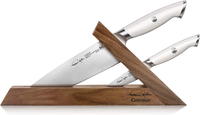 Cangshan Thomas Keller Signature Collection | was $299.95 now $191.97 at Amazon SAVE 36%
The masterful Thomas Keller Signature Collection by Cangshan is a model of craftsmanship. Slim, sleek, and exceptionally well-balanced, each knife is meticulously crafted to elevate your cooking experience.
3. An efficient coffee maker for morning brew
It's a rather long-term way to save money, but if you splash out on the best coffee maker and an insulated cup, you will eventually recoup the cost, so long as it frees you from buying your daily cup or cups at coffee shops.
Bean-to-cup coffee machines are probably the easiest way to make a range of coffees, but they haven't always had the best reputation for quality or value for money. However, in recent years a different type of bean-to-cup coffee machine has emerged. They are essentially espresso machines, like scaled-down versions of what you see in classic coffee shops, but with a grinder attached to the top. These require you to tamp the ground coffee down and insert it under the water spout, so they are a bit more effort than those high-tech black boxes with buttons on.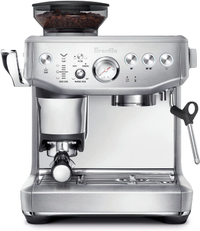 Breville Barista Express® Impress Espresso Machine | $899.95 at Amazon
An expensive machine, but you certainly get what you pay for. it's the perfect coffee maker for lovers of cappuccinos and flat whites. For its ease of use and excellent performance, this is truly a star purchase, for those who are willing to pay that bit extra.
4. An air fryer for swift, crispy meals
They're the latest kitchen appliance trend revolutionizing our cooking and they're not just great for low-fat frying oven chips, they also speed up evening meals, reinvent leftovers, and use less energy than a domestic oven.
Because a fan keeps the hot air moving, the best air fryers also cook much more quickly than a regular oven, so they're great for speeding up meals and cooking frozen food. Unlike the original air fryers, the best air fryers now preheat in no time and even remind you to turn your food.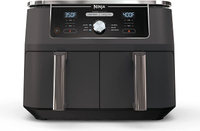 Ninja DZ401 Foodi 10 Quart 6-in-1 air fryer | was £299.99 now $199.99 at Amazon
What's better than one air fryer? Two, in one. This model has two zones so you can cook two dishes at different temperatures, syncing them to make sure all the elements of your meal are ready at the same time.
5. A blender for creamy soups, smoothies and beverages
From protein shakes to super-smooth soups and sauces to frozen margaritas – no matter what you need to blitz, a brilliant blender will make it quick and easy.
If you're prepared to spend a little extra; some of the best blenders are powerful enough to blend skin-on vegetables and even crush ice. Another benefit of a blender is that there is often very little waste involved, so you can blend knowing that you are being as environmentally friendly as possible.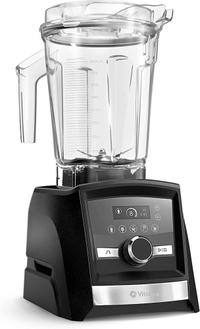 Vitamix A3500 Ascent Series Smart Blender | $649.95, at Amazon
This unbelievable Vitamix A3500 is our pick for the best blender overall. Not only does it easily crush ice and hard vegetables thanks to a powerful 10-speed motor, but it can even cook a perfect tomato soup.
6. A food processor to make life easier
A supercharged food processor will make light work of a whole range of prep and cooking tasks. Designed to take the hard work out of chopping, grating, whisking, slicing and mixing, the latest food processors are engineered to deliver consistently good results.
The best food processors will complete a surprisingly versatile range of tasks quickly and painlessly. And to save on countertop and cupboard space, manufacturers have added as much functionality as possible to even their smallest appliances.
Invest wisely in a single machine with great credentials, and you'll be rewarded with a wonderful kitchen workhorse.
7. Update your cookware with a saucepan set
Complex home cooking requires a saucepan set that puts longevity, ease of use, and efficiency at the heart of its design.
A two-quart saucepan, a 10-inch saute pan and an eight-quart stockpot are what you should aim for as a minimum. They'll cover just about any cooking task, and if you buy high-quality pieces, they'll be made to last. They'll cover just about any cooking task, and if you buy high-quality pieces, you'll have them for a long, long time.
Materials-wise, most modern pans use a combination of aluminum and stainless steel. The stainless steel is durable and low maintenance while the aluminum is light and spreads heat quickly and evenly. Meanwhile, cast iron is tough and induction friendly but takes a long time to heat up (and cool down). Non-stick coatings are easy to clean and tougher than they used to be, but they do wear over time. Ceramic pans are an alternative that avoids the chemicals in traditional non-stick coatings.
8. A skillet for perfect sears, braises and bakes
If your aim to to plate up restaurant-quality meat or fish, then don't be afraid to turn up the heat with a skillet.
It is commonly known that searing meat or fish seals in the flavor, which is why you'll want to add the best cast-iron skillet to your kitchen arsenal. Searing caramelizes the outside of the meat by flash cooking the surface only, giving an extra level of flavor and color.
Ideally we'd all use cast iron skillets, but these can be heavy, and deglazing is a no-no in a cast iron pan. Nonstick pans are not designed to be used at a very high heat, so you will ruin your pan and your meat. There are also thick aluminium pans or copper pans lined with stainless steel that can be perfect for this type of high-heat cooking.
Choosing the right skillet can seem like a minefield, but get it right and you'll be serving up delicious meals in no time.
9. A sturdy chopping board
Make light work of important meal prep with a hardworking chopping board. A robust and sturdy chopping board, or set of chopping boards will be one of the most used items in a culinary kitchen; you will need separate ones for each food group – and raw and cooked meat.
It is crucial to do your research first. Why? A poorly made chopping board will crack under pressure, and warp in heat, and could even harbor unpleasant bacteria if you are not careful when cleaning it.
Many people like a solid wooden board for its solid and aesthetic value, some of which are beautiful enough to use as a serving platter at dinner parties and barbecues. However, you can also get color-coded boards for each food group. This highly-rated chopping board set from Amazon will ensure their is no cross-contamination when preparing food.
Jennifer is the Digital Editor at Homes & Gardens. Having worked in the interiors industry for a number of years, spanning many publications, she now hones her digital prowess on the 'best interiors website' in the world. Multi-skilled, Jennifer has worked in PR and marketing, and the occasional dabble in the social media, commercial and e-commerce space. Over the years, she has written about every area of the home, from compiling design houses from some of the best interior designers in the world to sourcing celebrity homes, reviewing appliances and even the odd news story or two.