What is the best kitchen backsplash material?
Explore our expert advise on choosing the best kitchen backsplash material for your kitchen space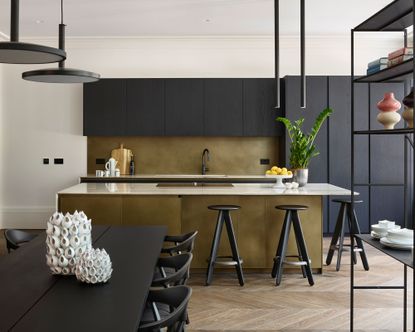 (Image credit: DesignSpace London)
When researching, what is the best kitchen backsplash material, there are many unique and hard-wearing options to choose from for your kitchen, from beautiful patterned tiles to sleek marble and granite finishes.
Backsplash ideas for kitchens are no long purely practical features, they are an opportunity to create an eye-catching design display in your space through beautiful material, color, shape and texture.
When designing a kitchen, your backsplash material of course needs to be an extremely practical, hardwearing and easy to clean protective surface, but it is also an opportunity for you to choose a design that can add stylish character to your space.
What is the best kitchen backsplash material?
We explore a collection of different backsplash materials, as well as provide some valuable expert advice to help answer the question, what is the best kitchen backsplash material?
1. Ceramic and porcelain tiles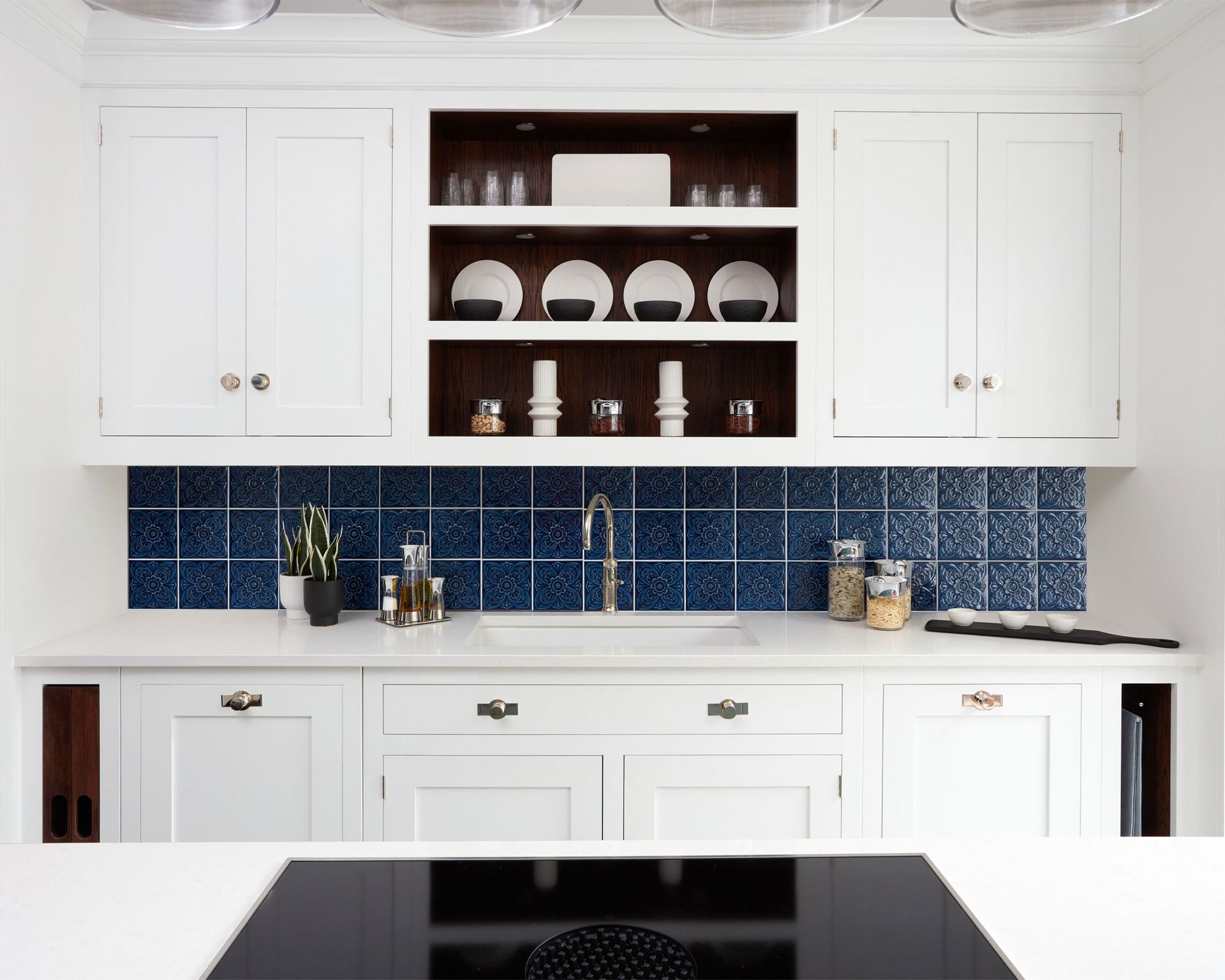 Water-resistant and able to withstand hard use with ease, tiles have been used for centuries across the home, especially in kitchen and bathroom spaces.
Ceramic and porcelain tiles can create a robust, protective finish for your kitchen tile ideas, and come in such a large variety of shapes, sizes and colors, making them one of the most popular kitchen backsplash materials.
'If you're looking to experiment with bold colors, decors and inspired layouts and patterns, tiles are the perfect way to make a distinctive design statement that is uniquely individual,' says Adrian Blundell, production director at Craven Dunnill Jackfield.
As well as being a timeless and hard-wearing option for the kitchen, tiles can create beautiful decorative designs, and can be a great way to inject color and pattern into your kitchen space.
Diane Hyde, marketing manager at Craven Dunnill Jackfield states, 'using tiles as a kitchen backsplash is an exquisite way of displaying and accentuating their pattern, texture, and glaze. A beautiful way to bring a burst of color into a room, highly reflective gloss tiles are also a great way to create a sense of space and openness. Whether you're looking to go bright and bold or simple and classic, there are a range of styles and designs to suit all types of homes.'
2. Natural stone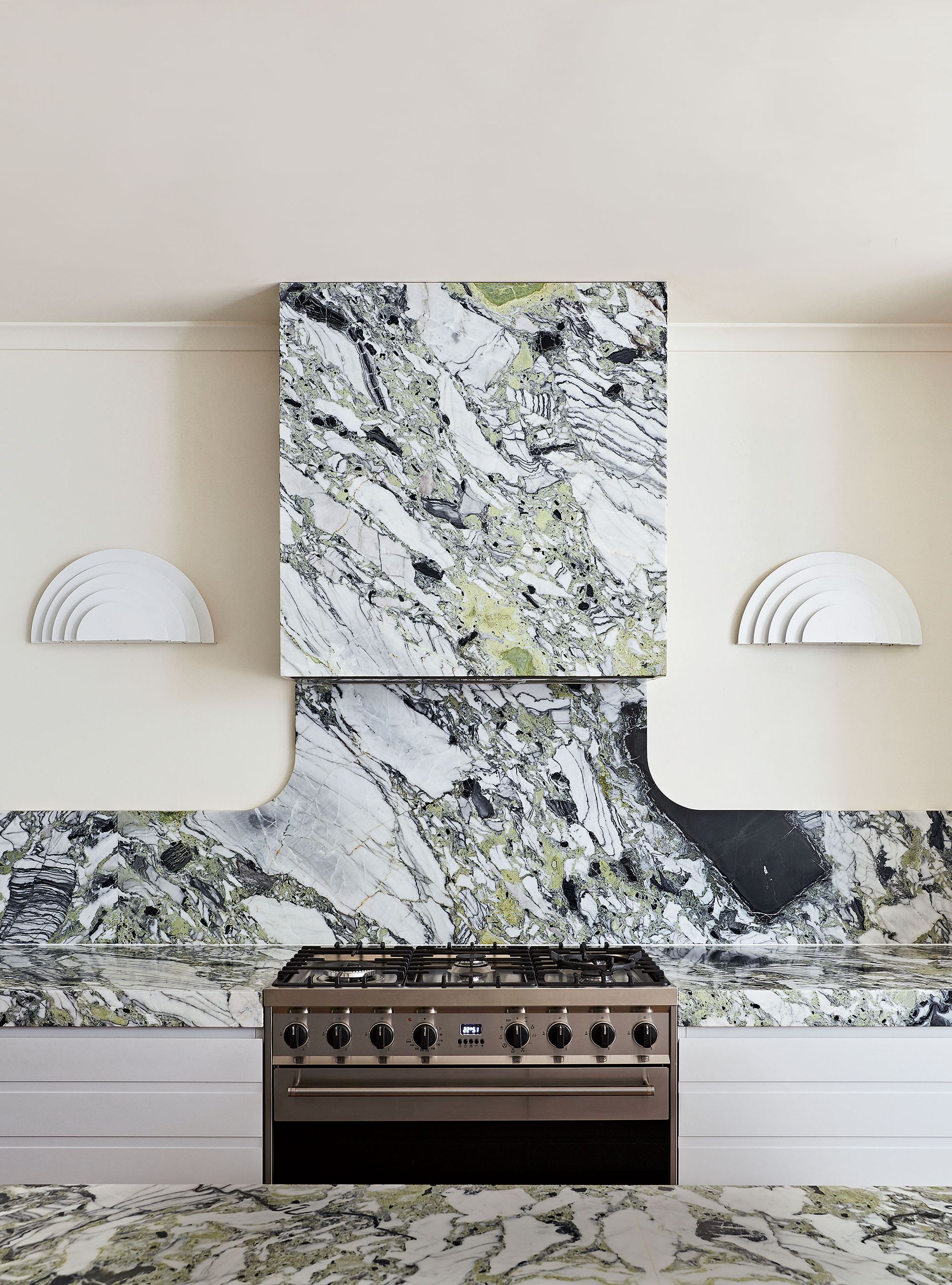 From marble, to granite, travertine and quartz, natural stone has a truly luxurious appeal, and is renowned for its elegant beauty, hard surface and smooth texture. Often used for kitchen countertop ideas, why not extend this beautiful material to your walls for your kitchen backsplash ideas.
'Natural stone is the perfect surface choice for those wanting to make a unique statement in the kitchen. Its unique visual appeal and exceptional practical properties mean it is one of the best surface solutions. Recently, we have noticed that homeowners and designers are taking more risks and being more creative with their kitchen surfaces – opting for striking features that will create truly impressive schemes,' says Hege Lundh, marketing director at Lundhs Real Stone.'
From more traditional kitchens to modern kitchen ideas, as there are so many unique types and variations of natural stone, there are options to suit all spaces and styles.
'We have seen a huge uplift in demand for statement marbles, especially Calacatta Viola. The desire to create truly unique interior schemes has led many homeowners and designers to seek out surfaces that are timeless yet individual,' says Oliver Webb, director at Cullifords.
A durable and long-lasting option for your kitchen backsplash, natural stone can also create a beautiful indoor-outdoor appeal, creating a design rich in natural texture organic colorways.
3. Metal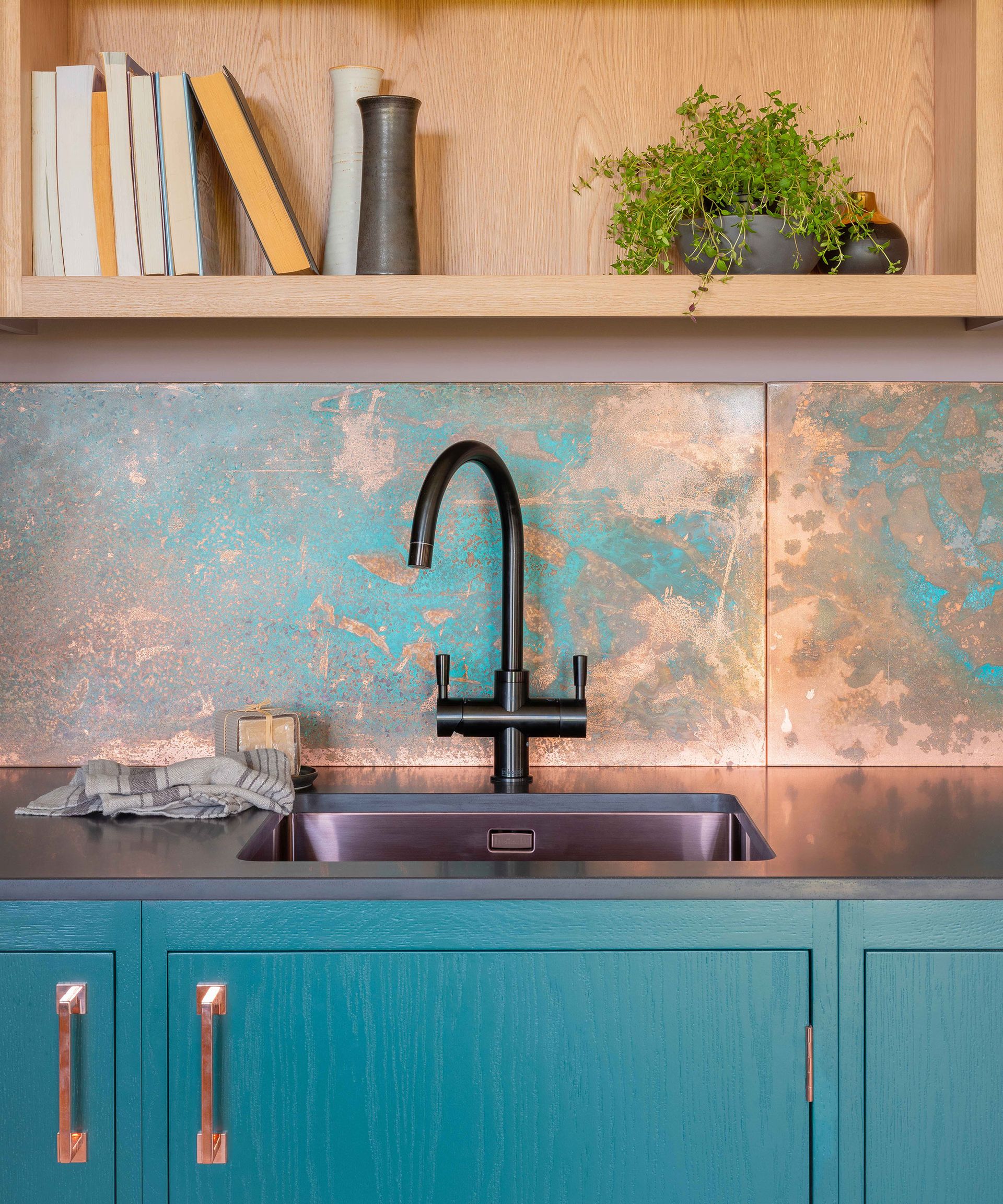 From warming copper to sleek stainless steel, a metal backsplash can come in a variety of finishes and colors, and can be easy to clean and upkeep over time.
Creating a elegant, smooth surface, a metal backsplash can also create a stunning design statement. As shown in this kitchen, the backsplash from Naked Kitchens takes inspiration from Verdigris, a stunning blue-green natural patina that develops when warm metals are exposed to air or seawater over time. The copper panels that create this backsplash have been oxidized by hand to recreate the look and speed up the process, they are then sealed with a non-porous lacquer for protection, so you can wipe and clean the surface without altering the effect.
A beautiful blue kitchen idea, the vivid turquoise tones pair perfectly with the shining copper, establishing a truly unique, stand-out effect for a kitchen backsplash.
4. Laminate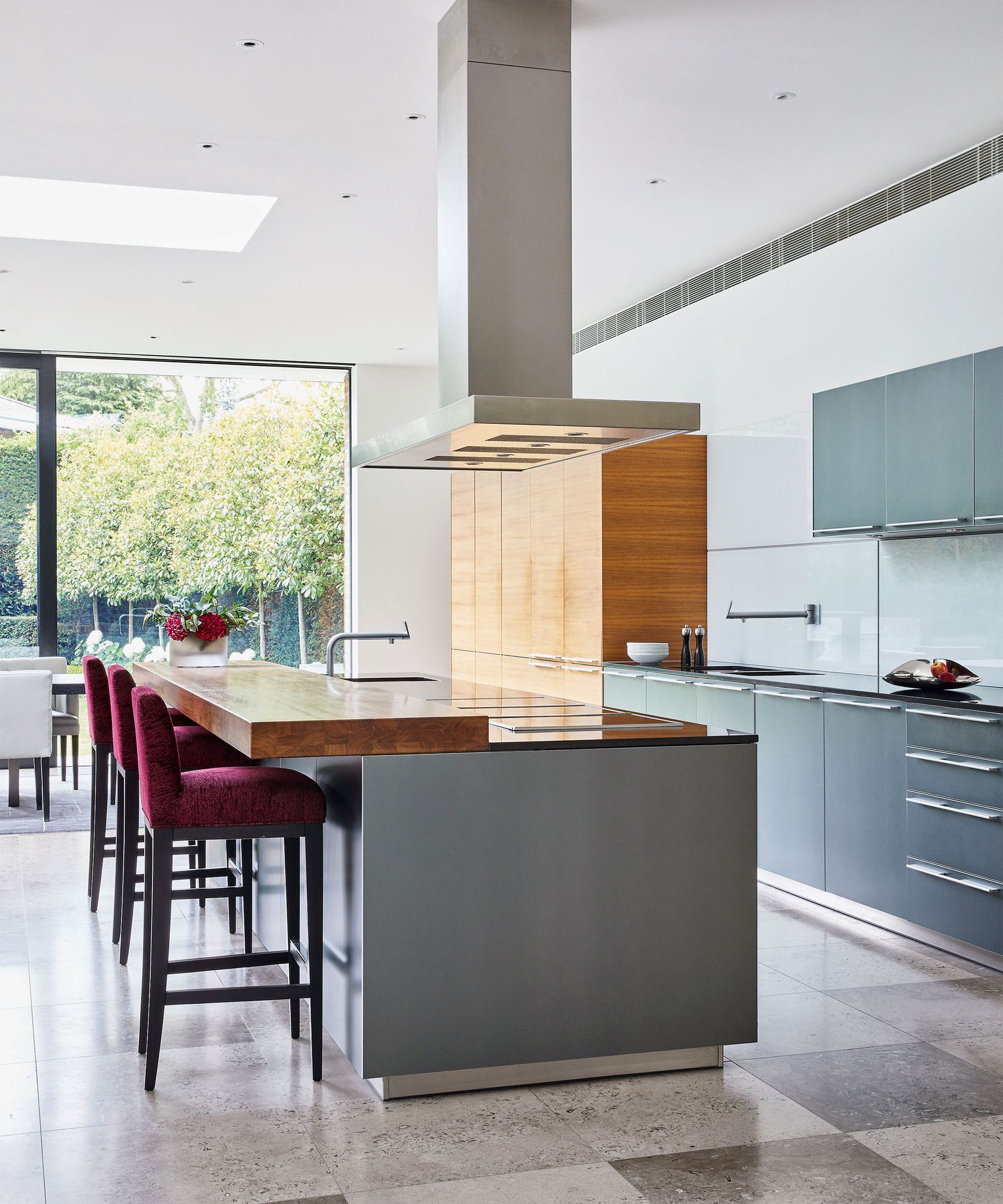 An adaptable, multipurpose modern material, a laminate backsplash can be a more cost-effective option, as well as being an incredibly easy material to wipe clean.
There are a huge variety of laminate backsplash designs, from bright block colors to designs with a more luxury feel that resemble marble and metal.
Laminate is waterproof so ideal for placing behind a kitchen sink, but it is advised to not use laminate for a backsplash near a gas stovetop due to the open flames.
5. Glass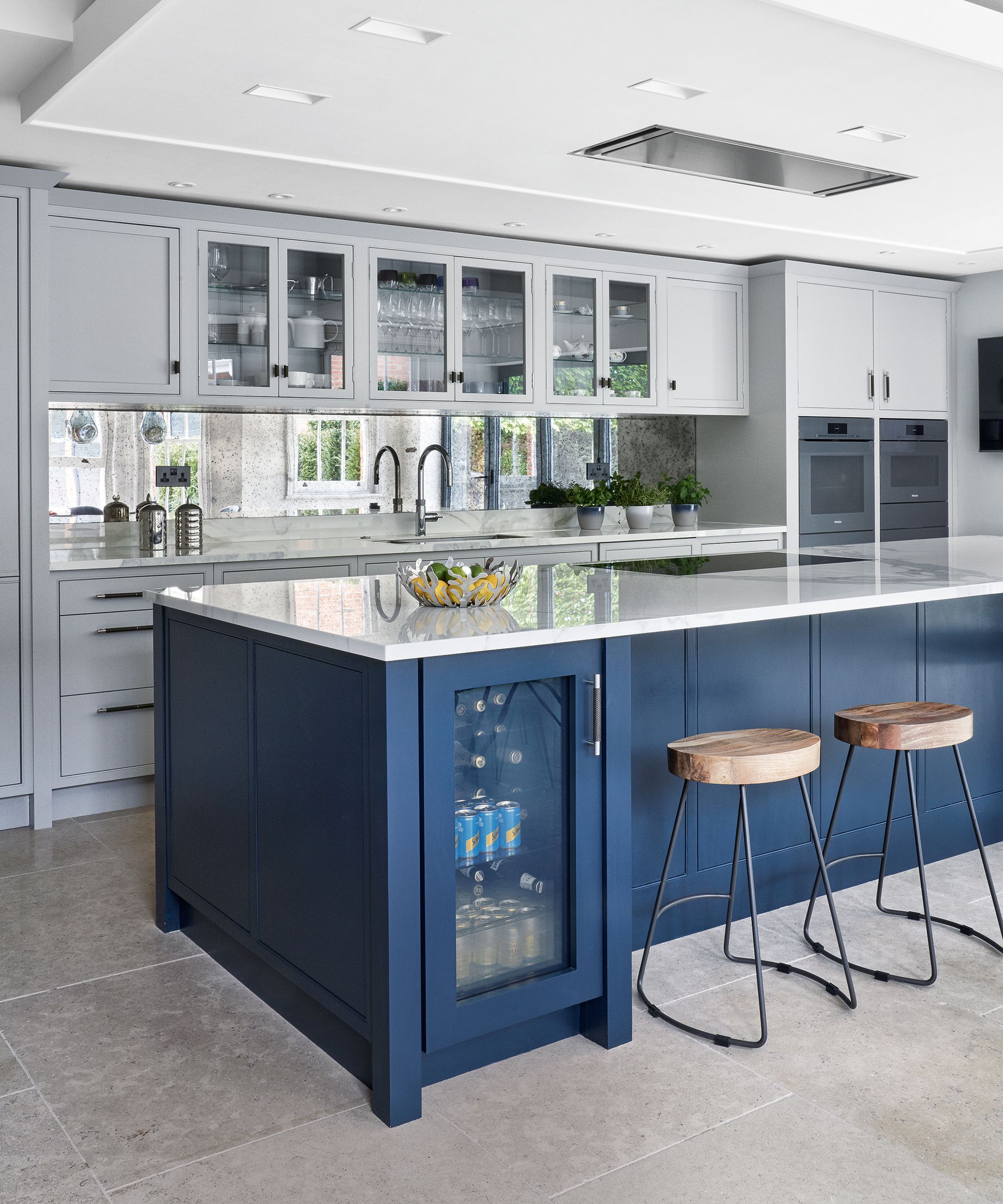 From decorating with mirrors, to elegant glass tiles, a glass backsplash can create a sleek and glossy display.
With glass able to withstand water and high temperatures, it makes for a practical material to use in the kitchen.
'A mirrored backsplash not only looks good, but it can help increase the feeling of light and space in a room, so is a good option to consider if you have a small kitchen,' says Lucy Searle, Homes & Gardens' editor in chief.
As shown in this stylish blue and gray kitchen, the mirrored backsplash helps to open up the enclosed surface beneath the kitchen cabinets on the wall, helping to make the area feel more spacious and inviting.
6. Wood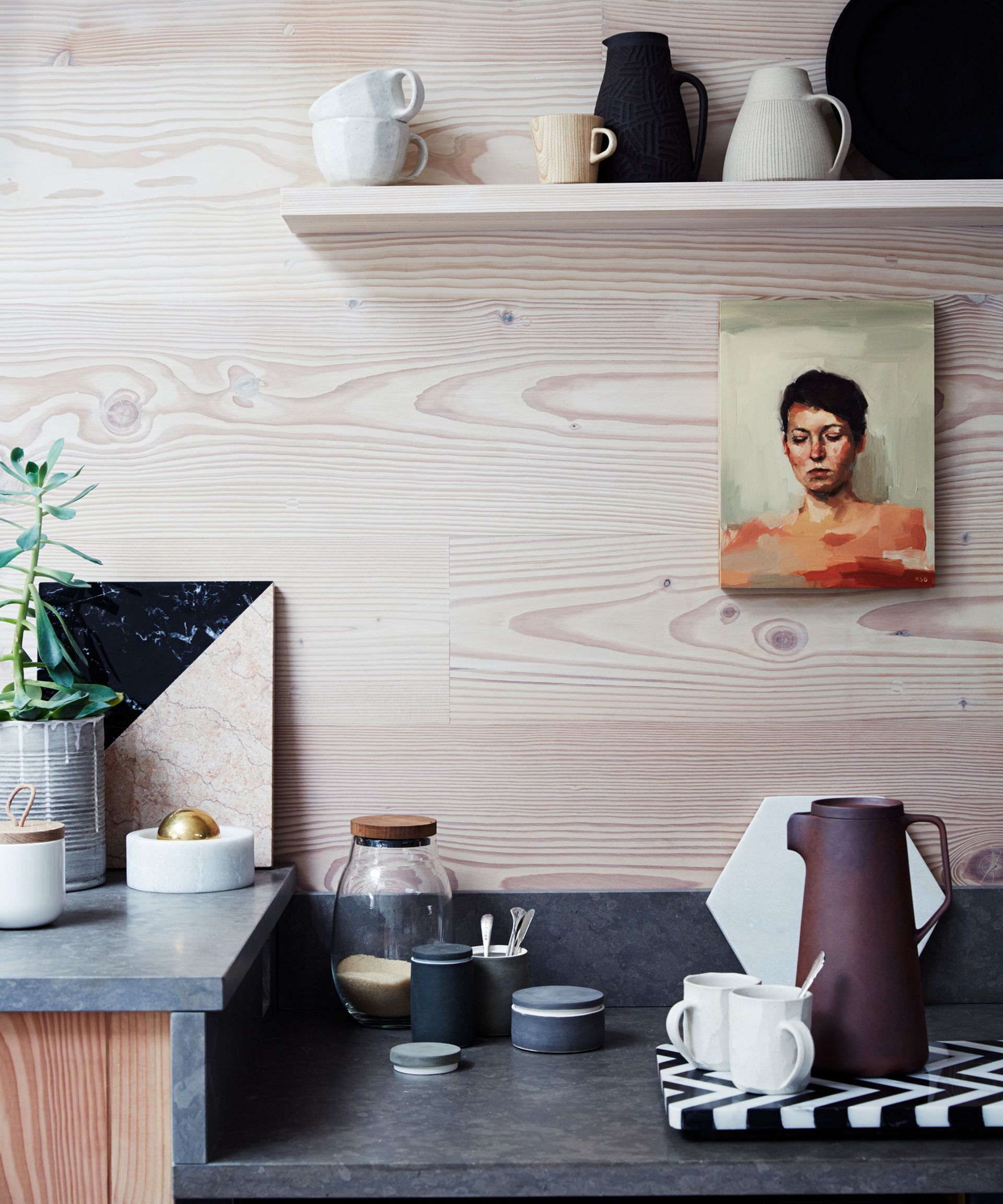 A wooden backsplash is certainly not for everyone, however this style can help to create a warming, cozy and inviting effect for your kitchen.
'A wooden backsplash requires more upkeep than stone or tiles, it will need to be conditioned before it is fitted in order to prevent splitting and changes in shape, as well as being treated with oils and wax over time so it can remain protected,' says Homes & Gardens' digital editor, Jennifer Ebert.
Similar to laminate, it is also advised to not use a wooden backsplash near a stovetop as it can be a fire risk.
However, as wood comes in so many beautiful finishes and colors, for certain areas of your kitchen, a wooden splashback can create a timeless, natural feel, and coordinate with many other colors and materials in the space.
In this kitchen, the smooth white wood creates an elegant, Scandi-inspired design, great if your are exploring Scandinavian kitchen ideas. The dark, natural stone countertop forms and elegant contrast with the wood, and slightly extends up to the wall to offer further protection.
What is the most durable backsplash material?
Tiles and natural stone designs are seen as the most durable backsplash materials. Robust, heat and water resistant and easy to clean, these materials are a popular choice for designers as they can remain strong and flawless for years and years to come.
These designs are not only durable, but can be styled to create beautiful decorative features, not only adding value to your home, but helping to establish a stylish kitchen space that feels unique as well as practical.
A kitchen backsplash should embody a beautiful blend of long-lasting durability and elegant style.
Sign up to the Homes & Gardens newsletter
Decor Ideas. Project Inspiration. Expert Advice. Delivered to your inbox.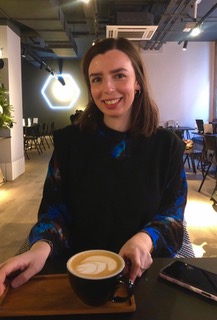 Zara joined Homes & Gardens in February 2022 as a Content Editor. After studying English Literature at University, she worked as an Ecommerce Website Editor, Content Writer and Buying Intern at multiple independent businesses within the luxury retail and lifestyle sectors. Her role at Homes & Gardens unites her love, experience and passion for the world of design and desire to create inspiring written content. She enjoys nothing more than discovering new trends, brands and products, whether that be in fashion, interior design or lifestyle.