Which kitchen sink is easiest to maintain? Professional cleaners have this vital advice
Save yourself time and energy in the future with these low-maintenance kitchen sinks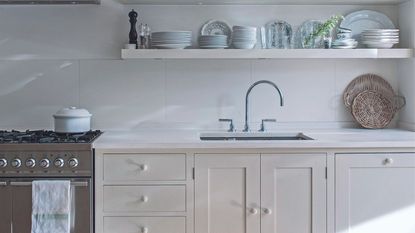 (Image credit: Jody Stewart)
Keeping a kitchen clean can be a difficult task. With kitchens remaining one of the main social hubs of the home, installing appliances and fittings that are easy to maintain such as the best type of kitchen sink is a must if you don't want to spend all of your time cleaning.
While many people want their kitchen sink ideas to look beautiful, their function and practicality should rate equally as high on your kitchen priority list. Knowing how to clean a kitchen sink will be helped along by an easy clean material, making cleaning a kitchen a quicker and far easier process.
Here, kitchen experts and professional cleaners have shared their knowledge so that you can pick the best type of kitchen sink for easy maintenance.
What type of kitchen sink is easiest to maintain?
Knowing which kitchen sink is best for your kitchen can come down to a range of factors such as its aesthetic value and size. However, choosing a sink that will stand the test of time with little maintenance will not only provide you with the best value while preserving precious time that would otherwise be spent cleaning. While you might not be able to make cleaning a kitchen sink drain any easier, this simple task will make a huge difference to your to-do list.
To quickly update a kitchen and make it easier to manage day-to-day, replace a kitchen sink with an easy-to-care-for material for an instant room refresher.
1. Swap to a stainless Steel sink for an easy all-rounder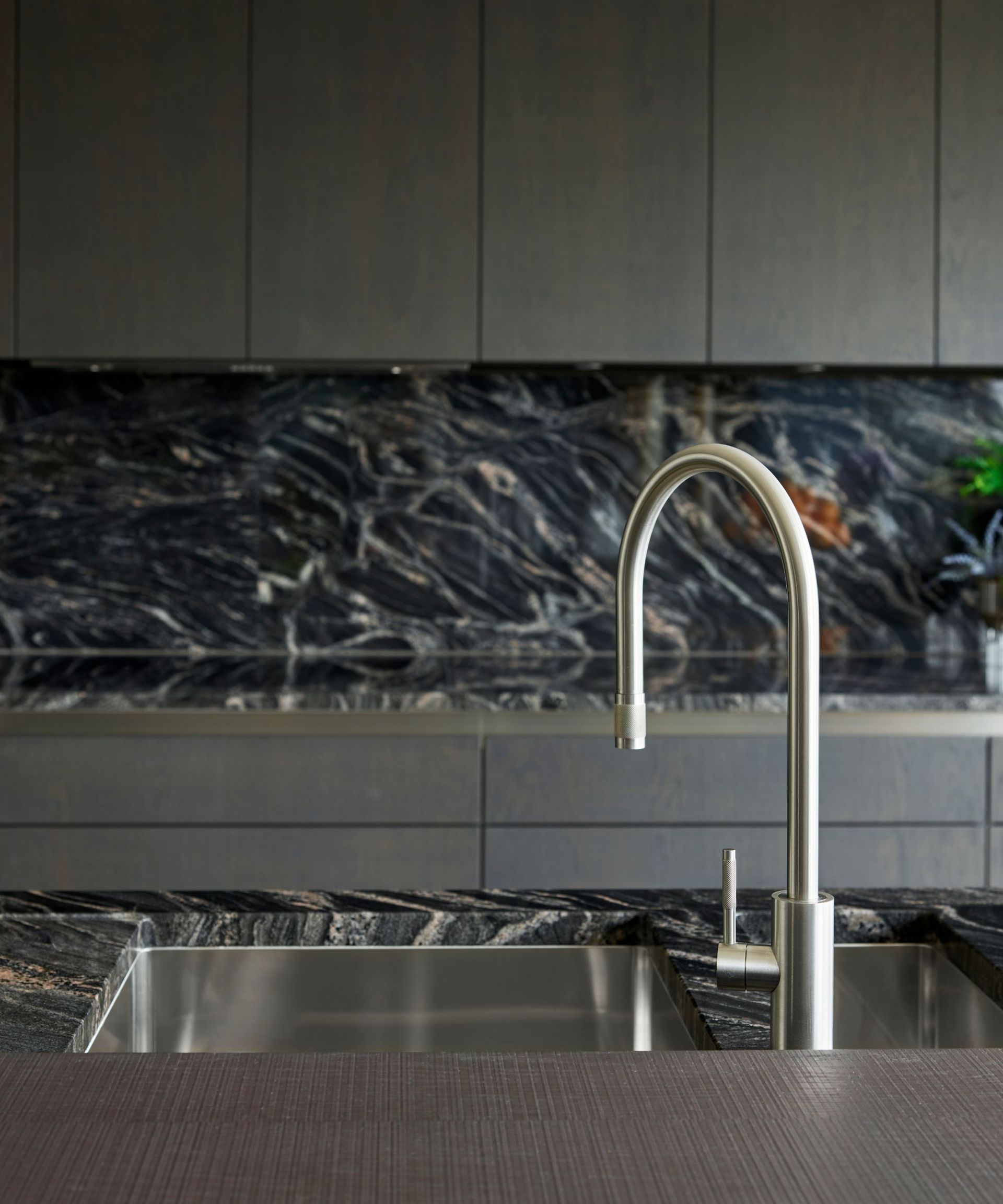 'I've found that stainless steel kitchen sinks are the easiest to maintain,' says professional cleaner Sara San Angelo, The Cleaning Lady. 'They are durable and easy to clean. Usually, you only need soap and water to clean them.'
There is not much to know about how to clean a stainless steel sink as their non-porous material makes them easy to maintain with extra cleansing steps only needed if your sink somehow becomes stained or you want to add extra shine.
'If you experience any discoloration with your stainless steel, including hard water stains, use Bar Keeper's Friend to clean it,' Sara suggests. 'It will make it shine like new. This also goes for porcelain. Bar Keeper's Friend is great on porcelain. If you have an acrylic sink, they are prone to scratches so don't use an abrasive cleaner or scouring pad on them.'
For a tougher clean, consider making your own homemade kitchen cleaner with liquid dish soap and baking soda to freshen up your kitchen sink and keep it sparkling for longer.
2. Fit a fireclay sink for a hardy kitchen fitting
A fireclay sink is a type of ceramic sink that is incredibly durable and long-lasting. These molded sinks are created under extreme temperatures, hence the name, meaning that they are able to withstand the daily rigors of the kitchen year on year.
A fireclay sink is a wonderful low-maintenance alternative to a porcelain sink while maintaining a seminal visual aesthetic for your kitchen ideas.
A fireclay sink will not chip easily, but if it does, it can be repaired.' says Nigel Palmer, marketing director at Shaws of Darwen. 'You will need to buy a repair kit. We recommend Porc-A-Fix Touch Up Glaze but there are alternatives. The kits come in various tones to match different sink finishes. If the chip is particularly deep, you will need filler too.
'The application is straightforward. First, the area must be thoroughly cleaned of dirt and grease.' To clean a fireclay sink simply wipe down with a soft cloth with warm water and liquid dish soap. For a more thorough clean, such as when preparing for a repair, fireclay sinks are one of many things you can clean with vinegar.
'Light sanding within the chip will help the bond,' continues Nigel. 'Most kits include an applicator brush, but if the chip is small apply slowly and carefully with a toothpick. The glaze doesn't shrink on drying, so ensure the entire chip is filled. If you go wrong, wipe off and start again. Leave for at least 24 hours to cure, then use the sandpaper provided to buff to a smooth surface.
'Don't expect the repair to be completely invisible,' Nigel warns. 'but it will greatly extend the life of your sink. Think of it as adding to the story of a wonderful, handmade, traditional product.'
3. Opt for a non-porous material for a flawless finish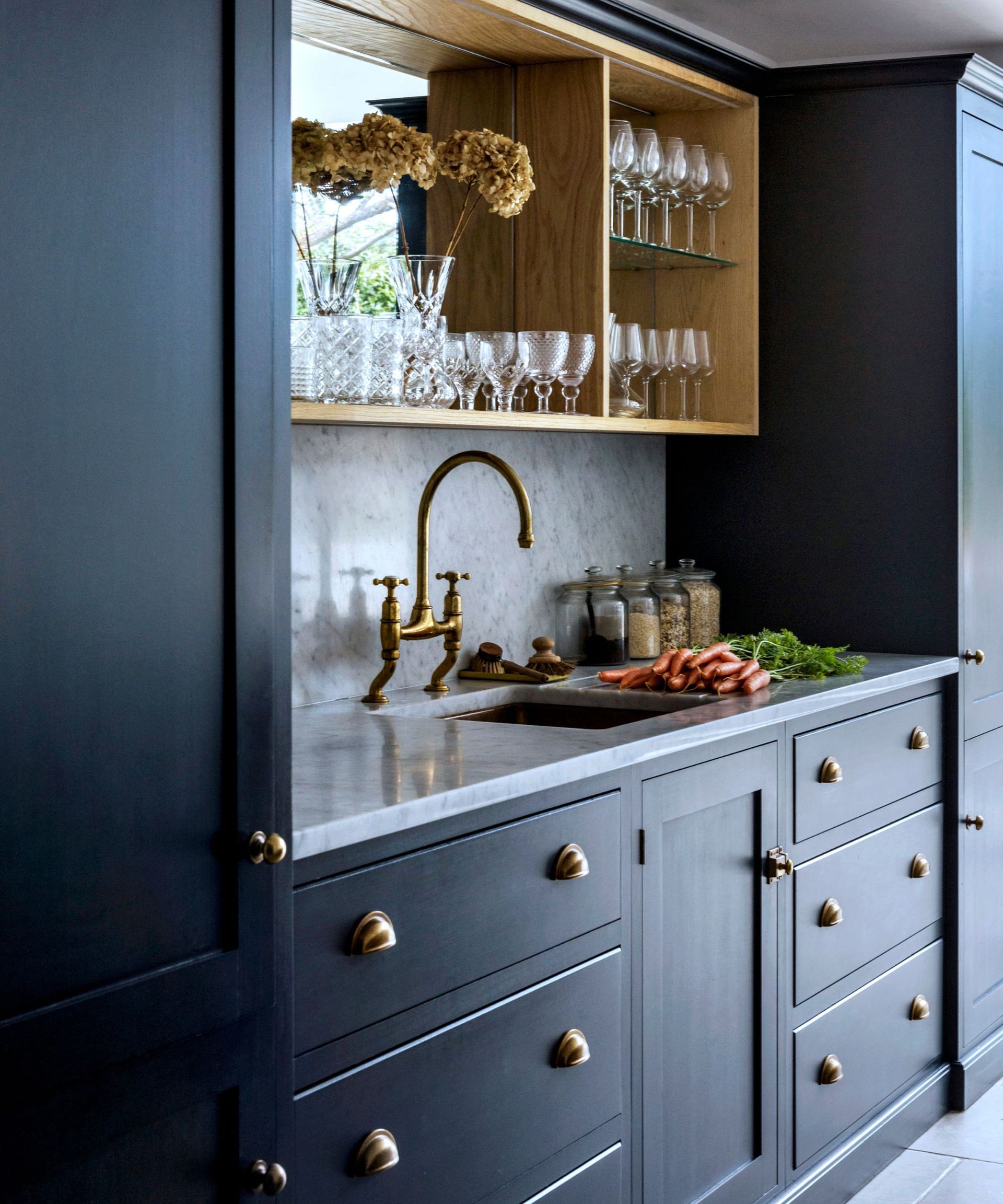 When it comes to designing a kitchen sink space, the desire for a low-maintenance sink is often coupled with a desire for a statement sink that will elevate your kitchen space. In a small kitchen, the right sink can even help to make a small kitchen beautiful. If the standard fireclay or stainless steel sink is not for you, there are a few other non-porous options that can instantly lift your space while remaining easy to look after.
'The easiest kitchen sink material to maintain is going to be one made of stainless steel, copper, cast iron or enamel because they will not support microbial growth as they are not cellulose material,' says Darren Hudema, director of training and technical services at PuroClean. Copper sinks are a great alternative to the brass sinks trend as they do not oxidize as quickly.'These materials are non-porous meaning they don't hold debris and are not prone to microbial growth, more commonly referred to as mold,' Darren continues.
'A common household item that is also one of the best ways to clean a sink is white vinegar. The vinegar naturally disinfects while eliminating hard water stains. When it comes to cleaning you don't always need complex supplies; regularly cleaning your sink with warm water and soap and drying after will get the job done just fine.
The most important part of your sink to clean is around the faucet and the crevices around the edges of the sink, which are prone to microbial growth if there is a moisture issue. Routinely checking to make sure the area around your sink is dry and free of leaks will prevent mold from growing.
'A general cleaning note: chlorine bleach is also popular for cleaning non-porous surfaces, such as sinks, bathtubs, tiles, or glass, because it easily wipes off unwanted bacteria, but mixing chlorine bleach with any cleaning agents containing ammonia, drain cleaners, cleansers or any other similar chemical can produce chlorine gas, which can be very harmful to health,' warns Darren.
What is the most stain-resistant kitchen sink?
The most stain-resistant sink is a stainless steel sink. A stainless steel sink is the most durable and low-maintenance kitchen sink as they are resistant to heat, stains, and scratches. What's more, they are also some of the most versatile sinks coming in a variety of styles and sizes meaning they fit in most kitchens easily no matter the size or style.
Sign up to the Homes & Gardens newsletter
Decor Ideas. Project Inspiration. Expert Advice. Delivered to your inbox.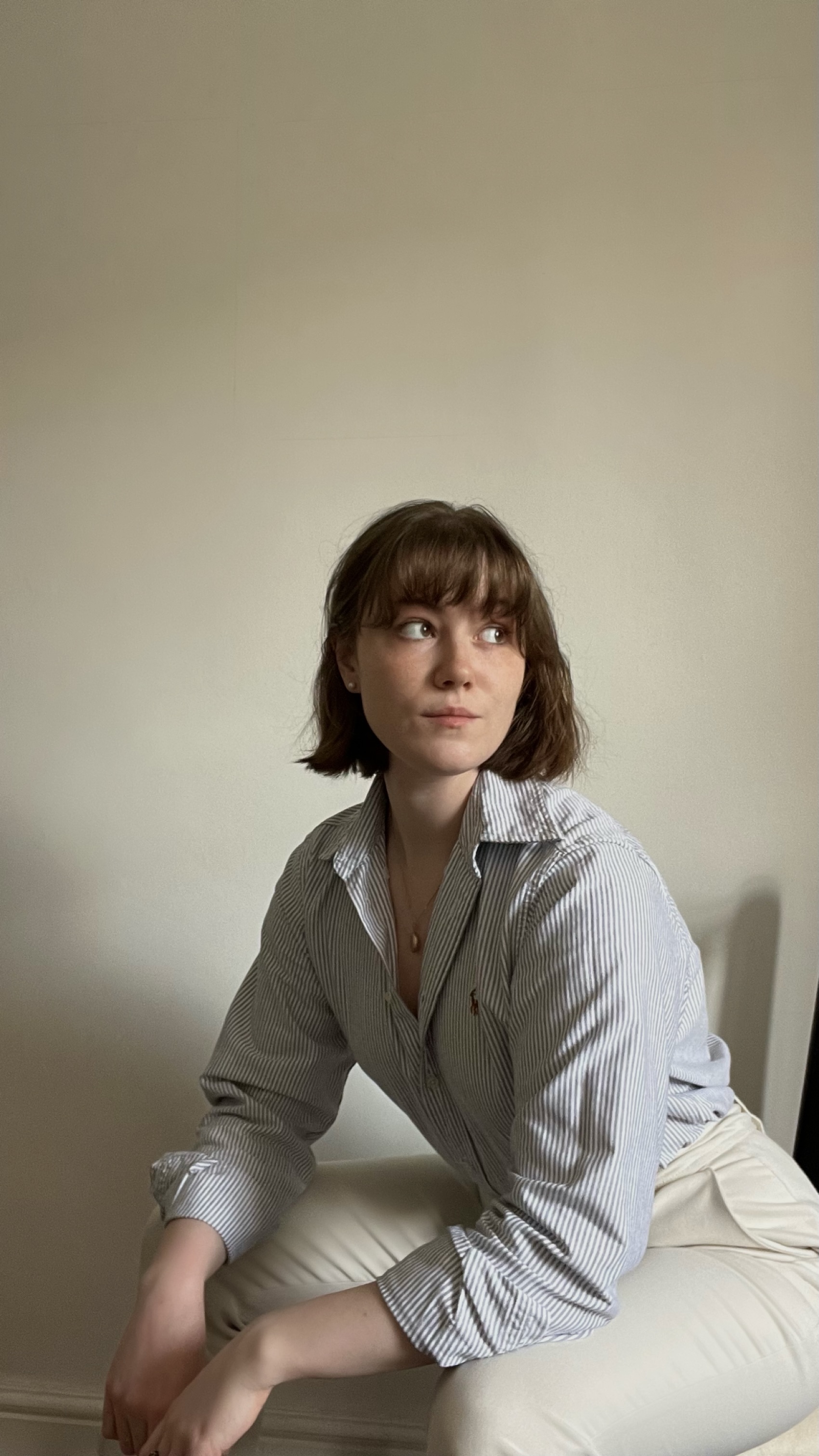 Chiana has been at Homes & Gardens for a year, having started her journey in interior journalism as part of the graduate program. She spends most of her time producing content for the Solved section of the website, helping readers get the most out of their homes through clever decluttering, cleaning, and tidying tips – many of which she tests and reviews herself in her home in Lancaster to ensure they will consistently deliver for her readers and dabbles in the latest design trends. She also has a first-class degree in Literature from Lancaster University.