Wine room ideas – 10 ways to store and display red, rosé and white
Discover wine room ideas to keep a prized collection of bottles in tip-top condition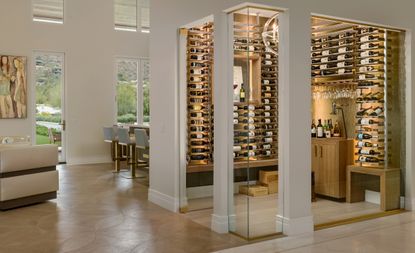 (Image credit: Heritage Vine)
Connoisseur looking for wine room ideas to keep bottles in optimum condition? If you have the space, a dedicated wine room, custom built to accommodate a vast stock is definitely worth investing in.
In older properties, kitchen storage ideas traditionally included underground wine cellars – dark, closed stone-built spaces with no noise or smells, and well ventilated to avoid damp and musty odors contaminating the wine.
But a new generation of wine rooms based above grade as well as below is now available and these ideas are sure to inspire.
Wine room ideas
There are a multitude of wine room ideas so you can avoid keeping precious bottles on racks or kitchen shelving, or filling up the refrigerator, including under-stair storage zones which utilize unused space and glazed-off corners of the kitchen.
High quality wine storage means a collection can be preserved properly for years to come with coolers set at different temperature zones to accommodate whites and reds.
These custom-built pieces of kit – or rooms – can be fitted out with bespoke storage including shelving, cabinets and barware (there may even be room to squeeze in a bar table and stools) with priority given to good task and ambient lighting.
1. Build in a stylish bar
Slick and stylish, this wine room formed part of a large house renovation of a historic Queen Ann house. Originally a long, thin store room, the ground floor space was extended at the rear to provide more square footage plus a new access route.
'The clients initially wanted this space to be the gym which I advised them against,' says interior designer Janey Butler. 'We suggested it become a wine room which could take advantage of the original arches and view from the formal lounge.'
Using sleek black ash, the luxe room now links to the latter along with a contemporary snug and also the Bulthaup kitchen. The look is elevated with Crittall doors and windows fitted into original brick arches, Gaggenau refrigerators, an automated lighting system and a specially sourced, organic edge slab of burl poplar for the perches.
'The owners love their wine and are big on entertaining with their large family and friends,' adds Butler. 'The idea behind the waney edge bar was so that wine and cheese could be sampled – it's a lovely place to sit.'
2. Opt for a spectacular wine cupboard
A temperature-controlled wine cabinet can be accommodated alongside kitchen storage cupboard ideas and this design is utterly spectacular – and the perfect party showstopper for this family kitchen in Québec. Inspired by honeycomb cells, the bespoke piece is made up of perfectly aligned, laser-cut panels which create the right depth to hold the wine bottles.
It features its own adjustable temperature control (which can be changed according to what type of wine is stored) and a frosted glass back panel fitted with built-in dimmable lighting that can be switched to over 14 mood colors, depending on time of day or social occasion.
'The client wanted a wine cellar, but in his kitchen, as no other rooms were available,' says Jonathan Primeau, founder of CellArt. 'They wanted it seamlessly integrated but with a little punch. The exterior wood was lacquered to exactly match the color of the surrounding kitchen cabinets.'
The custom made Thermo doors are made of thermal glass – two sheets of glass separated by an insulated space filled with gas. This insulating gas reduces the amount of heat transferred between the interior and exterior and allows the cellar space to be perfectly sealed from the rest of the room.
3. Zone off an awkward corner
Make organizing a kitchen easier by using a corner for wine room ideas. The awkward space in this bespoke kitchen has been reinvented by positioning a wine storage room in this unused area. The result is now a focal point of the room (made from wood, Perspex rods and countertop material) and the perfect spot for the owner to store and show off his wine collection.
'A fully glazed door allows the walk-in wine room to be enjoyed from all angles,' explains Tim Higham of Higham Furniture, 'and the pale oak shelves and fittings within are a lovely contrast against the darker gray cabinets.'
4. Go underground
If you don't have the room upstairs, luxury underground wine room ideas are a space-saving solution for storing wine – and don't require an existing underground cellar or basement. Fitted into the ground (under any ground floor room), the concrete construction and built-in natural ventilation combine to create the right temperature and humidity conditions for optimum wine storage.
'People are always pleasantly surprised when I tell them that a Spiral Cellar can be installed in less than nine days – it looks so impressive they assume it would take much longer,' says Lucy Hargreaves, managing director at Spiral Cellars. 'The real beauty of the cellar is not only does it provide perfect cellaring conditions to store 1,900 bottles of wine, but the descending spiral design creates a really stunning feature in the home.'
5. Swoon over a traditional wine cellar
Wine aficionados will adore this original wine cellar, part of a stately property called Benham Park in Berkshire. The restoration was part of a project by interior design studio Albion Nord.
'The wine cellar has the most incredible, brick-vaulted ceiling and wonderful, untouched floor,' says Ottalie Stride, creative director at Albion Nord. 'The original niches have been lined with limewashed oak drawers and backlit to create a warm, low light. A French oak dining table and trestle benches seem right at home in there. This room would be wonderful to have an intimate dinner with a sommelier talking you through it all.'
6. Take the under-stairs space
Small kitchen storage ideas will make the most of the room, but where to locate a wine room? The space underneath the staircase is one possibility. It can be transformed into a neat wine storage cabinet, complete with invisible wall racking to hold a prized wine collection. The soft glow of the LED strip lighting seen through a transparent, frameless glass door create a seriously cool feature in this design and it's practical and beautiful all at once.
7. Set up a cellar bar
This basement room, with direct access to a wonderful, sunken, walled garden, bedecked with greenery and ferns, was transformed into a stylish, French-inspired cellar bar. Star of the show is deVOL's Curiosity Cupboard (painted in slick Printer's Black with a pale blue interior) which can hold up to 180 bottles of wine, with separate spaces for magnums and shelves for liqueurs and spirits.
'A glazed wall cupboard for glassware, a freezer and wine fridge and a Carrara marble worktop finished off this little area,' explains Helen Parker, deVOL's creative director. 'The customers had managed to find a vintage Tabac sign on eBay; it came over from France and they got it renovated and attached to a pale painted brick wall to finish off the whole bar look.'
8. Add a glazed showpiece
Bespoke wine room ideas can display a wine collection to best advantage, and this spectacular creation has capacity for over 600 bottles of wine.
'The homeowner wanted a showpiece in the center of their home that was modern, but warm at the same time,' says Jamie Dunjey, president of custom wine cellar company Heritage Vine. 'We did this by opening the cellar up, bringing it out of the basement and into the limelight. They also wanted their cellar refrigerated to 55 degrees to preserve the wine for years to come. This can create challenges with glass cellars as you can always run the risk of under sizing a cooling system, leading to moisture building up on the glass.'
The company's expertise created a split cooling system, engineered to prevent any condensation forming.
'We used natural black American walnut for the wine racking to give the room warmth but incorporated brushed aluminium rods into the design to bring a more modern feel,' adds Jamie. 'Warm white LED lighting was incorporated behind the racking system to create a glow that makes a perfect ambient environment for night time entertaining.'
9. Create a dark wine store
Part of a larger orangery project, this bespoke wine store is a beautifully designed space for the wine connoisseur homeowners. Finished in oak and black lacquered tulipwood with a black granite worktop, it has everything needed to store bottles in optimum condition including a strong exterior grade timber door that has been double glazed to help maintain temperature and humidity.
'The dark and enchanting wine room, hidden behind a glazed door, creates a drama and mystery like no other,' says James Upton, managing director of Westbury Garden Rooms. 'Paired with the warm glow of theatrical lighting, it is a great way to artfully display spectacular wine collections. These contemporary rooms can be installed into existing spaces within the home, requiring full insulation and a humidifier to maintain the correct conditions.'
10. Turn wine into wall art
This is a fabulous way to store and display a wine collection: a pair of living room alcoves has been transformed into design-led cellars that magically reveal hundreds of bottles of wine at the touch of a button.
Creating a super-cool wall installation on first glance, the modern, curved shelves behind the thermo doors hold 34 bottles each. Then, when the automated swivel cabinets are operated, around 800 bottles are discovered in the 'hidden' cellar behind: the cabinets have separate temperature controls, one for reds and one for whites/champagnes.
'It was created for a house with an English-Victorian style mix – lots of moldings and a splash of color,' says Jonathan Primeau of CellArt. 'The objective was to create a design that could be seamlessly integrated in the living room, but that could also bring an element of surprise that clashes with the rest of the house. When we turn on "wine mode" with the automated swivel furniture, we wake up something we really didn't expect.'
What is the difference between a wine room and a wine cellar?
The difference between a wine room and a wine cellar is primarily to do with location – cellars are underground while rooms are upstairs in the living zone. These days it is becoming more popular to move wine storage from a basement into the main household space. Today's walk-in wine rooms are often located in prominent areas such as the dining room or living room and are like modern works of art with glass doors, LED lights and luxurious materials. Underground wine cellars can vary too – from traditional brick rooms with arches to slick glass constructions.
Should wine be stored vertically or horizontally?
Wine bottles should always be stored horizontally at a 45 degree angle with the cork facing down. Keeping wine on its side helps keep the cork moist, which is key for longevity, as a dried-out cork can cause seepage and premature ageing. If possible, store wine in a dark and dry place; if you can't keep it out of the light, keep the bottle inside a box or wrapped in cloth.
Sign up to the Homes & Gardens newsletter
Decor Ideas. Project Inspiration. Expert Advice. Delivered to your inbox.
Lara has worked in the ever-changing world of interiors and lifestyle journalism for many years. She cut her teeth in a busy newsroom of a kitchen and bathroom business title where she gained vast product knowledge and industry contacts that would prove invaluable. She now freelances for a variety of magazines, newspapers and online blogs and relishes the changing landscape of the interiors world