How do you organize shoes in a small space? 8 solutions organizers swear by
These solutions for organizing shoes in a small space are perfect for making use of even the most impractical of corners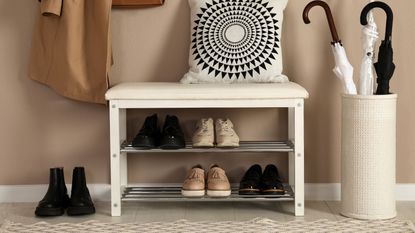 (Image credit: Getty Images)
Keeping your shoes organized is tricky at the best of times, but it can be made worse when you only have small or narrow spaces to work with.
Organizing shoes in small space storage is not impossible, however, especially when you know how to make the best use of the space you have – and get out of the habit of throwing your shoes into a homogenous pile on the floor.
Organizing shoes in a small space
We have picked the brains of professional home organizers to learn how they approach small shoe storage so we can share their best organizing ideas with you.
1. Declutter first
It should go without saying that when organizing small spaces, decluttering should be your first move. This is especially important when it comes to shoes, one of the most overbought and neglected accessories in many of our homes.
Using a common decluttering tip for clothing, start by taking inventory of your collection and sorting them into piles of ones you regularly wear and those you tend to leave behind, suggests professional home organizer, Britnee Tanner. A third pile should be reserved for shoes that are looking a little worse for wear. From your pile of barely-worn shoes, take out any that look similar to pairs you wear more often, and shoes that are not comfortable and you never broke in – if you haven't broken them in by now, you likely never will!
'Once you edit out the shoes that you no longer need, count how many shoes you have left to organize,' Britnee says 'This will help you to then pick the best storage solution for your collection.'
2. Maximize vertical space
Vertical space is a home organizer's best friend, whether it be on the backs of doors, covering the walls, or hanging from clothing rails in closets. This type of storage is perfect for keeping shoes in small spaces such as a tall but narrow entryway closet, for instance, 'maximizing space by keeping shoes off the floor and easily accessible inside closet doors.' explains Buffy Werle, owner and lead organizer at B Organized Today.
'I like to opt for organizers with adjustable shelves or pockets that can accommodate different types of shoes, such as heels, flats, or sneakers,' Jackie Pittman, professional organizer and founder of Chez Nous Organizing shares, 'but any storage solution that allows you to see into the pockets and identify the shoes you have is perfect. Personal favorites of mine come from Target, such as this 26-pocket door organizer for large shoe collections, or this streamlined metal door shoe organizer from The Container Store that keeps shoes out and in the open.'
If adding hardware is not an option, then a hanging organizer, such as this from The Container Store is another excellent alternative to keeping shoes in an organized closet – ideal for putting together an outfit in the morning, Buffy Werle adds.
Buffy Werle holds a bachelor's degree in Organizational Behaviour, a course that allowed her to hone her skills for time management and understanding unique personal issues. The result is a personalized organizing method that helps even the most disorganized of clients establish personal motivation and achieve organizing success.
3. Use multipurpose furniture to conceal shoes and save space
Multi-purpose furniture has been making its way into even the most high-end of interior design in the last few years, and for good reason. These fashionable storage solutions contain clutter while also offering something beautiful to your interior decor.
When decorating small spaces, a multi-purpose ottoman or trunk is a great way to keep shoes in check without compromising on the need for smart seating – an essential you need in a home entryway or at the base of your bed.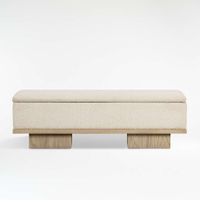 Brighton Upholstered Bench | $999 at Crate & Barrel
This multipurpose ottoman with storage is custom-made to order, offering a perfectly stylish and personal option for storing shoes in tighter spaces.
4. Use clear stackable shoe boxes to zone space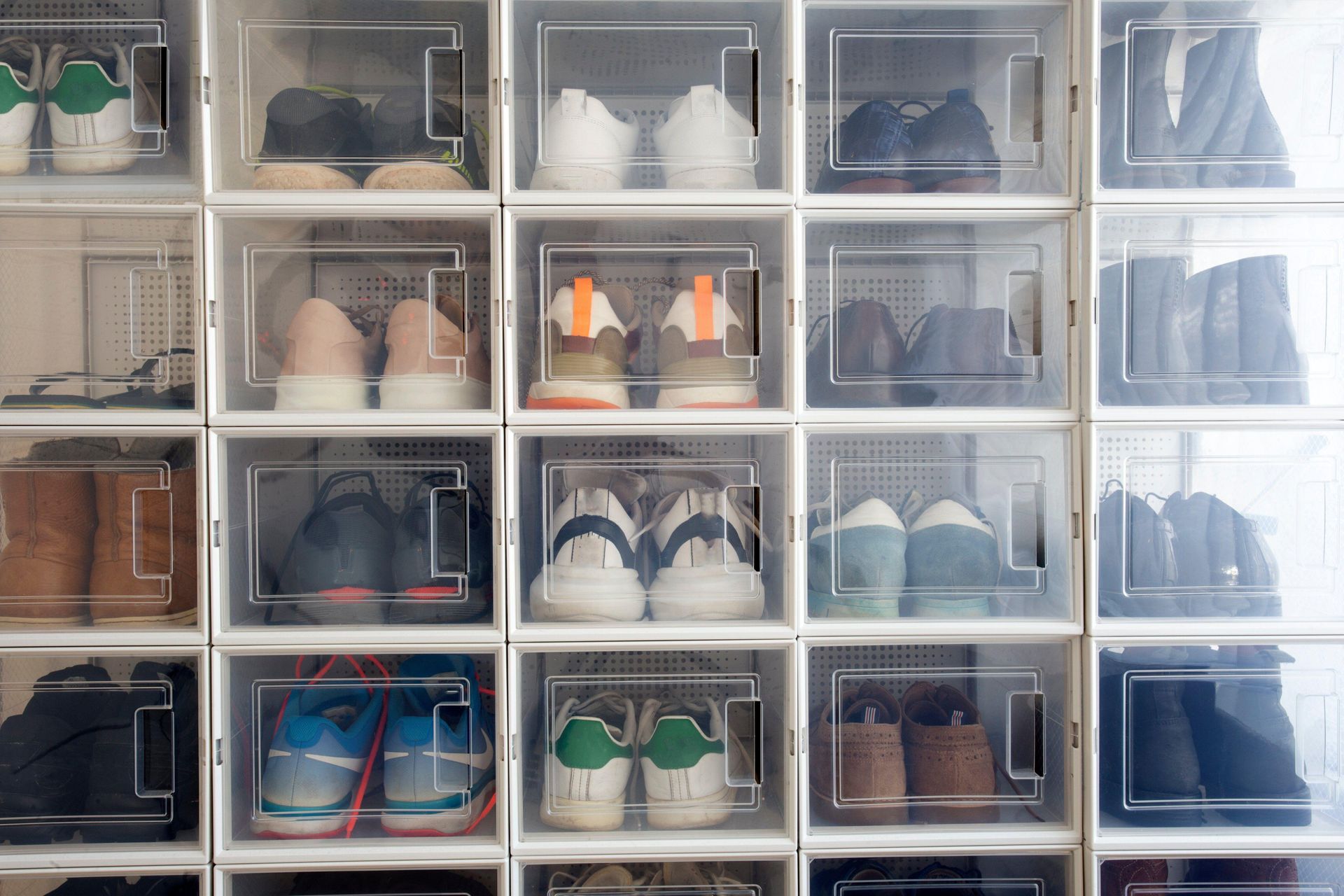 If you are working in a small space then adding in plastic containers may not be the most logical solution, but stackable shoe bins and garages are perfect for preventing the unorganized chaos of a pile of shoes on your hallway floor – a closet organizing mistake that actually uses more space than adding organizers!
'Try to find stackable, transparent shoe boxes that allow you to easily see the contents inside, making it easier to locate the pair you want to wear. I recommend ones with drop fronts, like these from The Container Store, so that you don't have to remove shoe boxes from a stack,' organizer Jackie Pittman recommends.
'My one note for this is that it often requires different size boxes and a bit more planning than just buying a bunch of boxes.
'It is worth noting that adding plastic bins to your home is not one of the most sustainable ways to organize your home, but there are more eco-conscious options popping up on the 'home organizing' market that make great alternatives if you are concerned about bringing more and more plastic into your home,' Jackie highlights.
Jackie Pittman is the owner of Chez Nouz organizing, having started her business after making multiple cross county moves and becoming familiar with the process of cutting back belongings and organizing the essentials of everyday life.
5. Divide shelves to make small cubby holes
In small spaces, shelves offer a great storage spot for accessories like shoes but they can quickly become disorganized as pairs fall over or are shoved to the back. The solution? Investing in shelf dividers to make your own personalized cubbies to prevent them from getting 'mixed up or tangled', suggests professional organizer Barbara Oldham, founder of The Inspired Home by B. These dividers can even help you to organize your shoes by shape, type, or color, she adds, for a truly Pinterest-worthy shoe collection, she adds.
If you do not have a wall-mounted shelf or live in a rented space where wall shelves are not an option, then bookshelves can do a similar job.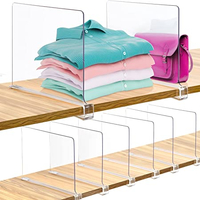 Acrylic Shelf Dividers | Was $34.99, Now $31.49 at Amazon
This pack of eight shelf dividers is perfect for slotting onto shelving to keep shoes separate and prevent disorganized shoe mountains. They are also loved by Amazon shoppers.
6. Use a slim shoe cabinet
As the number of small-space dwellers increases, so do the options for shoe storage on a tight footprint. A popular solution is shoe drawers, popularized by furniture giant IKEA, says professional organizer Jackie Pittman.
'The Hemnes shoe cabinet from IKEA does an amazing job at concealing shoes and streamlining a space. I often recommend them for clients with small spaces for their most frequently worn shoes with seasonal options or lesser-worn pairs kept in their bedroom closets.'
There are plenty of IKEA hacks you can use to spruce this wall-mounted organize up your self too, if you fancy some fun DIY projects for a weekend.
7. Use shoe risers to double your space
Shelf risers are another popular home organizer professionals always use to help save space, with specialized options available to help stack shoes without crushing or otherwise marking the tops by stacking them directly on top of one another.
These shoe risers from Amazon are great to double your shoe storage space without halving your shoe collection – it really is a win-win for shoe collectors.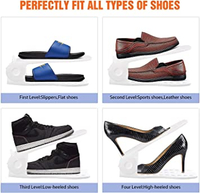 Shoe Risers | $38.59 for 16 at Amazon
These handy adjustable shoe organizers are great for doubling your shoe storage without damaging your shoes.
8. Rotate shoes seasonally
A common misconception about storage is that everything of the same item needs to be kept together in one space. While this is certainly an ideal it is often not practical in particular tight spots. As a result, it is a good idea to separate your shoes by season, organizer Barbara Oldham says, leaving your out-of-season shoes elsewhere in your home such as under the bed or even in the attic, and your most worn shoes by the door.
FAQs
How do you organize too many shoes?
If you find yourself owning too many shoes, then the best way to start organizing them is to declutter. Get rid of pairs that are looking a little worse-for-wear, that you do not reach for, or pairs that look similar to other pairs that you find more comfortable. Try to be ruthless, opting for a decluttering challenge such as the 10-second rule where you have 10 seconds to make a decision. After decluttering, you should have fewer shoes to organize making storing them simpler.
Where is the best place to keep shoes at home?
There are a few ideal spots to keep your shoes at home, with the most useful being in your entryway or mudroom nearest to the front door to make leaving the house simpler. Try to avoid keeping your shoes in multiple different places around the home as this can lead you to forget pairs or lose pairs and make your organizing system less efficient. The exception, of course, may be the odd pair of formal shoes that you only wear for special occasions.
---
According to these professional tips, when organizing shoes in small spaces, it should be a priority to conceal the shoes within a storage unit, such as inside an existing cabinet, inside a multipurpose ottoman, or a shoe storage cabinet to help clear walkways, reduce visual clutter and, ultimately, make a small entryway look bigger.
Sign up to the Homes & Gardens newsletter
Decor Ideas. Project Inspiration. Expert Advice. Delivered to your inbox.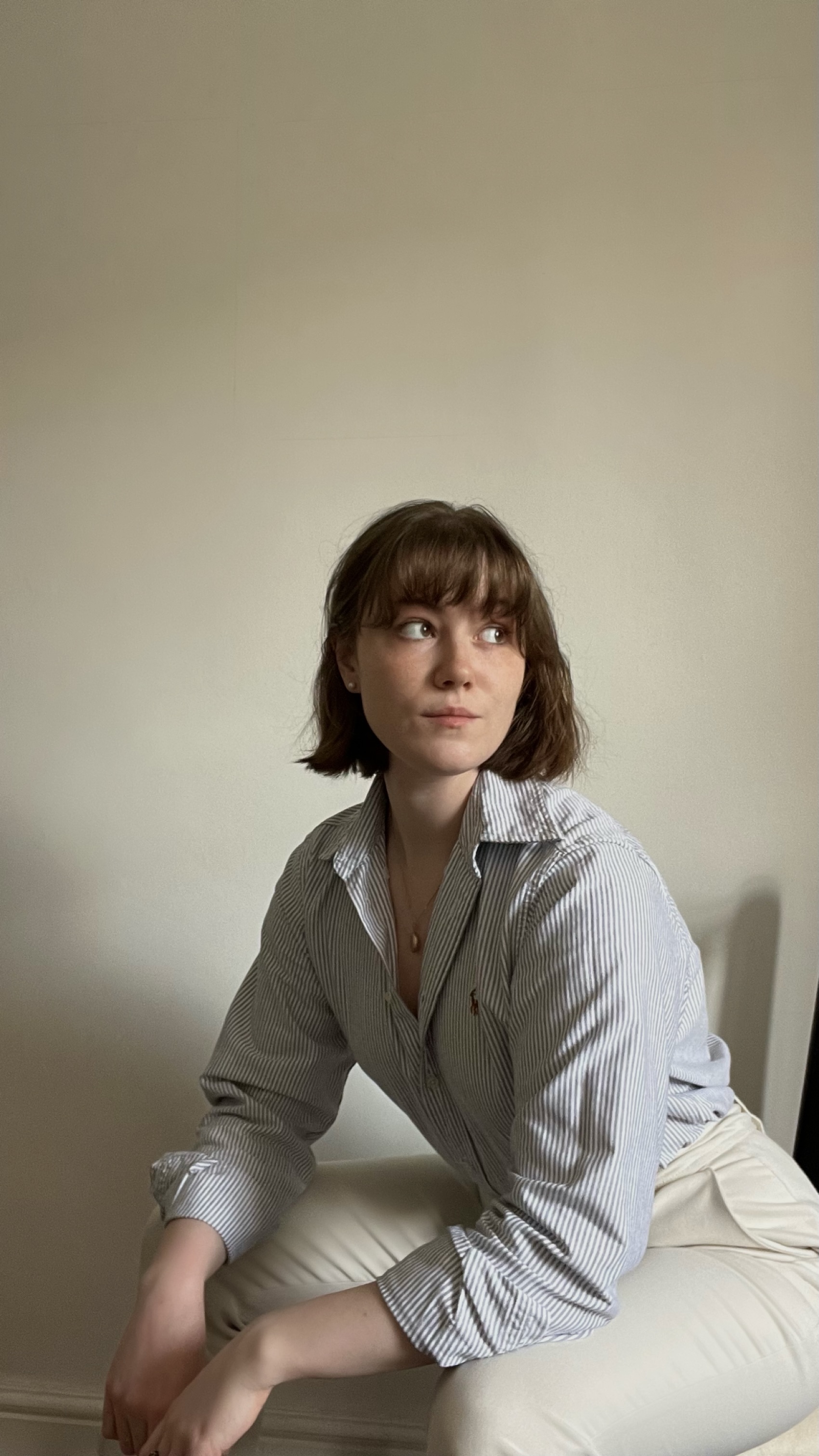 Chiana has been at Homes & Gardens for a year, having started her journey in interior journalism as part of the graduate program. She spends most of her time producing content for the Solved section of the website, helping readers get the most out of their homes through clever decluttering, cleaning, and tidying tips – many of which she tests and reviews herself in her home in Lancaster to ensure they will consistently deliver for her readers and dabbles in the latest design trends. She also has a first-class degree in Literature from Lancaster University.