How can I make my small entryway look bigger? 7 helpful tips for a small space
From the paint colors you choose to the right storage solutions, explore how you can make your small entryway look bigger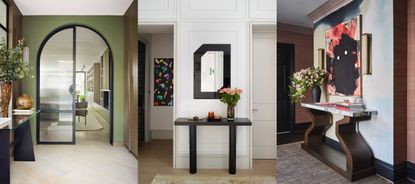 (Image credit: Gunter & Co | Rachael Smith Photography | Stephen Karlisch / Kathleen Walsh)
Sign up to the Homes & Gardens newsletter
Decor Ideas. Project Inspiration. Expert Advice. Delivered to your inbox.
Thank you for signing up to Homes & Gardens. You will receive a verification email shortly.
There was a problem. Please refresh the page and try again.
Do you want to make your small entryway look bigger? We are on hand with a collection of inspiring ideas and expert tips so you can make the most out of, what we think, is one of the most important rooms in the home.
A busy transitional space, many of us have small entryways, and it takes a lot of careful planning to create an environment that both looks beautiful but is also, incredibly practical.
From enhancing the room with fresh paint ideas to cleverly decorating with mirrors and sleek furniture, looking into how you can make your small entryway feel bigger will only make for a more inviting and welcoming point of entry into the home.
How can I make my small entryway look bigger?
Whether your looking into how you can make a narrow entryway feel bigger and wider, or you've just moved into a new home and your old entryway ideas need to be refreshed to cater to a smaller space, explore our expert guidance below.
1. Consider your color scheme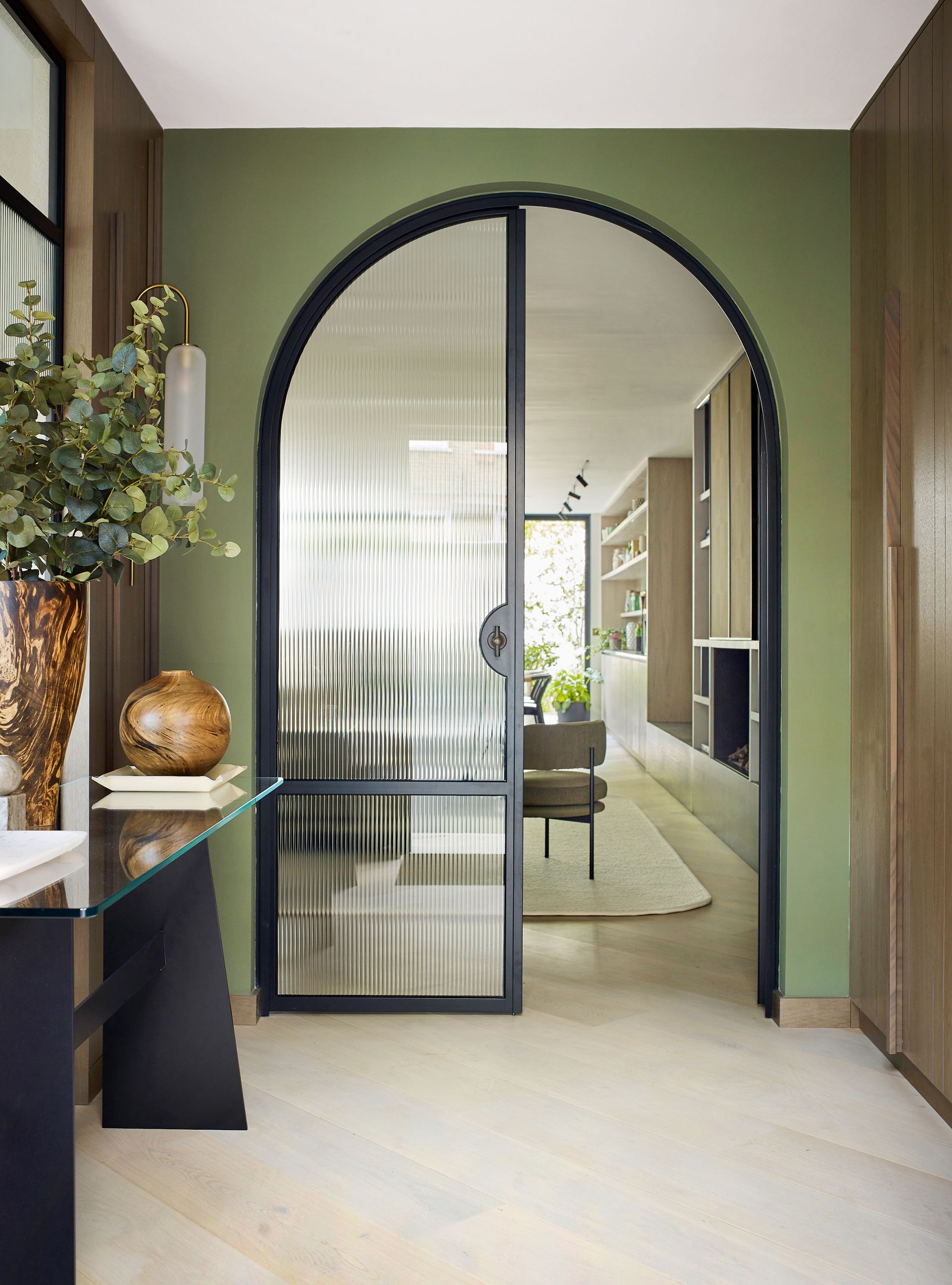 'Trusting your instinct is really important when working with color. You should surround yourself with colors you are drawn to and make you happy – just as you do with your wardrobe,' says Clara Ewart, head of design at Kitesgrove.
We are often advised to leave small rooms bright and white in order to make them feel bigger, however, the power of paint really can be transformative in a small space. Not only can the right entryway paint ideas help to make your entrance feel bigger and spacious, but they can also create a wonderful, colorful welcome into the home.
Sarah Lloyd, senior brand manager from Valspar Paint says, 'adding color to your hall or entryway can give a strong character to a transitional space often forgotten, as well as helping to open up a narrow space. To reduce a long tunnel effect in your entryway, use green tones, such as Valspar's bright Gentle Green in a mid-sheen finish, which will help to reflect as much light as possible and create a shimmery glow.
You can embrace color without always opting for maximalist tones, too. By using pale mint green and muted natural shades, such as Valspar's Serene Scene, this gentle splash of color will also help to brighten up a narrow passageway.'
Helen Shaw from Benjamin Moore also supports this and says, 'entryways and hallways are often narrow spaces that lack natural light. If you want to introduce color without going too dark on the walls, consider pale warm greens or yellows.'
Clare is the head of London-based interior design studio, Kitesgrove. The practice work on a variety of projects, from private client homes and family offices to residential and commercial spaces.
Color and paint expert Sarah Lloyd is a senior brand manager at Valspar and has worked for the paint brand over the last 3 years.
2. Make the most out of mirrors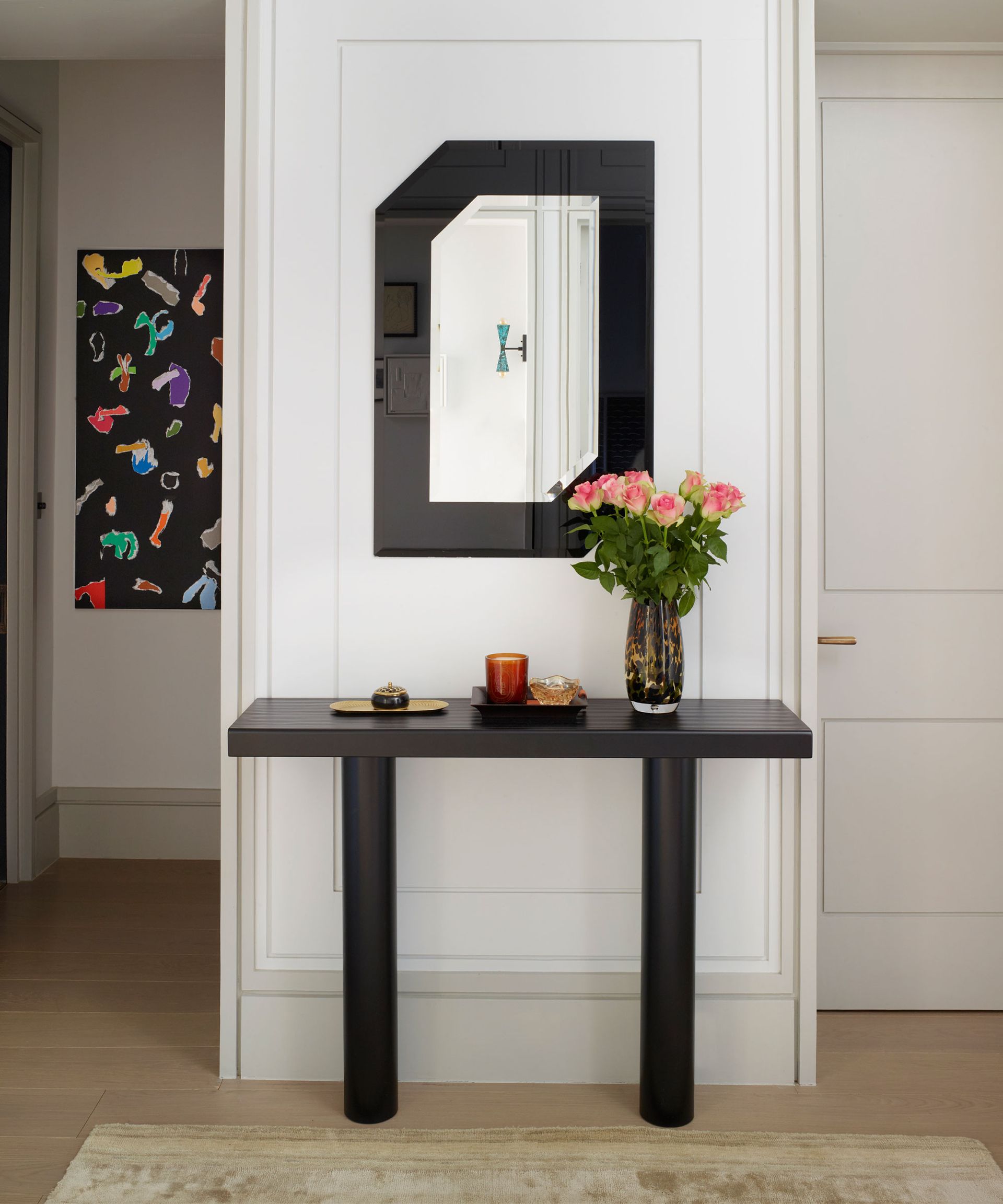 Decorating with mirrors can not only add beautiful decoration to an empty wall space, but mirrors are also brilliant for making small spaces feel lighter, brighter, and bigger.
Whether you incorporate a full-length mirror beside your front door or add a more ornamental, decorative design above a console table, a mirror will not only provide a practical area for you to check your reflection before you leave your home, they can work wonders and make a small entryway look bigger.
Beautifully crafted from rattan and wicker, this natural design can add a warming, rustic element to your entryway, we also love the curvaceous, scalloped silhouette.
Modern Leather Round Hanging Mirror
A simple and timeless strap mirror design, the modern mirror has been crafted from wood and faux leather, and can add a subtle, nautical look to your entryway.
3. Choose clever storage solutions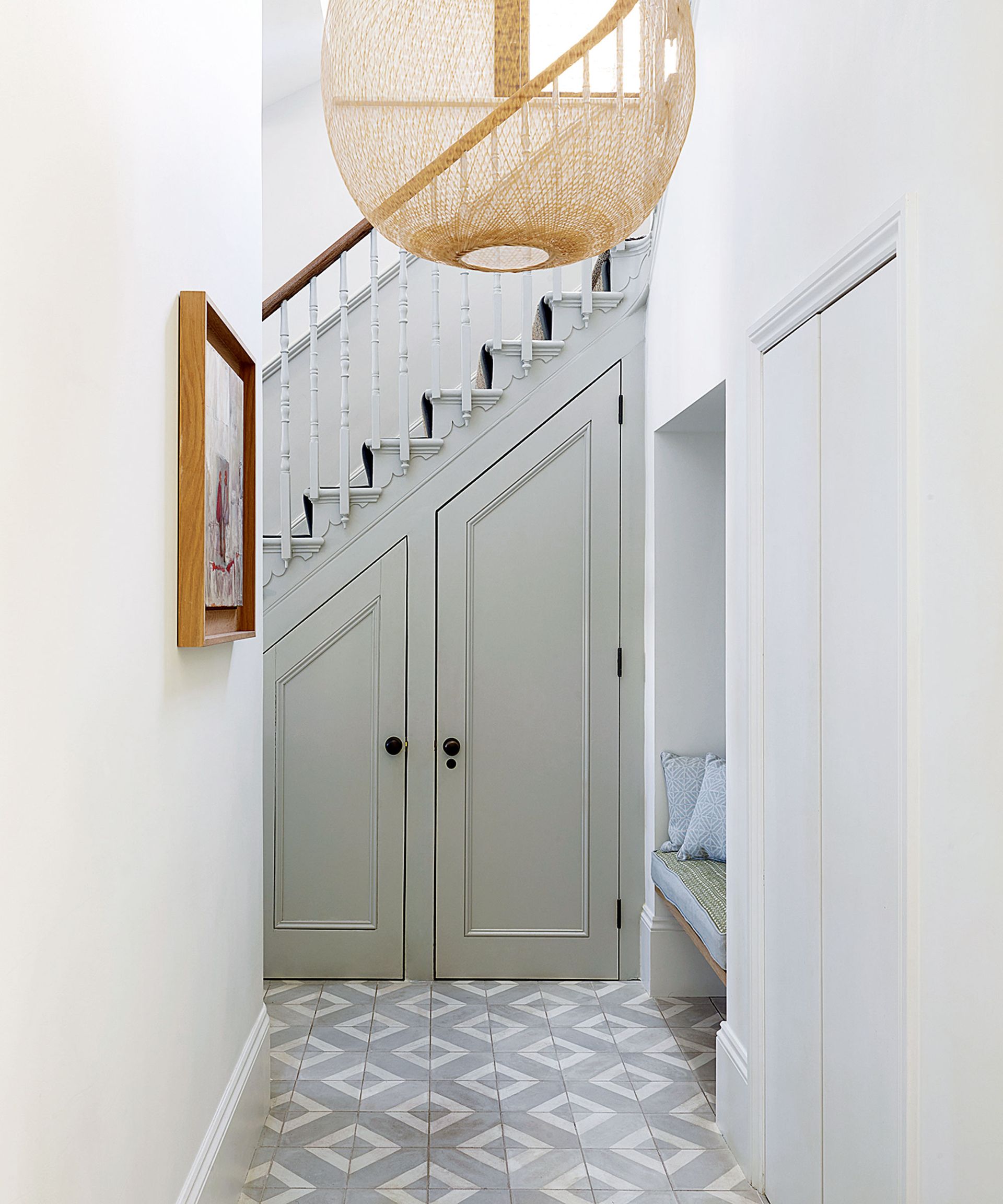 Incorporating the right entryway storage ideas into a small space is essential for a tidy and organized environment, and this will only help to make your entrance feel bigger and less cluttered.
Philipp Nagel, director at Neatsmith says, 'to maximize storage and space in a small hallway or entryway, use sliding doors on your storage units. These will utilize the available room both within and outside of the furniture. Include mirrors on the external doors to create an additional sense of space and definitely include LED lighting – as well as being practical, they will make even the smallest space feel special.'
Making the most out of awkward corners in a small entryway, such as under the stairs ideas, can also provide practical areas of storage that are tucked away, ideal for when trying to free up space in a small room.
Philipp Nagel is a director at Neatsmith, a family run business in London who specialize in creating bespoke cabinetry and fitted furniture for the home.
4. Opt for sleek furniture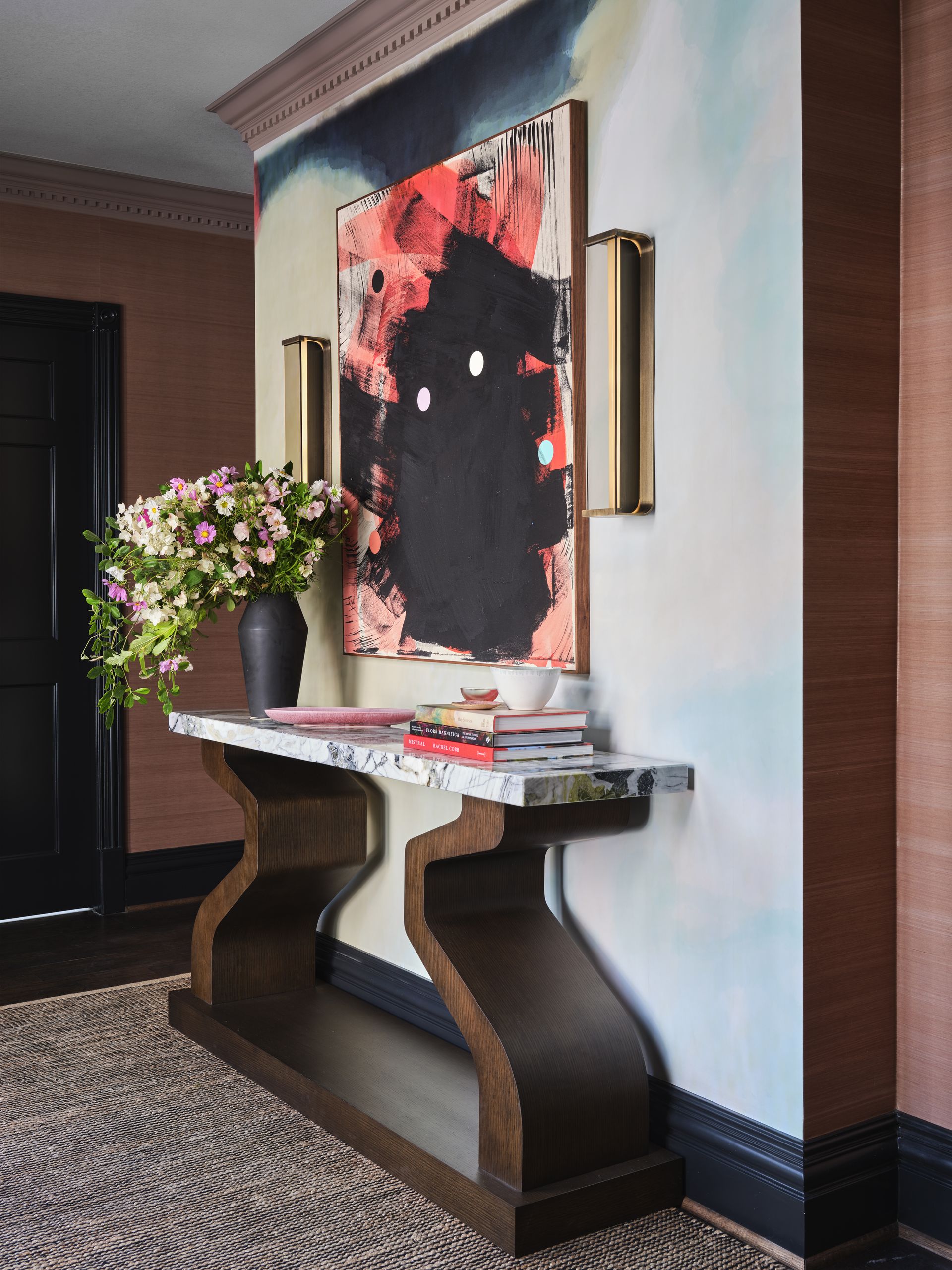 No one wants to be greeted by an over-crowded entryway filled with furniture, so try and keep bigger furniture pieces that will take up a lot of wall and floor space to a minimum – opt for sleek, lightweight designs that do not take up to much space.
From a slimline console table to a multipurpose bench design that doubles up as seating and storage, when organizing entryway furniture ideas for a small entryway, thinking carefully about only the essentials needed for the space will help to make the room feel more spacious – you can then get more creative and decorative with your lighting, accessories, paint and more!
Beach House Entryway Table
Available in two finishes, this entryway table can create a calming, coastal feel, and provide a practical area to hold all of your essentials as you head out the door.
Magnante Console Table - Grey Wash
We love this beautiful console table from OKA. Crafted from solid pine wood and hand-painted in gray wash, the unique, carved legs are the real start of the show.
5. Get the lighting right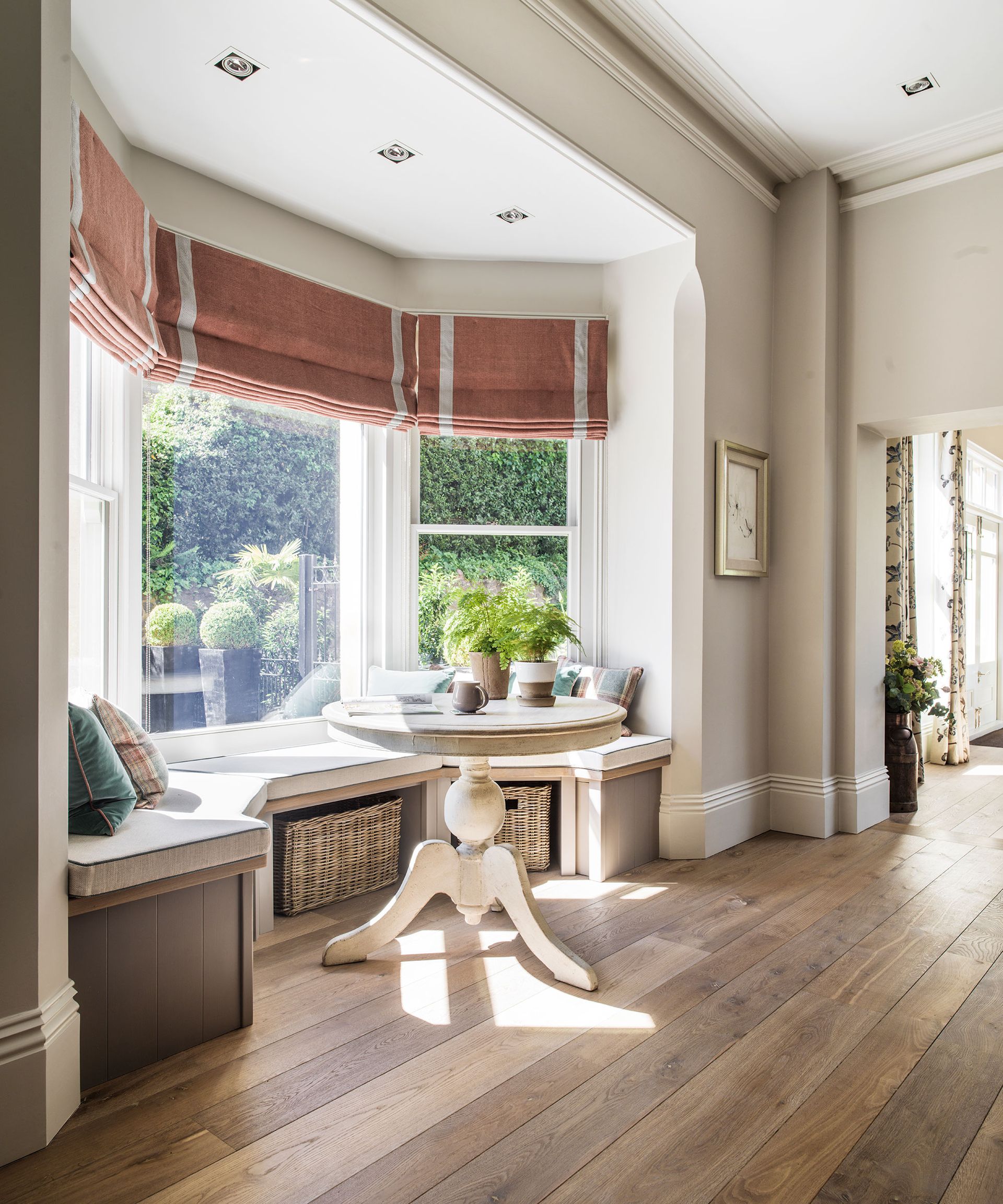 'Entryways provide the first impression when entering a home. They should not only be welcoming but should also be the starting point for conversation. A statement light in an entranceway creates a focal point, and for those with smaller spaces, it helps to lead the eyes up making the room feel larger,' says Julian Page, head of design at Cascade.
As well as a statement pendant light for your entryway lighting ideas, consider flush wall lighting ideas, too, as these lighting designs will fit neatly onto the wall without protruding too far into the space; ideal for positioning either side of a mirror, a piece of artwork, or above a console table.
As well as artificial lighting, making the most out of the natural light available will also help to make your small entryway feel bigger. As shown above, in this space, the beautiful bay window has been enhanced with practical seating and a central table, cleverly zoning the space and drawing your eye to where the most natural light is available.
Julian Page is head of design at Cascade, one of the U.K's largest suppliers of lighting and who represent beautiful lighting designs from around the world.
6. Incorporate a patterned rug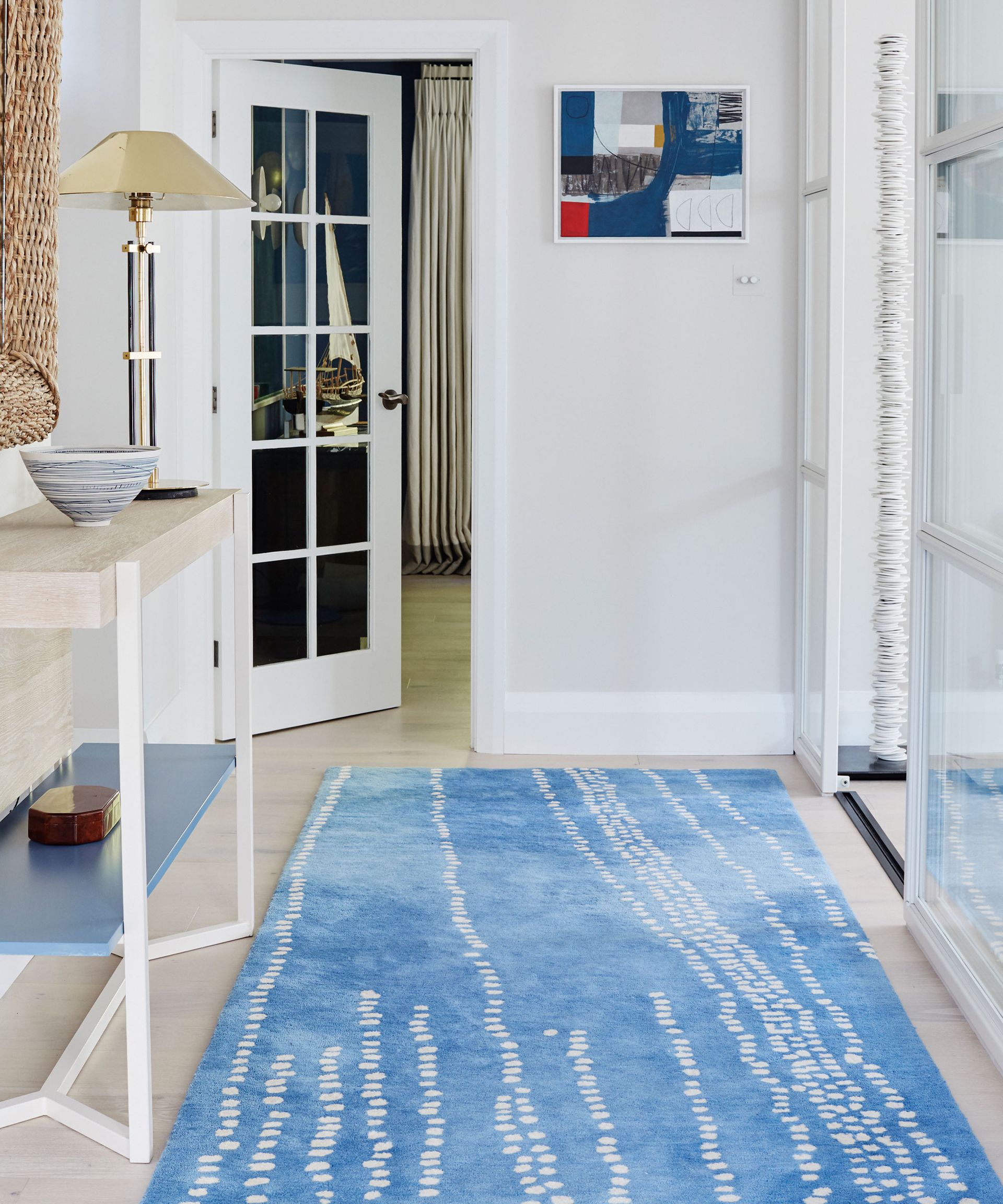 'Similar to how dark walls can transform a small room, or a patterned wallpaper can bring interest to an otherwise dull space, a patterned carpet is an inspired way to make a feature of a smaller room. It can help to add interest and character to the space,' says Jodie Hatton, designer at Brintons.
Jon Flannigan, product manager at Kersaint Cobb also supports this and says, 'light colors, texture, and stripes are particularly effective in narrow entryways. Soft, pale-colored flooring brightens up a small area, creates the illusion of space, and gives a light, airy look.
Stripes add visual interest to the floor and for those tight on space, it is worth remembering that linear stripes can help to enlarge the appearance of a room, this is especially effective in hallways as the stripe draws the eye along the design and thus appears to elongate the area.'
Defined by a beautiful, striped ombre design, this colorful rug from Anthropologie can add beautiful visual interest to your entryway floor, just like a work of art.
Featuring a timeless, checkered print, this simple design is available from Ruggable in two neutral colorways.
7. Think about your layout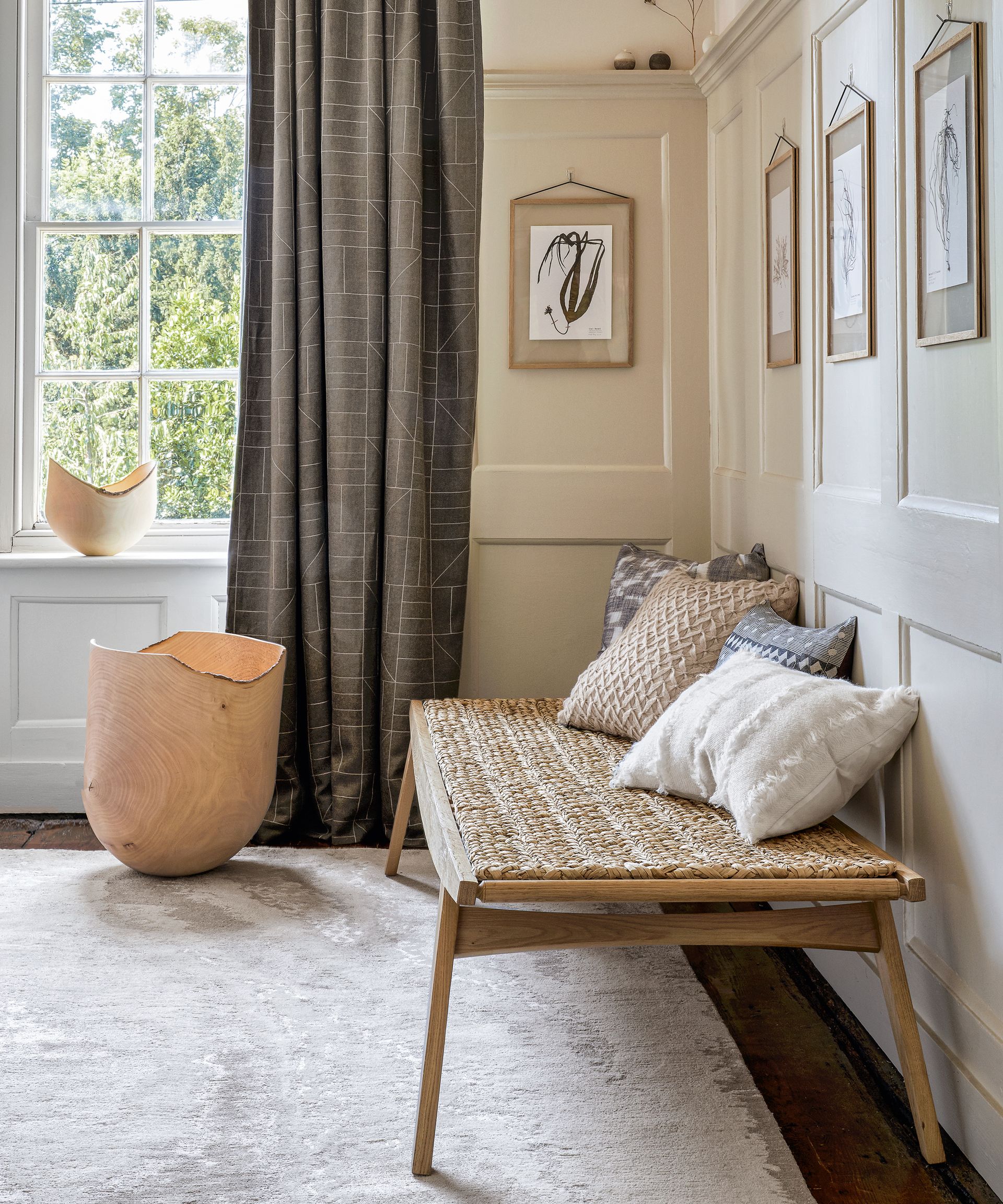 All of us have different needs for an entryway, for many, seating is essential, for others, having plenty of storage is an absolute must, but one thing we all have to carefully consider, especially in a small space, is creating the right layout.
An entryway is a space that should effortlessly guide you through the rest of the home, and no one wants to be met with awkward entryway layout mistakes.
From choosing the right sized furniture to placing seating and storage in the right areas of the room, thinking about how you intend to use the room day to day will only create a more practical layout that meets your needs for the space.
What colors make small hallway look bigger?
There are many painting techniques and colors you can use to make a small space look bigger and a narrow room look wider.
Lighter colors, such as a pale green or buttery yellow, can help to open up a small entryway, making the room feel lighter, brighter and more inviting.
However, do not be afraid to use a darker color palette, as more striking shades, such as deep blue or even black, can establish an impactful color scheme that works to distract you from the size of the room, great for more maximalist decor ideas.
Consider your chosen paint finishes also, for example, satin, eggshell and gloss finishes will work better than a matte finish to reflect more light around a room.
How do you make an entryway look expensive?
When considering how to make an entryway look expensive, you do not need to go all out with expensive furniture and lighting, a few small tweaks with paint and accessories can work wonders.
From making a statement with ceiling paint ideas or entryway tile ideas to adding a luxurious touch through beautiful lighting, and decorating with art, or wallpaper ideas, these additions will make your entryway look and feel more expensive and ultimately, create a space that is more connected with your personal style.
Sign up to the Homes & Gardens newsletter
Decor Ideas. Project Inspiration. Expert Advice. Delivered to your inbox.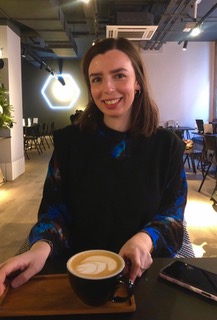 Zara joined Homes & Gardens in February 2022 as a Content Editor. After studying English Literature at University, she worked as an Ecommerce Website Editor, Content Writer and Buying Intern at multiple independent businesses within the luxury retail and lifestyle sectors. Her role at Homes & Gardens unites her love, experience and passion for the world of design and desire to create inspiring written content. She enjoys nothing more than discovering new trends, brands and products, whether that be in fashion, interior design or lifestyle.