Small space storage ideas – 10 ways to store when you have no space
Wish your rooms were bigger? These small space storage ideas will boost even the most bijoux of spaces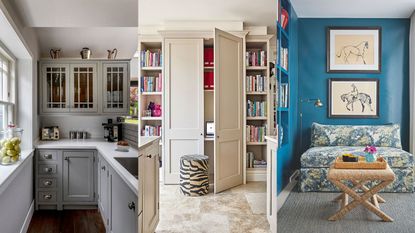 (Image credit: Future)
A streamlined home is always the goal, but taming clutter when you're space poor can be tricky – small space storage ideas can make all the difference. Living with limited space doesn't mean resigning yourself to a home overcrowded with 'stuff', so don't learn to live with it, learn how to store it instead.
When organizing small spaces, utilizing a room's storage potential to its absolute maximum is essential. Whether you're thinking about home organizing ideas or looking for the best decluttering tips, every inch counts. And without the luxury of plentiful space, you'll need to get a little creative.
'It's probably not not the case that you have 'no space', rather that you just haven't discovered it yet – 'hidden' spaces often get overlooked. Finding these and utilizing them is the first step towards maximizing storage potential in smaller homes', says professional organizer Brenda Scott of Tidy My Space.
Small space storage ideas
While some storage ideas for small spaces require a little work, others can be as simple as implementing effective decluttering tips, or changing up your apartment layout ideas. Not sure where to start? We've gleaned advice from the experts on stylish solutions for storing and stashing to help you streamline your spaces.
1. Pare back your stuff
Decluttering regularly is important in any home, but even more so if you're short on storage space. With fewer items to store, you can avoid overcrowding and utilize the space available to its best potential.
'If you don't have enough space for the items you own, the question probably isn't about your storage, it's about your stuff. Do you really need, use and love all of those items? We keep a lot of things 'just in case', when the reality is that our small rooms would be more peaceful and welcoming without unnecessary clutter', says Lucy Milligan Wahl, owner of LMW Edits.
If you're not sure where to start, experts often recommend the closet. It may feel overwhelming, but there's plenty of strategies you can use to declutter clothes fast, as well as a few decluttering mistakes you'll likely want to avoid. The trick is to keep calm; it can be an emotional process, so be kind to yourself.
2. Use the back of a door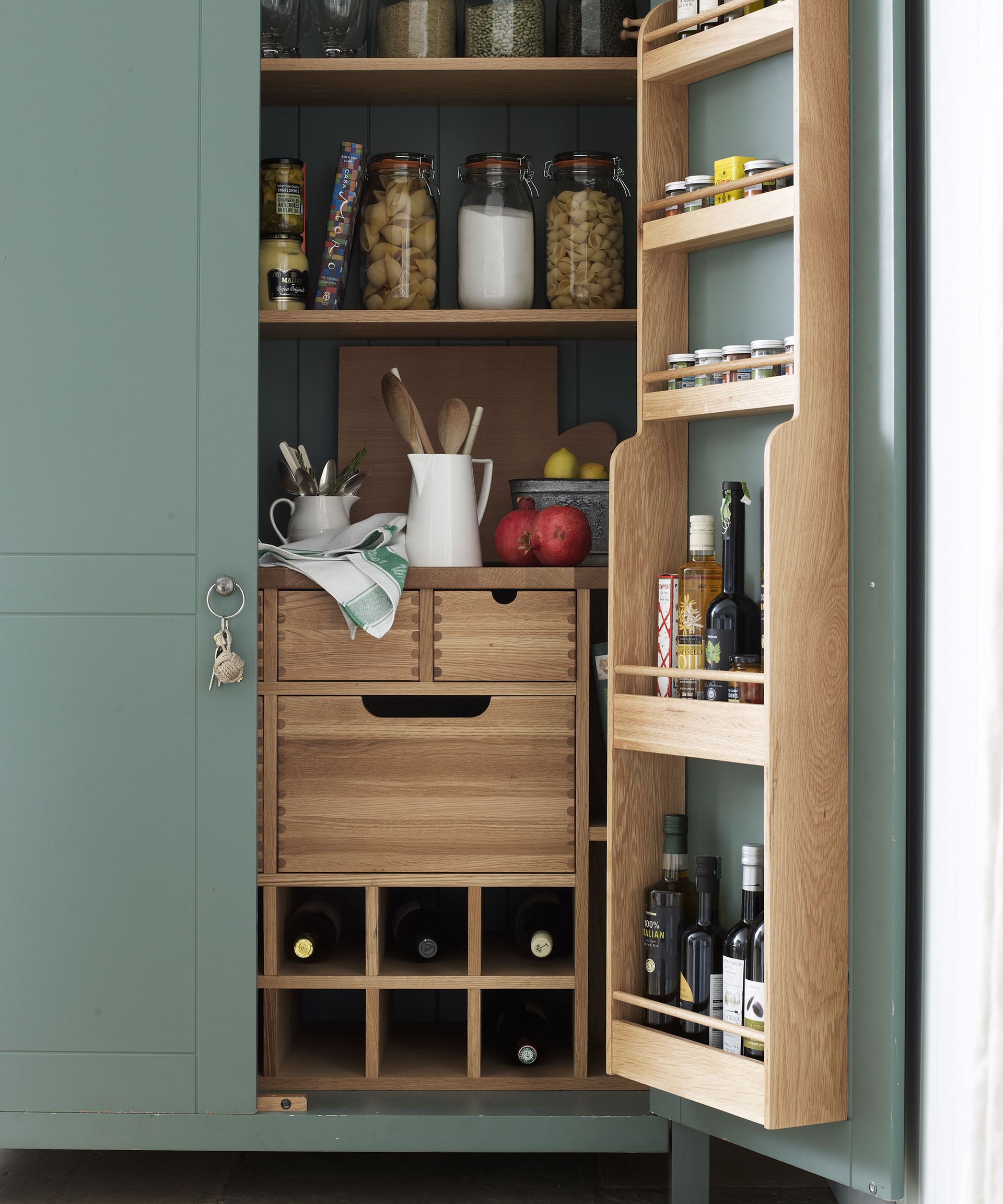 Often dismissed as unusable space, the back of a door offers prime storage potential in small spaces, and you have the added benefit of being able to hide what's there just by closing (or opening) the door.
The savvy storage units and solutions on the market work well in every room, and can be changed up depending on what you're storing. We find mounting racks or narrow shelving particularly useful when organizing kitchen cabinets and organizing bathroom cabinets, for example, while cubby-style hanging organizers are great for holding shoes, bags and accessories – great if you're organizing a small closet.
3. Let things hang
Walls are your best friends in small spaces, particularly if you're looking for small kitchen storage ideas. While shelving is a great storage idea in general, it can feel imposing – not ideal in smaller spaces. If crowded counters leave you no space for prep, clear the clutter by hanging your most-used items instead. Try running a length of peg rail above the worktops and hang wire baskets, and cubbies, or install hooks for aprons and tea towels. These can also be adapted for small bathroom storage ideas.
4. Make the most of every nook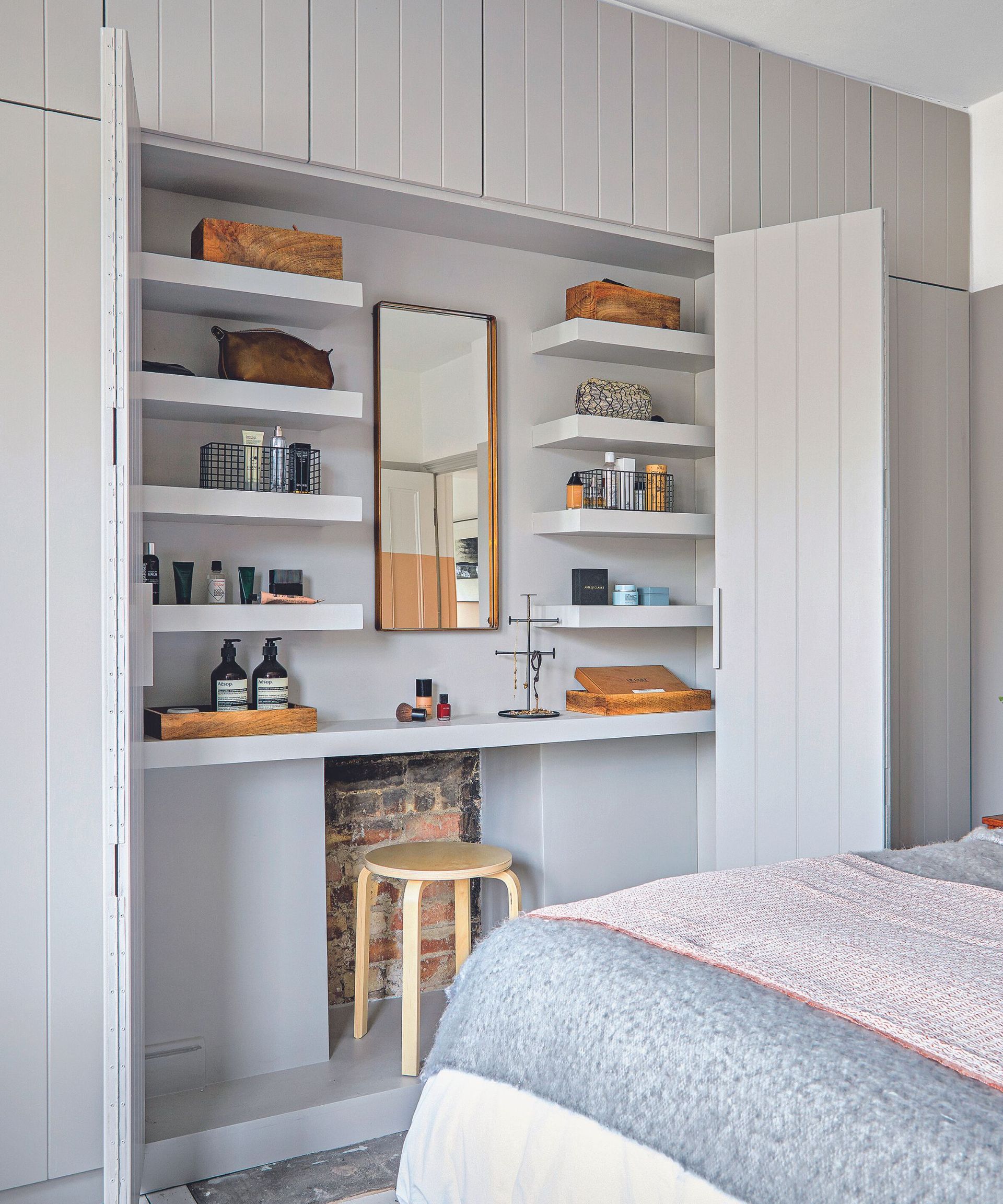 Never underestimate space of any kind – even the tiniest of nooks is brimming with storage potential just waiting to be realized. The key is to think creatively.
'Use your imagination and make clever use of alcoves, chimney breasts and hallways – these unused spaces can easily become an invaluable way of storing items without protruding into your living space. A beautiful set of painted doors behind which you can keep clutter is sensible streamlining', says Helen Parker, creative director at deVOL.
If you're organizing a small kitchen, it's worth bearing this handy tip in mind: 'we've found that most kitchen cupboards don't go the entire way up to the ceiling, so try to utilize this space for things you don't need access to as regularly', says Elaine Penahaul, interiors expert and director of Lemon & Lime Interiors.
5. Stack it up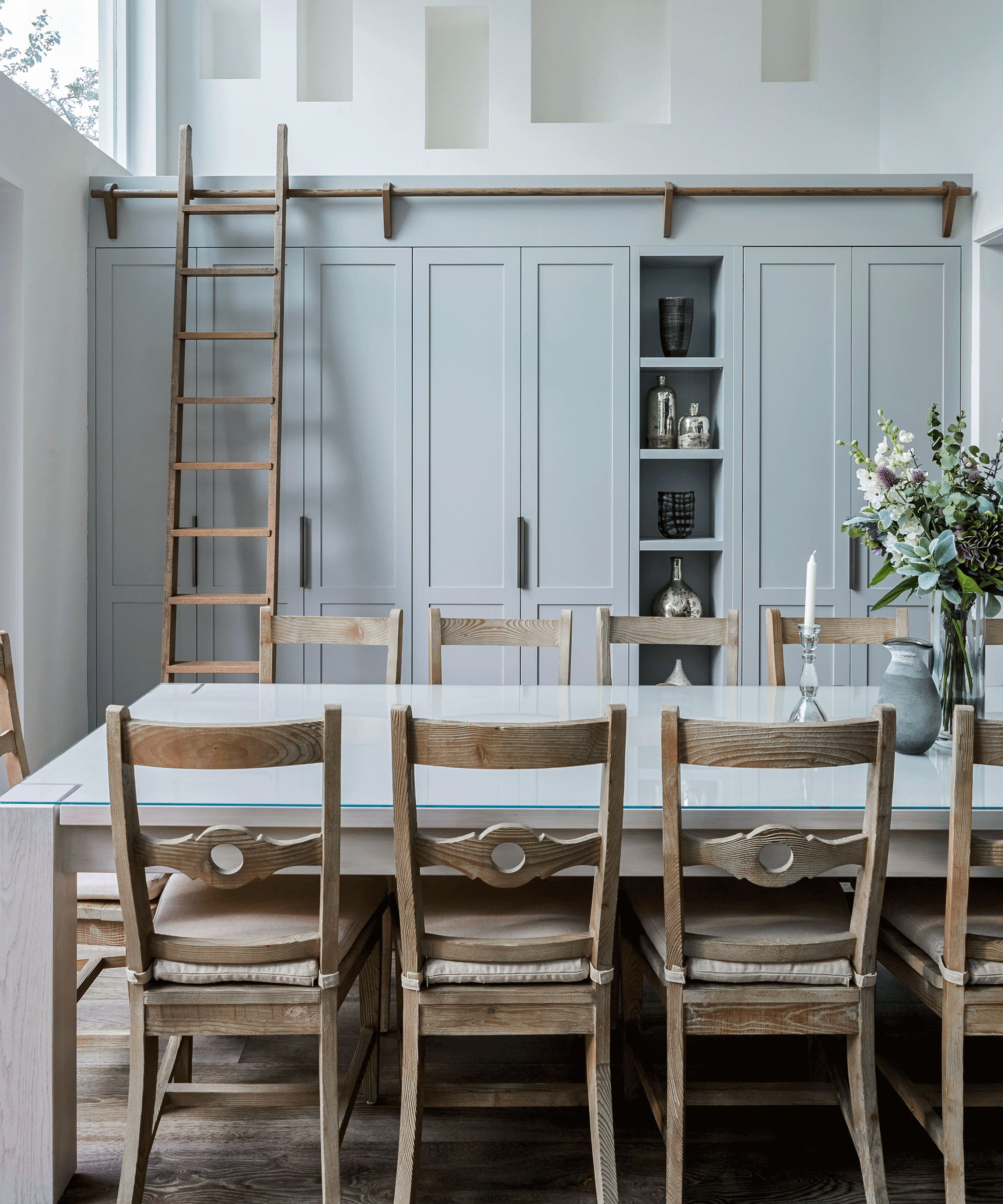 'Going high instead of wide is a great technique when you're short on storage space. 'Stack those bins and baskets up and always finish with a label so you can easily see what's stored inside', say celebrity home organizing duo Brandie Larsen and Ryan Eisland of Home Sort.
In a similar vein, installing floor-to-ceiling shelving and cupboard space is a space-saving small living room idea. It's a great way of storing books and games as well as keepsakes, photos and artwork, and if you take the time to style a bookshelf properly, it'll add aesthetic value to the room as well.
6. Go bespoke
Perfectly sized to the location, bespoke storage systems are arguably the best way to make the most of tricky spaces that might otherwise be unused, plus you can integrate internal solutions more easily, depending on what you're using it for.
'Fitted furniture can create up to three times more space, plus has the added benefit of allowing tailor-made storage depending on your needs, such as drawer inserts, dedicated shoe and trouser racks, and ergonomic shelf and rail options', says Simon Bodsworth, managing director at Daval.
Freestanding furniture can work well too, but it's worth giving some extra thought to your choices. 'Wider designs that take up more wall space are preferable to bulky, deep designs that stick out into the room, for example', says interior designer Jenni Greenwood; something to bear in mind if you're working with a narrow space, such as a landing or hallway.
7. Create functional displays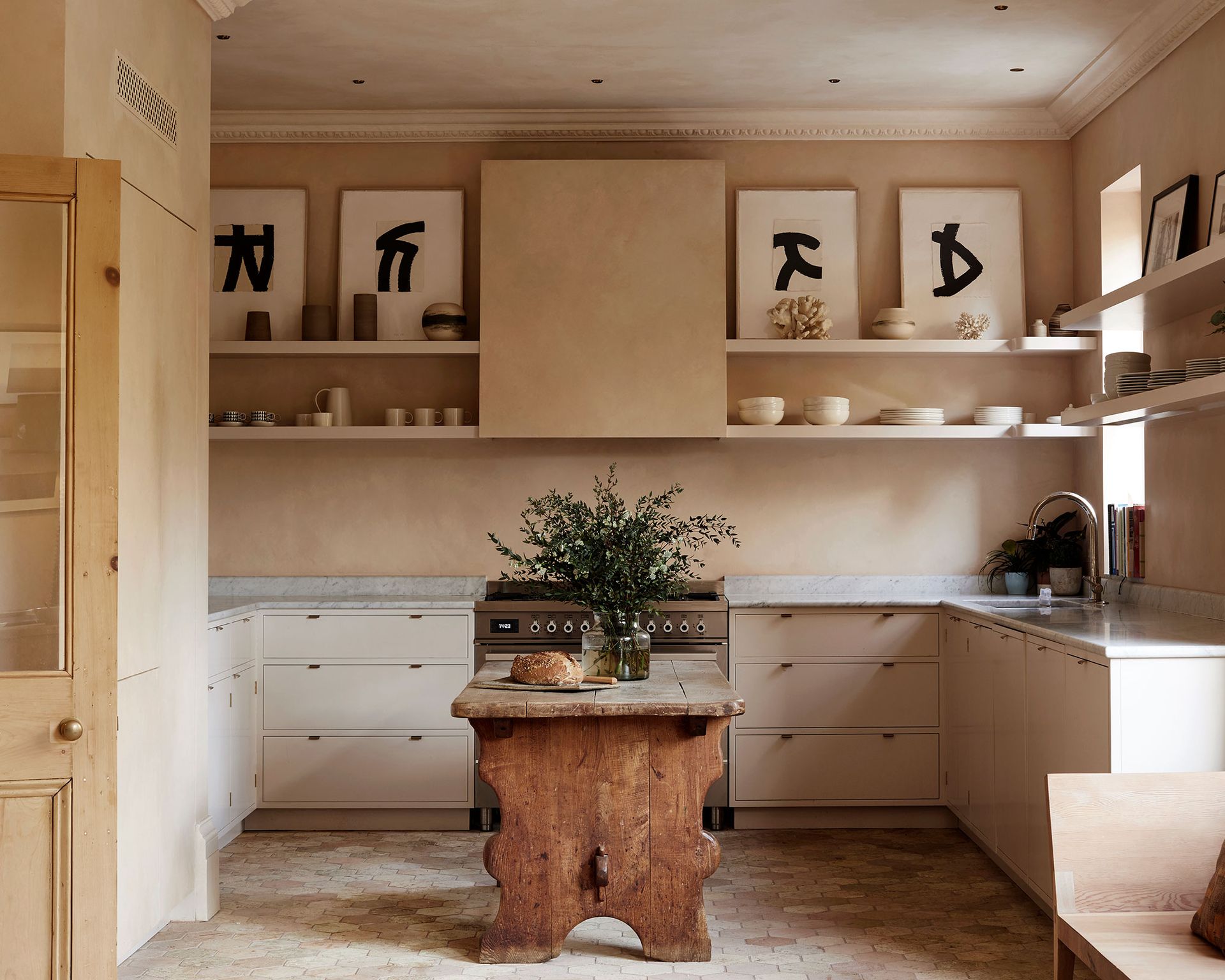 Whether on surfaces, open shelving or displayed on walls, meaningful, artistic arrangements can add aesthetic value to a small space while contributing towards space-saving organization at the same time.
'Many forget that storage can be part of the interior design scheme and by displaying and styling our objects, we can merge function with decoration', says Peter Erlandsson, co-owner of Scandinavian storage brand, String Furniture. 'I've found that styling String's open shelving with beautiful, sentimental pieces is a great way of introducing personality into a room, while the clever range of hooks, organizers and rods offers plenty of stylish storage potential, too'.
8. Choose stowaway storage
Not all items are pretty enough to be stored in clear view. Dual-purpose furniture is a great way of disguising items you don't want out on display without taking up additional floor space. Examples include upholstered benches that conceal compartments for board games and toys or coffee tables with hidden inserts for coasters and remotes.
If you're looking for small bedroom storage ideas, beds with built-in drawers are a great way to keep personal belongings out of sight and out of mind, plus they have the added benefit of not taking up additional space within the room', says Rachel Nimz Taylor, bedroom buyer for Dwell.
9. Use baskets as drop zones for clutter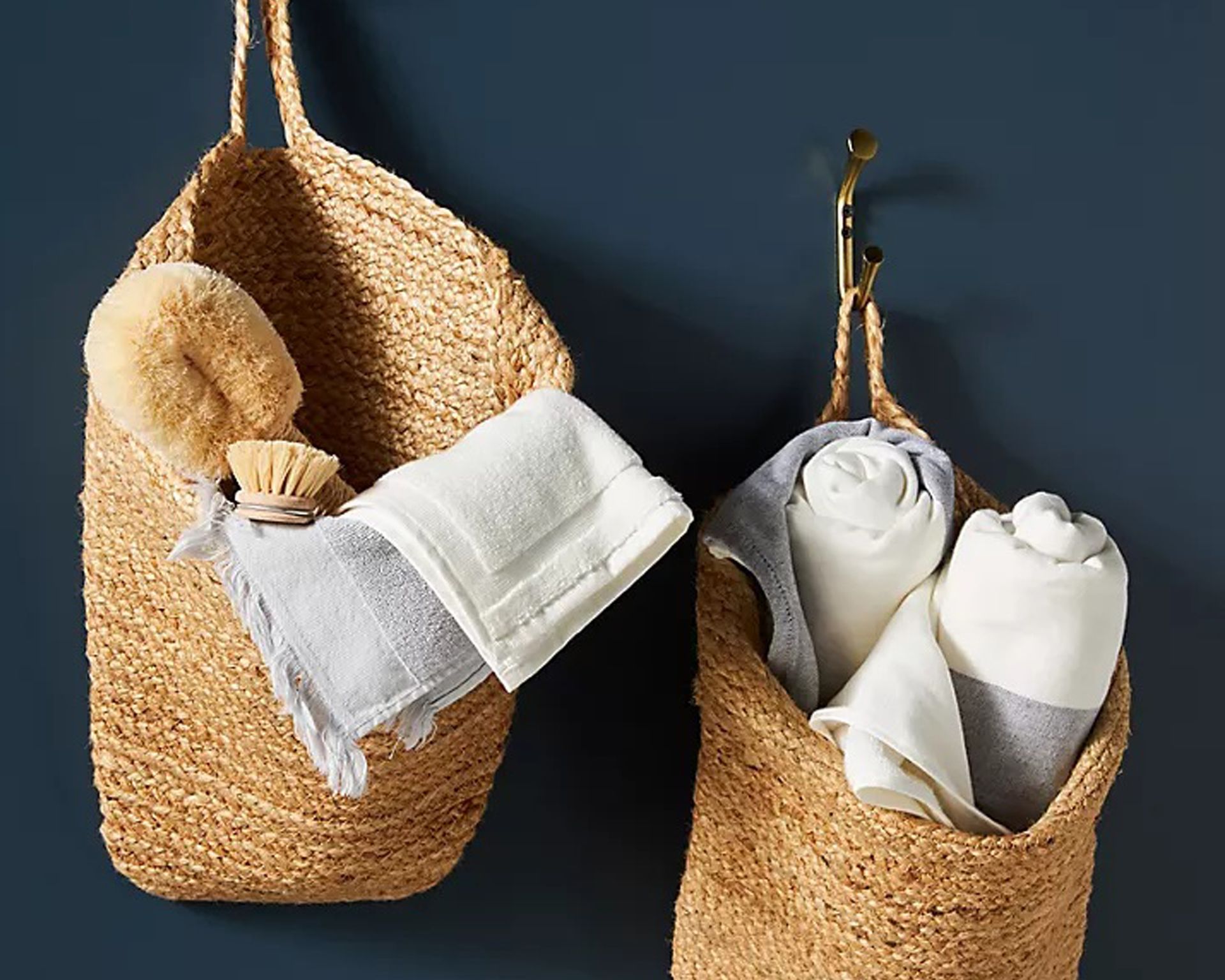 The key to keeping any room clutter-free is to ensure everything has a home. This isn't always easy in smaller spaces, particularly if you're using the room for multiple purposes – a living room and a playroom, for example. If you haven't got the space for bigger storage options, neatly-sized baskets are brilliant drop zones for catching items that so often get left lying around – think books, shoes, magazines, dirty laundry, etc.
They also have the added benefit of blending in well with any decor, particularly if you choose neutral materials such as seagrass or wicker, so you could move them around from room to room if you needed to – handy if you're organizing toys.
10. Be flexible
Regardless of how limited your storage options are within a room, cramming everything into one space is not conducive to a functional home. The first step is to prioritize prime storage space to items essential to the room's purpose, but if you're still struggling to fit things in, flexible storage ideas can prove extremely useful.
By categorizing like-items according to function, you can essentially create temporary 'rooms', that can be wheeled in and out as and when they're needed. A butcher's trolley, for example, can be brought into a small kitchen at busy times, such as entertaining, then moved out of the way when more floor space is required', says George Forsyth, director of Drew Forsyth & Co.
If your washing machine and tumble dryer are located in your kitchen or you're looking for small laundry room ideas, consider a neatly sized rolling cart stocked with laundry essentials. Store it under the stairs, then simply wheel it out when you need it to avoid cluttering up kitchen countertops. The same tactic can be applied to a small home office idea, too.
How do you maximize storage in a small space?
The best way to maximize storage in a small space is to look for ways you can incorporate it into the room without taking up extra floor space. This is easier than it sounds. For example, in a narrow hallway, positioning catch-all baskets underneath a console table will take up no extra floor space, but will provide storage for hats, scarves, shoes etc. Dual purpose furniture with hidden storage is also a good investment – think ottoman-style storage beds, as well as ottomans and console tables with hidden compartments. For those pieces that sit against walls, think wide and narrow, as opposed to deep and bulky.
Thinking vertically is also a great way of claiming back space. Vertical surfaces – including those behind doors – offer plenty of storage potential, from shelving and hanging organizers to racks and rails.
It's also worth taking a good look around the room or any hidden spaces, nooks or crannies that could be utilized in better ways. You'll be amazed at the potential; shelving out alcoves or an unused fireplace, putting up bookshelves above a doorway or mounting hooks under kitchen wall cabinets are just a few examples.
How do you organize small storage?
Rule number one when it comes to organizing small storage – don't waste space on items that you don't need. Start with a good declutter. As well as getting rid of things you no longer need or want, think carefully about whether those items can be better stored elsewhere. For example, if you're organizing a small closet, seasonal clothing could be relocated elsewhere, leaving you extra space for items you use on a more regular basis. Schedule regular clear outs to ensure clutter doesn't build up again.
Tailoring storage to your exact organizational needs is another space-saver. If going down the bespoke route isn't an option for you, think about integrating additional solutions inside cabinets, closets, drawers and cupboards. From baskets and bins to carousels and shelf risers, there's all manner of options available. Be clear about what you require beforehand, and measure up carefully to ensure there's no wasted space.
Sign up to the Homes & Gardens newsletter
Decor Ideas. Project Inspiration. Expert Advice. Delivered to your inbox.
For 10 years, Tara King worked as a Content Editor in the magazine industry, before leaving to become freelance, covering interior design, wellbeing, craft and homemaking. As well as writing for Ideal Home, Style at Home, Country Homes & Interiors, Tara's keen eye for styling combined with a passion for creating a happy – and functional – family home has led to a series of organization and cleaning features for H&G.