How to check for mold in your house – 6 common places that you must check regularly
Check these household mold troublespots and tackle problem mold before it takes hold in your home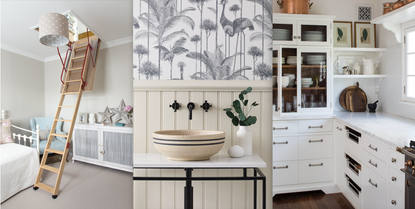 (Image credit: Future/London Basin Company/Karen Harautuneian/Hub of the House Studio)
Sign up to the Homes & Gardens newsletter
Decor Ideas. Project Inspiration. Expert Advice. Delivered to your inbox.
Thank you for signing up to Homes & Gardens. You will receive a verification email shortly.
There was a problem. Please refresh the page and try again.
Scrubbing mold off walls and surfaces is one household job that nobody wants on their to-do list. While we can get to work with bleach and white vinegar and other remedies to get rid of black mold, really we want to be able to spot it before it takes hold, when a simple swipe with a soapy cloth can remove it in a flash.
'Mold thrives where there's moisture. In fact, some species can begin growing within 24-48 hours, provided there's a source of wetness and organic matter. So basically, where there's moisture there's an opportunity for mold,' explains Michael Rubino, a toxic mold expert and founder of HomeCleanse.
Mold can grow in surprising places, as well as more expected moisture-prone spots, so you'll need to check all over your home for outbreaks. The best bet is to channel your inner 'damp detective' and patrol troublespots, take photos of the evidence, and take effective remedial to fix the problem.
If you can stop mold from forming in the first place, even better! Using a dehumidifier to control mold and dampness can be life-changing, as mold has been shown to cause allergy-like symptoms, and may cause long-term health problems for some people.
Common places to check for mold – experts map out the troublespots
If you've ever wondered why your home smells musty, mold may be the answer. Black mold doesn't always appear in easy-to-see places, so you may have a problem without knowing.
'Rooms with high levels of water use, like kitchens and bathrooms, are at the top of the list for areas that develop microbial growth,' explains Michael Rubino from HomeCleanse. 'Other situations like high humidity, leaks, and moisture intrusion from structural damage can also allow for microbial growth in a home. These issues should be addressed quickly and correctly to avoid any issues and minimize contamination levels.'
We've talked to mold experts to determine the most common places where mold occurs in properties so that you can stop it from affecting your decor, your home's structure, and your health.
Michael Rubino, indoor air quality and toxic mold expert, is the founder of HomeCleanse, a company aiming to end the worldwide health epidemic caused by poor air quality and toxic indoor environments. Michael is a council-certified Mold Remediator by IICRC and ACAC and a contributing member, sponsor, and speaker for the Indoor Air Quality Association.
1. Bathroom – even in the toilet tank
'Grout and caulk, showerheads and sink faucets are all common places to find mold in the bathroom,' advises Michael Rubino. You may also find mold on your bathroom ceiling or mold and mildew on your shower curtain.
But Michael has a surprising place to look for mold, which may also indicate a wider mold problem affecting your home.
'My favorite trick to help determine if there's an indoor contamination problem is to check the toilet tank for mold,' claims Michael. 'While the lid isn't hermetically sealed, there's very little air transfer between the inside and outside of the tank. A lucky spore could have found its way inside, but it's far more likely that there were enough spores in the air from another mold colony in the home, leading to it opportunistically beginning to grow in this location.
'You're much less likely to find mold in the toilet tank than in other damp areas like the bathtub caulking, so if there's microbial growth inside this area, there's probably a larger problem elsewhere in the home.'
2. Kitchen – be careful of gaps in grout
Steaming pans and boiling kettles fill the air in a kitchen with moisture, which can then encourage mold growth. You might spot black mold on larger surfaces, such as walls and the ceiling, but it's far more likely to be found in the nooks and crannies that are easily missed when you are closing down your kitchen and cleaning the kitchen and surfaces.
'Look at the back of cabinets and do check countertops for gaps in your grout at the far edge against your backsplash,' advises Tom Flood, CEO & founder of We Get The Mold Out. 'In the kitchen and in the bathroom, look for gaps along the sink and tiles, as these gaps will allow water to get behind and mold to grow. (In your bathroom, you want to stop water from getting behind your bathtub and shower.)
'Look up at the ceiling in your kitchen and bathrooms as mold can grow if condensation accumulates against your ceiling.'
Tom Flood is the founder of the family business, We Get The Mold Out, a nationally certified company that has been operating in Central Ohio for more than 20 years. Tom was a committee member involved in the rewrite of the s520 National Mold Standard by IICRC (and International Standard). We Get The Mold Out has remediated mold, tested it, and consulted on mold issues in more than 9,000 homes.
3. Appliances – keep them clean and free from mold
Knowing how to clean a washing machine, clean the inside of a dishwasher, and even descale and clean a coffee maker, will help these and similar appliances and countertop gadgets perform better and last longer. But it can also inhibit the growth of dangerous mold.
'Items that use water are also at the top of the list for places for mold growth. The constant source of moisture creates perfect conditions for contaminants to move in. That's why items like laundry machines, showerheads, and coffee makers should be kept as clean and dry as possible,' explains toxic mold expert, Michael Rubino.
And don't forget to look behind larger appliances, too.
'Surfaces like behind the fridge or the HVAC also often develop problems because they aren't always properly cleaned and maintained. And don't forget the HVAC coil and exhaust vents, too.'
4. Attic – make it an annual mold check
Mold can be out of sight and out of mind when it comes to the attic and crawlspaces – after all, it's not a part of the house that we tend to enter frequently.
'Everyone should check their attic space every year,' advises mold expert, Tom Flood – who has a great tip for checking if there's been a change in the previous 12 months.
'Take a photo; when we visit homes for mold checks and remediation, we take four photos in each direction,' he says. 'Do this each year so you can compare differences (our memories fade sometimes year to year). Do this annual check the same day you change smoke detector batteries in your home.'
5. Basement – keep the walls clear to prevent mold
Your basement may be where you do your laundry or where your HVAC has its home, so it's a common area for moisture to collect and mold to grow.
'You can use the same process in the basement as you do in the attic – look for mold on the same date each year, and take four photos so you can compare with previous years to see if there's more mold than before.'
Tom also recommends keeping the walls of the basement clear, to stop pockets of moisture forming that increase the risk of mold.
'If your basement is used as storage, don't push all your belongings up against the walls,' he says. 'You need to be able to see the walls to check for mold.'
6. Windows and doors – clean the frames
You are probably already trying to clean your windows without streaks, or clean your front door to smarten up your entrance, but this is also your opportunity to check for mold.
If your home suffers from condensation, water can pool at the base of windows and around the door frame, creating a breeding ground for mold. Get rid of condensation with easy daily hacks can help to stop any mold problem before it starts, or by regular use of a window vacuum to remove excess moisture.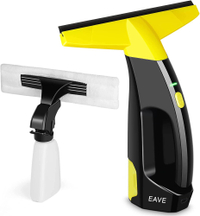 Eave Rechargeable Window Vacuum| $49.99 at Amazon
Remove water and condensation from windows without leaving streaks, and reduce the risk of mold in your home in the process.
What should I do if I find mold?
If you find a small amount of mold in your home, you may feel confident about tackling it yourself, using a home remedy such as white vinegar to treat the mold, or using bleach to kill mold.
However, mold experts recommend getting expert advice on any mold occurrence.
'Call a mold pro and get the suspect area tested,' confirms mold expert, Tom Flood. 'Then if the lab results confirm mold, get a scope of work from a mold remediation specialist with certification and mold insurance – general contractors insurance excludes mold work.'
For a greater understanding of the work and remediation involved, Tom recommends referring to the New National Mold Standard.
Sign up to the Homes & Gardens newsletter
Decor Ideas. Project Inspiration. Expert Advice. Delivered to your inbox.
Andrea has been immersed in the world of homes, interiors and lifestyle since her first job in journalism, on Ideal Home. She went from women's magazine Options to Frank. From there it was on to the launch of Red magazine, where she stayed for 10 years and became Assistant Editor. She then shifted into freelancing, and spent 14 years writing for everyone from The Telegraph to The Sunday Times, Livingetc, Stylist and Woman & Home. She was then offered the job as Editor on Country Homes & Interiors, and now combines that role with writing for sister title homesandgardens.com.