Design pros reveal how to create a darker sleep sanctuary – here's why you should
Designers weigh in on how to create a darker bedroom at night without compromising your bright light during the day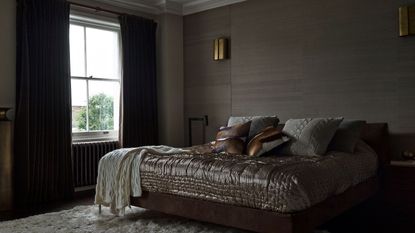 (Image credit: Future)
Sign up to the Homes & Gardens newsletter
Decor Ideas. Project Inspiration. Expert Advice. Delivered to your inbox.
Thank you for signing up to Homes & Gardens. You will receive a verification email shortly.
There was a problem. Please refresh the page and try again.
We all love the long, sunny days of summer, but there is one potential downside. Longer days mean brighter nights, and that can seriously affect our sleep health.
Sure, later sunsets and earlier sunrises might mean a more relaxed schedule and more vitamin D. Unfortunately, they can also make for a restless night's sleep.
That is, of course, unless you compensate by making your bedroom darker. If you embrace a dark bedroom design, though, do you have to give up on having a bright and beautiful bedroom during the day?
Ways to create a darker bedroom
It's a tricky balance to strike, so we decided to tap in the experts and ask: how can we make our sleep spaces darker for a better night? From bedroom window treatments to design decisions, here's what they had to say.
1. 'Blackout shade or curtains are a must'
If you're wondering if blackout shades are worth it, Artem Kropovinsky, interior designer and founder of Arsight, says the answer is yes, absolutely.
'Beyond mere darkness, blackout shade can add a touch of elegance and depth to your bedroom decor,' says Kropovinsky. 'Experiment with texture or subtle patterns to create visual interest.'
SimplyEco Blackout Cellular Shades
Cellular blinds are the classic style. Not only do they block out light, but the air in the cells traps heat, making them energy efficient. These particular blinds are eco-friendly, too, made with recycled plastic bottles.
Levolor Room Darkening Shades
You can adjust the height and width of these blinds to a 1/8th of an inch, perfectly adapting them to your windows. What's more, they're available in 40 different colors, so suit a wide range of styles
Blackout curtians
Wayfair Basics Blackout Curtain
With thousands of five-star reviews, these blackout curtains are a sure bet. They also block out heat and noise, so they're good for keeping temperatures regulated and disturbance to a minimum.
Artem Kropovinsky, an interior design expert with a decade of experience, is the founder of Arsight, a New York City-based design firm specializing in residential and commercial interior design. Known for his award-winning work, Artem's projects range from new construction and extensive residential renovations to restaurants and retail stores. His design philosophy revolves around the celebration of authenticity and originality, skillfully incorporating natural materials and handcrafted elements to create a distinctive and harmonious aesthetic.
2. Get custom treatments
Expert Kelly Simpson says the best way to ensure your windows are blocking the maximum amount of light is to go custom. That way, your treatment will be designed to cover every possible light source.
'Custom drapery comes with side returns and overlaps to limit the amount of light that seeps in through the sides and front of the window while the drapes are closed,' Simpson explains. '
A top treatment such as a valance or cornice, can also help to limit light seeping through the top of the window.
According to Simpson, you can also request additional blackout treatments, like side channels to prevent any cracks on the sides.
3. Layer your window treatments
Blackout shades are great at night, but they don't make sense to keep down all day. This is tricky if you ever need bedroom privacy during the day. That's why Kropovinsky suggests relying on layered window treatments.
'The pairing of blackout shades with sheer curtains or drapes allows you to control the level of darkness in the room,' he says. 'During the day, sheer curtains filter light beautifully while maintaining privacy. And at night, simply draw the blackout shades for a peaceful, undisturbed sleep.'
4. Lined drapery is another option
If, for some reason, you don't love the look or feel of a blackout shade, Kropovinsky says there are other options. You can instead opt for lined drapery.
'You can choose from a wide array of fabrics, colors, and patterns that align with your design aesthetics,' he says. 'Lined drapery can offer the blackout effect, noise reduction, and insulation while looking incredibly stylish.'
Haley Weidenbaum, interior designer and founder of Everhem, agrees. 'Opting for a blackout-lined shade keeps the aesthetic of the original curtain but with the added white lining!'
5. Do as the Romans do
There's another stylish alternative to simple blackout shades: Roman shades like these at Wayfair, paired with a blackout lining.
'They offer a structured, clean-lined look and are available in a wide variety of materials, patterns, and colors,' says Kropovinsky. 'Make sure to choose a blackout lining to achieve the darkness you desire.'
6. Don't rule out any materials
If you love the look of window treatments made from more organic materials, like bamboo or wood, but are concerned that light will leak in too easily, don't worry. Simpson assures us there are workarounds.
'Beautiful bamboo or natural woven wood shades can be lined with a room darkening liner, as can many soft Roman shade fabrics,' she says.
7. Rely on technology to wake you up
If you're concerned about creating a room that's too dark, that's understandable. It's easy to oversleep when the sun isn't there to wake you! Luckily, Simpson says there's an easy fix to this, and it doesn't even require setting an extra alarm.
'Motorized window treatments can be programmed to open and shut at specific times of day to adjust with the temperature or light levels outside,' she says. 'Blinds can even be programmed to tilt at any angle of your choice to let as much or as little light in as desired.'
They're more expensive than classic blackout blinds, but smart motorized blackout blinds like these at Amazon make it easy to wake up with the sun, and you can even control them from your phone or Alexa.
8. Deep tones can be tranquil
If you really want to create a nestlike feeling in your bedroom, Kropovinsky says that darker, moodier hues are a great design choice. So, if you're working with a room that's flooded with natural light and you want to tone things down, darker bedroomed tones, or even black bedroom ideas might be the answer.
'Darker shades absorb light, whereas lighter ones reflect it,' he explains. 'Consider deep blues, greens, or even charcoal grays to paint your walls, a little bit of boldness can truly make your space unique and tranquil.'
Simpson agrees and says the same ideas can be applied to the color of your window treatments. In fact, it's best to avoid light tones entirely if you truly want to keep things dim.
'Light-colored window treatments can reflect natural lighting so if the goal is to create a darker room during the day, it may be best to avoid light colors,' she says. 'Translucent fabrics on their own should also be avoided if a darker bedroom is desired during the day.'
9. Your ceiling can have a major effect on the room
Annie Downing of Annie Downing Interiors notes that your walls aren't the only part of the room where paint colors matter. The color of your ceiling can affect the brightness level of your bedroom, too.
'Coat your room with one color, painting your ceiling, baseboards, and crown molding the same color as your walls – not white,' she says. 'So, the space doesn't feel too heavy, contrast with lighter colored bedding and artwork on the walls.'
While working at the White House and ABC News, Annie took art and interior design classes and realized that she wanted to pursue work in a creative field. After assisting friends with various interiors projects, Annie Downing Interiors was born. Today, ADI has projects throughout Austin and surrounding areas and was named a Best New Southern Tastemaker by Southern Living in 2018.
10. Opt for matte finishes
Sometimes, you don't just need to block out the sun at night – you need to dampen it down throughout the day, too. Kropovinsky says this is why you should definitely avoid shiny surfaces in a room that you're hoping to dim a little.
'Shiny surfaces reflect light, thereby making a room feel brighter,' he explains. 'If a darker bedroom is your end goal, go for matte finishes on walls, furniture, and decor.'
11. Be smart about additional lighting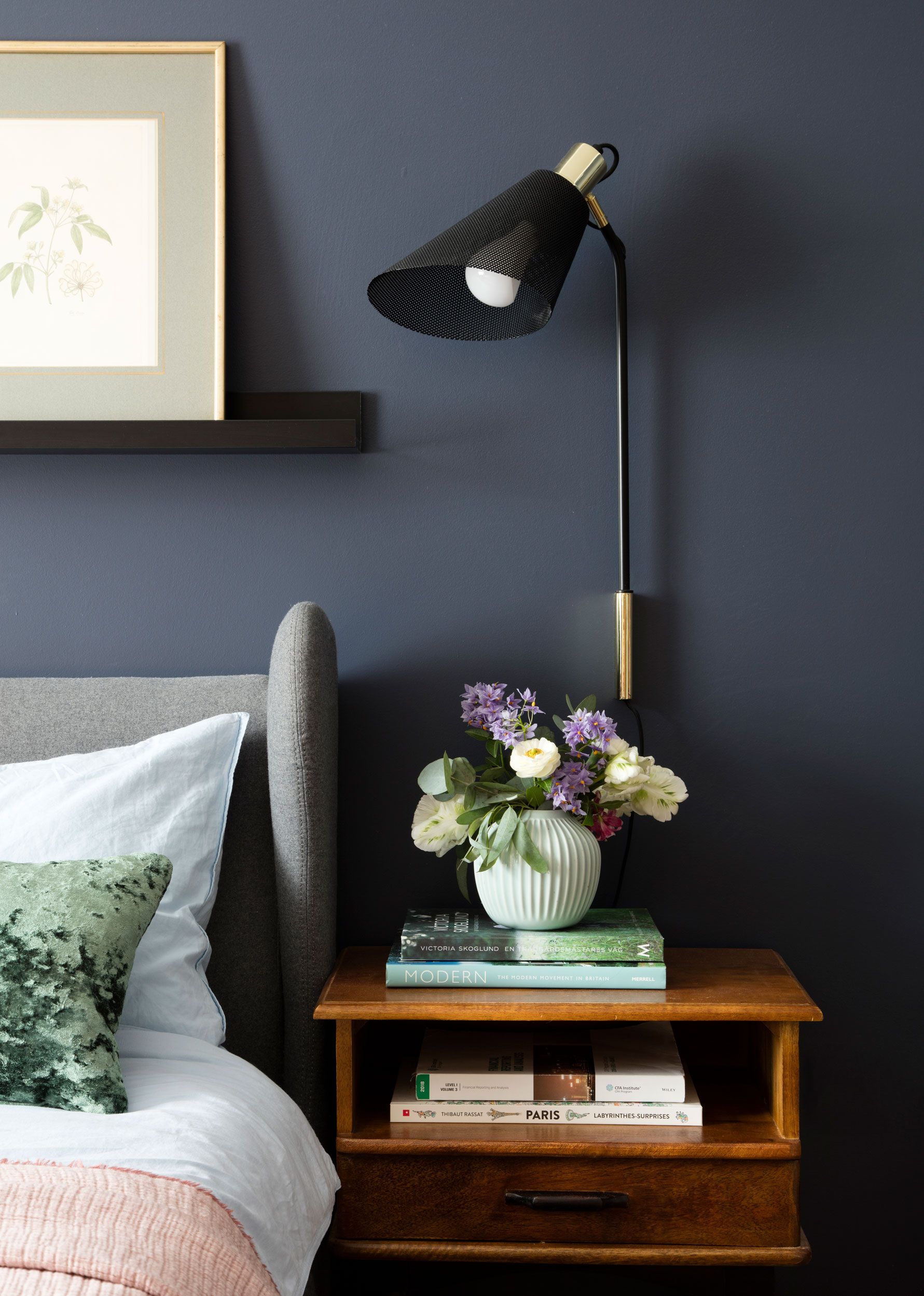 Of course, if your focus is all about controlling the natural light of a bedroom, window treatments are the top priority to consider. But Kropovinsky points out that your artificial light sources should be carefully planned, too. If your bedroom comes with harsh overhead lights, there's an easy fix.
'As evening comes, transition to softer, warmer light sources,' he says. 'Dimmer switches can be a great tool for this transition.'
12. Plan ahead by building smart
If you're looking for solutions for an existing room, then this tip isn't for you. But if you're currently in the process of building or remodeling, Ashely Macuga of Collected Interiors gave us a great tip.
'Consider building 2x6 walls instead of the standard 2x4,' she says. 'The extra depth ensures that you can plan for inside mount window coverings, which will minimize any light halo that will peak through the sides.'
As the Principal Designer at Collected Interiors, Ashley's New Orleans heritage deeply influences her design point of view and practice. Her passion lies in discovering her clients' stories and translating them into spaces that are warm, soulful, and unexpectedly modern. Her favorite projects are renovating and reimagining otherwise forgotten spaces, restoring a home's pride and the neighborhood too.
Dark bedroom FAQs
What's the best bedroom color for sleep?
There's no one best color for sleep, however, relaxing colors like light blue, sage green, and light gray are gentle colors that promote sleep without making your bedroom too gloomy.
Does red light help sleep?
Yes, red light helps sleep. It makes your body produce melatonin, which makes you drowsy and ready for bed.
---
Sometimes, you don't even need to buy new blinds. Consider the direction you sleep too. Making a room feel darker can be as simple as shifting your bed out of direct view of windows, reducing glare in the morning.
Sign up to the Homes & Gardens newsletter
Decor Ideas. Project Inspiration. Expert Advice. Delivered to your inbox.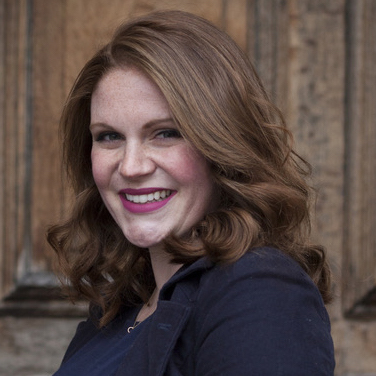 Ashley Chalmers is a freelance writer for Homes & Gardens with over 10 years' experience as a digital writer and content creator. Ashley started her career in entertainment and fashion PR in New York, before moving to the French countryside and taking up travel blogging. Now, Ashley lives in London. Her passion for travelling is only matched by her love of making her house feel like a home, and she loves to include her finds from around the world in her decor.