Christmas recipes – to spoil your friends and family with this festive season
Our celebrations may be a little different in 2020 but these Christmas recipes – perfect for New Year, too – are the ideal indulgence we all need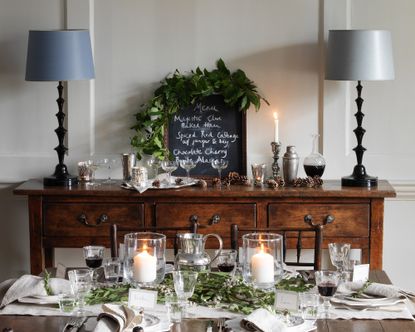 (Image credit: Future / Simon Brown)
Gather your loved ones – at a safe distance, obviously – for these delightful Christmas recipes that are guaranteed to please. Perfect for a twist on the traditional Christmas dinner, they make wonderful Christmas party dishes, too... however small your gathering this year.
Food stylist, chef and cookery book writer Alice Hart offers a menu of simple yet imaginative dishes that will set the tone for a relaxed day with family and friends.
Time to chalk up these Christmas recipe alongside our favorite party food recipes as all-time winter classics.
Our Christmas recipes menu
The secret to successful entertaining is preparation, so choose dishes that need minimal last-minute work and schedule in some time a day or two before the party.
This menu is ideal, and would easily serve eight.
Cook the ham in advance, so you only need to glaze it; if you have freezer space, make a clutch of baked Alaskas the day before and keep frozen until needed; bake the Gorgonzola biscuits a few hours ahead, so they need only be topped with extra cheese and quince paste just before serving.
In fact, you'll find all of the recipes can be at least partly made in advance, so you'll be free on the night to indulge in the sloe gin and pomegranate sparklers.
How to style your table to show off your Christmas recipes
An understated yet refined table can be created with relaxed foliage and antique glassware, while a moss base with short candles creates a pretty centerpiece.
A blackboard is a charming way to announce your menu; decorate it with some loosely tied leaves. Smart name cards in sparkly cardholders are an easy way to nod to the formal dinner party look.
Rosemary sprigs shaped with garden wire into wreath-style napkin rings are a pretty and fragrant touch.
What to drink? Sloe Gin Pomegranate Sparklers
Welcome guests with a simple cocktail; any concoction with sparkling wine feels special. This recipe adds sloe gin and fresh pomegranates to prosecco for a very seasonal tipple.
A Christmass-y spin on the classic Bellini.
Makes 16 (2 rounds for 8)
Ingredients:
250ml sloe gin, chilled
250ml pomegranate juice, chilled
3 tbsp pomegranate arials/seeds
1 x 750ml bottle Prosecco or Champagne, chilled
Method:
1. Put a dash of sloe gin, a dash of pomegranate juice and a few pomegranate arils into each of eight Champagne glasses.
2. Slowly top up with Prosecco or Champagne.
3. Repeat for a second round.
Gorgonzola Biscuits with Quince Chutney and Chicory
Soft blue cheese, sweet quince and slightly bitter chicory blend beautifully in these canapés.
Makes about 24
Ingredients:
100g plain flour
100g slightly salted butter, cubed
1 tsp wholegrain mustard
1/2 tsp coarsely ground black pepper
150g gorgonzola picante
75g quince paste (membrillo)
1 red or white chicory bulb, trimmed and sliced
Method:
1. Finely chop or crumble 50g of the gorgonzola. Set the rest aside.
2. Rub the butter into the flour. Add the mustard, black pepper and finely chopped gorgonzola. Knead lightly to form a dough. Divide into two and roll each half into a sausage, around 4cm in diameter. Wrap each in clingfilm and chill for 1 hour. At this stage, the sausages can be chilled for up to 3 days or even frozen for up to 3 months (defrost in the fridge overnight before proceeding).
3. Pre-heat the oven to 190°C, gas mark 5. Unwrap the rolls and slice each into approximately 0.75cm slices. Space out on two baking sheets lined with non-stick baking paper. Bake for about 10 minutes, until slightly puffed and beginning to turn golden. Cool on the baking sheets for 5 minutes then carefully transfer to a wire rack to cool completely.
4. Top the cooked biscuits with a small wedge of the remaining gorgonzola, a scant half teaspoon of quince jam and a sliver of red or white chicory.
Christmas Ham with Chili and Marmalade Glaze
This majestic, clove-studded baked ham with its chilli and marmalade glaze is actually a cinch to put together. Cook it in the stock a couple of days ahead of time, ready to glaze on the day.
Serves 8-10 with leftovers
Ingredients:
4kg unsmoked gammon joint on the bone (a 'Christmas ham')
2 tbsp soft dark brown sugar
4 whole cloves
1 tbsp whole black peppercorns
2 bay leaves
For the glaze:
2 tbsp thin-cut marmalade
2 tbsp ginger preserves
1 red chilli, deseeded and finely sliced
1 tbsp soft dark brown sugar
A large pinch ground allspice
1 tbsp Dijon mustard
1 tbsp cider vinegar
2 tsp cornflour or plain flour
3 tbsp whole cloves
Method:
1. Put the ham in a large casserole or saucepan, big enough to hold it comfortably. Add enough water to just cover – approximately 2.5 litres – along with the brown sugar, 4 cloves, peppercorns and bay leaves. Bring to the boil slowly, skimming off and discarding any scum with a large spoon. Simmer very gently for 1 hour 50 minutes. Leave to sit in the hot cooking liquid for 20 minutes. Drain then cool slightly.
2. Carefully remove the skin with a knife, leaving a good layer of the ham fat behind. Score the fat in a diamond pattern with a sharp knife, being careful not to cut into the ham itself. At this point the ham can be cooled completely, then wrapped and chilled for up to 2 days before leaving at room temperature for 30 minutes and continuing with the recipe.
3. The glaze – excluding the cloves - can also be made up to 5 days ahead of time and kept in the fridge until needed. Preheat the oven to gas 6, 200ºC, fan 180ºC. Combine all the glaze ingredients in a small bowl and spread thickly over the scored fat. Press the pointed end of a clove firmly into the criss-cross join between each scored diamond, repeating until the top of the joint is completely studded.
4. Sit the joint on a rack, nestled in a roasting tin lined with foil (to make the tin easier to clean afterwards). Add 200ml water to the roasting tin and bake the ham for 30 minutes, until the glaze is well-caramelised.
5. Rest for 10 minutes before carving into thin slices.
Roast Carrot, Mushroom and Chestnut Puff Pies
Rustic, little vegetarian pies designed to either accompany the ham, or entirely replace it for vegetarians. Either make the filling a couple of days ahead and the pies on the day, or finish the pies the day before, keep them chilled and reheat in a hot oven when needed.
Makes 8
Ingredients:
3 medium carrots (about 270g) peeled and diced
2 tbsp olive oil
2 shallots, halved and finely sliced
30g butter
125g small chestnut mushrooms, sliced
1 tbsp fresh thyme leaves
2 tbsp brandy
120g chestnuts (cooked or vac-packed), roughly chopped
30g walnuts, roughly chopped
A large handful flat leaf parsley, chopped
A little plain flour
2 x 320g sheets ready-rolled butter puff
1 egg yolk
1 tbsp milk
1 tsp nigella or black onion seeds
Method:
1. Pre-heat the oven to 200°C, gas 6. Toss the carrots with 1 ½ tablespoons olive oil, spread out on a baking sheet and season well. Roast for 25-30 minutes, until soft and caramelised.
2. Gently cook the shallots in half the butter in a large frying pan for 10 minutes until soft, but not coloured. Transfer to a plate and set aside.
3. Return the pan to a high-medium heat and add the remaining butter and olive oil and the mushrooms. Fry for 2 minutes then stir in the walnuts, thyme, brandy and chestnuts. Continue to cook for 2 minutes until no liquid remains. Remove from the heat and stir in the carrots and parsley. Season to taste and set aside to cool.
4. The filling can be made up to 2 days in advance and kept chilled until needed. Either turn the oven down to 190°C, gas 5 or preheat it to this temperature (if filling has been made in advance).
5. On a lightly floured surface, roll out the pastry sheets a little thinner. Stamp out 16 x 9cm rounds, 8 per pastry sheet. Space 8 pastry rounds out on two baking sheets, 4 per sheet, and put 2 tablespoons of filling in the centre of each.
6. Brush the pastry edges with water and top each with the second pastry round, pressing firmly around the edges to exclude any air. Use the tines of a fork to press all around the border, imprinting a pattern and sealing the edges further.
7. Combine the egg yolk and milk and brush over the pastries to glaze. Scatter lightly with nigella seeds and bake for 25-30 minutes, until puffed and golden.
Beetrott, Potato and Taleggio Gratin
Put this indulgent gratin together on the morning you need it and keep in the fridge until ready to cook.
Serves 8 as a side
Ingredients:
600g medium-sized, waxy potatoes, such as Charlotte, very thinly sliced
300g beetroot (about 3 medium), scrubbed and very thinly sliced
50g butter, softened
1 clove garlic, finely chopped
6 sprigs thyme, leaves only
4-5 tbsp fresh breadcrumbs
100g Tallegio cheese, diced
30g parmesan, finely grated
250ml crème fraiche
250ml milk
Method:
1. Bring a large saucepan of water to the boil and add the potato slices to the boiling water. As soon as the water returns to the boil, drain the potatoes. Refresh under cold water. Drain again and spread out on kitchen paper or a clean tea towel to dry.
2. Pre-heat the oven to 180°C, gas 4, Grease a shallow gratin dish (about 30 x 20cm) with 15g softened butter and sprinkle the garlic and a little thyme over it. Arrange half the potatoes in the bottom of the dish, season with salt and freshly ground pepper.
3. Cover with the sliced beets and a little more thyme. Pour half the crème fraiche mixture over. Season generously again and finish off with a final layer of overlapping potatoes and the remaining crème fraiche mixture.
4. Combine the breadcrumbs, remaining thyme, cubed Tallegio and grated parmesan in a bowl. Sprinkle the breadcrumb mix and on top, dot with the remaining butter and bake for about 1 hour 10 minutes, covering loosely with foil if it looks to be turning too dark, until the gratin becomes crisp and golden brown with the cream bubbling up around the edges.
Spiced Red Cabbage with Juniper and Bay
An easy side, perfect with the ham and puff pies. It can be made in the morning and gently heated through when required.
Ingredients:
1 small red cabbage
25g butter
1 red onion, finely sliced
1 tsp juniper berries, lightly crushed
1 star anise
½ cinnamon stick
2 bay leaves
1 small quince or dessert apple, grated, leaving the core behind
4 tbsp red wine vinegar
2 tbsp redcurrant jelly
Method:
1. Slice the cabbage as finely as possible, discarding the core and any tough pieces of leaf.
2. Melt the butter in a pan with a tight-fitting lid over a medium heat. Cook the onion, uncovered, for 5 minutes until softened, but not browned.
3. Stir in the spices and bay then add the cabbage, grated quince or apple, red wine vinegar and sugar plus 100ml cold water. Stir until thoroughly mixed. Season.
4. Bring to the boil, then cover tightly and simmer for about 20 minutes, stirring occasionally, until the cabbage is very tender and the liquid has evaporated. Stir in the red currant jelly, allowing it to melt and glaze the cabbage, then serve.
See: Sweet recipes to delight the senses
Chocolate Cherry Bombe Alaskas
Even if you have no intention of making these baked Alaskas (magnificent and surprisingly easy, though they are), don't pass the chocolate cake base by! It's such a light, fudgy cake, perfect with ice cream and chocolate sauce or iced as a birthday cake. If you can't find morello or sour cherries in syrup, don't worry, black will do.
Makes 8
Ingredients:
For the chocolate cake
250g plain flour
60g 70% cocoa powder
1 tsp bicarbonate of soda
1 tsp baking powder
190g caster sugar
190g soft dark brown sugar
2 eggs, lightly beaten
125ml buttermilk
1 tsp vanilla extract
1 tbsp chocolate extract or brandy
125g unsalted butter, cubed
1/2 tsp salt
8 scoops white chocolate or vanilla ice cream
For the cherry compote:
340g jar of morello or sour cherries in syrup or 400g tin black cherries in light syrup
2 tbsp golden caster sugar
1 vanilla pod, split lengthwise with seeds scraped out
For the meringue:
4 egg whites
140g golden caster sugar
140g icing sugar
1 tsp cocoa powder, for dusting
Method:
1. Pre-heat the oven to 190°C, gas 5 and line a 20 x 30 cm tin with non-stick baking paper.
2. Sift the flour, cocoa powder, bicarbonate of soda and baking powder into a large mixing bowl. Stir in the sugars, mixing everything together evenly.
3. In a separate bowl, whisk the eggs, buttermilk, vanilla extract and chocolate extract or brandy together briefly.
4. Place the cubed butter and salt in a saucepan with 240ml water. Set over a medium heat and remove the pan as soon as the water boils. Pour into the dry mixture and begin to stir in with a spatula or large metal spoon, pour in the egg mixture and fold everything together thoroughly.
5. Pour into the tin and bake for 25-30 minutes, until risen and springy. Turn out and peel the paper away then leave to cool.
6. Meanwhile, put the cherries and their syrup in a saucepan with the sugar and vanilla pod and seeds. Bring to the boil and simmer briskly, stirring occasionally, for about 6 minutes, until the liquid is thick and syrupy. Set aside to cool. Remove the vanilla pod.
7. Pre-heat the oven to 220°C, gas 7.Using a plain round cutter, stamp out 6cm diameter circles of cake (the remaining cake scraps can be frozen and defrosted to serve with ice cream when needed). Space the cake discs out on a baking tray and top each with a spoonful of cherry compote.
8. Using an electric whisk - handheld or free-standing - whip the egg whites, salt and golden caster sugar together until holding stiff peaks. Sift the icing sugar over and continue to whisk for 3–4 minutes, until the mixture is very stiff and has a shine to it. Put a scoop of ice cream on top of each cherried cake disc. Using a palette knife, smooth an even coating of meringue over each stack, right down to the baking sheet, making sure there are no gaps at all. (The Alaskas can be frozen for up to 24 hours at this point and baked straight from the freezer.)
9. When you are ready to serve, put the Alaskas in the oven for about 3 minutes, until just browning on top. Alternatively, you can use a powerful blowtorch to brown the meringue all over. Serve immediately, scooping them onto serving plates with a fish slice. Dust lightly with cocoa powder at the table using a small sieve.
Styling/ Marisa DalyPhotography/ Simon Brown
Alice Hart is a food writer and recipe developer, working across a wide variety of media, from magazines to books. Alice's recipe books are based on wholesome produce and seasonal eating, and while she takes a balanced approach, using wholefoods and vegetables wherever possible, she also finds joy in an excellent cake. Alice is also invested in sports nutrition and is a Level 3 personal trainer, a seasoned endurance sports competitor and a trained chef.