Game bird recipes – to host the perfect festive feast
For a new twist on the classic Christmas meal, Alice Hart serves up six delicious recipes using tasty British birds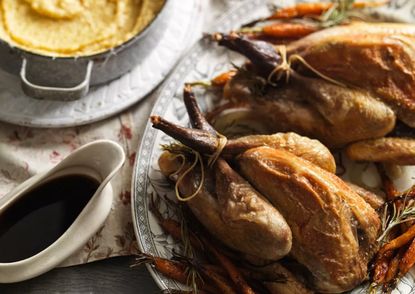 (Image credit: Future/Jonathan Gregson)
These game bird recipes will help you make the most of creating a Christmas with a difference. After all, it doesn't have to be about eating the traditional roast and turkey.
If you want something more extravagant and exciting, why not try the many glorious birds that come into their own at this time of year. Their rich flavors will make for incredibly tasty lunches and suppers over the festive period.
There's partridge, poussin and guinea fowl, to name but a few. Not all of these game bird recipes are as you might expect: we're even treating you to a Vietnamese take on quail...
Add these to your list of favorite Autumn recipes for dinners that simply can't fail to please.
Game bird recipes for Christmas
These are our favorite game bird recipes – they're easy to recreate with seasonal ingredients and so tasty. Bon appetit!
Pan-fried partridge breasts with red pears and thyme
Serves 4
The delicate flavor of partridge pairs beautifully with sweet shallots and fragrant winter fruits to make a quick, celebratory supper dish.
Ingredients:
8 boneless partridge breasts
2 tbsp olive oil
Salt and freshly ground black pepper
15g butter
3 banana shallots, sliced into wedges
4 thyme sprigs
1 garlic clove, bruised
2 red pears, cored and sliced into wedges
100ml white wine
300ml chicken stock
Buttery mashed potato, to serve
Method:
1. Season the partridge breasts on both sides. Melt in the olive oil and butter in a frying pan set over a medium-high heat.
2. Sear the partridge breasts for 2-3 minutes on each side, remove to a plate and keep warm.
3. Reduce the heat slightly, add the shallots, thyme and bruised garlic to the pan and caramelise, stirring occasionally, for 5 minutes.
4. Add the pear wedges to the pan and turn the heat up. Cook for about 5 minutes, until well-caramelised. Remove the pears to the plate with the partridge.
5. Pour the wine into the pan and reduce by half. Add the stock and bubble down furiously for a few minutes to make a syrupy sauce.
6. Remove the garlic and discard. Return the pears and partridge breasts to the pan with any collected juices and spoon the sauce over.
7. Check the seasoning and serve over buttery mashed potatoes.
Sticky Vietnamese five-spice quail
The conventional way to eat this dish is to cut whole cooked birds into pieces and wrap in a lettuce lead with noodles and a few herb leaves. Then dunk in the piquant dipping sauce. Shredded carrot, pickled in diluted rice vinegar, sugar and salt for a day or two then drained, would also make a good addition to the bundle.
Serves 6
Ingredients:
For the marinade:
20g fresh ginger, peeled and finely grated
2 garlic cloves, crushed
1 tsp 5-spice powder
3 tbsp dark soy sauce
3 tbsp runny honey
2 tbsp Shaoxing rice wine or dry sherry
For the lemon and pepper dipping sauce:
2 lemons, juice only
1 tsp caster sugar
1 tsp ground white pepper
3/4 tsp sea salt
1 Thai red chilli, finely sliced
To serve:
400g fine rice noodles
A handful mint sprigs
A handful coriander sprigs
A handful Thai basil sprigs (optional)
Crisp lettuce leaves, for wrapping
Method:
1. Using sharp scissors, snip each quail along either side of the breastbone, then remove the flesh from the bone and open out flat.
2. Rinse with water and dry thoroughly with kitchen towels.
3. Mix all the marinade ingredients to a large bowl, then add the quail and turn to coat well. Cover the bowel and chill for at least two hours or overnight. Mix all the dipping sauce ingredients in a bowel and set aside.
4. When ready to cook, preheat the oven to 200°C, 180°C fan, gas mark 6 and line a large roasting tin with foil.
5. Place a large griddle pan over a high heat until very hot. Working in two or three batches, shake the quail free of any excess marinade and griddle, skin-side down first, for a minute or so on each side, until burnished brown and charred in places.
6. Transfer to the roasting tin, skin-side up. When all have been griddled, pour any leftover marinade over and roast for 10 minutes until just cooked through but still juicy.
7. Pour boiling water over the noodles and soak for a few minutes according to packet instructions until softened. Refresh under cool water in a colander and drain well.
8. Pile the quail up on a platter alongside the cooked noodles, herbs and lettuce leaves, then serve with the bowl dd the bowl of dipping sauce.
Apple brined roast poussin with an apple, fennel, red onion and white bean salad
Serves 4
Soaking overnight in brine makes the poussin extra flavourful and juicy. Serving the birds with a crisp winter salad makes a light dish for a heartier meal. Accompany with cider gravy and plenty of crusty bread.
Ingredients:
For the brine:
500ml apple cider
½ tbsp salt
½ tbsp black peppercorns
2 tbsp honey
2 tbsp cider vinegar
2 bay leaves
1.5 liters iced water
For the poussins:
2 red onions, thickly sliced (skin on)
4 poussins
30g butter, very soft
8 rashers streaky bacon, halved
300ml dry apple cider
300ml chicken stock
For the salad:
1 x 400g tin haricot beans, drained
1 fennel bulb, trimmed and very finely sliced
1 small red onion, halved and very finely sliced
2 British red apples, cored and cut into matchsticks
2 tbsp extra virgin olive oil
2 tsp cider vinegar
Method:
1. Gently heat all the brine ingredients except the water in a pan to dissolve the salt and sugar.
2. Add the iced water, pour into a large bowl and chill for 30 minutes, then submerge the birds. Leave to brine for at least 3 hours or overnight.
3. Rinse well and pat dry. Preheat the oven to 200°C, fan 180°C, Gas Mark 6.
4. Lay the red onion slices across the base of a sturdy baking tray, sit the poussins on top. Cover the breasts and legs of the birds with butter, season and lay four halved bacon rashers on top of each.
5. Roast for 30 minutes until golden with juices that run clear when a poussin is pierced through the thigh. Rest the birds, loosely covered, for 10 minutes before serving.
6. Meanwhile, set the roasting tin over a high heat and add the cider, stirring. Reduce down by a half and add the chicken stock, boiling for a few minutes until syrupy.
7. Combine all the salad ingredients in a bowl and seasoning lightly. Serve with the whole poussins, along with the pan juices and some crusty bread, if liked.
See: Christmas dining room ideas that are perfect for festive feasting
Roast guinea fowl with rosemary carrots and baked polenta
Instead of stirring polenta on the stovetop for two hours, try baking it for fabulous, toasty results. You won't be able to tell it apart from traditionally simmered polenta, but it's an absolute cinch to make and it knocks the socks off the instant sort. Everything here but the simple gravy is roasted in the oven so getting a hearty roast on the table is merely a question of timing.
Serves 4-6
Ingredients:
240g polenta (not the instant sort)
50g butter
3/4 tsp salt
2 guinea fowl
6 sprigs rosemary
1 lemon, halved
2 onions, sliced (skins on)
100ml madeira
500ml chicken stock
400g baby carrots with tops
25g Parmesan, finely grated
2 tsp honey
Method:
1. Preheat the oven to 190°C, fan 170°C, Gas Mark 5.
2. Put the polenta in a baking dish or wide pot and stir in the ¾ teaspoon salt and 30g butter with 1.6 liters water. Bake, uncovered for 1 hour.
3. Rub the remaining butter over the breasts of the guinea fowl and sprinkle generously with sea salt. Put the rosemary sprig and half a lemon in the cavity of each, and tie the legs with kitchen string.
4. Put the sliced onions on the base of a sturdy roasting tin, place the birds on top and roast for 50 minutes, until the skin is golden and the juices run clear when pierced with a skewer through a thigh.
5. Remove the birds to a platter to rest for 10 minutes.
6. Put the roasting tin over a high heat and add the Madeira.
7. Boil fiercely to reduce by half, then add the stock and bubble for 5 minutes until syrupy. Keep the gravy warm.
8. Lay the carrots (with their tops still on) in a roasting tin with the olive oil and the remaining rosemary sprigs. Season, toss to mix and roast for 25 minutes.
9. Meanwhile, stir the polenta well and return to the oven for about 20 minutes.
10. Stir in the Parmesan, cover with foil and rest for 5-10 minutes before serving.
11. Turn the oven up to 220°C, fan 200°C, Gas Mark 8, stir the honey into the carrots and roast for 10-15 minutes more, until caramelized.
12. Carve the rested birds into large pieces and serve on bowls of polenta with a pile of carrots and the pan juices spooned over.
Turkey, roast beetroot, watercress and crisp chestnut salad with a redcurrant dressing
This makes a perfect seasonal dish for using up leftover roast turkey or chicken. Simply warm it through in a pan rather than cooking it as per the recipe below.
Serves 4
Ingredients:
8 small beetroot, scrubbed
3 tbsp red wine vinegar
5 tbsp fruity olive oil
6 thyme sprigs
30g butter
300g turkey breast, cut into strips
200g cooked, peeled chestnuts (vacuum-packed)
1 shallot, very finely chopped
2 tbsp redcurrant jelly
100ml chicken stock
100g redcurrants, berries stripped from their stalks
100g watercress, any coarse stems removed
Method:
1. Preheat the oven to 190°C, fan 170°C, Gas Mark 5.
2. Put the beetroot in the centre of a square of foil, bring up the edges and add 1 tablespoon vinegar, 2 tablespoons olive oil and the thyme sprigs.
3. Scrunch the edges together firmly to make a loose pouch and bake on a tray for 45 minutes. Set aside to cool slightly.
4. Melt half the butter and a splash of oil in a frying pan.
5. Add the turkey strips, season and fry over a medium-high heat for a few minutes, stirring often, until golden and cooked through.
6. Remove from the pan and keep warm. Add the remaining butter and the chestnuts, season and fry until browned. Lift out with a slotted spoon and add to the turkey.
7. Return the pan to a gentler heat and add the shallot, then fry until softened, but not colored. Stir in the redcurrant jelly and stock and bubble down for 2 minutes.
8. Add the redcurrants, cook for a few seconds then remove from the heat and whisk in the remaining vinegar and olive oil.
9. Gently combine the watercress, beetroot, turkey and chestnuts in a serving bowl.
10. Spoon over the warm redcurrant dressing and serve.
Pheasant and mushroom puff pastry pie
This special pie is ideal for a dinner party or informal supper. Just add mash and greens to stretch it further.
Serves 4-6
Ingredients:
4 tbsp plain flour
3 pheasants, divided into breasts and thighs and deboned
30g butter
1 tbsp olive oil
400g mixed mushrooms (including wild, if possible)
10 shallots, peeled and halved
150ml dry sherry
4 juniper berries, lightly crushed
400ml good, fresh chicken stock
50ml double cream
375g all-butter, ready-rolled puff pastry
1 egg, beaten, to glaze
Method:
1. Season the flour generously with salt and black pepper and spread out on a plate.
2. Coat the pheasant pieces with the flour, saving any that doesn't stick.
3. Heat the butter and oil in a casserole or deep frying pan, add the floured pheasant pieces and sear over a medium heat, until browned on all sides.
4. Remove to a large bowl with a slotted spoon. Add the mushrooms to the pan and cook, stirring for 5 minutes, then add these to the pheasant using a slotted spoon.
5. Cook the shallots (adding a little more butter or oil, if needed) for 5 minutes, until beginning to brown, stirring in any of the unused flour at the end.
6. Add the sherry and crushed juniper and bubble down for 1-2 minutes.
7. Gradually add the stock, bring to the boil and simmer briskly for 5 minutes, then stir in the cream.
8. Remove from the heat and stir the pheasant, mushrooms and any juices from the bowl.
9. Transfer to a pie or baking dish and cool.
10. Preheat the oven to 190°C, fan 170°C, Gas Mark 5.
11. Cover the filling with the pastry, allowing about 4cm of excess to drape over the sides (stick this down with a little water). Make a large slit in the centre to let the steam out, brush with beaten egg to glaze and bake for about 40 minutes, until deeply golden.
12. Let the pie sit for 10 minutes before serving with mash and/or steamed greens.
Photography/JonathanGregson
Styling/TabithaHawkins
Sign up to the Homes & Gardens newsletter
Decor Ideas. Project Inspiration. Expert Advice. Delivered to your inbox.
Alice Hart is a food writer and recipe developer, working across a wide variety of media, from magazines to books. Alice's recipe books are based on wholesome produce and seasonal eating, and while she takes a balanced approach, using wholefoods and vegetables wherever possible, she also finds joy in an excellent cake. Alice is also invested in sports nutrition and is a Level 3 personal trainer, a seasoned endurance sports competitor and a trained chef.