The architectural features that add value to a home – according to interior designers and expert realtors
These are the architectural features that will add value at resale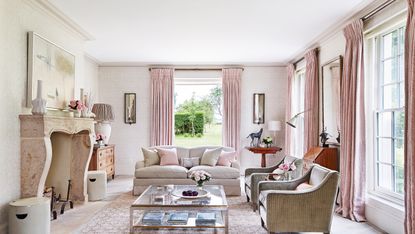 (Image credit: Alicia Taylor/Future)
Sign up to the Homes & Gardens newsletter
Decor Ideas. Project Inspiration. Expert Advice. Delivered to your inbox.
Thank you for signing up to Homes & Gardens. You will receive a verification email shortly.
There was a problem. Please refresh the page and try again.
The architectural features that add value to a home are something to be aware of if you are about to sell. These elements of home design are guaranteed to catch buyers' attention, according to experienced realtors and interior designers.
You will see the biggest return on your investment with these if your home is in a higher price bracket, but refined architectural detailing will elevate the look and perceived value of all homes.
Architectural features that add value to a home
Adding or emphasizing any of these features is one of the best ways to add value. Give them a special consideration if you are revamping your home ahead of a sale.
1. Custom woodwork
Fine woodwork never goes unnoticed when buyers look around a home. According to Paul Smith, an interior designer and woodwork expert at Woodworker Magic, explains that 'having custom-made woodwork in your house is proven to add value to a house. A reading room or lounge with painted bookshelves or custom woodwork design in the windows takes the house to another level. Custom woodwork gives a personality and aesthetic to a room. It never fails to grab attention, hence adding more value to a house.'
Woodwork fits seamlessly into cozy living room ideas, especially if there is a reading nook, but painted woodwork in a lighter color will work in larger, more modern spaces, too.
2. Decorative crown molding
Crown molding is having something of a revival lately. It instantly adds interest and elegance to any room. Jason Gelios, of It's All About TheReal Estate, comments: 'Decorative crown molding has and continues to be one of the best ways to add appeal and value to a home. The molding should be added throughout the home with some rooms such as bedrooms or dens having additional molding towards the ceiling.'

Thomas Vibe, interior designer and founder of Stone Wizards, also praises the value-adding potential of molding: 'Crown molding is a great way to lift a room. Just adding this architectural detail can transform your dining area or bedroom into a space that's rich and brimming with character.'
Charmaine Wynter, a Texas-based luxury interior designer, adds that you should try to have molding installed as high up as possible: 'Crown moldings can impact the perceived value of a property simply by increasing their height. The higher the baseboard trim or crown molding, the more costly it is thought to be as well.'

3. Decorative ceiling beams
Architectural beams are another crowd-pleasing architectural feature that will never cease to impress buyers who are after the covetable modern rustic look. Thomas says: 'If you'd like a more laid-back look, ceiling beams are a great alternative to moldings. Try a box-beam ceiling for a sophisticated but not stuffy look in your kitchen or dining area.'
Jason agrees, adding that beams are especially popular as an addition to homes in higher price bands: 'In higher-end homes, columns and ceiling beams really make the home pop while adding value in the process. In the luxury market, we see home builders adding ceiling beams that contrast with the paint and columns.'
Ceiling beams will also make a particularly eye-catching addition to traditional bedroom ideas.
4. A fireplace
Charmaine urges sellers to pay specific attention to the fireplace – if they're lucky to have one: 'Of huge architectural impact and function to a home is the fireplace. Or more specifically, the mantel, overmantle, and surround design. The grander the better as it adds immediate impact to a wall space and draws the eye up to the ceiling.'
Simon Ru, an experienced realtor and the CEO of UpNest, also points out that a fireplace is a value-adding feature if it is grand or unusual: 'While a plain brick fireplace may not add much value, some beautiful tile work or a custom mantel can take a living room to the next level.'
The fireplace ideas for living rooms that are the most luxurious will add the most value.
5. An oversized window or door casing trim
Ceilings, beams, windows, doors – a pattern is emerging, where the architectural features that draw the eye upwards tend to add the most value. The eye naturally gravitates upwards, but also outwards. Buyers always notice the condition of windows and doors.
Charmaine explains that one of the best ways to make a good impression on a buyer is by making large windows and doors even more prominent with an oversized casing trim: 'You can make a big impact just by increasing the height and or width of a doorway opening – trim it out with oversized door casing and then it's even richer looking. Similarly to the door casing, the window casing trim looks more impressive based on the size. This is the one place where fatter is favored.'
With architectural features that add value, bigger and bolder really seems to do the trick. Good workmanship and a bespoke design will always be appreciated by savvy buyers.
Sign up to the Homes & Gardens newsletter
Decor Ideas. Project Inspiration. Expert Advice. Delivered to your inbox.
Anna K. Cottrell is now a freelance writer, having previously been a Content Editor for Future's homes titles. She writes about interior design, property, and gardening. On H&G, she specialized in writing about property – buying, selling, renting – sustainability and eco issues.