Charu Gandhi discusses the use of contemporary tapestry in interior design
Hosting a panel including Russell Pinch and Geraldine Larkin, the interior designer reveals how she uses tapestry in her clients' homes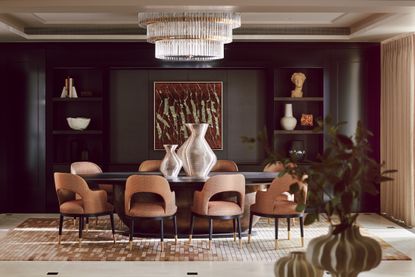 (Image credit: Charu Gandhi/Elicyon)
Sign up to the Homes & Gardens newsletter
Decor Ideas. Project Inspiration. Expert Advice. Delivered to your inbox.
Thank you for signing up to Homes & Gardens. You will receive a verification email shortly.
There was a problem. Please refresh the page and try again.
Back in October, interior design studio Elicyon hosted a discussion of 'The Contemporary Tapestry' at The Luxury British Craftsmanship Pavilion at Chelsea Barracks.
The panel gathered to discuss this most elegant of wall decor ideas was hosted by Charu Gandhi, Founder and Director of Kensington-based interior design studio Elicyon, and included Geraldine Larkin, who responsible for the reinvention of the ancient craft of embroidery, and creator, Pinch furniture design founder Russell Pinch.
With a shared passion for tapestry and craft, they discussed what contemporary tapestry looks like in interior schemes today, how it straddles craft and art, why fabric can be considered 'liveable' tapestry and the delicate process from artisan to abode. Here, Charu details the discussion exclusively for H&G.
Tapestry, in the traditional sense, refers to a handmade piece of woven textile art, featuring a number of colors. Nowadays, tapestry has evolved to represent an embroidered artwork that we use in a decorative nature; an intricate, delicate process that epitomizes craftsmanship.
The championing and appreciation of craft has recently boomed; over the past few years, there has been a seismic shift in individuals choosing to invest in this delicate art form. With more time being spent at home, there comes a more considered consciousness of surroundings, and so a renewed appreciation for craftsmanship.
'There is a real desire to own a piece of furniture or textile that is individual and reflects your personality. It's happened in fashion for so long, but only now the home is starting to catch up. Our homes become a personal canvas to showcase our passions and style – a movement that's never been more prominent than in the last five years,' says Russell Pinch.
Pinch is tirelessly dedicated to craft and the refinement process, with a passion for showcasing the beauty found in simplicity and well-crafted detail, to create products that 'endure, inspire and aspire to be inherited'.
The furniture makers recently dipped their toes into textiles with the launch of a new hand-spun flat weave rug collection in collaboration with designer Sussy Cazalet. Not always working with the obvious craftsperson, 'we look for dimensionality with our makers, for example we partner with high end art fabricators on many of our designs,' comments Pinch.
Charu Gandhi explains that a really successful designer and craftsperson partnership blossoms through confidence and experience.
'When I first started Elicyon seven years ago, we were far more structured in our schemes and the reins were tight when it came to involving partners. Confident in my ability as a designer, I've definitely loosened up and learnt to let go with craft, allowing the skill of the textile maker to sometimes guide a product in a different direction. Being surprised and delighted along that journey is often the biggest joy when bringing a design to life.'
Geraldine Larkin, whose background is in fashion and architecture and whose work has featured in the fashion houses of Versace, Fendi, Tom Ford and Louis Vuitton to name a few, was drawn to the mysterious craft of embroidery. Considered living and alive by Larkin, and by many makers, contemporary textiles change and move with the light, and respond entirely to their surroundings giving interior spaces movement.
'The beauty of creating tapestries is their interaction with light, it's a constant play. A piece will look different from morning to night; when you're reading the paper in the morning it promises such a contrast to when entertaining with friends in the evening,' Larkin comments.
The real luxury of working and living with textiles is being surprised by the ever-evolving appearance of a piece. Creating liveable art can also refer to the journey a product encounters on its way into a home or showroom. An idea from a maker transforms into a small prototype, which is then taken to a workshop and finely tuned by a skilled craftsperson, 'something that starts as a sketch meanders through experienced hands and the end product is always so much richer through the magic of the craft,' says Pinch.
As an interior designer, Gandhi believes that bringing clients along to experience the journey, to meet the craftspeople and engage intimately in the process, ultimately enriches the value of the final product and her clients' homes. With a need to be more connected to what we surround ourselves with in the home, contemporary tapestry is one to watch in 2022 – from the tapestry art hung on the walls and the textiles that cover sofa cushions to the woven rug underfoot.
Sign up to the Homes & Gardens newsletter
Decor Ideas. Project Inspiration. Expert Advice. Delivered to your inbox.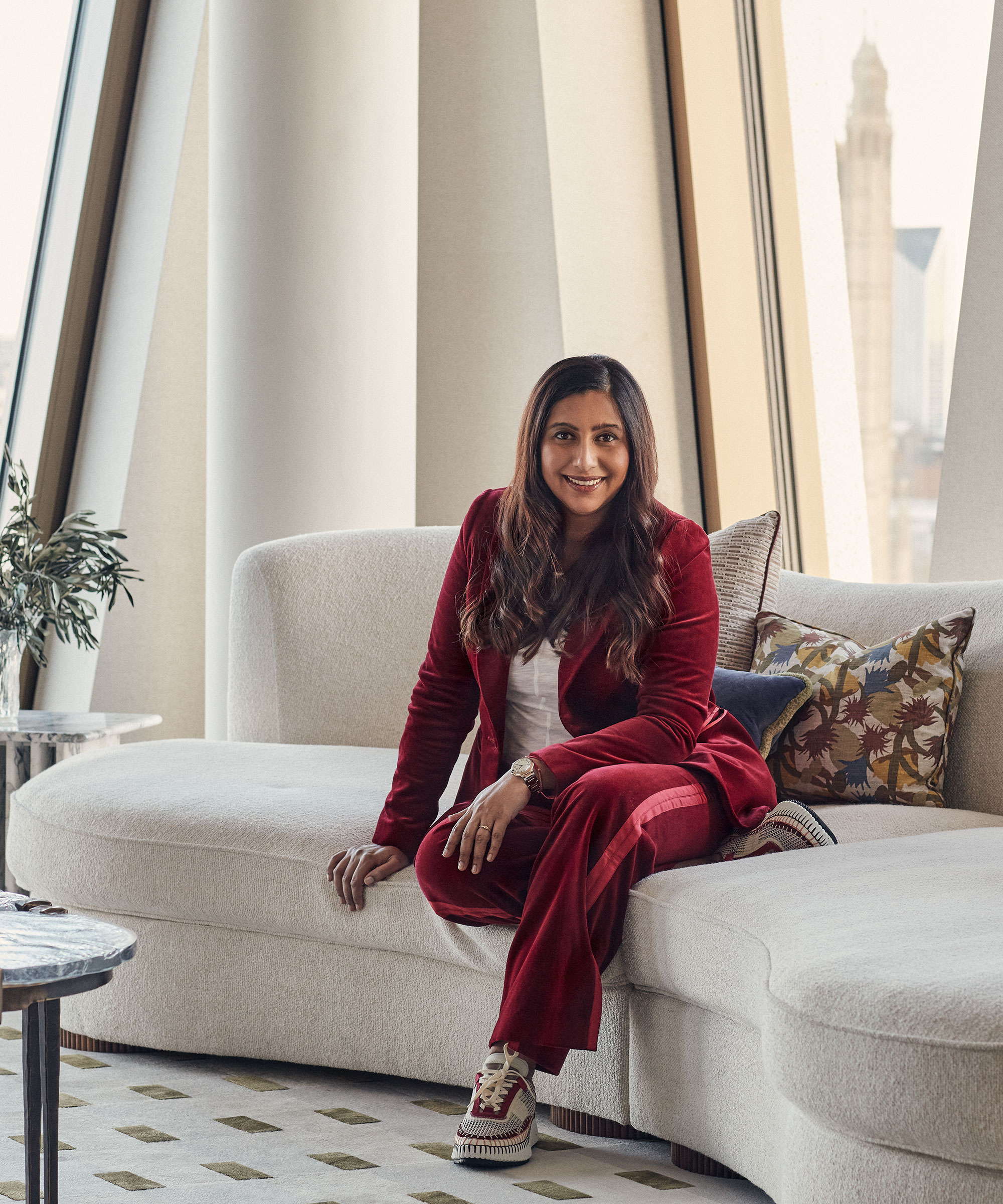 Charu Gandhi is Founder & Director, Elicyon. Charu Gandhi is a qualified Architect, registered with RIBA and ARB, who studied and taught at the Architectural Association before joining the London offices of Allies & Morrison Architects in 2006, where she worked on exceptional residential and hospitality projects in Beirut, Kerala and Qatar. Her portfolio of commissions also included the Doha National Library and the London Olympics Masterplan. Now in its eighth year, Elicyon is creating luxury, bespoke interiors for private clients, residential developers and boutique hotels in some of London's most illustrious addresses, as well as around the world.