Christmas door decorating ideas: the UK goes wild for the US tradition of doorscaping
This Christmas, the hottest trend in the UK is 'doorscaping' but Americans have been decorating front doors for years...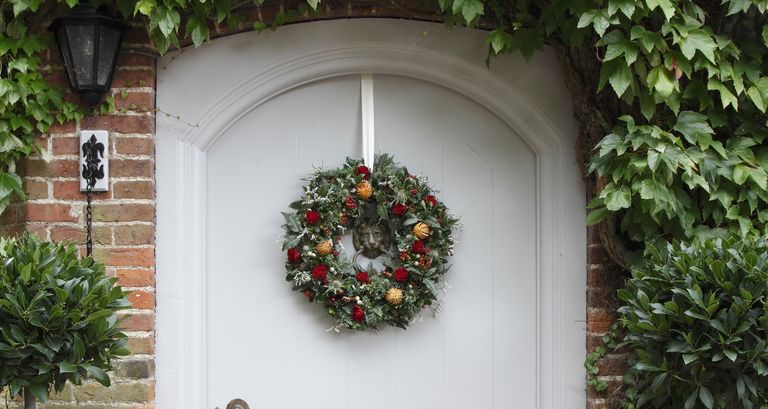 (Image credit: Future/James Balston)
Christmas door decorating ideas have a new name: doorscaping. And while Americans have been doing it for years, it is the latest of this year's Christmas trends to put the UK in a spin.
Yes, this Christmas door decorating craze has everyone, including designers and celebrities, decorating their front doors and porches with a lot more oomph this year. When once they may have hung a simple wreath, now they've added baubles, lights, ribbons... and all the rest.
A quick Instagram search using the hashtags #doorscaping, #christmasporch and #doordecor will reveal just some of the fabulously fun designs out there now, as well as the more subtle beauties.
Its success this year is in part because of the dreadful year we've all had and our desire to have something to celebrate, but many feel this shared form of decoration is a little like giving back to the community by providing neighbors and passers by with an instant hit of festive cheer.
If you're reading this and are based in the US, the name doorscaping may be new to you too, but the art form certainly isn't.
The Americans have been doing this for years, with a vast array of US porches, doorsteps and doorways decorated from October onwards. Firstly for Hallowe'en, then for Thanksgiving and finally at Christmas time, with the decor tweaked every month to encapsulate each theme perfectly.
We've gathered our favorite looks from both sides of the pond to help you raise your door decor to another level this Christmas - just take a look at the below for instant decorating inspiration.
1. Tie a ribbon on it
Hillary Bowles from North Carolina has highlighted the wonderful archway above her door with a large garland, simply made of fresh foliage. Her two bay trees have been given a festive upgrade with the addition of red bows as have the matching door wreaths. The super cute pooches in the doorway - again sporting red ribbon bows - complete the look.
Know about doorscaping now? Why not read all about tablescaping next?
2. Go for gorgeous gold
Britain's Got Talent judge Amanda Holden has decorated her country cottage in The Cotswolds with a host of rose gold and bronze baubles together with silvery foliage. These are all held together securely thanks to the chicken wire covering her thatched porch roof.
3. Use festive props to set the scene
A host of Christmassy props - like ribbon wrapped boxes and cute red welly boots - raise this festive look from great to gorgeous. Much like a stage set, together they tell a story, one of nostalgia and the longing of a less-complicated life.
Small tealights in glass holders add a festive twinkle while, garlands made of fresh foliage and a simple wreath complete the look.
4. Use symmetry to decorate
We're rather fond of Claire Partridge of PartridgeBlooms front door. Her look is all anchored in symmetry - the framing of the door in foliage, baubles and lights, the two bare branched trees flanking the doorway and the centred wreath in similar foliage, all twinkling with warm white lights.
5. Wrap it up
Big bows are huge in doorscaping. From front doors tied up in a single oversized ribbon to large red bows that pepper an entrance-framing garland, they take the act of decorating a doorway to a literal level. What's more, they never fail to raise a smile.
6. Use your surroundings
Here, Janice from JubileeHavenCottage has decorated in tune with the home's exterior. It obviously helps that she lives in a wintery wonderland location by a lake (yes, the snow is real) but her choice of fresh colors with which to decorate the porch - and obligatory rocking chair - blend in, rather than clash with the stunning view.
7. Less is more
Sometimes less is definitely more. In this case, where the house is lucky enough to already have a swathe of glorious ivy framing the doorway, the simple addition of a classic wreath spiked with fragrant dried oranges, red roses and red berries is all that is required to give the space a fabulously festive feel.
Hello there, I'm Ginevra Benedetti,
Associate Editor on the Homes Content Team at Future.
I've been fortunate enough to have been writing about interiors for the past 16 years on the majority of Britain's monthly interiors titles, such as Ideal Home, Country Homes & Interiors and Style at Home, as well as Livingetc and of course, Homes & Gardens.
This naturally feeds into writing for wonderful websites like HomesandGardens.com and IdealHome.co.uk.
Over the years, I've interviewed some of the most talented designers in the business and I've pretty much written about every area of the home, from shopping and decorating, appliances and home tech, wallpaper and fabric, kitchens and bathrooms, even extensions and conversions.
I never tire about reading or writing about interiors, from classic timeless designs to innovative smart tech - the subject is always evolving, just as our homes do, year after year.