Inside Adele and Fred Astaire's Mayfair mansion – discover its glamorous past as it goes on sale
Once host to royalty, Fred's London home is on the market for £9.5 million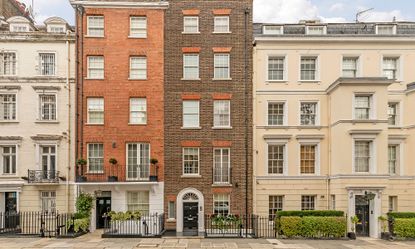 (Image credit: Wetherell)
It's not often we'd recommend a top hat, white tie and tails for a house viewing. But it seems appropriate should you plan to tour Fred Astaire's house in Mayfair, which has recently hit the market.
Located on Chesterfield Hill, the £9.5million property was £9.5 million Mayfair served as the London home of Fred and his sister Adele throughout the 1920s and '30s.
Not only was the townhouse hugely impressive, so was its roster of guests. It's understood that the Astaire entertained a legion of famous names here, including Prince Aly Khan, Lord Charles Cavendish, Sir Winston Churchill and Noel Coward. A marvellous party, indeed!
Let's take a look around.
Fred Astaire's house
Commissioned by the 1st Earl of Grosvenor, the five-story brick-fronted townhouse was built in the 1790s, and has all the features you would expect of a property in the late-Georgian style – tall sash windows, spacious rooms with high ceilings and a stunning entrance hallway with fanlight are all present and correct.
The Astaires were resident from 1928 to 1933, and the recent restoration of their home is a tasteful nod to the glamorous Art Deco styles popular at the time.
There is a lot of house to enjoy, including five bedrooms, entrance hall, main reception room, home office/library and family kitchen. It also features a dining room, cinema, games room, wine cellar/vault, staff quarters, a terrace and garden patio. There's even a lift to transport you between floors.
Drawing room
Fred and Adele first leased the property while they were performing in Funny Face on the West End. It's said they would teach their guests to tap dance in this grand first floor drawing room, which opens onto a large outside roof terrace.
Dining room
Celebrity guests were hosted in the 10-seater dining room, which leads off the main entrance hall.
Kitchen
This in turn leads onto a family kitchen with a more 21st Century feel. Sleek white cabinetry and appliances by Gaggenau offer all you could need on the culinary front.
Master bedroom
Adele's master suite takes up the entire second floor of the townhouse. Lined with built-in wardrobes, it leads into the main bathroom.
Bathroom
This glamorous yet still hugely practical space features a walk-in shower and lashings of marble and natural stone.
Guest suite
The floor above was once Fred's domain, with a spacious bedroom and adjoining bathroom. Three more bedrooms and two en suites are situated above.

No doubt Fred would get a great view here of his new Rolls Royce Phantom motorcar, which according to reports at the time, he would proudly park outside the townhouse.
Games room
Our personal favourite room is this games room, with its private member's club look. Located on the lower ground floor, it has everything you'd need for a fun night in. A cinema space, pool table, built-in cocktail bar and champagne fridge are all included.
Sadly, Fred and Adele would eventually relinquish the property. In 1932, Adele met and married her husband, becoming Lady Charles Cavendish and moving to Ireland.
Fred gave up the house in 1933, and returned to the US, where he would meet a certain Ginger Rogers...
See more of the townhouse on Chesterfield Hill, on the market for £9,500,000.
Peter Wetherell, Founder & Chairman of Wetherell believes 'that it is one of the most interesting and special property opportunities in Mayfair at present,' and we couldn't agree more.
Editor-in-Chief, Homes Audience
Amy Cutmore is Editor-in-Chief, Audience, across Future's Homes portfolio. A homes and interiors journalist of 20 years standing, she has spent much of that time writing about technology, appliances and kitchens. While other people count how many countries they've visited, Amy tots up how many countries' washing machine factories she's toured (it's eight by the way, from South Korea to Slovenia). She can't leave the house without a decent pair of noise-cancelling headphones, and is always ready to explain an acronym – be it QLED, DAB or HDMI.