5 tips from interior designer Chris Barrett – for making your home office a happy place that inspires productivity
These are the LA-based interior designer's top ways to create a home office that makes your home/work life joyful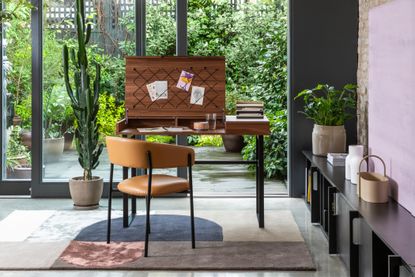 (Image credit: Heal's)
Many of us have been working from home for the past year – and for many of us, the fatigue we feel for our home office decor has really begun to set in. We may have browsed plenty of home office ideas – but we may not have considered just how positive a change can be.
Los Angeles-based interior designer Chris Barrett observes that these de facto work spaces often cause stress and reduce home office productivity. 'The main challenge,' she says, 'is that when you're working under the same roof as your mate, your kids, your dog and cat, your kitchen and laundry – achieving work/life balance seemingly becomes impossible. You're distracted by the thought of the dirty dishes when you should be concentrating on that quarterly report that's due at 4:30.'
Here, Chris shares her tips for reimagining your home/work space. 'For me, joy and balance bring beauty and beauty brings joy and balance,' she says. We're with you all the way, Chris.
1. Does my home office reflect my personality?
'I think your office should represent your personality. I wallpapered mine with a beautiful paper. It brings me joy every morning when I walk in. My wallpaper is Gucci Heron in pink. It's fun and elegant. It makes a great statement. It also makes an impactful Zoom background.
If you want to say, "I'm serious – but a bit casual", then perhaps you want do a plain grass cloth, one with a pattern. It can be a departure from the look of the rest of your house.
2. Put beautiful things to practical use
'For example, keep your pens in vintage containers. I have collected a lot of boxes over the years. I use an old nail box for files in my office. I also have a beautiful black and while inlaid box for my paper clips.
'Storage is the key to keeping yourself organized. You used to need file drawers. Now that most everything is on your computer what seems to be needed now is supplies. I do a lot of printing so I have tons of paper storage. I also need easy access to daily tools such as an architectural scale, tape measure, stapler, and scissors.'
3. Plan your video conference background
'Think about your video conference background. Clean up behind you. Hang your favorite art, add shelves – but if you add shelves, style them!
'I really like the more simple use of books. I have hundreds of books. I had a house once that didn't have bookshelves. I laid the books on their sides, spine side out and stacked them high. It turned in to a great art installation! They don't have to be stuffed on to every shelf. Leave a little breathing room. I like to have some books vertical and some laying flat. I put 'objects' on the horizontal stacks of books or a small framed photo. Or put in a piece of art on your shelf.'
4. Dress the window – beautifully
'If you have a window behind you, add curtains. The style of window covering depends a lot on the location and type of window you have. If you have a short window above the desk area, I would suggest a Roman shade. Depending on the light that comes in you might want to have it lined with black out material – there's nothing worse than glaring light behind you.
'I love floor to ceiling curtains. If you have the space, do that, even if the window doesn't go to the floor.'
5. Prioritize the desk design
'Design your desk around the way you work. I like to keep the desk simple. A large wooden desk works with a multitude of styles. I've used dining tables as desks when there's room. I've also used an Ikea white desk many a time.
See: Ingenious hidden desks – small home office ideas meet clever, creative thinking
'Or, take a spare closet (time to purge) and turn it in to an office – I turned two small closets into all shelves. You can do this by wallpapering the back wall to make it beautiful and purposeful. If you take the door off, add a privacy curtain.'
Lucy Searle has written about interiors, property and gardens since 1990, working her way around the interiors departments of women's magazines before switching to interiors-only titles in the mid-nineties. She was Associate Editor on Ideal Home, and Launch Editor of 4Homes magazine, before moving into digital in 2007, launching Channel 4's flagship website, Channel4.com/4homes. In 2018, Lucy took on the role of Global Editor in Chief for Realhomes.com, taking the site from a small magazine add-on to a global success. She was asked to repeat that success at Homes & Gardens, where she has also taken on the editorship of the magazine.