Property experts reveal the top home buyer mistakes to avoid when viewing a house
Some mistakes when buying a home are more serious than others; these are the ones to avoid, according to real estate and mortgage experts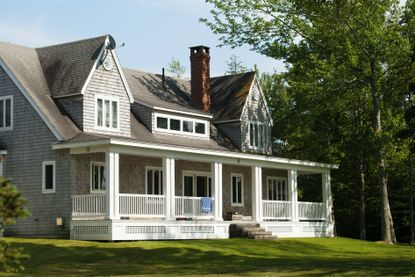 (Image credit: Unsplash)
Buying a house for the first time can be a confusing process that usually comes with an issue or two. However, while some problems are outside a buyer's control, especially now that property viewings and negotiations are happening during a pandemic, some avoidable mistake can cost buyers – in both hard-earned cash and sanity.
The better prepared you are for buying your home, the less likely you are to end up having to sell it only a few years down the line.
We've spoken to property experts – mortgage advisors and real estate veterans – and asked them about the biggest mistakes home buyers – and particularly first-time home buyers – make when choosing, viewing, and buying a home.
Avoid these – and your first home will be a cause for celebration, not regret.
1. Not doing your research
This is by far the biggest mistake, named by all of our experts as the reason why people end up in unsuitable homes.
Pete Mugleston, Mortgage Advisor and MD at Online Mortgage Advisor is adamant that mortgage research should come before you even start looking: 'it's important to carry out thorough research and preparations before getting too carried away with kitchen islands, wood burners and roman blinds.
'You should learn about your mortgage options as well as the other costs involved with buying a property. This will allow you to gain a better understanding of your budget and a good idea of the kind of price range you are working within to avoid stretching yourself too far financially.'
If, and only if you're certain that you are in good-enough financial shape to buy, you should then start researching the area you're looking at: 'it's good to research the surrounding areas to see what's available in your price range if you look a little further afield than simply the town or city you currently have your heart set on.
'It's also worth considering your nearest bus/train schedule for post COVID-19 commuting routes, local school ratings, parking and local crime rates before you start to look at houses.'
2. Not looking at the property layout before viewing
Of course, we all look at photos of homes before we decide whether to view or not; but photographs aren't everything and can be, if not misleading, at least not entirely representative of what the property really offers.
As David Moreton, Sales Branch Director at real estate experts KFH, points out, '[a] common mistake that buyers make is not looking at the property's floor plan or layout prior to organising a viewing.
'The potential buyer gets to the property, only to realize the kitchen is tiny and completely unsuitable to their needs, or that the bedroom is awkwardly shaped. Familiarize yourself with what floor plans mean and how room sizes translate into lived space (measure your current house or apartment if necessary).
3. Mentioning it's your dream house
This may seem innocuous – after all, doesn't every seller want an enthusiastic buyer? But this type of comment is a mistake because it automatically put you in a disadvantageous position – you may even end up having to pay more for the home.
Pete says, '[a] few compliments to let them know you're a fan of the property is always nice as you don't want to come off as disinterested, but the last thing you want is for them to start dropping competitive offers or raise prices because they know how much you like the house. Remaining neutral is always key regarding any negotiations.'
4. Not asking the right questions
This often comes from inexperience and ties in with prioritizing the design of the home over practical details. It may not be very exciting, but you need to know who you are buying from – are they also waiting on a property sale to come through, creating a property chain?
You also need to find out whether the home you're looking is freehold or whether it comes with a land lease; although not very common, leases are found all over the country – in Arizona, Florida, and New York, among other places.
David comments: 'It is important that you understand the tenure or lease length of the property before you make an offer. At the point of offer, have a clear understanding of the onwards sellers' chain details and ask questions with regards to your neighbors.
'You can do so by enquiring within the building if it is an apartment, or if a house, the neighbor next door. If you are buying a share of a freehold, ask a lawyer to look into the building's history under the freehold company to help avoid any problems in the future'
5. Not asking for a building quote when planning to renovate
It can be very tempting to buy a home that needs renovating – it's cheaper, and you could, potentially, transform it into you dream home to your exact spec.
However, according to David, 'not seeking a building quote at the point of offer, especially for unmodernized apartments or houses is alarmingly common.
'To avoid overspending or getting into too much debt for your renovation, ensure that you avoid discrepancies with the overall renovation costs and stick to your budget.
'Certain factors such as party wall agreements can increase costs, depending on the amount of neighbouring properties.'
You should also remember that if you're planning on buying a house in a historic district, the changes you'll be able to make could be limited.
6. Criticizing the current aesthetic
Don't underestimate the impact a careless comment could have on the seller, urges Pete: 'it is good to have some level of respect for where they live and the home they've created for themselves. Walking around and muttering to yourself or your partner about all the things you'd like to change to property is quite frankly rude and could really upset someone who's taken years to create their perfect home environment.
'Yes, you may not like their wallpaper, the color they've decorated their bedroom or the kitchen layout, but these are all things that can be easily altered to fit in with what you want further down the line, and it's never a good idea to annoy the seller of an in-demand property as ultimately it will be up to them who they choose to pass the property on to.'
7. Waiving contingencies
Waiving contingencies is sometimes presented as a way to become a more attractive buyer, but it's risky, and should be avoided whenever possible. According to real estate experts Redfin, while waiving a lower-risk contingency like early move-in dates might be fine, 'it can be a huge gamble and mistake to waive higher-risk contingencies, like a home inspection contingency or financing contingency.'
Sign up to the Homes & Gardens newsletter
Decor Ideas. Project Inspiration. Expert Advice. Delivered to your inbox.
Anna K. Cottrell is now a freelance writer, having previously been a Content Editor for Future's homes titles. She writes about interior design, property, and gardening. On H&G, she specialized in writing about property – buying, selling, renting – sustainability and eco issues.