Joanna Gaines's top tips for using green paint will put a spring in your decor's step
Joanna Gaines knows her green; follow her top tips to incorporate it into your interior design this season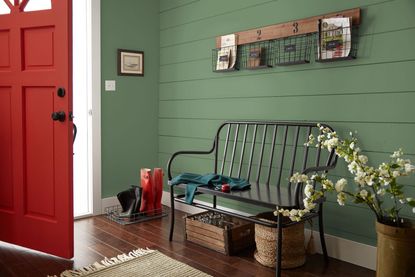 (Image credit: Magnolia/Joanna Gaines)
Sign up to the Homes & Gardens newsletter
Decor Ideas. Project Inspiration. Expert Advice. Delivered to your inbox.
Thank you for signing up to Homes & Gardens. You will receive a verification email shortly.
There was a problem. Please refresh the page and try again.
Joanna Gaines is the goddess of green: the Magnolia founder and HGTV's Fixer Upper star has said much about her love of green-and-cream decorating schemes over the years. A love that shows no signs of diminishing with time, if Joanna's (gorgeous) Instagram feed and Magnolia blog are anything to go by.
Joanna's affair with green paint is long-standing; in 2017 she described the green, white, and black color palette that has become something of a signature 'the story of my life.'
Green room ideas have become a permanent feature of Joanna's style, especially since she launched her own paint range for Magnolia.
With the new season of Fixer Upper launching on Friday, we can't wait to feast our eyes on more interiors beautifully curated and revamped by Joanna and Chip. But if you can't wait to give your home decor a spring update with Joanna's favorite color, here are her top three tips for working with this versatile hue.
1. Choose green shades inspired by nature
Joanna's favorite green colors are inspired by nature. The most celebrated paint color from the Magnolia range is Magnolia Green, which, as Joanna explains, 'signifies life' and is appealing because it's 'fresh, simple, and timeless'.
The other green shades in the range are also very natural-looking shades – muted variations on sage, crisp and cool pine (we love Aspen), and a very special 'deep dusty sea green' called Demo Day.
Joanna's approach to green is using it as a neutral – and picking shades that go well with cream and grey. That rules out overly bright or unnatural shades; 'for my own home, I typically tend to lean more toward neutral colors and a clean palette', she says.
2. Refresh your rooms with green accents
The green piano is something of a Joanna Gaines icon nowadays, but she came into its ownership by chance, explaining in an interview that 'Chip and I stumbled across this piano a few years back in a house we were looking at and asked if we could buy it. It was covered in dust, so I thought it was brown, but when we got it home and cleaned it off, it was actually green – one of my favorite shades!'
Of course, the piano has stayed green – it fits Joanna's style philosophy so well. Joanna frequently shares images in which green is used to place clever accents rather than as an all-over color. If you don't want to mess around with paint at all, you can take inspiration from her frequent use of green books and plants.
3. Pair green with warm wood
Cream and green isn't the only way to incorporate this fresh color into your home decorating scheme. Joanna's office library pairs up a deep, pine green with warm wood flooring and furniture. Writing about making decisions for her own home ('the farmhouse'), Joanna wrote in her blog: 'I was conscious about bringing in furniture with warm wood hues to help tone down the shabby look in the entry and give it a more refined, primitive aesthetic.'
If you're using a lot of green and white in your home, then introducing warm wood into the scheme can help give the room a smarter, more grounded look.
Joanna has recently redecorated her sons' room, explaining that as the boys have got older, '[t]he room went from being light, bright, and playful to being a little darker, cozier, and more mature. I painted their walls Bespoke Green to complement both the warm wood tones throughout the space as well as the rustic nature of the original floors.'
Sign up to the Homes & Gardens newsletter
Decor Ideas. Project Inspiration. Expert Advice. Delivered to your inbox.
Anna K. Cottrell is now a freelance writer, having previously been a Content Editor for Future's homes titles. She writes about interior design, property, and gardening. On H&G, she specialized in writing about property – buying, selling, renting – sustainability and eco issues.