Louise Roe's top 5 ways to decorate with wallpaper – for beautifully finished rooms
The TV presenter and interiors influencer has a distinctly original approach to decorating with traditional wallpaper designs – and we approve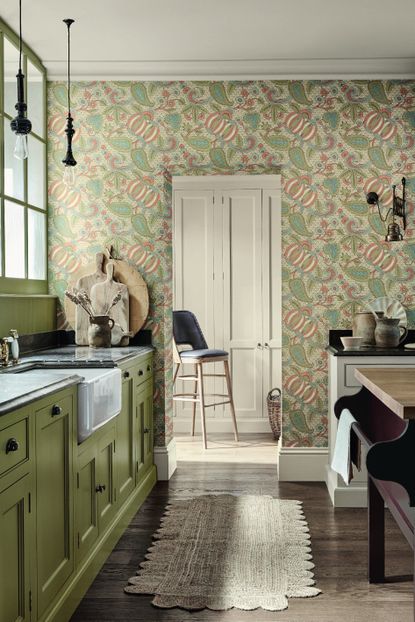 (Image credit: Little Greene)
'When it comes to wallpaper ideas, I'm in the granny camp. I love traditional patterns, chintz, trellises, and anything with a ruffly nod to the late 1980s and early 1990s,' says Louise Roe, TV presenter, model and journalist whose Instagram account @LouiseRoeHome is well worth following for inspirational interior design pictures and advice.
'If it could have adorned the bedroom walls of a character's home from a Jilly Cooper novel or Dynasty, I'm all over it. But translating and updating those older ideas to a more modern aesthetic is very necessary to make the same ideas work today. And that's really half the fun.
'My husband and I lived in Los Angeles for over a decade until recently, and whilst there I really missed the charm and imperfection of British decoration. Using wallpaper instantly adds more of a story to a room: an extra layer of coziness and charm which comes alive as the light migrates and softens throughout the day.
'As we renovate a London townhouse, I've been down countless rabbit holes looking for new ways to incorporate it onto our walls. Here are my favorite five wallpaper tips and trends.
1. Use wallpaper behind bookshelves or a cocktail cabinet
'I noticed the idea on interior designer Octavia Dickinson's Instagram – she applied it behind her bar and the effect was beyond elegant. I am installing bookshelves around the headboard of my daughter's bed and have decided to try this with a Fuchsia floral print from Twigs.
'The shelves will be a glossy dark green, and I can't wait to see how the two come together.'
2. Opt for a border or frieze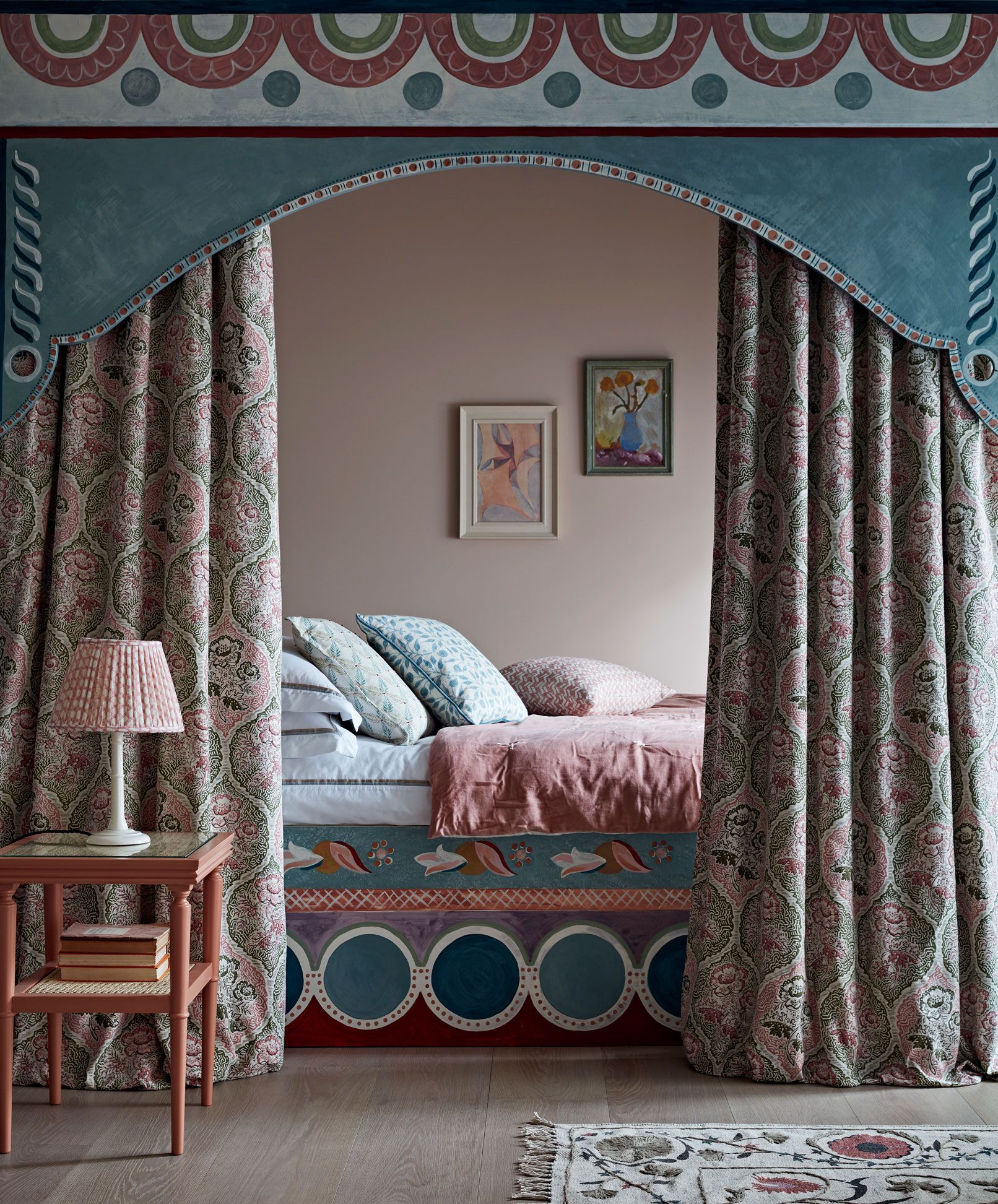 'Borders are so often underused and we're seeing a real resurgence of friezes,' says Marie Karlsson, Managing Director at Cole & Son. 'They can add structure and architectural detail to a space that doesn't have it naturally.'
My personal favorite use of this is in the children's wing of Marella Agnelli's Villar Perosa, but I'm also loving the playfulness of a hand-painted frieze above and around a wallpapered wall. I just love watching artists like Amy Balfour and Tess Newall do this with their Bloomsbury-inspired creations.'
You can see Tess Newall's use of friezes in the Homes & Gardens decorating shoot, above.
3. Juxtapose different textures and material
'Grasscloth, linens and plaster finishes provide an additional layer while supporting the airy and clean look of modern spaces,' says Benjamin Frowein, President & CEO of Schumacher London.
'It really does enhance the room with an additional layer and creates a level of sophistication that simple paint cannot always achieve.'
I've never used it myself, but grasscloth does indeed always makes me feel like I'm in a luxurious hotel suite.
4. Use the fifth wall – the ceiling
'I had long dreamed of a chocolate box bedroom up in the eaves, complete with fine print wallpaper on both the walls and ceiling. I realized that dream in our previous home, creating my very own Mary Poppins room with La Maison Pierre Frey's Bengali print (above).
'I also matched the window blind to the wallpaper, for an even more enveloping effect. It was rather like stepping into a fairytale, particularly one winter's evening when the snow began to fall. (Although I should add, my decorator grimaced when he saw the intricate pattern and curvy, beamed Georgian ceilings he had to paste the paper to. I brought a whole lot of extra tea and biscuits up that day!)'
This approach is one that is worth adding to your list of country wallpaper ideas – with ditsy prints like the one above creating a look that's nostalgic and pretty.
5. Paint your window frames
'The most brilliant, cost-effective way to make your wallpaper pop? Pull a bold color from the pattern and match it to your window and door frames – you can paint the whole door too, if it works.
'You won't need much paint, and most brands, such as Little Greene, Edward Bulmer and Farrow & Ball, provide a free color consultation to help you match up the most complementary tone. I'm trying this out in my new dressing room, painting an enormous window in Earthborn's Ladybug, a rich maroon color. I'll show you how it turns out on my Instagram.
This works brilliantly if you are looking for country wallpaper ideas for kitchens, in that it is unlikely that you will have fussy window treatments to add more color and pattern – using paint is a great way to do so.
'PS. Don't forget your leftovers! Scraps of leftover wallpaper can make beautiful lampshades, wrapping paper, framed pieces of art or drawer liners.'
Sign up to the Homes & Gardens newsletter
Decor Ideas. Project Inspiration. Expert Advice. Delivered to your inbox.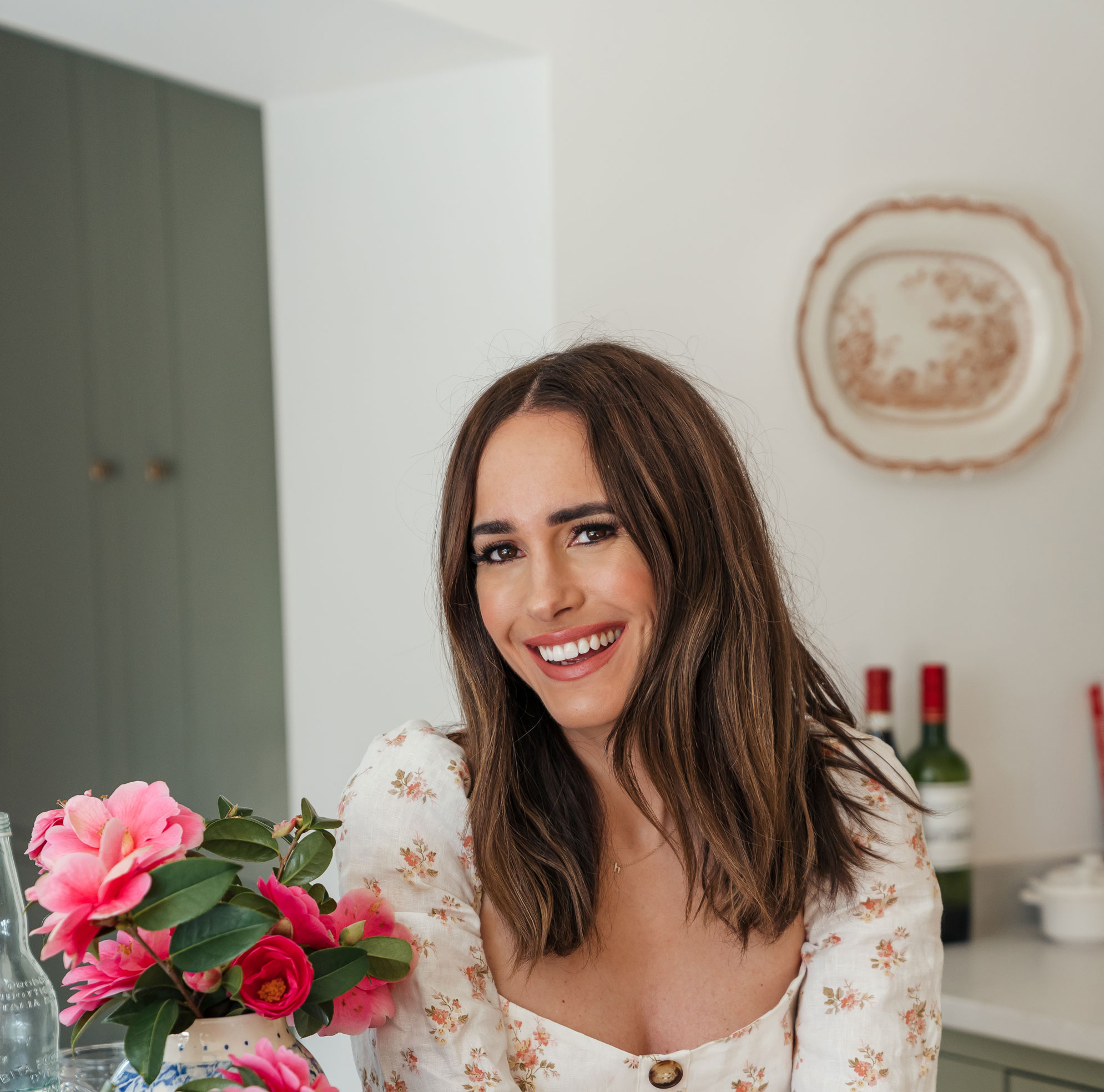 Louise Roe is a journalist and TV presenter specialising in fashion and lifestyle. She began her career writing for women's glossies including Elle, In Style and Vogue.com, before moving to Los Angeles. She stayed for 11 years, presenting MTV's makeover show Plain Jane, and reporting from the red carpet at various awards shows, including the Oscars and Golden Globes. After beginning her Interior design-focused Instagram feed @LouiseRoeHome, decorating has become one of her favorite things to research and experiment with.