Naked Cashmere unveils its first-ever pure cashmere home collection – with interior designer Ashley Stark
The 18-piece collection offers 100% pure cashmere blankets, throws, and pillows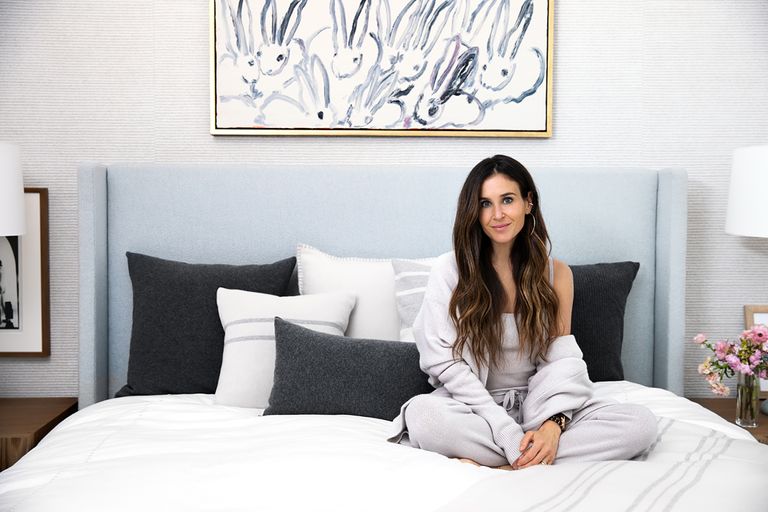 (Image credit: The McGraw Agency)
Naked Cashmere is beloved for its 100% pure cashmere clothing, with every piece designed to be sustainable, affordable, and ethically sourced.
Impressive is an understatement: Naked Cashmere is a force within the industry, redefining the status quo, and what's on the horizon? A new collection – in a brand-new category.
Naked Cashmere is not only entering the home space, but they're bringing the expertise of NYC-based interior designer Ashley Stark on board for the freshman collection.
Together, the two have found a way to further the brand's sustainable initiatives while developing an 18-piece collection filled with pillows, throws, and blankets crafted from 100% pure cashmere.
'I wanted to invoke that same feeling of coziness, yet chicness; lots of layers and textures,' explains Stark.
To do just that, Ashley kept the color hues reminiscent of her personal aesthetic; you'll find shades of soft and dark grey, neutral whites, and creams all visible throughout the line – and bound to match famously with the best mattress or your favorite armchair.
Naked Cashmere x Ashley Stark collection: 5 of the best pure cashmere buys
Available exclusively at NakedCashmere.com, the freshman collection is sure to elevate and complement every home – these are our five favorites.
1. Start with a versatile piece
Sofia Blanket for $1,000, at Naked Cashmere
Sophisticated and versatile, this throw blanket is available in three stunning shades – black, clay and toffee – and will look marvelously in any bedroom or when curling up by a cozy fireplace. 
2. Try a monogrammable blanket
Hunter Blanket for $465, at Naked Cashmere
If the previously mentioned blanket is on your radar but looking for something more price-conscious, the Hunter blanket is a suitable substitution. Impeccable cashmere consumes this exquisitely crafted throw blanket, divine on the foot of your bed or keeps when traveling. 
3. Elevate bedding with this stylish solution
Jace Pillow Sham for $195, at Naked Cashmere
Gorgeous stripes and two sensational variations available, this luxurious pure cashmere pillow sham delivers both comfort and decoration, sure to please whenever and wherever it's displayed. 
4. Travel in style with this all-inclusive set
The Cashmere Home Set for $450, at Naked Cashmere
Make everywhere your home away from home by investing in this 100% pure cashmere three-piece set. Available in six colors, each variation features an eye mask, cozy throw, and a drawstring cashmere bag detailed with silk lining; you can easily store this bag in any luggage or overnight bag or monogram it and gift it for the holidays. 
5. Light a touch of luxury with this perfect pick
Floral Musk Candle for $40, at Naked Cashmere 
Treat yourself to one of the best home fragrances by selecting either the black or white version of this minimalistic candle. Blended with notes of black pepper enhanced by bergamot and cassis, the scent blossoms with finishing touches of white rose, warm oakmoss, tonka, and a clean musk base, deeming this one of the best candles without a doubt. 
Brittany Romano is Future's U.S. Shopping Editor, residing on the Upper East Side in New York City. Originally hailing from Connecticut and a graduate of New England College, Brittany started her career as a freelance fashion market assistant at Marie Claire. She later joined AMI, where she designed a highly profitable commerce vertical. Noted for her award-winning content, she's covered everything from celebrity beauty hacks to the most lavish home decor; Brittany has maintained her penchant for the finer things in life.
If a genie granted Brittany one wish, it would be for Kelly Wearstler to bring her vision to life and transform her living space, but until then? You'll find Brittany continuously evolving her chilled-out sophisticated style, shifting her attention to eclectic pieces (with a hint of retro), grounded by a rich understanding of history, focused on functionality, luxury, and quirkiness.
Find her on Instagram @ItsBrittanyRomano