The world's top interior designers predict how 2021's homes will look
The best interior designers from around the globe agree that 2021's interiors won't just be about looks – nature, sustainability and home spun charm will all play a part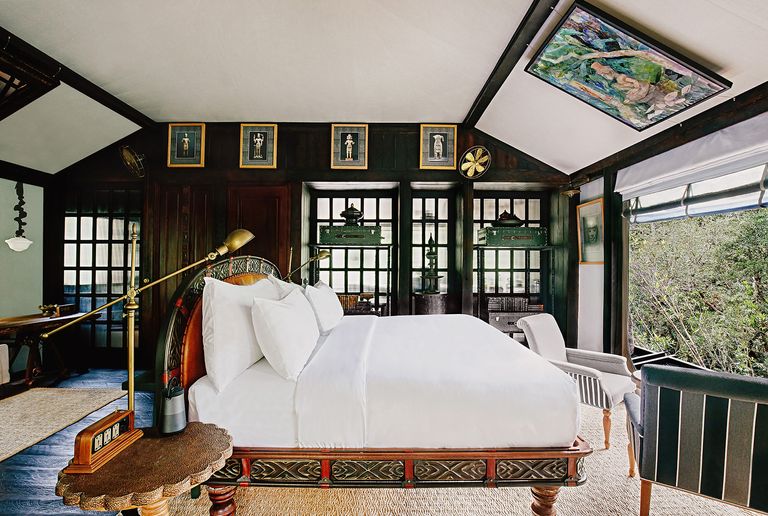 (Image credit: Bill Bensley)
By Lucy Searle
Andrew Martin recently announced that Shanghai-based Ben Wu is the winner of the International Interior Designer of the Year Award – triumphing over some of the world's top interior designers to take the lead spot. 
He is the first mainland Chinese designer to receive the award; on this, Martin Waller, Founder of Andrew Martin comments, 'There is a new paradigm of Chinese design that doesn't get the credit it deserves, one that incorporates heritage and craft into a contemporary way of thinking.'
But what do other designers the world over think will be the en vogue in 2021? Unsurprisingly, Coronavirus – and how we think of our homes now – gets more than a passing mention, and it goes hand-in-hand with sustainability. Here, along with the other nominees for the award, Ben highlights his key trends for 2021. 
See: Interior design trends – H&G's take on this year's biggest looks
Ben Wu: smart tech that makes homes eco-friendly
'In 2021, diversity and globalization will go hand in hand. Future technology like 5G will take place more and more in the home design, and of course, I think the element of Oriental will still be the focal point for many.'
Kelly Hoppen: repurposing and private spaces
'This year, reusing and up-cycling has been more on trend than ever, especially with the Covid situation we have all experienced and are still going through. We had already reached a tipping point where an increasing number of people wanted to change the way they consumed products and used objects. Lockdown gave us the opportunity to look at design in a different way with reusing and repurposing of furniture and accessories being a big focus.
'We have to live alongside this virus now which is impacting trends but the main things I feel that will change, will be how we maintain buildings and our homes as well as the materials used will be easier to clean and maintain. Looking ahead though, I think we will move away from open plan home spaces especially as more people are likely to work from home and look for private spaces.'
Kit Kemp: rich, jewel colors and cleaner spaces
'For 2021 living and work spaces are coming together in a clever respectful way, with colors becoming jewel like and stronger. There is also a move towards clean spaces but with organically shaped art and craft, creating contrast and identity. Room for big plants to prosper, sculptural lighting and large chequerboard flooring are also key trends.'
Sophie Ashby: supporting sustainability and communities
'We tend to steer clear of "trends" as, by definition, they are transient and forever changing. I'd like to think in 2021 we will be shopping more responsibly – in sustainable terms, but also beyond this – by supporting and spotlighting different communities and independents. I really hope the interior design world evolves in this way and diversifies – permanently.'
Bill Bensley: sustainability and escapism
'I imagine we will look at design with fresh eyes following the year of Covid, and in more ways than just adding space for social distancing, and eliminating buffets from our plans (hooray!). 
'We are looking at a world which has been turned upside down, and wants nothing more than to escape into places full of fresh air, greenery and beauty. Escapism at its best – there is nothing I enjoy more! We have also been seeing a triumph of nature as it reclaimed our cities – while simultaneously masks, medical waste and single use plastic have their resurgence as we try and kill this bug. 
'I hope from now on we all think twice as hard, and do five times more than we did before, in terms of sustainability, for we are in dire need of it.'
Stephen Falcke: comfort and handmade looks
'The world is emphasizing on interiors, which are now prettier, softer and with a handmade "folk look". This reflects the need for comfort in the stressful times we live in today.'
Sophie Paterson: calming, cocooning interiors
'I think as people are spending more time at home everyone wants a more serene and cocooning home that offers a retreat from the outside world. 
'In my clients' homes and my own home I'm seeing an increasing appetite for more pared back interiors, calming color palettes, more natural fabrics and finishes. In general, fewer things, but the best quality. It's not about space fillers or trends, but having items that you truly love and will keep for decades and pass on.'